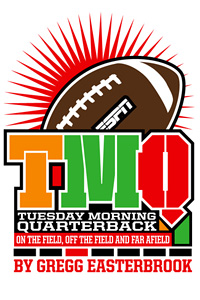 On Brett Favre's helmet
beer falls, and the cup crumples.
Sideline in autumn.
So began the very first Tuesday Morning Quarterback, a dozen seasons ago. In the intervening years, these trends have held:
• Each year the asides wander farther afield.
• Each year the readership grows larger.
• Each year the jokes don't get any better.
• And each year begins with America's original all-haiku NFL season predictions. Here they are for 2012.
AFC East
They fear scripture verse:
"There were Giants in the Earth."
The New England Pats.
Forecast finish: 11-5
Big Apple has eight
million pagans, plus Tebow.
The Jersey/B Jets.
Forecast finish: 9-7
R. Fitzpatrick, M.
Levy: "Fight fiercely, Harvard!"
The Buffalo Bills.
Forecast finish: 6-10
Texas A&M
with cheer-babes not Yell Leaders.
Miami Dolphins.
Forecast finish: 5-11
New Frontiers in Female Anxiety: The Atlantic is the world's finest general-interest magazine. Subscribe while it's still possible to get a printed edition hand-delivered to your mailbox by a uniformed representative of the United States government!
Lately The Atlantic has been on the case of après-feminism. Hanna Rosin's 2010 cover story showed how the double-XX cohort is taking over colleges and offices, positing trends in education and economics are such that "modern postindustrial society is simply better suited to women." Those sci-fi stories set on worlds ruled by Amazonian females, where males exist solely for women's amusement? Rosin sees this coming.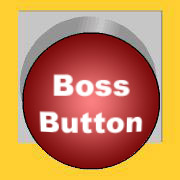 Then in 2011, an Atlantic cover had Kate Bolick declaring that men are already so inutile, a woman would be a fool to walk down the aisle. Her ideal evening: a romantic candlelit dinner for one. Bolick praised "the Mosuo people of southwest China, who eschew marriage and visit their lovers under cover of night." That cheerful article ended by endorsing the Beguines, a Dutch order whose members live in secular chastity, vowing never to touch men.
Then this year came "Why Women Still Can't Have It All," a cover by Anne-Marie Slaughter, a Princeton dean and recent State Department official. Slaughter filled 14 magazine pages with angst about how despite a high-paying super-elite job with lifetime tenure, personal connections in the White House and a husband who does the child care, despite writing about herself for the cover of the world's most important magazine, nevertheless she feels troubled that every moment of her days is not precisely what she wants.
The assertion that women "can't have it all" was received as earthshaking by the commentariate, a magazine article making the front page of The New York Times. Living a favored life and yet looking for something to complain about is part of the Upper West Side mindset, so perhaps the Slaughter article appealed to the part of the Times demographic that searches desperately for new complaints.
Some of Slaughter's points were solid, but they were the grievances of the 1 percent -- 99 of 100 women would love to have what Slaughter presented as her burdens to bear. Nobody's ever satisfied. Jacques Brel wrote, "Sons of the thief, sons of the saint/Where is the child without complaint?"
What was vexing was that the article seemed to misunderstand its own topic. The phrase "having it all" meant a woman could pursue a career and also be a good mother. This is something millions of women have now achieved, proving career and motherhood are not mutually exclusive, as men long claimed in order to keep women out of the workplace. But "all" never meant a woman could have everything she wants at every second without ever facing hard choices or bending over to pick up a piece of laundry. Men can't "have it all" in that sense either. No one has ever "had it all" and no one ever will.
The Atlantic's female readers have been told they finally hold the upper hand, but this seems hollow victory if men become motes. They've been told marriage is so awful, get thee to a nunnery. And Atlantic's female readers have been told if they achieve tremendous career success under ideal conditions while miraculously finding the last desirable man on planet Earth, they will be riven with anxiety anyway. But hey, have a nice day!
Rosin's 2010 Atlantic cover was among the best essays your columnist has ever read. That her work did not win the National Magazine Award in its category is yet more proof of the superficiality of that award. In 2010, "magazine of the year" went to hard-hitting Glamour, while the essay award Rosin should have garnered went to -- I am not making this up -- "Top Ten State Fair Joys." Rosin's new "The End of Men," expanding on her Atlantic Monthly writing, is a compelling read -- among the year's most important books.
NFC East
Qing Dynasty: five
centuries. Vick Dynasty?
The Philly Eagles.
Forecast finish: 12-4
G-Men ask league to
stage all playoff games on road.
Jersey/A Giants.
Forecast finish: 11-5
Next Jerry Jones stealth
move: Poach recruits from Penn State.
The Dallas Cowboys.
Forecast finish: 8-8
In RGIII, the
"III" means three first-round draft picks.
Washington Redskins.
Forecast finish: 4-12
"Zebras Have Never Been Truly Domesticated" Encyclopedia Entry: Given the NFL rolls in money and the amount in dispute is around $3 million annually, an inkblot on annual NFL revenue, the lockout of the NFL Referees Association seems awfully silly. But it's about power, not money. NFL owners are accustomed to calling the shots, issuing orders and hearing people say "Yes sir." Lately the NFL owners have had to compromise with the NFLPA, with Comcast, with Time Warner. The owners are tired of behaving nicely -- they want to find someone they can shaft! Right now the zebras are the only candidates.
But though TMQ thinks the NFL should give on the NFLRA's money requests, if I were a zebra, I would be nervous about the season starting with replacement officials. Everyone assumes the replacements will make boneheaded mistakes that embarrass the league. What if their performance is fine? Then ditch the NFLRA and keep the new guys.
Recall the 1981 PATCO strike. An air traffic controllers union walked in violation of a no-strike agreement. Ronald Reagan fired PATCO members who refused his order to return to work. Everyone thought the replacement controllers would do a terrible job, and instead they did fine. PATCO members then relented and asked to return to their high-paying cushy jobs, but it was too late. Many of the strikers never again found jobs as good as the ones they angrily denounced.
Today's NFL officials average $149,000 annually for part-time duties that essentially are an elaborate hobby -- zebras are free to hold other jobs, and most do. Under the league's proposal, their average would rise to $189,000 annually, still on a part-time basis. And they are angry about that? If the replacement refs do OK, current zebras may ask for their old jobs back -- and like PATCO members, be told their services are no longer required.
AFC North
Hines Ward outruns blast
in "Rises." Can't outrun time.
The Pittsburgh Steelers.
Forecast finish: 12-4
The purple guys are
on offense. Catch a quick nap.
Bal-a-mer Ravens.
Forecast finish: 11-5
If cap space won games,
they would be undefeated.
The Cinncy Bengals.
Forecast finish: 8-8
Drop Texas QB
for Oklahoma QB.
The Browns (3.1).
Forecast finish: 4-12
Friends Don't Let Friends Punt: This year TMQ will have a weekly item on Pulaski Academy of Little Rock, Ark. There, as TMQ has been noting since 2007, head coach Kevin Kelley rarely sends in the punt unit, including going for it on fourth-and-long in his own territory. Last season Pulaski Academy punted once, and won the state title.
To open its 2012 campaign, Pulaski flew all the way to Los Angeles to face Chaminade Prep, a traditional power. The team had some harrowing experiences getting out, as the remnant of Hurricane Isaac blew through Arkansas late last week. After a rough flight through multiple time zones, teenagers are likely to fade in the fourth quarter -- which is exactly what happened.
"We led by three with 2:06 remaining and had a runner break into the clear for a first down," Kelley reports. "If he'd just gone to his knee, we would have run out the clock. But even NFL players have trouble doing that calculation in their heads at game speed. Instead he tried for more yards, and fumbled. Chaminade got a quick touchdown, then on our next possession, got a pick-six. We gave up two touchdowns in the last two minutes." The final was Chaminade 49, Pulaski 39.
Here is what Kelley did on fourth downs, in order:
• Fourth-and-6 on own 40 -- incompletion.
• Fourth-and-6 on opponent's 49 -- lost fumble.
• Fourth-and-2 on opponent's 37 -- rush, did not convert.
• Fourth-and-3 on own 27 -- pass, first down.
• Fourth-and-6 -- kicked a field goal on the last down of the first half.
• Fourth-and-13 on own 46 -- pass, incompletion.
• Fourth-and-15 on own 15 -- pass, first down.
• Fourth-and-5 on opponent's 39 -- incompletion
Pulaski never punted, going for it seven times but converting only twice. "For several years we have converted 50 percent of our fourth downs, so I expect the law of averages to swing back our way," Kelley said. The fourth-and-15 attempt from the Bruins' own 15 was not a desperation situation -- Pulaski had the lead!
Reader Keith Lopatka of Oak Brook, Ill., a Chaminade alum, notes the school has joined the blue turf craze. Last season TMQ had a running item, under the rubric I'd Rather Be Blue, about high schools and colleges installing non-green playing surfaces. If you know of a school that switched from green turf in 2012, report it with specifics to TMQ_ESPN@yahoo.com. Please only non-green fields installed this calendar year. Anything installed by last season has already been in the column.
NFC North
All have done lately
is run of 21-2.
The Green Bay Packers.
Forecast finish: 13-3
Stafford to Calvin:
play a Swiss banker could love.
The Detroit Lions.
Forecast finish: 10-6
Rough, hard hitting. Not
Bears -- City Hall politics.
The Chicago Bears.
Forecast finish: 8-8
If reach Super Bowl
vs. Bills, one must win! Maybe.
Minnesota Vikes.
Forecast finish: 3-13
How Exactly Does TMQ Beat the MSM to Stories? Many have begun to express concern regarding drones flown above the United States for terrain mapping, surveillance and other purposes. Eugene Robinson of the Washington Post recently declared that government agencies "routinely flying drones over U.S. cities and towns, using them to snoop on the activities of anyone deemed snoop-worthy, is repugnant." The mainstream media's commentators have been asking how the arrival of drones in the skies of our own nation was kept hush-hush.
It was not hush-hush! To quote from a January 2006 article on a prominent website, "Right now the National Geospatial-Intelligence Agency is seeking legal permission to fly Predator and Global Hawk military drones above the United States, officially in order to compile digital terrain maps. Planning to sunbathe nude? The NGA may digitally map your anatomical proportions. A regulatory dispute is brewing because the Federal Aviation Administration mandates that above the United States, only licensed pilots with an instrument-flight rating can fly an aircraft higher than 18,000 feet; the FAA wants this rule applied to the NGA's drones. The NGA is claiming that as a spy agency it can ignore FAA air-safety regulations and use people who aren't pilots to fly the drones above the United States. The NGA even claims it can order airspace closed, to prevent pilots of civilian aircraft from snapping pictures that show government drones are conducting spy flights in America's own skies. A secret agency wants to suspend aviation safety rules in order to use military aircraft to spy on the United States. When, exactly, are the establishment media going to notice this story?"
Perhaps you have guessed the above quotation is from Tuesday Morning Quarterback. Six years ago, readers of a football column knew about the intrusion of spy drones into America's skies. Where were the big newspapers, the major networks, the public-interest organizations?
Here, from January 2011, is my Reuters column on the NGA's expanding domestic-sky drone program. Did you know that the National Geospatial-Intelligence Agency even exists? Much less that it is building a $1.8 billion headquarters structure that rivals the Pentagon in size, and that every year the NGA wastes billions of dollars in taxpayers' money to generate aerial views little different from those Google and Microsoft give away free.
Most of the mainstream media seem unaware of the National Geospatial-Intelligence Agency, just like the MSM were unaware of domestic drones. It is disturbing that the federal government is using our own tax money to spy on us -- and equally disturbing that news organizations don't notice.
AFC South
Finally made playoffs.
Moo Cows, don't rest on laurels!
The Houston Texans.
Forecast finish: 9-7
Real front-office job:
"Mascot coordinator."
Tennessee Titans.
Forecast finish: 9-7
Luck, Fleener: Stanford
opens new Midwest campus.
Indy Lucky Charms.
Forecast finish: 8-8
The league's worst offense.
Maybe should punt on first down.
The Jacksonville Jags.
Forecast finish: 2-14
It's Happened Again, You've Wasted Another Perfectly Good Quarter of a Century Listening to "Car Talk": The Tappet Brothers air their final show soon. Tom and Ray Magliozzi are funny, and to anyone who struggled to keep a Fiat 124 running, were indispensable. Generations from now, there will still be cars. But there will not be craftsmen who work on cars -- the repairs will be done by robots. And robots won't have call-in shows. Let's hope!
Disclaimer of the Week Cars may not be as advanced as you think. Many readers including Courtney Faxen of Camarillo, Calif., note that ads for the new Mercedes M-Class include the somber disclaimer, "No system, regardless of how advanced, can overcome the laws of physics."
NFC South
Obama temp name:
Dillon Panthers Stadium.
Carolina Cats.
Forecast finish: 11-5
Breed of bird that keeps
laying eggs in postseason.
Atlanta Falcons.
Forecast finish: 10-6
This year Lent starts on
Ope'ing day; lasts whole season.
New Orleans Sinners.
Forecast finish: 8-8
Were 4-4. Signed
Haynesworth. Then went 0-8.
Tampa Buccaneers.
Forecast finish: 3-13
O.J. Simpson, a Jailed Criminal, Is Still a Member of the College Football Hall of Fame: Tuesday Morning Quarterback was delighted that this summer's Pro Football Hall of Fame class contained four linemen, one running back and one defensive back -- no quarterback! All the Hall of Fame need do is cleave to this ratio for a decade and the linemen/quarterback problem will be corrected.
Here are the players "enshrined" -- please, a different verb -- as the 2012 class at the College Football Hall of Fame. The group includes nine ball-handlers and two offensive lineman -- though on the field, there are about the same number of each.
AFC West
Orton, Tebow, now
Manning. Unless -- Osweiler.
The Denver Broncos.
Forecast finish: 10-6
Expect stands for home
games full of fans dressed as Bane.
The Oakland Raiders.
Forecast finish: 9-7
Six straight losses last
season -- yet Norv's job secure.
San Diego Bolts.
Forecast finish: 8-8
I am afeard this
is but a dream: Romeo.
Kansas City Chiefs.
Forecast finish: 5-11
In Praise of a Flawed Idea: Last year your columnist called higher vehicle MPG standards "one of government's most important achievements in the past decade." Many readers, including Kyle Bourassa of Charlottesville, Va., noted that last week the standards became formal.
The rules require the fleet-average of new cars to rise from the present federal standard of 27.5 MPG to 54.5 MPG by 2025. Aside from the absurd precision of such figures, the goal is extremely unrealistic -- in fact, absent a fundamental technological breakthrough, certain not to be realized. But this is still good news!
Consider the current standard of 27.5 MPG -- officially, already the average fuel efficiency for new cars. Check here and you'll see that hardly any cars meet what is officially the average. Some get 28 MPG or more on the highway, but the "combined" figure for city/highway is the key number. The most popular Toyota Camry, best-selling automobile in the USA, gets 25 MPG on the combined cycle. The most popular model of the Ford F-Series pickup, best-selling overall vehicle, gets 17 MPG. (There are lower standards for pickups, but almost none meet the lower standards.)
One problem is the EPA determines the official gas mileage of vehicles by testing them with pure gasoline. But it's illegal to sell pure gasoline in many states -- many buyers can only attain motor fuels blended with at least 10 percent ethanol. Because ethanol has a lower energy content than gasoline, the blend on sale at pumps results in lower MPG less than a vehicle's official number. Automakers like having the EPA declare their products are more fuel-efficient than they actually are. That a government test has been manipulated to produce a politically pleasing result no real-world consumer will achieve is just another example of what my old boss Charles Peters, a Kennedy Administration official, memorably called "Washington make-believe."
Today the actual fleet-average "combined" MPG of new cars probably is around 20 MPG. Raising that number to 54.5 MPG in 13 years just won't happen, absent a technological breakthrough or a total conversion to plug-in hybrids such as the Volt, which sound great but aren't selling. If the country did convert entirely to Volt-like vehicles, a big increase in electric generating capacity would be required. This would entail substantial capital investments and lots more nuclear power.
Yet I still think the new standard is a positive achievement. Why? Because if the unrealistic 54.5 MPG number results in an actual fleet average of a combined-cycle 30 MPG for cars and 25 MPG for pickup trucks, fuel economy will improve significantly over today's, greenhouse emissions will continue their decline and U.S. oil imports from Persian Gulf dictatorships will decline. Getting halfway to the new goal would be great!
My worry is we won't get halfway. Right now automakers are praising the new rules. But the agreement announced last week contains a "mid-program review" after the 2016 election, at which automakers can request waivers. If grand goals are announced, then waivers quietly issued when the spotlight shifts to whatever everyone's obsessing about years down the road, the unrealism of the 54.5 target may backfire.
NFC West
Harbaugh/West rules Bay
area college and pros.
The San Fran Niners.
Forecast finish: 13-3
QB woes keep on?
Could start a redshirt freshman.
Seattle Seahawks.
Forecast finish: 8-8
So far below the
radar could train with Air Force.
AZ Cardinals.
Forecast finish: 6-10
No winning season
since "What The" Martz was run off.
The St. Louis Rams.
Forecast finish: 2-14
Dinosaurs Complained Their Roars Were Poorly Written: "Terra Nova," the most expensive TV show ever, won't return as the new TV season kicks off this month, cancelled last winter after a mere 11 episodes. Now viewers will never find out why a wooden ship from the Spanish Armada was found 85 million years in the past. The show's writers will never find out either.
Tuesday Morning Quarterback asks again -- since plot-driven sci-fi with a sense of humor has made bundles of money on television ("Star Trek," "Stargate" and "Dr. Who") while poorly-written visually-driven sci-fi always tanks ("V," "Terra Nova," "The Event"), why does Hollywood continue to pump money into special effects while ignoring plot and dialogue? Wait, don't answer that.
Fox, which aired "Terra Nova," spent $16 million just on the pilot. If Fox had sent that amount backward in time 85 million years, with compound interest, Rupert Murdoch would now possess all the money in the universe. Warn your descendants that Hartwick College is attempting this ploy, with a goal of world domination in the year 2936.
A reader bids farewell to "Terra Nova" in haiku:
Zap! Rawrrrr! Blam! Smooch. Plot??????????????
Cash vanishes through portal:
Terra Nova, poof.
-- Joseph LoSasso, Tampa, Fla.
Unified Field Theory of Creep: Presidential campaigns traditionally begin on Labor Day, so they ought to be cranking up right now. Reader Daniela Bollingwood of Cayuga Heights, N.Y., notes Barack Obama began his reelection campaign on May 5. Ask any politician of either party -- campaigning is significantly easier than governing.
Reader Tom Scudder of Albany, N.Y., reported that in May, he "received an email from the New York Library Association to vote for my choice for the 2014 Knickerbocker Award for Juvenile Literature. Are they asking me to vote on books which have not been written yet?"
New Rules for 2012: The pros adopt an NCAA standard -- too many men on the field is now a dead-ball infraction, meaning as the game clock nears expiration, the defense cannot trade five yards for precious seconds by deliberately putting 12 men on the field.
In the closing seconds of the Super Bowl, Jersey/A had 12 men out (by error, one was trying to leave); the play ran, then the penalty was enforced. The seven seconds used up during the play, an incompletion, were more valuable than the five yards New England gained. Under the new rule, the Patriots would have gotten the walk-off and kept the seconds.
The NCAA moves the kickoff spot up to the 35, in order to increase touchbacks and reduce injuries -- concussions are more likely on kickoffs than any other type of play. After a kickoff touchback, the NCAA moves the spot from the 20 to the 25. TMQ continues to think football is headed in the direction of eliminating the kickoff, except perhaps late in each half.
Beginning this season, in most states, the force-out rule for high school football will be the same as in the pros. No more guessing about whether a receiver might have come down in bounds. If the receiver's foot is not in bounds (one in in high school or college, both in the pros), then the pass is incomplete.
Also new for 2012 -- the National Federation of High Schools, rulemaking body for most prep sports, will not allow a kickoff team to block members of the receiving team until the kick has traveled 10 yards. This essentially outlaws the version of the onside in which the kicking team's first two men shove receiving-team players out of the play, then the third man tries to recover the onside.
And the NFHS will now allow corporate logos anywhere on a football field -- not just in the end zone, as in prior years. The NFL is all about money, college sports increasingly are all about money: each year, high school sports move further in that direction.
Obscure College Score of the Week: Eureka 62, Knox 55. Sam Durley passed for an NCAA-record 736 yards as the Red Devils ran up 821 yards of offense and recorded 38 first downs, yet needed a touchdown with 20 seconds showing to pull out victory. Located in Eureka, Ill., Eureka College has a museum for its best-known alum.
Bonus College Score: Morgan State 30, Sacred Heart 27 in four overtimes. Two of four overtime periods ended scoreless. Located in Baltimore, Morgan State University has an Office of Judicial Affairs.
College Miscellany: The stats feature does not resume until next Tuesday, with the NFL season start. But here's a knockout college stat. Against West Virginia, Marshall gained 545 yards on offense -- and lost by 35 points.
Hurray for the Murray State Racers kicking a field goal at Florida State, to avoid a shutout -- the final was Florida State 69, Murray State 3. Division 1AA Murray State received $450,000 from the Seminoles' boosters for agreeing to come to Tallahassee and be pounded.
Early in each college season, powerhouse teams line up cupcakes for auto-victories. Here is Kurt Snibbe's memorable illustration of a school actually named Cupcake College. North Carolina won by 62-0 over Elon, a lower-division opponent which last year lost to Samford and Wofford. Oklahoma State won by 84-0 over Savannah State, a lower-division opponent which last year lost by 56 points to Bethune-Cookman. Did blowing out opponents that stood absolutely no chance make North Carolina and Oklahoma State boosters feel good? The biggest joke in college football this year is Florida State, which opened by hosting Murray State, then next week bravely hosts Savannah State. And hurray for Division 1AA Youngstown State, hired to come to Pitt and be blown out, for pulling this year's opening weekend mega-upset.
Think about this college reality: Upset at home by mid-major Ohio University, Penn State has not won a football game since 1997.
Wasteful Spending on Bodyguards Watch: Tuesday Morning Quarterback pounds the table about minor government officials surrounding themselves with taxpayer-subsidized bodyguards, not for security but to make themselves seem important: while double-parking and cutting to the heads of lines. TMQ further objects to governors who go on international trips for the purpose of self-glorification -- the Constitution forbids states from involvement in foreign policy -- while taking along taxpayer-funded bodyguards so they can strut around like national leaders, rather than the subsidized tourists they are.
Gov. Rick Perry of Texas is frequent offender, denouncing government spending for others but lavishing subsidized luxury on himself. Reader Bryce Tutjer of Richardson, Texas, notes the latest. Perry and his wife took a European vacation that includes the Formula 1 Italian Grand Prix. The Dallas Morning News reports, "Taxpayers will pick up the cost of the Perrys' security detail. The governor's office pointed out that security is a necessary expense that has been a customary policy. Perry came under criticism from watchdog groups after he refused to reimburse taxpayers for security costs associated with his failed presidential bid."
Perry spent nearly $3 million of Texas taxpayers' money gallivanting around the country for presidential self-promotion, then would not repay the cost from campaign funds.
Note Perry's rationalization, that government favors for him personally are justified not because they are wise but because they are "customary." Entitlements, environmental regulations, deficit spending, federal intervention in state redistricting -- to cite policies Perry bitterly condemned bout during his failed presidential bid -- are "customary," too.
Next Week: During the preseason, Tuesday Morning Quarterback uses vanilla items designed to confuse scouts from other sports columns. Beginning next week I will come at readers from all directions with unorthodox grammatical structures plus metonymy, anastrophe and polysyndeton. In the TMQ huddle: "Blast Red, 35 Wheel Polysyndeton. On two!"
In addition to writing Tuesday Morning Quarterback for Page 2, Gregg Easterbrook is the author of "Sonic Boom" and six other books. He is a contributing editor for The New Republic, The Atlantic Monthly and The Washington Monthly. His website can be found here, and you can get a notification when TMQ is posted on Twitter.