Boo! You bums, get outta here! Boo! Boo!
The Giants' and Patriots' home crowds booed as their favorites struggled against underdogs. Sure, these two teams just met in the Super Bowl. But what have you done for us lately? Boo! Boo!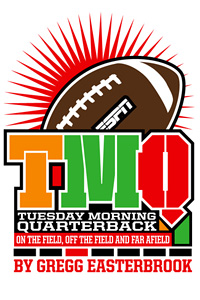 Some think booing unbecoming. Not TMQ. Attending an NFL game is so expensive, crowd members should be free to boo or burst into a medley of Broadway show tunes. You pays your money and you takes your choice. But both sets of home fan bases booing the two most recent Super Bowl teams on the same day is quite something.
New England fans simply might be spoiled -- we should all wish to be spoiled! The Flying Elvii kicked off Sunday having won 25 of the previous 28 home dates. The Patriots hadn't failed to score at least 20 points in a home game since Thanksgiving 2008. The notion of New England losing at home to a second-echelon team just did not compute for Gillette Stadium season-ticket holders.
As for the Giants, they are so erratic -- last season losing twice to the cellar-dwelling Redskins, then winning the Lombardi trophy -- that season-ticket holders enter Snoopy Stadium seized with a sense of existential dread. Which Giants will show up: the super-efficient Super Bowl steamroller, or the bickering crew who couldn't beat Don Bosco? Giants fans never know. Often, like Sunday, they don't find out until the final play. For fans, this is very stressful.
Only the Giants could have difficulty not scoring when the defense stands aside. This happened in the Super Bowl and happened again at the end Sunday.
About that ending: Greg Schiano has coached two games in the NFL, and it has taken him only that short time to convince the world he is a jackass. Last week, after Buccaneers safety Mark Barron inflicted a vicious helmet-to-helmet hit on a Carolina Panthers player, Schiano praised him. This week, when the Giants knelt as the clock expired, Schiano had his defense charge the line and hit. At all levels of football, when the offense goes into victory formation, defenders who are good sports simply watch the snap and then shake hands. Good sportsmanship apparently is not in the Schiano playbook.
Charging the line on a kneel-down is legal. But the fact that you can do something does not mean you should. The difference between the two is called "character." Having your players charge the line on the final snap after you've lost is the sort of thing ordered by coaches who are, deep down inside, persons of low character. Tom Coughlin was right to scream at Schiano.
Let's dispense with the lie Schiano told after the game: "What I do with our football team is we fight until they tell us 'Game over' ... We crowd the ball." Just moments earlier at 1:20 and :34 on the game clock, Schiano did not have his players perform aggressively. He ordered them to stand aside and do nothing, because by quirk that would benefit the Bucs. Once the game was lost, he ordered his players to behave in an unsportsmanlike manner.
Schiano said he had defenders hit the offense hard during kneel-downs when he coached at Rutgers, too. So the fact that he has coached bad sportsmanship in the past makes more bad sportsmanship OK now? Schiano claimed to have created turnovers during kneel-downs at Rutgers, but your columnist has been unable to find any evidence of this. An NFL Network report said hard hits on kneel-downs created turnovers for Rutgers against Pitt and West Virginia in 2009. Here is the Pitt ending and here is the West Virginia ending. No kneel-down turnovers.
In the NCAA, players have no economic value -- use 'em up, throw 'em away. In the NFL, teams invest millions of dollars in players. If someone such as Eli Manning is injured trying to win the game, oh well, that's football. If Manning is injured on a meaningless kneel-down, this diminishes the economic value of the league.
Some big-college football coaches have high personal standards, treating their own and opposition players with respect; Frank Beamer comes to mind. Other big-college football coaches treat their own and opposition players with abuse. Guess now we know which kind Schiano is.
Here is an example of the exact reverse of Schiano the Weasel's behavior. Reader Ansel Barchowsky of Pittsburgh reports, "I was at the Steelers versus Jersey/B game, and twice a video aired on the scoreboard in which Mike Tomlin talked about 'don't hit the head, don't use the head' for safe tackling awareness in youth football. I think it is great for a team that is vilified for its dangerous hits, rightly so in many cases, to be taking a stand on this issue."
James Harrison has been guilty of helmet-to-helmet hits, and Lawrence Timmons was guilty of one Sunday. Generally, the Steelers hit cleanly.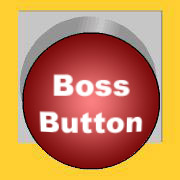 Steelers coaches have long taught "shoot your guns" as tackling form. This means put both arms low by your sides as if you are a cowboy about to pull two six-shooters, then raise both arms during the tackle. "Shoot your guns" is essential to wrap-up tackling, increasingly a lost art. This technique also forces the defender to raise his head and see what he hits -- which is safe tackling form.
The Steelers are working with the University of Pittsburgh Medical Center, a longtime leader in concussion research, on a safe-tackling campaign. It's a positive step.
Stats of the Week No. 1: The Steelers are 18-4 all-time versus the Jets.
Stats of the Week No. 2: Under John Harbaugh, the Ravens are 29-5 at home and 21-20 on the road.
Stats of the Week No. 3: Drew Brees has thrown for at least 300 yards in a league-record nine consecutive games.
Stats of the Week No. 4: In its past four outings versus the Texans, Jacksonville has scored just 51 points.
Stats of the Week No. 5: Herb Taylor, who had not entered an NFL game since 2008, started for Jacksonville.
Stats of the Week No. 6: The Redskins, who allowed five blocked kicks in 2011, already have allowed two blocked kicks this season.
Stats of the Week No. 7: At Green Bay, Jay Cutler finished with a 28.2 passer rating. If every attempt by a quarterback is incomplete, he receives a 39.6 rating.
Stats of the Week No. 8: Detroit has not won in San Francisco since 1975.
Stats of the Week No. 9: Against Concordia University Chicago, Hope College gained 654 yards on offense, and lost. See below.
Stats of the Week No. 10: Against the Buccaneers, Victor Cruz and Hakeem Nicks of the Giants combined for 378 yards of offense -- more than gained by the entire Tampa team.
Sweet Play of the Week: Jersey/B leading 10-6, Pittsburgh faced first-and-goal on the Jets 1 with 1:08 remaining before intermission, holding two timeouts. Ben Roethlisberger play-faked and threw to tight end Heath Miller for the touchdown; the Steelers never looked back.
TMQ's immutable Law of the Goal Line holds: If you're going to play-fake, do it on first-and-goal, when the defense is expecting run, not on second-and-goal or third-and-goal, when the defense has just stopped a run and is expecting pass.
Then again, if you're going to run on first-and-goal, put seven linemen and two tight ends on the field, as San Francisco did to score on a power rush against Detroit.
Jets-Lions harmonic convergence: Down 13-10, Jersey/B got the ball back with a minute remaining in the first half and killed the clock, making no attempt to score. Down 14-6, Detroit got the ball back with a minute remaining in the first half and killed the clock, making no attempt to score. Take a wild guess on both outcomes. TMQ incredible insider tip: If trailing, try to score.
Sweet Play No. 2: Leading heavy favorite (overdog?) New England 13-9 at the start of the fourth quarter, Arizona reached first-and-goal on the Flying Elvii 5. Quarterback Kevin Kolb went to the line and saw no defensive tackle between center Lyle Sendlein and the left guard, plus saw New England's middle linebacker lined up deep, nearly in the end zone. Kolb called the silent sneak. He tapped Sendlein's butt; the quarterback and center drove ahead on their own while the rest of the Arizona players did not know what was happening. Touchdown, and a dramatic ending was set in motion.
Sour Play of the Week: In Week 1, the Titans trailed New England 28-10 in the fourth quarter and kicked a field goal on fourth-and-goal from the 6. TMQ wrote the words "game over" in his notebook, and indeed the game was over -- Tennessee never entered the red zone again. When trailing by a large margin, you need touchdowns! Close to pay dirt, you must try for six.
In Week 2, the Titans trailed San Diego 17-0 and faced fourth-and-4 on the Bolts 5. When the field goal boomed, TMQ wrote the words "game over" in his notebook, and indeed the game was over, San Diego stomping Tennessee into the turf by a final of 38-10. When trailing by a large margin, you need touchdowns! Close to pay dirt, you must try for six.
In both cases, Flaming Thumbtacks coach Mike Munchak used what football conventional wisdom describes as the "safe" strategy, and in both cases, playing it safe led to defeat. At least Tennessee's streak is safe -- the Titans have lost nine straight to the Chargers.
Sweet 'N' Sour Pair of Plays: Leading 14-0, Buffalo had possession at the Kansas City 29. The Bills split tailback C.J. Spiller far left as the outside receiver in a double set. The Chiefs did not notice this and safety blitzed from the same direction. Spiller caught a short hitch and legged it down to the Kansas City 1, behind pulling offensive linemen Andy Levitre and Cordy Glenn. Sweet for Buffalo.
Later, the Bills faced second-and-10 on the Kansas City 10. Tight end Scott Chandler lined up in-line, which is practically becoming odd for an NFL tight end. He ran straight into the end zone, the simplest pattern imaginable, and turned around for a touchdown catch. The Kansas City secondary completely ignored him, although Chandler had caught two touchdown passed against Kansas City the previous time these teams met. Sour for Kansas City. Stretching to 2011, Buffalo outscored Kansas City 62-7 in six quarters.
Young Guns Update: In Week 1, the five rookie quarterback starters -- Andrew Luck, Robert Griffin III, Ryan Tannehill, Russell Wilson and Brandon Weeden -- combined for 10 interceptions and one victory. This week they combined for one interception and three victories. Wilson looked as cool as a cucumber -- whatever that means -- in dissecting Dallas. Luck and Tannehill recorded wins over hapless Minnesota and Oakland, respectively. Tannehill ran a no-huddle offense without problems. Griffin had the Redskins positioned for a tie or win until the Single Worst Play of the Season So Far.
Friends Don't Let Friends Punt: This season, TMQ is following the fourth-down results at Pulaski Academy in Little Rock, Ark., where coach Kevin Kelley has for years eschewed the punt. Last season, Pulaski punted once and won the state title. TMQ contends that rarely punting should be dubbed "Arkansas-style football." On Friday, Pulaski lost to West Memphis. The fourth-down calls in order:
Fourth-and-5 on own 39 -- pass, first down.
Fourth-and-goal on the 1 -- run, stuffed.
Fourth-and-26 at midfield -- pass, touchdown.
Fourth-and-9 on own 34 -- pass, first down.
Fourth-and-6 on opponent's 30 -- pass, first down.
Fourth-and-8 on own 38 -- pass, first down.
Fourth-and-1 on opponent's 39 -- pass, first down.
Fourth-and-10 on opponent's 12 -- pass, incomplete.
Fourth-and-14 on opponent's 28 -- pass, first down.
Fourth-and-14 on own 16 -- pass, did not convert.
Pulaski went for it 10 times on fourth down, converting seven. Normally a stat line like that that would mean certain victory. A team that commits to rarely punting knows there will be games in which the tactic either doesn't work or doesn't help -- but that over the course of a season, the team will win more often than if it did the "safe" thing and punted. Pulaski has opened 1-2; my chips are still on the Bruins.
Arkansas-Style Football Update: Reader Scott Newman of Winnipeg, Canada, reports, "In a recent Winnipeg-Saskatchewan game, the Blue Bombers led 23-22 with 55 seconds left. They had the ball at the Stampeders 36. Instead of going for a first down to ice the game or attempting a field goal with the wind at their backs, which would force Saskatchewan to drive the length of the field for a touchdown, the coach elected to punt. The punt went through the end zone, good for a single point in Canada, making the score 24-22. Of course you know the rest. Now needing only a field goal, Saskatchewan kicked one as time expired, winning 25-24."
Arkansas-Style Football Update No. 2: The Eagles went for it on fourth-and-1, converted and scored a touchdown on the possession versus Baltimore.
With the game tied near the end of the third quarter, the Ravens faced fourth-and-1 at midfield and punted. Guess who won? And on the day, Baltimore rushed for 5.3 yards per carry.
'Tis Better to Have Rushed and Lost Than Never to Have Rushed at All: Later, trailing 24-23,the Ravens faced third-and-2 at midfield with a minute remaining, needing to advance about 25 yards for a field goal attempt to win. For a team that averaged 5.3 yards per carry -- just run the ball and pick up the first. Instead, incompletion, incompletion, game over. Both incompletions were not home run attempts, but rather, rinky-dinky short, sideways stuff.
Many Intellectuals Don't Believe in God But Do Believe in the God Particle: In 2011, physicists at the enormous CERN atom-smasher in Switzerland declared they had found matter moving faster than light. This was received with front-page credulity by the establishment media.
Football columns are not your best source of scientific analysis. Nevertheless, TMQ cautioned, "Because the claimed velocity is less than one-thousandth of 1 percent more than light speed, observer error seems the likely explanation." Months later, CERN admitted observer error, and leaders of the project had the dignity to resign. Your columnist had no special knowledge of the research -- just healthy skepticism regarding assertions of astonishing discoveries, especially when the assertions serve a self-interest, such as increased funding for CERN.
Fast forward to this summer. CERN announced it had found the Higgs boson, a long-hypothesized force carrier thought essential to the manifestation of matter and memorably dubbed the God particle by the physicist Leon Lederman. Maybe this time CERN is right, although TMQ found it odd that media dispatches were short on healthy skepticism, considering CERN's previous big announcement turned out to be not only bogus but the result of incompetence.
"We know the Higgs is at the center of everything," Joe Lykken, a CERN researcher, told The Washington Post. Beware of scientists claiming to "know" how the universe works, as opposed to offering educated guesses.
TMQ suspects many physicists are pretending to understand claims about the Higgs boson, in order to sound like informed insiders. But even CERN officials have trouble explicating what, exactly, they say they have found. Garance Franke-Ruta summarizes the claims, which boil down to, "The Higgs boson is some kinda particle, unless it's not."
Even if the latest CERN data prove correct, humanity is still in the early days of grasping elemental issues of the natural world. Suppose proponents are correct, that a Higgs boson does exist and does mediate a Higgs field. Then why does the Higgs field exist? What is the source of the quintessence being emanated? I'd venture that humanity today knows 1 percent of what is possible to know about the cosmos. How long until physicists scoff at the year 2012, when smart people actually believed there was a God particle!
Replacement Officials Update: At the 2-minute warning in Philadelphia, Eagles on the Ravens' goal line, officials ruled that Michael Vick fumbled as he attempted to pass, Baltimore recovery. After a review, replacement officials corrected their ruling to incompletion -- which was right. The Nesharim scored the winning touchdown on the next snap.
But Vick should have been flagged for grounding. He was within the pocket, trying to unload the ball under tackle, and there was no eligible receiver in the area. The replacement zebras seemed so concerned with whether the arm movement was a pass attempt or a fumble that they forgot about grounding. Had grounding been called, Philadelphia would have faced third-and-goal at the 11 rather than at the 1. TMQ thinks this is the first replacement officials mistake that (probably) affected the outcome of the game. One must say probably because if grounding had been called, there's no telling what would have happened next.
The NFL Referees Association is angry about an NFL offer that would raise officiating salaries to an average of $189,000 annually for part-time work. The NHL union is angry about an offer that would reduce the current player average of $2.4 million to a mere $2 million annually.
Yes, many NFL and NHL owners are ogres, and none should receive public subsidies. But the framing of the disputes -- unions claiming to be working-class victims versus plutocrats -- is 50 years out of date. A hobby that pays $189,000 a year; a child's game that pays $2 million a year plus leads to celebrity. The people offered these deals are angry and feel ill-used?
The replacements' worst call Sunday occurred in the Dallas-at-Seattle contest. As noted by reader Tyler Kenealey of Dallas, early in the fourth quarter, Golden Tate of the Bluish Men Group made a vicious peel-back helmet-to-helmet hit on Boys linebacker Sean Lee. Edge defenders are considered "defenseless" if they cannot see a blocker approaching from their blind side. Zebras threw a flag -- which turned out to be unnecessary roughness on Dallas, for a defender lightly pushing a Seahawk out of bounds. Tate wasn't flagged. "That is completely ridiculous," Fox announcer Kenny Albert said. He was right.
"Ha'kun'a Mat'ata (The Butler Did It)": All action shows contain some nonsense. As the television critic James Parker has noted, an action series that consists entirely of nonsense is an art form. Parker thought "24" was an achievement in that sense. Inheriting this mantle is the reimagined "Hawaii Five-0," whose third season kicks off Monday. "Five-0" has emerged as television's most entertaining delivery system for pure nonsense.
An episode begins with a prisoner on a commercial flight killing the U.S. marshal escorting him. The murder weapon? I am not making this up: Two plastic airline knives held together with a rubber band. Passengers were unaware a murder was in progress onboard, because the marshal inexplicably did not fight back or cry out, although it would take quite a while -- probably hours -- to kill someone using two plastic airline knives held together with a rubber band.
At the Honolulu airport, the killer escapes as the plane reaches a gate. Steve McGarrett declares the bad guy "used the galley to reach the baggage compartment, then got out through the wheel well." We see grainy surveillance-cam footage of a sinister figure dropping to the ground from a wheel well beneath the plane's wing. The aircraft shown is a Hawaiian Airlines Airbus. Here's info on the model; good luck finding a door from the galley to the baggage hold. Even if you could reach the baggage compartment, there's no route to midwing, as the wings of jetliners are where fuel is stored. So: The bad guy smashed a bulkhead with his bare hands to get to the baggage hold, then swam through a fuel tank.
On "Hawaii Five-0," a small group of cops has an omniscient supercomputer the CIA would envy. Plots regularly involve automatic-weapons fire on the streets of Honolulu. The Aliiolani Hale, a Hawaii landmark, is presented as the secret headquarters of "Five-0," as if a Washington, D.C., detective show presented the Washington Monument as a secret headquarters. "I confer on you blanket immunity from prosecution, so you can go outside the law to stop crime," the governor tells McGarrett. Gov, think about what you just said! Not even Oliver North had advance immunity.
All of the elements of action-show nonsense are on regular display. Among them:
Good guys laugh at bullets: The McGarrett, Danno and Kono characters have been shot at close range by assault rifles. Bullets from assault rifles travel at higher velocity than handgun bullets and have devastating effects on the body. Yet minutes later, all were fine, just some gauze taped over a tiny wound, and back to wisecracking. In an episode guest-starring Sean Combs, Combs is shot in the stomach at close range at night and passes out. "Five-0" arrives in daylight to find Combs unconscious. Hours have passed, yet Combs' bleeding stopped on its own without medical attention or pressure, although stomach wounds bleed profusely. By evening, Combs is fully recovered and able to beat up large, muscular men.
Foes who can't die: In the pilot, the Big Bad character is shot twice in the chest at close range, then falls into deep water. A few episodes later, he's baccckkkkkkkk.
The all-knowing informant: The good guys get key info from a stoolie who always knows everything about every criminal in Hawaii, yet is never retaliated against by the criminal element -- although police officers regularly meet him in broad daylight at Waikiki Beach.
Astonishing tech: A detective uses a cellphone to send a picture of a fingerprint to headquarters. Not only is a blurry snapshot sufficient to ID a print, in 14 seconds (I counted!) the print is processed and the suspect's driver's license appears on the detective's phone.
During a car chase, McGarrett calls a friend in the intelligence unit aboard an aircraft carrier in the Persian Gulf. He asks her to reposition a spy satellite to track a car on a Hawaiian road. Not only does she move a satellite without permission, 6 seconds (I counted!) pass from when she types in the first command to when the orbital maneuver is complete and the location of the suspect car shows on McGarrett's phone. It's hard to think of anything in the Jack Bauer oeuvre that tops this for sheer nuttiness.
The aircraft carrier McGarrett calls is the Enterprise, commissioned in 1961, and the oldest active ship in the fleet. In 2008, the Navy wanted to retire her. Congress instead voted out a $662 million refurbishment, as a giveaway to the congressional delegation of Virginia, where her home port is located. In 2010, the refitted Enterprise went back to sea; she will be decommissioned at a December ceremony in Newport News.
That's $662 million to keep an obsolete boat afloat three extra years, when the Navy already has 10 times as many carriers as the rest of the world combined and faces no blue-water threat. Wonder why the national debt is skyrocketing? Congress keeps throwing money out the window, or in this case, overboard. The appropriation was supported by now-House Majority Leader Eric Cantor of Virginia, who constantly denounces federal spending, unless the money goes to his state.
Inventing their own laws: Thrice, for convoluted plot reasons, the heroes go to the state penitentiary and order the release of a convict. This really is not how prisons work. Although escaping from prison is so easy in "Five-0" -- like calling a cab -- it's not clear why the Hawaii Department of Public Safety bothers to maintain a Corrections Division.
Air shafts galore: The $28 million seized in a drug bust is stored in an evidence locker at HPD headquarters. The only way to reach the cash is by walking past dozens of armed officers -- or using the gigantic air shaft that leads directly to the money.
Good guys ignore procedure: Learning a dangerous suspect is in a nightclub, McGarrett and Danno charge in the front door, rather than watch the exits and wait for backup. Needless to say, the bad guy escapes. Learning the guy now is holed up on a docked boat, Chin Ho charges onto the boat alone, rather than watch the gangplank and wait for backup. Needless to say, the bad guy escapes.
Scenes that make no sense, based on the previous scene: Twice, Kono, a martial-arts champion, is depicted as being sneaked up on by a lone evildoer with a gun. Commercial, then we see Kono bound and gagged with duct tape. It is impossible to duct-tape your own wrists, while the bad guy would have to put down his gun to do it.
Scenes that make no sense, period: "Five-0" is tasked to guard a dignitary mercenaries want to kill. There's a battle in downtown Honolulu, in which half a dozen mercenaries with machine guns fire hundreds of rounds that all miss; the good guys score perfect hits with pistols while leaping sideways. Then the heroes and the dignitary jump into an SUV and peel out.
Do they -- and here's a crazy idea -- drive to the nearest police station? They drive to McGarrett's house, which he says is safe "because my house is in an isolated area." Why would they WANT to be in an isolated area? (In another episode, when McGarrett looks out his front door, he sees a busy street.) In sunlight, McGarrett calls for reinforcements. Running from commercial, it's pitch dark. "Why isn't HPD here yet?" Kono asks. SEVERAL HOURS HAVE PASSED, and the "Five-0" team just noticed no help has come. As mercenaries prepare to attack, viewers are told the bad guys control the phone lines in Hawaii and intercepted the calls for backup. The National Security Agency has spent billions of dollars trying to design technology to control phones.
World situations that make no sense: It's amazingly easy to get in and out of North Korea. McGarrett just drives in. When he's captured, the rest of the team crosses from South Korea, then extracts, without anyone noticing. The actual Korean demilitarized zone is the most heavily guarded border in the world. "Five-0" is accompanied on its North Korean holiday by "SEAL Team Nine." Reaching a bunker believed to be guarded by a sizable force, SEAL Team Nine simply walks toward the front door, in daylight.
Superhuman feats: A criminal is shot in the stomach at close range, yet sprints through a warehouse evading multiple officers; steals a car and drives to police headquarters; runs through police headquarters unnoticed although blood-soaked; smashes a natural gas pipeline, causing an explosion; runs several blocks to escape. Not only does a gunshot wound have no effect on her ability to run, the entire time she is carrying a satchel containing a heavy sniper rifle with tripod.
Supervillains: One is Wo Fat, reimagined from the villain of the original show. The new Wo Fat is a mobster depicted as possessing limitless money and political connections in Beijing and Washington. The money and connections continue even after every one of his schemes is thwarted by "Five-0."
The other is Frank Delano, who from inside prison orchestrates a split-second-timing plot to kill the Honolulu police chief, blow up police headquarters, kidnap people in two places, steal a yacht and escape from the penitentiary. Like The Joker, Delano commands an army of ultra-competent henchmen who are willing to die for him, without any explanation of why this would be so. Presenting Chin Ho with a Sophie's choice, Delano sneers, "Don't bother trying to call your teammates, because I control all phone lines on the island." Huh?
Their own private reality: When the heroes smash down a door, they don't announce themselves as police, rather shout, "Five-0!" Since viewers are told "Five-0" is the code name of a secret task force, how could anyone know what they mean? "Five-oh" became slang for police because of the "Hawaii Five-0" show of the 1970s. The way the characters shout, "Five-0!" on the current series suggests they inhabit an alternative reality in which there is an actual crime-fighting organization called "Five-0" but people also watch reruns of a Jack Lord TV show about an imaginary "Five-0."
Wildly overstating the severity of crime on the islands: Two seasons so far have depicted perhaps 200 murders, an equal number of bad guys shot and killed by police, dozens of law enforcement officers gunned down, the murder of the governor, multiple car bombs, mass kidnappings, huge explosions, three plane crashes, sarin gas ("sarin brokers are looking for new customers," a CIA officer says casually), a tsunami and a plague described as able to kill a third of the population of the world. In 2010, the most recent year for which statistics are available, in the actual Hawaii there were 19 homicides, two deaths in the line of duty by a law enforcement officer, and so far as I could determine, one person shot and killed by an officer. As for huge explosions and epidemics, everyone knows these happen all the time in Hawaii!
The serious point: "Five-0" shares a puzzling trait of network crime serials -- it is asserted that the only reason anyone would ask a police officer for identification is that the person has something to hide.
On TV, cops in street clothes just say, "Police" or "NYPD," and instantly are believed. In a "CSI: Miami" episode, the David Caruso character, asked to prove he is a cop, dismissively waves his badge too far away to be seen. In a "Five-0" episode, a person being questioned asks McGarrett for proof of who he is. "This is all the proof you're going to get," McGarrett snaps, flashing his badge so briefly no one could know whether it was real, let alone read his name.
Why do TV script writers promote the idea that it is unreasonable to ask law enforcement officers to establish identity? No honest cop objects to this. Fake badges can be purchased in a costume store, and criminals pretending to be police are a long-standing problem. If a guy banged on the door of a "Hawaii Five-0" producer, claiming to be a detective but refusing to show ID, that producer surely would dial 911.
Of course action shows are preposterous. But it is troubling that television crime dramas imply that law enforcement officers should never be questioned. Why does Hollywood think this is a notion the American public should be force fed?
Boo Birds No. 1, Arizona at New England: The Patriots seemingly score at will at home. When the Cardinals twice took field goals on fourth-and-short in the first half, your columnist thought, "They'll never outscore New England at home that way." They did. Arizona held the hosts to 18 points, mainly on the strength of a disruptive front seven that, like the front of the San Francisco defense, doesn't run a lot of stunts, just crashes straight ahead.
Bill Belichick, master of tactics, made a puzzling decision in the endgame. Arizona leading 20-18, Danny Woodhead scored a touchdown with a minute remaining, but the Patriots were flagged for holding. Your columnist thought, "This actually favors the hosts, because now Belichick can grind down the clock and kick a field goal as time expires." Might it actually have been better for Arizona to decline the penalty, force New England to take the touchdown and give itself one minute to reply? The Giants' comeback would end with the Bucs trying to force the hosts to take a touchdown.
After the penalty, Tom Brady threw to the Cardinals' 18, where New England had first-and-10 with 46 seconds remaining, out of timeouts. Belichick had Brady dive ahead to position the ball, but the Patriots were offside. Now New England was back at the 23 -- from there, a field goal is likely but hardly automatic. Belichick had Brady dive again, this time losing a yard; Brady spiked the ball to stop the clock at 5 seconds, and New England's hope sailed wide left.
The football gods chortled, since New England missed toward the same goal posts where Baltimore missed a short field on the final snap of this past January's playoff contest. Why was Belichick content to play for a 42-yard field goal attempt? New England might have run at least one snap, maybe two, to move the ball closer.
Perhaps New Orleans Will Waive Its Head Coach: New Orleans starting head coach Sean Payton is out for the season, and backup head coach Joe Vitt is suspended. Practice squad head coach Aaron Kromer has led the Sinners to consecutive losses to open the season. Should New Orleans put Kromer on waivers and bring in a "street" free-agent head coach -- somebody who started the season tending bar or working in a warehouse?
At one juncture, the Carolina snaps were: Cam Newton design run, bubble screen, three consecutive zone-read option runs, then a veer option. The Panthers' offense looked even more like a college offense than last season.
Does Peyton Wish He'd Stayed in Indianapolis? Atlanta picked off Peyton Manning thrice in the first quarter on "Monday Night Football." Teams that call plays at the line and snap fast -- once a radical strategy, now practically a norm -- rely on the assumption that the defense will hustle to get into position, then not move. Monday night, Atlanta defenders milled around pre-snap, using what TMQ calls the Times Square Defense: a crowd of people milling around at random.
The key word is random. In a Times Square Defense, defenders just shuffle back and forth till the snap. Manning could not figure out the pattern because there was no pattern. Often Falcons defenders pressed the line as if to blitz, then, as Manning began the snap count, sprinted backward into coverage. This worked, and Denver needs an answer for it.
The replacement officials did not affect the outcome of the contest but did not perform well, either -- they seemed nervous and confused, not in control. Many more games like that, and the NFL will be seen as losing its product quality.
The replacement refs were correct to award the contested fumble to Denver. But they officiated the play all wrong. The ball came out, Eric Decker of Denver cradled it with his knees down and in contact with a defender, the play should have been dead right there. Instead officials let both teams struggle for possession, then tried to sort out who prevailed. On most fumbles, the play is dead the moment anyone cradles the ball and does not try to get up. The whistle should sound, and the later struggle be ignored.
Trailing 10-0, Denver punted on fourth-and-inches from midfield, on a night the Broncos averaged 4.4 yards per rush. Punting on fourth-and-inches from midfield was the "safe" thing to do.
Unified Field Theory of Creep: Reader Jim Clair of reports, "Archie Manning was just on the Colin Cowherd radio show talking about the Liberty Mutual Coach of the Year Program he's working with. Manning encouraged voters to vote every day between now and Dec. 31. Not only is it crazy to vote for the college coach of the year after two weeks of play, the voting closes before most bowl games take place and many important coaching decisions are left to be made." Vote early, vote often!
All Hail the Bison: Recently, your columnist toured NCAA headquarters in Indianapolis, where there is a hall displaying banners of every champion regnant in each of the 39 NCAA sports. Of course you knew that the current champion of women's bowling is Maryland Eastern Shore, which bested Fairleigh Dickinson.
Which school's banner hangs as football champion? Certainly not that of the Crimson Tide. The football banner that hangs at NCAA headquarters belongs to the Bison of North Dakota State, which last season won the Division I-AA -- "Football Championship Subdivision" -- playoffs.
Only football has a Division I-A and a Division I-AA; all other NCAA sports have a unified Division I. The schools and players of Division I-AA belong to Division I, meaning those who were on the football team at Davidson or Lehigh may fairly say, "I played Division I football." But the "Football Bowl Subdivision" of Division I does not name a champion. This past January, Alabama and LSU played for the BCS title; they did not play for the Division I-A title.
That leaves North Dakota State as college football's champ. Hail to the Bison! Other Division I-AA title schools are here.
Although NCAA headquarters controls the March Madness men's basketball tournament, deriving nearly all of its annual income from these games, the NCAA receives nothing from the BCS bowls and has no input into the BCS organization. The NCAA and BCS are widely assumed to be one and the same, while actually they are bitter rivals. This, not competition, is the reason NCAA leaders in Indianapolis have been pushing for a Division I-A football playoff system. If the big-college football postseason realigns, the NCAA hopes to get a piece of that old sweet roll.
Low Graduation Rates? Fine with the NCAA. Two Feathers? OMG! Over at the University of North Dakota, the state's voters recently endorsed a referendum to drop the Fighting Sioux nickname. Right now the school's teams are the -- we'll get back to you on that, as UND teams have no nickname at the moment.
The NCAA ordered the University of North Dakota to drop the Fighting Sioux nickname and cease using a Sioux head image drawn by a Native American artist. The NCAA also ordered William & Mary to cease using a two-feathers sports logo. Yet the NCAA is fine with the University of Utah's American Indian nickname, the Utes, and its two-feathers logo.
What's the distinction here? Money. The North Dakota men's basketball team has not made the March Madness event in 20 years. William & Mary has never made the men's tournament. Neither the University of North Dakota nor William & Mary provides the NCAA with the only thing it cares about: greenback dollars. The University of Utah, on the other hand, has 26 March Madness appearances, including 12 of the past 20 tournaments. Because in the case of the Utes, the American Indian imagery generates cash for the NCAA, all is well.
Since the University of North Dakota needs a new nickname, TMQ proposes the Fighting Sue, perhaps with Johnny Cash theme music.
The Football Gods Chortled: One tick before Les Mouflons launched a field goal attempt on the last snap of the first half, Mike Shanahan called an icing timeout. The kick missed. Given a second try, the Rams hit the kick and went on to a three-point victory.
Leftover Squared Sevens Praise: Last week TMQ lavishly praised the Forty Niners. Here are additions to the praise. Alex Smith has 216 passes without an interception, raising the possibility a guy viewed as washed up two seasons ago will make the Pro Bowl. The team has allowed just three rushing touchdowns in 20 games under Harbaugh/West -- compare to City of Tampa, with 27 rushing touchdowns allowed in the same period. San Francisco doesn't do much fancy up front -- twists and stunts by the defensive linemen are rare, and front seven players control their gaps and do not get caught out of position. Just as Harbaugh/West is surprisingly old-school on offense -- almost always a fullback on the field -- in a league in which funky defense is the rage, he is surprisingly old-school on defense, too.
Last week I said the Niners have "the best linebacker in the league." You thought I meant Patrick Willis? I meant this guy. Most teams have Mike, Will and Sam backers. In San Francisco, all three linebackers play the same style, which is one of the team's strengths. Watch for NaVorro Bowman to make the Pro Bowl along with Smith.
Who Looks This Stuff Up? The Giants "became just the second team to have a 500-yard passer and two 150-yard-plus receivers in the same game. Only the 1951 Rams had performed that fate." -- The Washington Post.
Boo Birds No. 2, Bucs at Giants: How can a team go 1-for-5 in the red zone yet still win? By running up 604 yards of offense. Because of the Giants' power-football, cloud-of-dust tradition, they are not thought of as a modern offense. Yet Jersey/A is the pass-wackiest team in the NFL. Last season the Giants had a league-high 77 percent of their offensive yards from passing, plus a league-high 157 points in the fourth quarter. On Sunday, Jersey/A rang up 84 percent of its yards from passing. The Giants already have scored 32 fourth-quarter points, a rate of 256 for a full season. The Giants' dull uniforms, Eli Manning's awe-shucks demeanor -- all might make the team seem modest. But Jersey/A has a pinball machine offense. Victor Cruz has a 17.9 yards per catch career average. That's a number from the 1963 Houston Oilers.
At times Sunday, the Giants played so poorly, it was hard to bear in mind they won the most recent Super Bowl. Thrice Giants players dropped well-thrown passes in the end zone. Reaching first-and-goal on the City of Tampa 2, Jersey/A coaches called a goofy, tackle-eligible play rather than just pound and ended up settling for a field goal on the possession. When Tampa's Eric Wright intercepted a pass deep in Bucs territory with 23 seconds showing before intermission, most Giants players just stood there watching, as if it never occurred to them it would be legal for Wright to run for a touchdown, as he did. Home fans boo to relieve stress when these kinds of things occur.
Now it's Giants 41, City of Tampa 34 with 18 seconds remaining and Bucs' ball on the Jersey/A 45. Where oh where might the pass go -- maybe to the end zone! Yet backup corner Justin "Two Garments Only" Tryon, already burned deep once, has single coverage on a deep sideline route and comes perilously close to surrendering a huge gain. Tryon might not be the world's best cornerback, but why did Giants coaches put him in that situation?
City of Tampa worked hard to lose this game. The Buccaneers started big-blitzing in the fourth quarter and paid the price. The 80-yard touchdown to Cruz came off a six-man safety blitz, with Ronde Barber letting Cruz run past him. If you know the safety on your side has blitzed, you cannot let your man get deep. The Bucs learned no lesson, City of Tampa coaches calling a seven-man blitz on what became the 50-yard completion to Hakeem Nicks to set up the winning touchdown. Heading to the line, Manning saw Nicks single-covered by a press corner. Nicks just ran past Aqib Talib. If you know the safety on your side has blitzed, you cannot let your man get deep.
Schiano the Weasel made one of the worst calls TMQ has ever seen. Bucs leading 27-19 midway through the fourth quarter, Tampa faced fourth-and-1 at midfield. That cannot be the punt unit trotting on! You know the Giants are a fourth-quarter comeback team; control the ball! And they are the defending champions -- you can't dance with the champ; you have to knock him down! It took Jersey/A just three snaps to pass the point where the spot would have been, had the Bucs tried and failed. Schiano the Weasel traded possession of the ball, the most important factor in football, for a small gain of field position against a team his defense couldn't even slow down. Ye gods.
Buck-Buck-Brawckkkkkkk: Buffalo leading 21-0 in the third quarter, Kansas City kicked a short field goal, which was bad enough -- hey guys, now we're down by only 18! -- then, rather than onside, kicked away. When the kick was not an onside, TMQ wrote the words "game over" in his notebook. Agreeing with this view, the football gods caused Buffalo to take the ball the other way for a 28-3 lead. Trailing by that score at the end of the third quarter, Romeo Crennel sent in the punt unit again. Now full of wrath, the football gods caused the punt to be returned for a touchdown.
Buck-Buck-Brawckkkkkkk No. 2: Miami leading 21-10 at the start of the fourth quarter, Oakland faced fourth-and-4 on the Marine Mammals' 10. When novice coach Dennis Allen sent in the field goal unit -- you must get touchdowns, and you're close to pay dirt! -- he might as well have waived a white flag. Miami took the ball the other way to make it 28-13, and Allen ordered a punt on fourth-and-6. This was the fourth quarter! Allen was doing the "safe" thing, which in football usually leads to defeat. Additionally, he was trying to hold down the margin of defeat so he'd be less likely to be yet another Raiders coach fired after one year.
I'd like some of whatever Reggie Bush is having for breakfast: Bush had two tackle-breaking long touchdown runs. Suddenly he's not the "finesse" back Pete Carroll left off the field when USC needed to gain 1 yard to win a national championship.
Obscure College Score of the Week: Concordia University Chicago 63, Hope College 47. There were 1,304 yards of offense, 371 return yards, 16 touchdowns and no field goal attempts. Six players gained at least 100 yards on offense. The victor calls itself Concordia University Chicago, although it is located in River Forest, Ill., about 15 miles from the Windy City boundary.
Bonus College Score: Wabash 35, Denison 2. Big Red faithful lament: If only we'd gotten 17 more safeties! Located in Crawfordsville, Ind., Wabash College has a Paintball Club. "Mom and Dad, I know you paid $41,000 a year for me to go to Wabash, but I decided to use my time to play paintball."
We Have Established What You Are, We Are Negotiating the Price: Last week TMQ noted of cupcake-for-hire Presbyterian College, "Georgia Tech [just] paid Division 1AA Presbyterian, which last autumn lost to Furman, $400,000 to come to Atlanta and be pounded, 59-3. Last season, Presbyterian accepted $400,000 to fly to Cal and be pounded, 63-12." On Saturday, Vanderbilt paid Presbyterian around $400,000 to be pounded, 58-0. The Tennessean reported that sum is "the customary rate for Presbyterian to play an SEC or ACC team." The customary rate!
Cupcake of the Week: Division I mid-major Akron hosted lower-division Morgan State and won 66-6. The devil himself must have arranged the game.
Single Worst Play of the Season -- So Far: Trailing 31-28, the Redskins faced third-and-8 at the St. Louis 36 with 1:27 remaining. RG3 threw a 7-yard completion to Josh Morgan, advancing Washington to the 29 and field goal range. More concerned with attention for himself than victory for his team, Morgan celebrated by throwing the ball at a Rams defender. Unsportsmanlike conduct pushed Washington back to the 44, where a desperation field goal try sailed far off the mark.
Many sports commentators have noted this knucklehead move by Morgan deprived the Skins of a makeable field goal to force overtime. But consider -- it would have been fourth-and-1 on Les Mouflons' 29. Washington rushed for 176 yards on the game, a 6.1-yard average. The Redskins could have gone for the first down and positioned themselves to win outright with a touchdown.
Josh Morgan, you are guilty of the single worst play of the season -- so far.
Next Week: The Washington Nationals shut down Stephen Strasburg for 2013, too, saying, "We want to be sure his ragweed allergy doesn't act up."
In addition to writing Tuesday Morning Quarterback for Page 2, Gregg Easterbrook is the author of "Sonic Boom" and six other books. He is a contributing editor for The New Republic, The Atlantic Monthly and The Washington Monthly. His website can be found here, and you can get a notification on Twitter when TMQ is posted.