Baylor and West Virginia combined for 133 points and 1,507 yards of offense. New England and Buffalo combined for 1,018 yards of offense. Two players had at least 300 yards receiving in the Baylor-WVU contest, four players at least 100 yards of offense for New England. A quarter of NFL teams are averaging at least 400 yards of offense per game. NCAA and NFL scoring are at record highs.
This weekend, the New Orleans Saints gained 474 yards, the University of Tennessee gained 478 yards and scored 44 points, Virginia gained 625 yards, the Akron Zips gained 629 yards and scored 49 points, NC State gained 664 yards. And all lost, because in the era of Xbox Offense, they didn't score enough.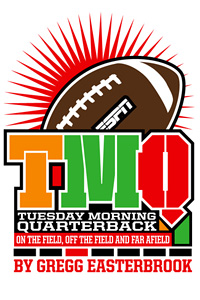 Way back in the mists of history -- a few years ago -- defense won championships. After the 2011 season, the top playoff slots went to New England and Green Bay, the league's 31st- and 32nd-ranked defenses.
For a generation, the football establishment has been tweaking rules to favor offense. Maybe the pendulum has swung too far and it's time to tweak rules to favor defense.
First, the big picture. The NFL scoring average is now 23.7 points per team per game, up from 21.7 a decade ago, from 18.7 two decades ago, and the highest average ever. In the late 1940s, when the spread offense was first employed, scoring was high, too, so maybe it's cyclical. But for the current generation, NFL scoring has steadily increased.
The big rules changes were the 5-yard chuck rule, instituted in 1978 and made more strict in 2004; end of the head slap by defenders; allowing offensive linemen to use their hands; and making most contact with the quarterback illegal. These changes were designed to increase scoring, and had the intended impact.
In Division I football the trend is more dramatic, from an average of 20.6 points per game per school 40 years ago, building nearly uninterrupted to 22.9 points 30 years ago, to 27.3 points 10 years ago, to 28.3 points last season. On Saturday, Division I games averaged 30.4 points per team, the second-highest scoring day in Division I football annals, according to Elias Sports Bureau.
Rules evolution in college football roughly mirrors the NFL, and has the same purpose: to increase scoring. College adds the style-points dynamic.
The pros have no polls; a 16-13 victory is as good as a 45-3 win. In college, the high-scoring win is what impresses pollsters. In the NFL, there are no boosters; in college, flashy victories cause the boosters to donate. Thus the recent trend in NCAA football: Put the best athletes on offense, to please the pollsters and boosters. College athletes who a decade ago would have been shutdown corners for high-octane defenses today are speed receivers for no-huddle spread option offenses. Alabama, LSU, Ohio State and a few others still line up their best athletes on defense. But putting the best athletes on offense is popular across the college scene.
For TMQ, the impact of runaway offense is this. Four years ago, I began a regular item on college teams that gained at least 400 yards but lost because their opponent gained even more. Then the threshold rose, and a team had to gain 500 yards yet lose to be unusual. By last year a team had to gain 600 yards and lose to qualify as a TMQ amusing stat. By the end of this season, will 700 yards plus a loss be needed? It's already happened twice in the young 2012 season: Baylor gaining 700 and losing to WVU, New Hampshire gaining 725 yards and losing to Old Dominion.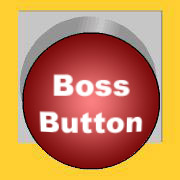 The occasional high-scoring game is fun, but do we really want football to become basketball on grass, with almost every possession resulting in a score and whoever has the ball last winning? Here are possible rules changes to swing the pendulum back:
• Relax the chuck rule (and also call it the Charles rule, which is more dignified) to allow contact with a receiver up to 10 yards downfield.
• Make offensive holding an officiating "point of emphasis." Right now an offensive lineman has to wrap both arms around a defender to be called. Any grabbing of jersey or arm should be a flag.
• Enforce the illegal shift rule strictly. Modern no-huddle offenses involve the quarterback moving around to talk to teammates after he appeared to be set, the tailback leaving his stance to hear what the quarterback is saying, and other movements that sure look illegal. Just as the NBA allows traveling so long as you dunk, the NFL allows illegal motion so long as the result is more offense.
These three proposed tweaks are not dramatic -- but neither were the tweaks that shifted the game toward offense. Shifting a bit back toward defense seems in order.
In other basketball-on-grass news, the Packers got a makeup call! In the fourth quarter at Green Bay, New Orleans lost a fumble, but zebras incorrectly awarded possession to the visitors. The home team was out of challenges. Had Green Bay lost consecutive games to officiating errors, verily the football gods would have waxed wroth.
But when New Orleans hit a field goal to take the lead in the waning moments, zebras flagged the Sinners with a holding foul. Pushed back, New Orleans missed its second attempt. Exactly like an NBA makeup call!
Stats of the Week No. 1: Green Bay and New Orleans, which met Sunday, have followed a combined 30-2 streak with a combined 2-8 streak.
Stats of the Week No. 2: Minnesota won in its division for the first time since September 2010.
Stats of the Week No. 3: Five of Arizona's past 13 games have gone into overtime, and the Cardinals are 5-0 in them.
Stats of the Week No. 4: Since 2008, the Lions have scored one kick return touchdown while allowing eight.
Stats of the Week No. 5: Atlanta has won five straight over Carolina.
Stats of the Week No. 6: The Eagles have won eight of nine against the Giants.
Stats of the Week No. 7: As head coach of Baltimore, John Harbaugh is 9-0 versus the Browns.
Stats of the Week No. 8: Denver second-half possession results: touchdown, touchdown, touchdown, field goal, field goal, victory formation.
Stats of the Week No. 9: The Baylor-West Virginia game featured 19 touchdowns and three punts.
Stats of the Week No. 10: On" Monday Night Football," Tony Romo threw more touchdown passes to Chicago players than to Dallas players.
Sweet Play of the Week: Trailing Seattle 7-3 and facing fourth-and-goal on the Bluish Men Group 2 at the end of the first half, St. Louis did the expected, sending in the field goal team. No Seahawk noticed Danny Amendola flanked wide, almost on the sideline. Holder Johnny Hekker threw to him for a touchdown -- sweet! Extra-sweet was that because Amendola had been on the field the previous down, he was not required to be inside the hashmarks before this snap, as is a substitute entering the game. The play design is that if the receiver isn't noticed, throw; if he is noticed, just go ahead and kick the field goal.
The Rams hit field goals of 60 and 58 yards, and when Seattle onside kicked to start the second half, St. Louis covered. A banner day for Les Mouflons special teams.
Sour Play of the Week: The Cardinals, trailing 13-7, had just allowed back-to-back sacks, and the home crowd was booing. Sure you're on a 10-2 streak including seven consecutive home wins, but what have you done for us lately? Arizona coaches kept an extra blocker back and sent Andre Roberts on an out-and-up. Dolphins corner Richard Marshall bit hard, while the safety on that side, Chris Clemons, jumped a short route -- leaving no one between Robert and the end zone. Sour for Miami, whose coaches began the season by trading away their best defensive back, Vontae Davis, in order to bank future draft choices.
Sweet 'N' Sour Sequence of the Week Trailing Carolina 28-27, Atlanta took possession on its 1-yard line with 59 seconds remaining, out of timeouts. Matt Ryan play-faked, then threw 59 yards to Roddy White. Two quick sideline passes advanced the spot to the Panthers' 22, and stopped the clock. Field goal, and the Falcons, a league-best plus-10 in turnovers, won by covering 73 yards in less than a minute without a timeout. Sweet.
For the Panthers, all was sour. At 1:44, Carolina faced fourth-and-inches on the Atlanta 45, the opponent holding no timeouts. The Cats tried to draw the Falcons offside, failed, and punted. Just go for it! Carolina averaged 6.4 yards per offensive snap -- gain 1 yard and the game is over!
Now Atlanta has the ball on its 1 with 59 seconds remaining and no timeouts. Where oh where might the pass go? Maybe up the field? Yet the Panthers put eight defenders "in the box" as if expecting a power rush, then fell for a play fake. The Falcons had no choice but to throw deep. Yet Carolina stacked against the run and then fell for a play fake.
Now it's Atlanta ball on the Panthers' 35 with 19 seconds remaining and the Falcons holding no timeouts. Atlanta needs a field goal to win. The Falcons need to get out of bounds to stop the clock. Where oh where might the pass go? Maybe to the sideline! Yet Carolina had no cornerbacks along the sideline; Ryan completed a short throw to Tony Gonzalez, who stepped out of bounds. Now there are 14 seconds remaining and Atlanta is on the 28. The pass can go one of two places -- the end zone or the sideline. Just to prove the previous play was no fluke, Carolina again has no cornerback along the sideline. Quick out, WR Harry Douglas steps out of bounds and Atlanta is positioned for the winning kick.
Before the two quick sideline passes, Carolina had a timeout -- the Panthers could have stopped the action to ensure their defensive backs understood the situation. The final two minutes of this contest were very sour for Carolina coaches, who made a series of knuckleheaded decisions.
Friends Don't Let Friends Punt: TMQ is following the fourth-down results at Pulaski Academy in Little Rock, Ark., where head coach Kevin Kelley has eschewed the punt for years.
Last season, Pulaski punted once and won the state title. So far this season the Bruins are 3-2 and have gone for it on fourth down 34 times, converting 16. Friday night, Pulaski posted an uneventful 43-8 victory over West Helena. Kelley reports, "We scored touchdowns on our first five possessions then took our starters out. Our starters did not face any fourth downs." Fourth-down results by the backups:
Fourth-and-2 on opponent's 38: converted.
Fourth-and-10 on own 35: pass, incomplete.
Arkansas-Style Football Plays of the Day Denver had lost four straight at home to Oakland, by embarrassing scores. On the Broncos' opening drive, Denver faced fourth-and-1 on the Raiders' 30. Rather than do the expected and launch a field goal attempt, Denver coach John Fox went for it: conversion, touchdown on the possession and the Broncos never looked back.
Trailing 28-27, New Orleans went for it on fourth-and-2 at midfield with about four minutes remaining. The Saints converted, though did not go on to win.
I'd Rather Be Blue: Reader Eric Morton of Wixom, Mich., reports that Orchard Lake Saint Mary's Prep of Orchard Lake, Mich., has installed red turf. With red uniforms, Boise State-style camouflage plays become possible -- one Boise State camouflage play had a blue-clad Bronco deliberately drop to the blue turf and lie prone just before a kickoff, be forgotten, then jump up and take a reverse.
Disclaimer of the Week: Reader Dave Muckel of Chester Springs, Pa., notes this story of an FTC crackdown. What dramatic punishment did the companies agree to? They agreed to stop breaking the law.
Cheer-Babe Professionalism: At kickoff in Philadelphia for a night game it was a nippy 62 degrees with temperatures falling. Eagles cheerleaders showed professionalism by wearing their bikini-beach summer outfits, and this appeased the football gods, who smiled on the home team.
Game scoreless, Philadelphia faced third-and-9 on the Jersey/A 19 just inside the two-minute warning of the first half. The Giants blitzed seven; the Eagles went max-protect, keeping eight back to block; despite Jersey/A having four in the secondary to guard two receivers, DeSean Jackson got open on a combo pattern for a touchdown; the hosts went on to win 19-17. How four men can fail to guard two is anyone's guess. But why the all-out blitz? Since the play began on the Jersey/A 19, a sack would have left Philadelphia in field goal range. An incompletion, not a sack, was what Jersey/A needed.
Philadelphia is top-10 statistically in both offense and defense, yet playing erratically. Will the Eagles be this year's Chargers? Eli Manning is on pace for 5,280 yards passing, which would be the second-best season ever, yet the Giants are playing erratically.
$6 Million to Fix an Escalator -- Your Tax Dollars at Work: Economic growth has slowed while the national debt has risen: Reckless borrowing has been the rule under both George W. Bush and Barack Obama. Yet hardly anything new is getting built. Government-funded construction projects continue to take too long and cost too much. Corruption in government contracting appears to be rampant, as does the desire of local politicians to drag their feet in order to keep money flowing. In May, Transportation Secretary Ray LaHood said that cost-effectiveness of subway spending is not as important as "social equity," by which he seemed to mean channeling handouts to party interest groups. If the people in charge of large government spending projects -- whether those people are Republicans or Democrats -- think cost-effective use of taxpayers' money does not matter, that is a formula for reckless borrowing combined with little progress. Exactly what the country's getting.
A year ago your columnist offered numerous big-picture examples on Reuters. Sometimes the little picture is easier to understand, so consider the reflecting pool between the Washington and Lincoln monuments. Recently there was a federally funded project to renovate the reflecting pool. The renovation took two years -- longer than was required to build the pool 90 years ago when machinery was much less efficient -- and cost $34 million. Two years and $34 million to rebuild a pool of water.
The super-slow, super-expensive project -- perhaps overseen by dozens of senior-grade managers with few if any actual duties -- is now finished, and the new pool has immediately filled with algae.
The National Park Service, which supervised the renovation, "said the project was an overall success," The Washington Post reported. Of course the project was a success -- Park Service officials and contractors received millions of dollars for doing very little. That was the whole point all along! At any private business that botched an overpriced project, heads would roll. The Park Service knows that as with all government initiatives, there will never be any accountability. When government botches an overpriced project, everyone gets a raise. Excuse me, a "step increase."
Here's another small, comprehensible example. The subsidized public transportation authority of the Washington, D.C., area is taking eight months and $12 million merely to replace two escalators.
The project specifications include two months of full staffing for "adjustment" of the escalators. Two months to adjust two escalators! The agency involved isn't even embarrassed by this -- from appearances, could not care less how much taxpayer money is wasted, so long as cushy government-guaranteed jobs continue.
Now to a big-scale project. The federal government is paying almost all the cost to extend Washington's subway system from the Virginia suburbs to Dulles Airport. The new line is entirely above ground -- no costly tunneling involved. Yet the project is slated to take eight years -- the Hoover Dam took five years -- and cost at least $6.8 billion, a stunning $296 million per mile. Bridging the 12-lane Washington Beltway while the Beltway is open is involved, and that's an expensive engineering feat. But most of the project is being built under favorable conditions, on board highway median strips already publicly owned and designed many years ago to accommodate rail construction.
Why is the cost $296 million per mile? Contractors and local authorities are dragging their feet. Since Uncle Sugar is paying, the longer the project takes and the more it costs, the more there is to steal. The federally funded Metropolitan Washington Airports Authority has jurisdiction over parts of the project. Recently an official had to resign; she was being paid $180,000 annually for part-time consulting advice. Another official billed taxpayers for such necessities as $9,000 for first-class airfare to Prague. In order to supervise construction in Virginia, you absolutely must fly first class to Czech Republic!
The disheartening part is that neither Democrats nor Republicans in Washington seem to care. The public be damned! And we've only ourselves to blame since next month, practically every politician involved in the mismanagement of public money will be re-elected.
You Can't Make This Up: Want the ashes of a departed loved one loaded into shotgun shells?
These Kids Today! No. 1: The mainstream media are run by graying Baby Boomers. When young, they viewed themselves as extremely open-minded, in addition to being the first generation ever to discover sex. Now their collective attitude toward today's young, the Millennials, may be described with the technical term "harrumph."
Over the summer, TMQ noted the MSM have proclaimed a shocking, sweeping trend of "hooking up" that supposedly means out-of-control carnality among those of college age -- though studies show that sexual activity is in shallow decline among the young. Of course, "Sexual activity in shallow decline among the young" doesn't make for a salacious headline. Assuming hooking up even exists as some new social phenomenon -- it sounds an awful lot like meeting at parties -- graying MSM editors view it as empty sex without commitment. And sex in a sleeping bag at Woodstock differed how, exactly?
Last week the august New York Times (that's the august paper, not an August issue) declared a new shocking Millennials trend: College kids don't spend enough time drinking in dive bars! The horror! This sweeping trend supposedly is happening "in college towns across America." The Times provided two actual examples: college bars that closed in Ithaca, N.Y., across from Cornell University (and also across from Ithaca College, a 6,000-student institution of whose existence the Times seems unaware) and "Iowa City, where at least four bars have closed since 2011."
Seems kids today are using that InterWeb thing to socialize without paying for drinks in bars. When in doubt, blame Facebook! The Times went on to suggest that college-aged kids are drinking to wild excess. Entire bottles of champagne poured into 32-ounce cups, half bottles of vodka in fishbowls, the hard stuff said to be flowing freely. "I drink liquor because it takes too long to drink beer," a college reveler is quoted as saying. That's always been my complaint about a glass of beer -- takes way too long to drink.
Yet research shows that U.S. alcohol consumption has remained relatively stable. This 2010 Gallup study found that U.S. alcohol consumption peaked in 1978 and is mainly down since. This year, Gallup's Wellbeing arm found that college-aged Americans report 5.4 drinks per week, hardly Dionysian, that only one-third in the college-aged group say they "sometimes drink too much." Gallup also found young men prefer beer while young women prefer wine; liquor is a low priority to the college-aged.
Of course there are examples of college kids who drink too much and of bars that close; in a country of 308 million souls, you can find examples of anything. The college-bars article, like most "these kids today!" commentaries, labors under the assumption that every anecdote equals a trend.
Now check the correction posted just hours after The New York Times edition containing the story was delivered to aging Boomers who still get the printed version:
"An article on Thursday described the effect of social media use on the bar scene in several college towns, including the area around Cornell. After the article was published, questions were raised by the blog IvyGate about the identities of six Cornell students quoted in the article or shown in an accompanying photo. None of the names provided by those students to a reporter and photographer for The Times -- Michelle Guida, Vanessa Gilen, Tracy O'Hara, John Montana, David Lieberman and Ben Johnson -- match listings in the Cornell student directory, and The Times has not subsequently been able to contact anyone by those names."
Who figured out something the MSM missed? The Cornell student newspaper and bloggers using that InterWeb thing.
How Soon They Forget: Both Green Bay and New Orleans, recent Super Bowl victors, entered their meeting reeling, with a sense the loser would be knocked out of contention 'ere October dawned. The Packers avoided this fate, but barely. In the third quarter, Aaron Rodgers was poked in the eye when Green Bay had first-and-goal. Graham Harrell made his first-ever game appearance and promptly lost a fumble. The Packers are living on borrowed time with no experienced backup to Rodgers.
Three snaps after the fumble, Drew Brees threw an 80-yard touchdown pass to Joseph Morgan. Green Bay corner Sam Shields was making the high school mistake of looking into the backfield, trying to guess what Brees would do, rather than watching his man, and there was no safety in sight. Last season the Packers seemed eerily near perfect, this season they are making Football 101 mistakes. As for Brees, he is on a pace for the second-best passing season ever in yardage, yet his team is 0-4. New Orleans continues to pay the price both for Sinnersgate itself and for lying to the league when caught.
In "Taken 3," Neeson Rescues the Writers Who Were Kidnapped from the First Two Productions: As "Taken 2" premieres, forget that Liam Neeson once was an actor. Forget that at age 60, he is depicted as effortlessly beating up gangsters half his age. Forget that not once, not twice, but three times in "Taken," Neeson's character walked into a situation unarmed and within seconds had killed half a dozen men who had guns.
The most unrealistic scene of "Taken" occurred off camera, at the end. In the act of rescuing his daughter, Neeson's character has shot dead at least 50 people in Paris. He's caused a huge explosion, killed multiple rich people at a high-society party in a mansion and slaughtered everyone on a luxury yacht on the Seine. Then he and his daughter just go to the airport and fly home. Neeson doesn't have any kind of diplomatic status or CIA protection, he's in Paris as a rogue. He shoots dozens of people, then gets on a plane without anyone noticing or any police watching the airports.
Derringers Come Back Into Style: The Forty Niners are 16-5 since Harbaugh/West arrived, and have Colin Kaepernick and LaMichael James waiting in the wings as highly drafted speed players to add to a power offense. Sunday at Jersey/B, Kaepernick appeared in the first quarter and ran the Pistol, this year's offensive fad.
The Packers, Redskins and other teams are showing the Pistol, pioneered at Nevada by Chris Ault, college football's least appreciated coach. In a Pistol, the quarterback is in the shotgun but it's a short shotgun closer to the center than a true shotgun, while running backs form a letter "L" around him. Since the NFL teams using this look are doing so only occasionally, maybe it should be called the Derringer offense -- a hidden pistol.
Kaepernick faked to the fullback, then rolled left in an option read situation with the tailback, gaining 17 yards. Later, the Squared Sevens facing third-and-6 on the Jets' 7, San Francisco showed a trips left -- but all the trips guys were tight ends. Kaepernick took a Pistol snap and ran left behind those three plus two offensive linemen pulling left, touchdown. Bill Belichick keeps his offense fresh by constantly adding new formations and actions. Harbaugh/West is doing the same.
As for the Jets, they lost 34-0 at home with Mark Sanchez posting a 39.9 rating, barely above the 39.6 an NFL quarterback receives if every pass he throws clangs incomplete. This month Jersey/B faces Houston and New England. The 2012 Jets have train-wreck potential.
There Are Promise-Keepers and Promise-Breakers: Last week, TMQ praised Florida State's Jimbo Fisher for still offering a scholarship to a high school senior who committed to the Seminoles, then had to quit football owing to repeated concussions. Fisher, after all, promised the scholarship, and a promise is a promise. To some people, anyway.
Many readers including Mohammad Jilani of Monmouth Junction, N.J., noted this story about Matt Beyer, a four-star high school senior who committed to Oklahoma but must give up football after being diagnosed with cervical stenosis. Learning of the situation, Oklahoma withdrew its offer, Beyer said. Football prospects take note: Sooners coach Bob Stoops does not keep his promises.
Unified Field Theory of Creep: Jake Greenland of Nepean, Ontario, reports that Bruce Arthur has been named 2012 Canadian sportswriter of the year -- with a quarter of the year remaining, including the 100th Grey Cup.
It's Definite That Nobody Goes to an NFL Game to See the Owners: "Nobody goes to an NFL game to see the refs" -- often said during the NFLRA lockout. Thursday night at Baltimore, officials received a standing ovation as they walked on the field.
The Future Might as Well Be Now: In recent weeks, the new management in Oakland waived the team's two third-round choices from the 2011 draft.
Considering these moves, the Carson Palmer trade and other transactions, the Raiders had no first- or third-round choice in 2011, no first- or second-round choice in 2012 and will lack either a first- or second-round selection in 2013. Oakland seems to be running an experiment in whether high draft selections really matter. With the Raiders at 1-3 and 5-9 since Palmer took the reins, maybe high draft choices matter.
Pennies Are Not From Heaven: Canada has announced it will withdraw pennies from circulation, joining Australia, Brazil, Finland, Israel, the Netherlands, New Zealand, Norway, Switzerland and the United Kingdom as countries that have eliminated the penny or its equivalent.
TMQ has long maintained the United States ought to eliminate the penny -- and the nickel and dime, too. Adjusting for inflation, a penny of the year 1900 equals 26 cents today. That makes today's penny too trivial to bother with, while "the quarter is the smallest unit of currency that bears meaning in modern society."
With the cost of minerals rising in the past decade, the United States Mint now spends 2.4 cents for every penny produced. Thus today's penny has negative value -- government loses money minting pennies, while consumers and businesses lose money sorting and counting such inconsequential coins. It makes more economic sense to throw pennies into the trash than to waste resources carrying them around.
So why does the penny endure? The zinc lobby profits from the penny. The zinc lobby is not exactly the oil lobby or the Hollywood lobby. But it's a lobby, and in modern American politics, every lobby seems to get whatever it asks, the public be damned.
If Congress is too timid to abolish the penny, what do you suppose is happening with obsolescent programs involving serious costs? Members of Congress are not taking their campaign donations and their kickbacks in pennies, that's for sure.
These Kids Today! No. 2: The entertaining aspect of the fizzled Newt Gingrich presidential campaign was that Gingrich still blames the 1960s for everything. The 1960s were half a century ago. In the year 2012, blaming the 1960s makes about as much sense as someone during the 1960s blaming events on the 1910 appearance of Halley's Comet.
Since Gingrich put the 1960s into play, note that during that decade the mainstream media advocated what was then called "free love," and looked down with scorn upon those who backed traditional views of marriage and lovemaking. Yet today when people engage in free love, graying Boomers who run the MSM get all squeamish.
Here, The New York Times treats as shocking that an unmarried yoga instructor had "a penchant for women" and liked "partying and fun." Man likes women -- arrest him! The unmarried instructor faces "accusations of sexual impropriety," which means "yoga's enlightened façade" is tainted by "scandal." And the scandal is what? That unmarried adults are having consensual sex. This "penchant" must be stopped -- it can lead to fun.
Worse, yoga can "promote sexual arousal" by causing "emotional closeness" that leads to "increased blood flow" which makes "pelvic regions more sensitive," resulting in "debauchery." Who wrote this, Queen Victoria?
All news organizations, including ESPN, sometimes publish ill-thought-through articles. What's compelling about this one is the sociological change reflected. When they were young, the Baby Boomers who now run big news organizations extolled free love and mocked the older generation's conventional expectations about sexuality. Now that the Boomers have aged and are not getting any themselves, they evince shock that younger people are fooling around.
Bills' Long-Term Plan -- Hope Belichick Retires: In the offseason, the Bills signed defensive end Mario Williams to the largest defensive contract in NFL annals.
So far Buffalo has surrendered an average of 50 points per division game. So how's that Williams contract working out for you, Buffalo? TMQ had to check the Game Book to see if Williams suited up -- he was invisible on the field. In its first division contest, the Bills' defense made Mark Sanchez, the NFL's worst quarterback, look like Len Dawson in his prime. Sunday, the Bills' defense made undrafted free agent Brandon Bolden, who came into the game with 15 career rushing yards, look like Lydell Mitchell, as Buffalo was outrushed by 149 yards at home. The Bills showed a rare 4-1-6 defense, and stuck to it even as New England made the scoreboard spin. So how'd that work out for you? After the game, Tom Brady said the Flying Elvii were able to exploit a defense composed of "little" players.
Rob Gronkowski killed the Bills in two 2011 meetings. When Buffalo used its first draft selection on big cornerback Stephon Gilmore, the Bills' brain trust said the reason was to match up with Gronkowski. How'd that work out for you? Gronkowski had a 41-yard reception on New England's first possession and went on to a 100-plus-yard afternoon that included a touchdown reception on which he simply ran up the field uncovered by anyone. The second half, in which New England had a 45-7 scoring streak, was like watching Itzhak Perlman give a violin lesson to a child.
Going into the contest, the Patriots were on a 16-1 streak versus the Bills, and a 53-15 streak in the division. So what was star C.J. Spiller doing playing injured? Spiller separated his shoulder the week before, and belonged in a sweatsuit. Buffalo leading 14-7 with goal-to-go, Spiller carried up the middle against an overstack, lowered his shoulder, was hit on his shoulder and fumbled. A guy who just separated his shoulder can't be a dive back at the goal line!
Buffalo turned the ball over six times; Kansas City turned the ball over five times. The Chiefs now are a league-worst minus-13 on turnovers; it's only October, and the Kansas City season is sinking slowly into the west.
These Kids Today No. 3: There was front-page MSM hand-wringing last week about the continuing slight decline in SAT scores. As Toby Harshaw notes at Bloomberg View, the numbers actually are positive, because they reflect ever-rising participation in college board testing by minorities, immigrants and ESL kids. Once the SATs were taken only by whites from affluent backgrounds; then by whites from all backgrounds; increasingly they are taken by everybody.
That's good news, even taking into account the SATs were "recentered" in 1995 to inflate outcomes. Having almost everyone in high school aspire to college is much more important to society than small score declines, which don't translate to much anyway.
Vikings Take Plunder in Detroit: A week ago Minnesota defeated heavy favorite San Francisco. When a bad team beats a playoff team, the assumption is the playoff team had the week off. When a bad team beats a playoff team in consecutive weeks, take notice. The Vikings knocked off Detroit on its own field. Christian Ponder has not thrown an interception this season. Maybe Minnesota is on the comeback trail.
What Detroit is on is a 1-5 streak. Minnesota leading 13-3, the Lions had a goal-to-go situation. Calvin Johnson dropped a pass in the end zone, then Brandon Pettigrew dropped a pass in the end zone. Detroit settled for a field goal. Johnson had other drops -- surely the "Madden" cover has nothing to do with this.
Now it's Minnesota by 20-6, Detroit facing fourth-and-goal on the Vikings' 5 in the fourth quarter. Minnesota blitzed seven against seven Detroit blockers. No Detroit player even made contact with edge rusher Everson Griffen, who came through unblocked for the sack. Ye gods. The Lions have a mélange of big-bucks, high-drafted players who seem more interested in strutting and boasting than performing.
Don't Cover Greg Little: TMQ noted in my preseason preview that the Browns were going nowhere until Greg Little stops dropping the ball. At Baltimore, he dropped four passes, including a strike in the end zone; Cleveland had to settle for a field goal. Little dropped a dozen passes in 2011 and already has six drops in 2012. The obvious move for defensive coordinators is to leave Little uncovered and hope Brandon Weeden throws to him.
As for the Ravens, they look good but have already enjoyed three home dates -- the balance of the season holds five at home, seven away. Under Harbaugh/East, the Ravens are 31-5 in Baltimore, 21-20 everywhere else. Clearly they benefit at home from scantily clad cheer-babes and one of the league's few marching bands.
But this team must show ability to win on the road.
Reader Animadversion: Regarding the Schiano the Weasel attack-the-kneel-down strategy, I asked if readers knew of any NFL or college game in which charging a victory formation led to a win for the defense. If readers' replies are any barometer, this has never happened.
Kevin Ruben of Newport Beach, Calif., was among many to cite this 2010 college game. Troy charged a kneel-down by Oklahoma State, Brandon Weeden fumbled and Troy recovered, but Oklahoma State still won. Seth Lloyd of Broomfield, Colo., dug deeper into the memory book for a 1974 game between BYU and Colorado State. Leading by six, BYU knelt with 16 seconds remaining, and fumbled; CSU recovered and the game ended in a tie. Jim Speese of Reading, Pa., reminds that in last season's Chargers at Chiefs contest, Philip Rivers fumbled when the Bolts were not in a victory formation but were deliberately killing clock before a field goal attempt to win; Kansas City recovered, and prevailed in overtime.
Myreon Hodur of Culver City, Calif., writes, "TMQ correctly admonishes coaches to ignore convention to play aggressive, he preaches that fortune favors the bold, he asks 'Why are you punting?' Schiano is suffering personal approbation by playing aggressive, he seeks fortune from boldness, and he might ask, 'Why are we quitting?'" Alen Babakhani of Tampa suggests, "Change the standard victory formation to a shotgun, with the quarterback surrounded by his teammates. Then if there's a fumble, the offense is sure to recover. As far as I can determine, all fumbles from victory formations have been during the center-quarterback exchange, with the defense inches away."
Is that the last word? Readers including Mary Ellen Enders of Ann Arbor, Mich., contended, "Maybe no defense has ever won by charging a kneel-down in a big college or NFL game. But does that mean no one should try? The odds of winning a lottery are millions to one, yet every lotto has a winner. 'Impossible' events happen all the time." On the flip side, Mike Jones of Indianapolis writes, "There is another side to the victory kneel-down issue with respect to Greg Schiano. The kneel-down itself is an act of sportsmanship -- the team that is ahead saying, we will not run up the score. An attempt to attack an offer of sportsmanship is in my opinion extremely unprofessional."
Though I disqualified prep football in my challenge to readers -- practically everything has happened in high school somewhere -- nevertheless the last word on this subject goes to Mark Calhoun, coach of East High School in Denver: "In our recent game against crosstown rival South High School, they lead 40-34 with a few seconds to go, ball on our 4-yard line. As teams lined up for the snap, the officials told our defense, 'they're going to kneel, let's keep everyone safe.' So we didn't hit. South ran the ball off tackle for an extra touchdown as time expired. How about that for sportsmanship!"
Regarding the Seattle-Green Bay ending, many readers including Ginny Kimmelman of Portland, Ore., noted, "You often say that on fourth down or a Hail Mary, the rule is 'fourth down knock it down.' Yet M.D. Jennings played for an interception. Why did you not chide him for making a catch?" The rule indeed is "Fourth Down, Knock It Down." But the day before, Tennessee's defensive backs tried to knock down Detroit's Hail Mary and succeeded only in tipping the ball to the Lions for a touchdown. My guess is this was fresh in the minds of Green Bay players that night.
I proffered that though taxes on the rich should be raised, Mitt Romney deserves admiration for not claiming all his charitable deductions -- claiming deductions is an option, not a requirement -- in order to force himself to pay a little more. Many readers including Jeff Kiok of Boston noted, "Should he lose the election, Romney can file amended returns and get the full claim. Note discussion of the matter at the Daily Dish, where the telling comment is, 'If Romney wins the presidency, it will have cost him about $600,000 in extra taxes for 2011. If he loses, he can file an amended return and get his money back.'"
Anyone can file an amended return; generally this is only worth a rich person's time. Should Romney lose and later amend his taxes to take the unclaimed deductions, we will never know, since at that point he won't be disclosing his 1040s. Seth Carrier of Tulsa, Okla., adds, "Intention plays a big part in whether he should get credit for being civic minded. If Romney would not have claimed all his deductions if his tax returns weren't going to be nationally scrutinized, then yes, give him credit. My guess is if Romney weren't running for president and he wasn't releasing those returns, he would have claimed all the deductions. In my book, people do not get credit for being civic-minded when they are really making a self-interested political calculation."
Obscure College Score of the Week: Adrian 24, Hope 0. Hope is shut out -- all hope is lost! Located in Holland, Mich., Hope College calls its men's teams the Flying Dutchmen and its women's teams the Flying Dutch. Teams named after the "Flying Dutchman," the doomed ghost ship of seafaring lore, don't seem to start with much of an edge.
Bonus College Score: Presbyterian 28, Davidson 13. After consecutive hired-cupcake losses to Georgia Tech and Vanderbilt, in which they were paid a combined $850,000 for losing by a combined 117-3, the Blue Hose finally take on someone their own size. Located in Davidson, N.C., Davidson College is on the short list of institutions rated high in both the U.S. News status ranking and the Washington Monthly community service ranking.
Davidson was the first elite college to adopt a no-loan philosophy -- students who qualify for financial aid receive their aid as grants and campus jobs, so they graduate without debt. No-loan aid is wonderful for the middle class, but offered mainly by highly selective colleges that are hard to get into.
Xbox Offense Note: West Virginia hit 70 points for the second time in its past five outings; the Mountaineers have averaged 56 points per game during that span. Last season the University of Houston averaged 52 points, then collapsed at the end, partly owing to a me-first walkout by weasel coach Kevin Sumlin. What do the programs have in common? West Virginia coach Dana Holgorsen was offensive coordinator under Sumlin at Houston, and brought its fast-snap, deep-crossing offense sets to Morgantown. We'll see if he brought Sumlin's promise-breaker mindset as well.
Single Worst Play of the Season -- So Far: The undefeated Houston Texans are terrific, and the Tennessee Titans, with a league-worst 151 points allowed, are terrible. But even being on a terrible team does not justify giving up.
Houston leading 14-7, the Texans' Danieal Manning intercepted a Flaming Thumbtacks pass. As he commenced a cutback return, several Tennessee players merely jogged in his general direction. Tennessee's Chris Johnson, who boasts of being the fastest player in the league, quit on a play when Manning was still at the Tennessee 35-yard line and Johnson was not far behind. Johnson simply came to a halt and watched Manning run for a pick-six.
Chris Johnson of the Tennessee Titans, you are guilty of the single worst play of the season. So far.
Next Week: The NFL locks out volunteer water boys, the owners saying, "There's got to be somebody we can shaft."
In addition to writing Tuesday Morning Quarterback for Page 2, Gregg Easterbrook is the author of "Sonic Boom" and six other books. He is a contributing editor for The New Republic, The Atlantic Monthly and The Washington Monthly. His website can be found here, and you can get a notification on Twitter when TMQ is posted.