Last night the final presidential debate and "Monday Night Football" aired simultaneously. Sports nuts and political junkies were torn. Why not combine the events? This is what "Monday Night Football" would sound like if it used a presidential debate format: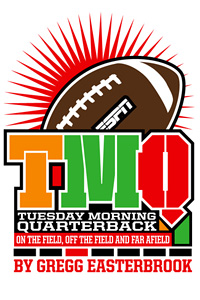 BOB SCHIEFFER: Tonight's topic is foreign affairs. Since Detroit won the coin toss, the first question goes to quarterback Matt Stafford. Mr. Stafford, if elected, would your administration favor sorghum tariff reductions for North Cisleithania in its dispute with Transleithania?
STAFFORD: (Puzzled.) Blast Red! 38 Combo Streak! On set!
SCHIEFFER: You didn't really answer the question. Now we turn to Chicago quarterback Jay Cutler. If elected, would you rather go on vacation in Denmark or North Korea?
STAFFORD: Hey wait -- that question is way easier than mine!
SCHIEFFER: You are talking out of turn. Mr. Cutler?
CUTLER: I would vacation in the Federation of Saint Kitts and Nevis. Great scuba.
And here is what a presidential debate would sound like if it used the "Monday Night Football" format:
JON GRUDEN: These Donkeys are really awesome when Obama runs to the left. But you have to love the way the Elephants are using all five of Romney's sons as wedge blockers.
MIKE TIRICO: The crowd is awfully quiet.
GRUDEN: They've taken a vow of silence.
TIRICO: It's a gaffe!
GRUDEN: That's just inexcusable.
"Inexcusable" seems to be the word for the disintegration of the Detroit Lions -- red-hot in 2011, stone-cold since calendar year 2012 began. In that period the Lions have followed a 10-5 streak with a 2-6 streak. Needless to say, Calvin Johnson being the "Madden 13" cover boy is a big factor in the Lions' decline, to say nothing of Megatron's personal decline. He has just one touchdown this season, and according to NASA tracking stations, a flaming comet is headed directly toward him.
Tactics and attitude are factors, too. Detroit players continue to dance and strut as if they were holding the Lombardi trophy, when in fact they reside in the cellar. The Lions have no running game to balance Stafford-to-Johnson. True, they have invested recent first- and second-round choices in tailbacks Jahvid Best and Mikel Leshoure, both perennially injured. True, the Giants just won the Super Bowl after finishing last in the NFL in rushing, and if the playoffs started today, three of the top four rushing clubs would not be invited.
But no football team can win if it actively shuns the run. Adjusting for sacks and scrambles, Lions coaches radioed in 51 pass plays and 16 rushes. Detroit reached first-and-goal at the Chicago 1 and could not punch the ball across. Trailing 10-0, Detroit faced second-and-1 and went incompletion, incompletion, punt. Trailing 13-0 at the end of the third quarter, Detroit reached second-and-3 at the Chicago 48 and went incompletion, incompletion, punt. Detroit has no fullback on its roster: When it's time to go heavy, the Lions must put an offensive lineman in the backfield. Green Bay, New Orleans, Jersey/A -- lots of teams that show a pass-first high-tech offense nonetheless feature the fullback. And down by 13 points with one quarter to play, facing fourth-and-3 in opposition territory, why are you punting??????
As for the Bears, they are first in the league in defense against points, with an average final score of 27-13. Chicago has been mixing up its Tampa Two defensive look with occasional zone blitzes, confusing offenses that expect the Tampa Two and nothing else. Come November, the Bears face the Texans, 49ers and surprising Vikings in succession. If they get out of that stretch 2-1, they will be a legit threat for home-field advantage in the NFL.
In male fantasy news, the Bond flick "Skyfall" just opened in London, a rare early-week premiere because today is the 50th anniversary of curtain-up for "Dr. No," the first 007 film. TMQ readers are aware that one of my bête noirs is action movies with air shafts large enough to hold car washes and drive-through burger joints. Half a century ago, "Dr. No" set the air shaft fad in motion.
In "Dr. No," when Bond is captured and taken to the villain's secret headquarters -- larger than a basketball arena, equipped with a nuclear reactor, yet constructed without anyone noticing -- he is thrown into a jail cell. Not only does the cell have a gigantic air shaft vent covered by a flimsy grate that takes Bond three seconds to yank off -- Dr. No can build an atomic ray gun, but doesn't realize people try to escape from jails -- the air shaft, ample to crawl through, leads directly to Dr. No's master control station. If you were building a sprawling nuclear-powered secret headquarters, wouldn't you include an air shaft directly from the prison to master control?
Reader Daren Wade of Plainfield, Ind., a construction engineer who designs buildings, reports there are indeed some air shafts large enough for a person to crawl through. But, he writes, "generally they are made of quarter-inch sheet metal, which does not support body weight. The super-spy would crash straight through." Reader Randy Hinckley of Atlanta notes that toward the end of the cartoon movie "Bolt," there is an air shaft that the heroic dog can fit through, but not the girl he is trying to rescue. Thus, he says, "an animated dog is more realistic than James Bond."
In rules quirk news, the Patriots took the opening kickoff of overtime against the Jets, and scored a field goal. When they in turn kicked off, had they onside kicked and recovered, New England would have won. That a team receiving the opening kickoff and scoring a field goal on that possession can end the contest with a recovered onside kick is a little-known quirk of the new NFL overtime format. What coach will be the first bold enough to try this?
Stats of the Week No. 1: The Texans have not allowed a rushing touchdown.
Stats of the Week No. 2: Green Bay allowed 29 sacks in 2011, and has already allowed 24 sacks this season.
Stats of the Week No. 3: The Steelers held the Bengals to two first downs in the second half.
Stats of the Week No. 4: Cleveland has lost 11 consecutive road games.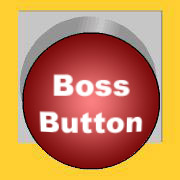 Stats of the Week No. 5: Under John Harbaugh, the Ravens are 32-5 in Baltimore and 22-21 everywhere else.
Stats of the Week No. 6: Cam Newton was 25-1 as a starter in college and is 7-15 as a starter in the NFL.
Stats of the Week No. 7: After scoring 79 points in two games, San Francisco followed with one touchdown in its last two home games combined.
Stats of the Week No. 8: Kutztown University is averaging 46 points per game, and has a 4-4 record. See below.
Stats of the Week No. 9: South Carolina held Florida to 183 yards of offense, and lost by 33 points.
Stats of the Week No. 10: The Giants, who play next Sunday at Dallas, have never lost in the new $1 billion Jerry Jones stadium.
Sweet Play of the Week: Score New Orleans 35, City of Tampa 28, the Bucs faced fourth-and-9 deep in Sinners territory on the game's final snap. Tampa receiver Mike Williams ran to the back line of the end zone -- and New Orleans cornerback Patrick Robinson alertly pushed him out. Williams stepped inbounds to catch what the home crowd thought was the tying touchdown, but since he had been out of bounds, could not return and be the first player to touch the ball. The shove was not illegal contact, because Bucs quarterback Josh Freeman was out of the pocket -- when a quarterback scrambles, the five-yard contact rule ends. (Otherwise receivers could block for a quarterback run and defenders could not fight to get off the blocks.) Heads-up play by Robinson -- not a violent collision but a simple push preserves the New Orleans victory.
Sour Play of the Week: Jacksonville leading 17-3, the Jaguars went for it on fourth-and-1 from the Oakland 46. Quarterback Chad Henne rolled out, was under pressure -- and threw the ball away. Bad enough that Jax needed only a yard and coaches had the quarterback sprint backwards. Don't throw the ball away on fourth down, heave it deep and hope! The Raiders got a field goal on the possession, and the Jaguars went on to lose in overtime.
Sour Play No. 2: It is not a closely guarded secret that Tom Brady goes to Rob Gronkowski near the goal line. Gronkowski entered the Jets contest with 30 touchdown catches since the start of the 2010 season. Now the Patriots face third-and-goal on the Jersey/B 2. Gronkowski had already caught a touchdown pass in the game. Maybe, just maybe, the Jets defense should account for him! Gronkowski runs a drag pattern from the right side, and as he catches the touchdown pass, linebackers Calvin Pace and Bart Scott are shouting at each other about who should have covered him.
Sweet 'N' Sour Sequence: Jersey/A led the Redskins 20-16, Washington facing fourth-and-10 on its own 23 just before the two-minute warning. RG3 was flushed from the pocket by the athletic Jason Pierre-Paul, then evaded Pierre-Paul not once, but twice to buy time to find on open receiver. Later on the drive, at the Giants' 30, Griffin saw that veteran receiver Santana Moss was covered by a rookie corner, with a safety "above" him. He sent Moss deep, touchdown, very sweet 23-20 lead for Washington as the clock ticked.
Now it's second-and-10 Jersey/A on the Giants' 23 with 1:23 remaining. Victor Cruz lines up slot right with defensive backs Josh Wilson and Madieu Williams seemingly planning to double-cover him. Cruz ran straight between them, both let him roar past; 77-yard touchdown pass and the Giants win. Very sour to let the opponent's speed receiver get behind you with only a short time remaining in the contest.
Mr. Sulu, to Alpha Centauri at Warp Six: TMQ has been noting that trends in astronomy mean a distant Earthlike planet is likely to be discovered soon. Last week the European Southern Observatory announced it had discovered an Earth-size world "only" 4.4 light years away in the Alpha Centauri system. The planet is Earth-size but not Earthlike, with a surface temperature of 1,200 degrees. Still, the search for "exoplanets" is in its infancy. The odds are good of Earthlike worlds, perhaps relatively close in galactic terms.
Five years ago when the ESO -- its huge telescopes in the clear air of a remote part of Chile are the cat's meow of contemporary astronomy -- found a planet 20 light years distant with some similarity to Earth, the New York Times quoted a scientist gushing, "We can go there!" The Times did not add that at the speed of the fastest manmade object, a voyage of 20 light years would take around 90,000 years.
Of last week's discovery, the Times quoted astronomer Sara Seager of MIT saying, "I feel like we should drop everything and send a probe there to study the new planet." I feel like we should drop everything and find out what they're smoking at MIT! At the speed of the fastest spacecraft, reaching Alpha Centauri would take about 20,000 years. Until such time as there may be a fundamental breakthrough in propulsion, objects even a few light years distant are unfathomably far away.
Moo Cows Rise Up: The Ravens were missing Ray Lewis and Lardarius Webb, but neither play offense. Houston just chewed up the Baltimore offense, holding Joe Flacco to a 45.4 passer rating, barely north of the 39.6 rating an NFL quarterback receives if every one of his passes clangs to the ground incomplete. With five of its remaining nine games on the road, Baltimore absolutely must learn to win away from the confines of its home stadium. Maybe the Ravens should bring their cheerleaders and marching band along when traveling.
As for the Texans, they are 6-1 with the hapless Bills up next. Down the stretch, Houston gets Buffalo, Jacksonville, and Indianapolis twice. The table is set for the Texans to seize home-field advantage in the AFC.
Tuesday Morning Quarterback Man of the Year: Andy Ashkar of Camillus, N.Y., was revealed to have won $5 million in a lottery six years ago, and to have waited till the last possible moment to claim the prize. According to the Syracuse Post-Standard, Ashkar feared the huge sum "would negatively influence his life." He claimed the money only after deciding to split it with his brother Nayel.
TMQ's law of money holds: Receiving a million dollars would be wonderful, receiving $100 million would ruin your life. The same logic applies to lotto winnings. Many who come into large sums end up wishing they had not: money cannot buy happiness, but definitely can backfire. As Billie Holiday sang, "When you have money you've got lots of friends/crowding around your door/when the money's gone and all the spending ends/they don't come 'round no more."
Andy Ashkar, congratulations for making a spiritually sophisticated decision.
Buck-Buck-Brawckkkkkkk: The Bengals, hosting a night game on prime-time television, were tied at 14 with the Steelers early in the third quarter, and facing fourth-and-1 on the visitor's 30. During the tenure of Bengals coach Marvin Lewis, Pittsburgh has dominated Cincinnati, entering on a 14-5 streak against the Bengals under Lewis. Victories don't come in the mail, go win the game! When the field goal boomed, TMQ wrote the words "game over" in his notebook. Lewis had sent his charges the message that once again, the plan was to roll over for Pittsburgh. Bengals possession results for the remainder of the contest following the fourth-and-1 wimp-out: punt, punt, punt, punt, punt.
I, Reboot: The Spider-Man movie series was rebooted after just five years. Chris Nolan's Batman trilogy, the fourth cinematic reboot of the Caped Crusader, supposedly was the "final" Batman movie, but ends by setting up Robin for the fifth reboot. "Judge Dredd" and "Total Recall" were remade last summer. "Daredevil," a 2003 comix-based bust, is in reboot, perhaps with the goal of generating another bust. Next summer's "Man of Steel" is a reboot of the 2006 "Superman Returns," which did not even have the dignity to be a reboot, instead being a remake of the 1978 "Superman: The Movie."
"Battlestar Galactica," a 1970s serial which was rebooted in 2004 on SyFy Channel, is being rebooted yet again as a 2013 motion picture. Rumor is that "Space: 1999," among the worst television shows of all time, is being rebooted as a new series called "Space: 2099." Maybe the reboot finally will explain how the entire moon was able to accelerate spontaneously to faster-than-light speed, then come to a dead halt and go into orbit around distant planets -- entering distant star systems without disrupting their gravity! Then, at the end of each episode, once again the moon would accelerate spontaneously to faster-than-light speed.
With Hollywood desperate for sci-fi action material, TMQ is waiting for a big-budget reboot of "Airwolf", or perhaps "Fireball XL5". Many of Hollywood's best-known actors have the emotional range to play Mike Mercury in a reboot of "Supercar".
Ritual Sacrifice of NFL Coach: NFL head coaches traditionally fire coordinators as scapegoats: if you want to be an NFL coordinator, you must accept that you may be fired to deflect criticism from your boss. Last week's firing of Eagles defensive coordinator Juan Castillo by Andy Reid seemed a little much even by NFL standards. Reid promoted Castillo to defensive coordinator despite his having no experience running a defense. Then, when firing Castillo, Reid said the reason was bad statistics from the Philadelphia defense. As ESPN.com's Dan Graziano noted, on the day of the dismissal, the Eagles defense had notably better stats than the Eagles' offense. Plus the Eagles offense had a conference-worst 17 giveaways, which means the defense often was sent out in bad field position. But Reid runs the Eagles offense, so the offense could not be blamed!
On his way out the door, the cashiered man praised the head coach who fired him. Castillo knows if he wants more highly paid, if insecure, NFL employment, he must go along with the scapegoating ritual.
With a Coupon Code, You Can Get $12 for Just $29: Should newspapers and television stations accept advertising containing statements that are literally true but intended to deceive? Last week, USA Today ran a full-page ad -- ungrammatically labeled "special advertisement feature" -- from the World Reserve Monetary Exchange on Freedom Avenue in Canton, Ohio. The ad urged readers to check a box of ZIP code prefixes to see if they are eligible for "government issued uncut sheets of money" being offered to the "first 6,049 callers" who beat a "48-hour deadline."
An obviously staged photograph showed men in costume-shop uniforms pushing pallets of fake bills out of a stage-set vault as a man with a fake automatic rifle looked on. The incredible deal? Twelve dollar bills for just $29 plus shipping.
The incredible deal is so obviously a ripoff it's hard to believe even one person would fall for it. But this ad runs periodically in newspapers throughout the country, so people must be falling. The mark of a good hustle is extraneous detail, and the ad is full of this. Only "6,049" calls will be taken. A "Jefferson Marshall" is quoted as saying he "expects" the sheets to be displayed in the Oval Office. The "Zip Code Distribution List" contains the prefixes of every ZIP code in the United States -- "Hey look, I found my ZIP code!" Perhaps anyone dumb enough to call the number deserves to lose $17. But should a major newspaper be the enabler of a swindle?
Manly Man Play of the Day: Scoring to take a 7-3 first quarter lead over St. Louis, Green Bay onside kicked, recovered, and added a field goal on the possession. Expected onside kicks don't do well, but surprise onside can be very effective -- essentially a turnover. If they fail, the field position lost is little different from surrendering one big pass.
Is the Economy Being Propped Up by Super-PACs? Campaign spending is corrupting politics, flooding the airwaves with mindless negative advertising and lowering the standard of national discourse. But it's great for the media! Last week alone, Mitt Romney's super PAC placed a $12 million media buy. James Bennet notes in the current Atlantic Monthly that a total of $9.8 billion will be spent on political advertising in the current campaign cycle, resulting among other things in a $180 million increase in the profits of CBS News.
This suggests both that campaign excess is propping up the economy and that serious campaign reform would be a disaster for television networks!
Some news organizations are of two minds about their political windfalls. At the height of Obamacare politics in 2010, the New York Times expressed outrage that $11 million had been spent on Obamacare lobbying, but downplayed that $30 million had been spent on Obamacare advertising, from which the media benefit. By 2012, when advertising expenses for and against Obamacare had soared to $310 million, the Times expressed distaste for such spending but did not decide to refuse the ads. (Government cannot censor speech, but whether a private news organization accepts an ad is its decision.)
Everyone's bemoaning the battleground-state distortion of contemporary campaigning -- neither presidential candidate is paying attention to California, Texas or New York, the nation's largest states, since we already know who will get their electors -- but is any local network affiliate in a battleground state refusing to accept political advertising?
This valuable Washington Post utility tracks presidential advertising costs. As of Monday, it was Romney $366 million, Obama $300 million, with both candidates spending at least 80 percent of their ad dollars on negativity. Note the map by states. Essentially nothing has been spent in California, New York or Texas, while $136 million -- more than was spent nationwide by both candidates in the entire 1988 presidential election -- already has been spent on advertising in Florida.
Talk About Fast: David Lee of Rego Park, N.Y., notes that when Felix Baumgartner jumped from near orbit, MSNBC declared that he fell "faster than the speed of light." Lee calculates that at the speed of light, it would have taken Baumgartner 0.000134 seconds to reach the ground. Relativistic effects would have caused him to land with the impact of a 140 million-pound object.
Sleeping Beauty Offense Awakes: The Patriots' vaunted offense looked drowsy, almost old-fashioned as the Flying Elvii huddled up, took their time and ran between the tackles while frittering away a second-half lead hosting Jersey/B. Then when the Jets went ahead with 1:37 remaining, it was like someone threw a switch on the New England sideline. Suddenly the Patriots were hurry-up five-wide like their normal selves. For the remainder of the contest, New England ran 18 snaps for 102 yards, flying down the field for overtime-forcing and overtime-winning field goals. From the down on which Jersey/B seized the lead, for the rest of the contest New England outgained the visitors by 97 yards.
As for those selfsame Jets -- it's 2012, hasn't Rex Ryan heard that Wes Welker catches a lot of passes? Twice, Welker converted third downs when covered only by a linebacker. Then on the game's final snap, Jets right guard Brandon Moore and right tackle Austin Howard offered "olé" blocks, barely brushing their men, leading to a lost fumble. It was as if they decided they were tired and wanted to go home.
Add a Dash of Freshly Peeled Phoniness: TMQ complains about politicians and celebrities pretending to be authors. There is no shame in using a ghostwriter; the shame is pretending you did not. Gwyneth Paltrow's bestselling cookbook, presented to readers as "by" the actress, actually was written by Julia Turshen, a "food ghost." It's not just celebrities stroking their own egos by pretending they can do something they can't. This article asserts that most celebrity-chef cookbooks are written by ghostwriters, not by the chefs. So do television chefs actually cook, or hire someone for that, too?
Adventures in Officiating: Dallas leading 16-14 just before the two-minute warning, Carolina went for it on fourth-and-1. Pass interference should have been called against the 'Boys but was not; the Panthers are sinking slowly into the sunset at 1-5.
Over the Falls: TMQ contends a reason the national debt is growing at a shocking pace, yet the economy stays soft and hardly anything new is being built, is that government waste and corruption are more pervasive than commonly understood.
Big examples come from the defense and entitlement budgets; little examples are like this. The Niagara Falls Reporter, that increasingly rare breed of independent local newspaper, reports on suspicious New York State contracts for the Maid of the Mist tour boats that ply the waters under Niagara Falls. Publicly owned facilities on the New York and Canadian sides of the falls are used by the boats. On the Canadian side, a newly inked deal means the operator pays 35 percent of its gross revenue for the lease. On the New York state side, a no-bid contract allows the operator to pay just 4 percent to monopolize use of public land.
Reporter Frank Parlato dug deeper into the contracts and found that in addition to paying almost nothing for the property lease, the New York operator receives the lion's share of revenue from a state-run observation deck near the boats. The result is that although Maid of the Mist excursions are packed with tourists -- last time I took one, there was an hour-long line -- recently New York State paid the boat company "a net of $584,000 to be a tenant." Regardless of whether arrangements such as this result from incompetence or corruption, the bottom line is that the public is harmed -- government debt grows, and either taxes are raised or services reduced. No private enterprise would pay a company to be a tenant.
Who's Worse at Refugio, the Coach or the Principal? Refugio High School of Texas defeated Taft 80-0 by keeping its first string in the entire game, madly passing in the fourth quarter to run up the score. Refugio has won other games this season 76-0 and 77-0, with head coach Jason Herring leaving starters on the field throughout both contests. Refugio supporters,the Austin American-Statesman noted, have "no clue that sportsmanship should be part of a high school education."
Most high school coaches work hard to install in their charges a sense of fair play. A small minority of high school coaches are little-bully types who make themselves feel powerful by beating up on teams that have no chance: Refugio's big-margin victories have come against lower-division opponents. Jason Herring sounds like the classic little-bully coach.
What's scary is that the school's principal, Todd Deaver, defends running up the score on lower-division opponents, while suggesting that might equals right -- read the quotes in the American-Statesman article. One of a principal's roles is character education. If I were a Refugio High parent, I would feel deeply disturbed that the principal cannot keep sportsmanship in perspective. The principal doesn't care about character education: what else is wrong at Refugio High?
Bad sportsmanship occurs at many levels, of course. Saturday, Oklahoma was still throwing deep with a 52-0 lead over Kansas, trying to run up the score. But Division I college football players are adults who are being compensated, via scholarships and per diem, for their efforts. No one need worry about the feelings of Division I football players.
High school players, on the other hand, are true amateurs, and high schools are supposed to be more concerned with instilling values than with scoring points. Whenever a high school football team wins by more than 50 points, the victor, not the vanquished, should feel embarrassed. Refugio students -- decent people are embarrassed by the kind of behavior your coach exhibits. Schools with self-respect stop trying to score once the lead is insurmountable.
Distracted Driving Comes to Submarines: Another high-tech submarine just collided with a ship, this time the nuclear attack sub Montpelier slamming into the guided-missile cruiser San Jacinto. A Navy spokesman called collisions between submarines and ships "fairly rare." There have been seven collisions between Western navy subs and other subs or ships in the last five years alone.
Because attack submarines are designed to sink submarines and surface vessels, they are crammed with cost-no-object ship-detection electronics. Yet the Montpelier failed to notice a 10,000-ton cruiser sailing directly towards it.
Check this passage from the CBS report: "According to CBS News national security correspondent David Martin, the submarine surfaced right in front of the cruiser. When the bridge watch on the cruiser suddenly saw the sub's periscope, they threw all engines into reverse but were unable to stop in time."
Shiver me timbers, but why throw the engines into reverse? That slows a vessel in a straight line. Shouldn't the cruiser have steered hard to port or starboard?
Buck-Buck-Brawckkkkkkk #2: Cleveland trailed 17-13 and faced fourth-and-1 on the Indianapolis 41 halfway through the fourth quarter. When the punt boomed, TMQ wrote the words "game over" in his notebook. Unwilling to go on fourth-and-1 when the game was there for the taking, the Browns went on fourth-and-long in desperation time.
Early in the game, Indianapolis leading 14-6, the Colts lined up as if to go for it on fourth-and-1 from their own 23. Every one of the 64,560 spectators present knew the Colts would hard-count and try to get Cleveland to jump offside. The Colts hard-counted, and Cleveland jumped offside.
Reader Animadversion: I asked what the tubes on the back of the original 1960s Batmobile did. Many readers including Don Smith of Akron, Ohio knew: "The tubes were not exhaust pipes, but rocket launchers. Only the best for Adam West."
Many readers including Marjorie Thom of Los Angeles noted that when commenting on the cut block by Matt Slauson on Brian Cushing, I missed a chance to christen the move the "Slauson Cutoff." Actually, I used that line two years ago, along with an item on Art Fern.
Steven Holscher of Simpsonville, S.C., asks, "My brother and I always scream this question when a pass is ruled incomplete after a receiver loses control when hitting the ground -- why during a rush can the ground not cause a fumble, but can cause a pass to be incomplete?"
TMQ's answer would be that all sports rules fundamentally are arbitrary.
Complaining about gerrymandered congressional districts, I noted the mainstream media have complained loudly about the Texas redistricting intended to disenfranchise Hispanics but said nothing about the Maryland redistricting intended to disenfranchise conservatives. Hunter Thomson of New York counters, "Partisan gerrymandering represents everything we detest in politics. Nevertheless, the Supreme Court hasn't yet found a case where it sees anything other than a non-justiciable political issue. Check Vieth v. Jubelirer, 541 U.S. 267 (2004) and League of United Latin Am. Citizens v. Perry, 548 U.S. 399 (2006). The new Maryland 6th district you don't like is somewhat contiguous, not as bad as these. Check the really offensive 4th district in Illinois.
"The gerrymandering in Texas is of a very different sort from what you complain of in Maryland. Racial gerrymandering raises equal protection concerns. More specifically, Texas is a covered jurisdiction under Section 5 of the Voting Rights Act, meaning its history of racial discrimination in voting procedures subjects the Lone Star State to greater oversight by the federal government."
How to avoid the thorny aspects of gerrymandering? Jon Levell of Chicago proposes, "Generate districts on a computer through a simple algorithm that can be described and mapped in a few easy steps. Another slightly more complex but potentially better algorithm. Computers couldn't do any worse than politicians."
I noted the United States has significantly more public schoolteachers compared to students than a generation ago, and suggested this means lack of teachers itself is not the problem. Pete Rose, a high school science teacher in Herrin, Ill, notes: "The main reason teacher ranks are increasing faster than student population is that the number of students who receive special education (IEPs, or Individual Education Plans) has gone up dramatically. Schools now face legal repercussions if such students are not in small classes taught by specially trained teachers. Schools have hired more and more teachers because they are legally required to meet the needs of IEP students. The inevitable outcome is a greater percentage of resources assigned to a minority of the student population."
Joe Woodring of Prince George's County, Md., outside Washington, notes, "I'm a public school teacher, teaching mathematics. I've noticed over the years that class sizes supposedly are in the low 20s, yet my classes are routinely in the upper 30s. This year alone I have 4 (out of 6) classes that are over 35 students. Average class sizes are diluted because of specialty classes such as ESOL and special ed, which usually have fewer than 10 students. When class sizes are reported, it makes more sense to report the median instead of the mean. The mean is skewed by outliers."
Theo Burgess, a public schoolteacher in Nevada, notes, "Statistics may say there is now one teacher for every 15.2 students. Walk into any public school, how many 15 student classrooms do you see? Schools and school districts jive these numbers by counting specialists, administrators, counselors -- anyone who has an education degree -- as a teacher, even if these people are not teaching."
On the other hand, Anne Percy of East Aurora, N.Y., notes this article about Cheektowaga, a suburb of Buffalo, which has four separate school systems, with four superintendents and four sets of senior staff, for just 7,500 students. Montgomery County, Md., where I live, has one school system with one set of senior staff, for 142,000 students. Through the last decade, the Buffalo News calculates, enrollment in the four overstaffed systems has declined by 20 percent while spending has risen 45 percent. When schools are featherbedded with top-heavy administrators, money to pay them doesn't come from the sky -- it comes from property-tax increases or public-service reductions.
Recently TMQ lauded Jimbo Fisher of Florida State for keeping his word and giving a football scholarship to a high school star who committed to the school but had to drop the sport after repeated concussions; I criticized Bob Stoops of Oklahoma for withdrawing a scholarship offer in the same situation. Bill Cranor
of Austin, Texas, notes Mack Brown of Texas belongs on the honor roll of coaches who have done the right thing by "commits" who had to drop football for health reasons.
I objected to euphemisms such as a grade of "not yet making progress" replacing the grade D and "undocumented" instead of "illegal" immigrant. Jay Brubaker of Indianapolis replies, "Generally, when referring to a person or group of people who have committed a specific crime, we use terminology that describes the specific illegal act itself. For example, I would say that I was stopped by the police for speeding, not for illegal driving. We don't refer to Jerry Sandusky as having been convicted of engaging in illegal sex, we say he is a convicted child molester.
"It is not that undocumented immigrant is a euphemism, rather, the term illegal immigrant is a dysphemism. Per the Supreme Court, most immigration crimes are an administrative law matter. However, persons accused of immigration crimes have fewer rights that others, such as limited rights to counsel or limited rights to judicial review of their detention. Rather than being innocent until proven guilty, persons accused of entering the United States illegally have the burden to prove that they do possess proper documentation. This makes 'undocumented' the right adjective."
Melanie Joslin of Gloucester, Mass., writes, "You missed a great stat. A week ago, all AFC East teams were in first place and in last place."
Disclaimer of the Week: ESPN.com editor David Schoenfield reports, "I was informed the iPhone app store has new terms and conditions I must agree to. The document was 55 pages on my phone."
Is Mario Williams the Most Overrated Football Player Since JaMarcus Russell? In the offseason, the Bills gave the richest defensive contract in NFL annals to end Mario Williams; in the last two drafts, the Bills have used high No. 1 choices on defensive players; today the Bills are 31st in the league on defense. Nor does Buffalo have football IQ. Trailing 21-14 at home, Bills coach Chan Gailey kicked a field goal on fourth-and-1 at the Tennessee 12. Buffalo was facing one of the league's worst defenses, and would rush for an average of 6.9 yards on the day, yet wouldn't try on fourth-and-1. Scoring take to a 33-28 lead on the final snap of the third quarter, again facing a weak defense, the Bills did not go for two. A six-point late lead is little better than a five-point late lead, but a seven-point late lead is hugely better. Tennessee got a touchdown in the final minute to win 35-34. An aggressive decision on either of these downs might have changed the outcome.
Buffalo has the longest string of non-playoff seasons in the league. With an awful defense and a mediocre quarterback in Ryan Fitzpatrick, the Bills once again need a total housecleaning -- yet another three-year rebuilding project. Nothing's going to change in Buffalo until the Bills have a gung-ho head coach and a young general manager, both of whom are looking to make their marks, rather than retirement-age time-server leadership looking to pick up a last paycheck.
Obscure College Score of the Week: Kutztown 59, East Stroudsburg 33. College football's fad for putting the best players on offense has reached Division II. Kutztown has posted scores of 59, 58, 56 and 56 points but also allowed 73, 49, 48 and 45 points. Located in Kutztown, Pa., Kutztown University offers parking close to class.
Bonus College Score: Grand View 37, Siena Heights 25. Located in Des Moines, Iowa, Grand View University has, according to Mapquest's satellite image, a view of buildings and trees.
Friends Don't Let Friends Punt: This season, TMQ is following the fourth-down exploits of Pulaski Academy in Little Rock, Ark., where head coach Kevin Kelley has eschewed the punt for years. Last season, Pulaski punted once and won the state title.
Friday, Kelley took his starters out when Pulaski reached a 43-6 halftime lead. Fourth-down situations faced by the first string:
Fourth-and-10, own 38 -- pass, did not convert.

Fourth-and-9, own 30 -- pass, first down.

Fourth-and-10, opponent 47 -- sacked.

Fourth-and-12, opponent 12 -- pass, touchdown
Only New Jersey Could Have Dangerous Ketchup: Reader Tim Hall of West Keansburg, N.J., points out this correction from the Newark Star-Ledger: "It was incorrectly reported that acids ferment, causing ketchup bottles to explode if left in the heat. Sugars ferment, not acids."
Next Week: The next Bond flick will be his first football-themed movie, "Tiebreaker."
In addition to writing Tuesday Morning Quarterback for Playbook, Gregg Easterbrook is the author of "Sonic Boom" and six other books. He is a contributing editor for The New Republic, The Atlantic Monthly and The Washington Monthly. His website can be found here, and you can get a notification on Twitter when TMQ is posted.