Mooooooo … that's the sound the Houston Texans' logo made as the team was roped and branded by the New England Patriots on "Monday Night Football." At rodeos, the steer puts up a fight. On prime-time television, the Texans, entering the contest with the league's best record, didn't even put up a fight.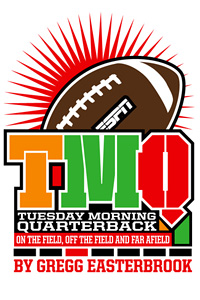 The New England defense exceeded expectations in its 42-14 blowout, using a college-style "50 front" to frustrate Houston stretch plays on expected run downs, then rushing five on expected passing downs. Teams that face Houston will study film of how the Flying Elvii shut the Texans down, forcing them to play from behind, which Houston isn't built to do. Holding the ball -- New England recorded 27 first downs -- also kept the Moo Cows' offense on the sidelines, causing the Texans to press when they did have possession.
Which brings us to the New England offense.
In 2007, the Patriots set the NFL's single-season scoring record, averaging 37 points per game. This year's New England offense is nearly as good, averaging 36 points per game. By some measures this year's Patriots are superior -- plus-24 for turnovers versus plus-16 in 2007, 28 first downs per game versus 25 per in 2007. The 2007 New England offense featured quick-strike deep passes; the 2012 iteration is seventh in the NFL in rushing, and therefore controls the ball better. New England is on pace for 444 first downs. The current record, set by New Orleans in 2011, is 411.
Right now, the New England offense rules the NFL. Yet it starts more undrafted free agents (Wes Welker, Ryan Wendell, Danny Woodhead) than first-round choices (Nate Solder, Logan Mankins). The quarterback is a sixth-round selection who ousted the first overall choice in the draft. Against Houston, the Patriots got long touchdown catches from two players shown the door by the rest of the league (Brandon Lloyd, cut by four teams; Donte' Stallworth, cut by five teams). How does the New England offense do it?
The starting point is offensive line play. The Patriots throw a lot, yet have allowed just 20 sacks, fourth-best in the league. In an NFL in which firing assistant coaches is a New Year's Day tradition, Dante Scarnecchia has been the Pats' offensive line coach since Bill Belichick arrived.
Watch Patriots line film, and what you won't see is an offensive lineman standing around doing nothing. On almost any NFL snap, even on good teams, there's at least one offensive lineman who brushed his man then just stood there looking at the play. When an offensive lineman stands watching the play, that team's offense is functioning 10-on-11. New England offensive linemen never stand around doing nothing. New England always plays 11-on-11.
From many years of staring at the New England offense, your columnist is convinced this is its most fundamental advantage. Everybody runs slants, curls and hitches like the Patriots do; many teams have sophisticated, accurate quarterbacks like Tom Brady; alone in the NFL, the New England Patriots have offensive linemen who never stand around doing nothing. This is an edge any team could seek. Only the Patriots have attained it.
Next, Brady has a near-perfect three-second mental clock. At three seconds, the ball is either gone or he rolls into the flat. Back in the 1980s, when Dan Marino was renowned for his three-second release, the quick release was seen as his personal gift: conventional tactics were for a quarterback to stand in the pocket till someone got open or he got sacked. "Standing in" was seen as proof of quarterback manhood. Marino showed that the quick release is the smarter way -- just get rid of the ball to the first guy who's open, or get rid of the ball, period. Many NFL teams now use the quick release. The Patriots employ it to near-perfection. Close your eyes when New England snaps. Count "one thousand one, one thousand two, one thousand three" and then open your eyes – and the ball will already be out of Brady's hand.
In the 2007 offense, New England was at the bow wave of the fast-snap no-huddle, which today is used by many NFL and NCAA teams.This year's iteration is at the bow wave of the fad to using two tight ends with basketball-style athletic ability, a fad Belichick began. Many coaches, at least back to Hank Stram, have known that covering the tight end, especially a tall tight end, is a weakness of any football defense. Many teams have gone double-tight in rushing situations. New England's innovation is to go double-tight in passing situations, presenting the defense with two unusually big receivers who are athletic. Rather than use the tight end as a blocker who once in a while grabs a short turn-in, Belichick uses the tight end as a primary receiver.
Aaron Hernandez's first touchdown catch against Houston seemed almost effortless -- he lined up as a fullback then ran a simple flare in front of a linebacker. Most teams send a tight end deep once or twice a game; the Patriots send Hernandez or Rob Gronkowski deep a dozen times a game. Since Belichick drafted Gronkowski and Hernandez in April 2010, this combo has caught 54 touchdown passes. New Orleans, the NFL's second best in tight end use, has 26 tight end touchdown receptions in the same period. Most NFL head coaches obsess over glamor positions such as running back. Belichick obsesses over offensive linemen and tight ends, resulting in the league's best offense.
The Patriots change looks both between games and during games. Against Houston, sometimes New England went fast-snap no-huddle, sometimes huddled up and featured the run. In the third quarter, the Texans grew desperate and began to play press corners with a blitz; Brady responded by throwing deep, for a 63-yard touchdown that made the game a rout.
The New England offense is so confident and proficient that often the primary receiver isn't covered by anyone. Against the Jets on Thanksgiving, no one covered Welker -- one of football's all-time most productive receivers -- at the goal line. Against Houston, no one covered Hernandez at the goal line. The football gods are smiling on this offense.
Will they smile in the playoffs? Belichick won his three Super Bowl rings with balanced teams heavy on defense; his high-scoring offenses of 2007 and 2011 lost the ultimate game. Many high-scoring offenses -- the Oregon Ducks in 2010, the 2005 Colts, the Jim Kelly Buffalo Bills -- are unstoppable in the regular season when defenses are giving 90 percent, then cool off in the postseason, when defenses give 100 percent. We'll see if the Patriots' attack is once again unstoppable during the regular season, then declines in January.
As for the Moo Cows -- they trailed 21-0 in the third quarter and punted on fourth-and-1. TMQ wrote the words "game over" in his notebook. Who cares if Houston was on its own 18? Who cares if Houston went for it on fourth down and failed twice in the first half? The Texans trailed 21-0 and punted on fourth-and-1! Might as well have waved a white flag. It took the Patriots just five snaps to go the distance the other way, putting the contest out of reach.
In college football news, let's make it official: change the name of the award to the Heisman Trophy for the Quarterback or Running Back Who Receives Most Publicity. Johnny Manziel had a fabulous season, but he might be a one-year wonder. Manti Te'o had four straight fabulous seasons and helped accomplish something widely viewed as impossible: putting a school with higher academic standards than the NCAA requires into the national title game.
The media panel that chooses the Heisman deserves the censure for endlessly picking quarterbacks or running backs. Is it because full-time professional sportswriters truly believe only these positions matter -- or because they never look at anyone other than quarterbacks and running backs? TMQ touted Te'o as the winner and Chance Warmack as runner-up. Some Heisman selectors may not even know who Warmack is. Many have never watched him, instead of watching the ball.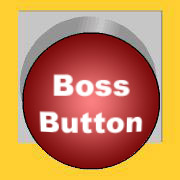 For Manziel, being the first frosh to win the Heisman may turn out to be a curse. The Good Book warns, "Woe unto you when all speak well of you." Expectations are now so high that if he's anything less than an ongoing star followed by a top NFL draft choice, people will say, "There goes the guy who won the Heisman as a freshman then never did anything else." Texas A&M is of course delighted, because the college keeps the status no matter what becomes of the young man. But Manziel may well come to rue the day.
Stats of the Week No. 1: The Lions have lost 22 straight in the state of Wisconsin.
Stats of the Week No. 2: San Diego won at Pittsburgh for the first time in 15 tries.
Stats of the Week No. 3: Minnesota beat Chicago for the first time in seven tries.
Stats of the Week No. 4: Carolina beat Atlanta for the first time in five tries.
Stats of the Week No. 5: The Giants beat Drew Brees for the first time in five tries.
Stats of the Week No. 6: Arizona has lost nine straight, and made just 15 first downs in its last two games combined.
Stats of the Week No. 7: The Bills have been outscored 117-50 in the fourth quarter.
Stats of the Week No. 8: The New Orleans-Jersey/A game featured 73-yard and 97-yard touchdowns on back-to-back plays.
Stats of the Week No. 9: New Orleans gained 487 offensive yards, and lost by 25 points.
Stats of the Week No. 10: Houston and New England, which just met on "Monday Night Football," are on a combined 13-1 streak.
Sweet Play of the Week: Tennessee leading 7-0, Indianapolis faced second-and-goal on the Flaming Thumbtacks' 4. Reggie Wayne, who always lines up on the left, lined up on the right. The Colts' offensive line zone-blocked left; Wayne moved left and blocked left, then came to a complete stop, as if giving up on a rushing play; he slipped into the end zone uncovered for the play-fake touchdown pass from Andrew Luck. Often NFL receivers, especially star receivers, either don't block on rushing plays or make a half-hearted push, then give up. Wayne faked the half-hearted push, then scored.
Sweet College Plays of the Week: The Redskins and Packers continue to use college-style pistol sets. Cincinnati used a pure-college series against the Cowboys. First the Bengals lined up in a pistol and ran an end-around for 37 yards; then threw a quick bubble screen; then ran the speed shovel in which the quarterback takes the snap and immediately flips it forward to a runner crossing in front of him. Touchdown. Was that Cincinnati or the University of Cincinnati?
Colin Kaepernick ran 50 yards for the icing touchdown against Miami off a zone-read fake. Do the Forty Niners play in the NFC West or the MAC? Against Atlanta, Cam Newton lined up in a college-style backfield with a tailback on one side and a fullback on the other, faked to the tailback going right on a zone-read, then ran left behind a "wham" block by the fullback, legging it 72 yards for a touchdown.
Sour Playcalling of the Week: Leading St. Louis 3-0, Buffalo reached first-and-10 on the Rams' 24 with 32 seconds remaining before intermission, holding two timeouts. Rather than try for the end zone, the Bills ran two short middle plays, used the timeouts and kicked a field goal -- as if a six-point halftime lead was salting the game away.
The home crowd booed loudly as Buffalo did not try to score a touchdown on this sequence before the half, and the home crowd was on to something. C.J. Spiller came into the game with a 6.7 yard per carry average, highest of any NFL back -- and got just seven carries. He isn't hurt. You'd think the opposition game plan would be to keep the ball away from C.J. Spiller. Turns out that was the Buffalo game plan.
Early in the fourth quarter, Buffalo led 12-7 and faced fourth-and-7 on the Rams' 34. It's a 51-yard field goal attempt, or a decent chance of converting the first down. Instead in comes the punt unit, and you don't need to know anything else to know who won the game. A 5-7 club that hasn't made the playoffs in 12 years punting from the opposition's 34 at home in the fourth quarter; does anyone in Buffalo management care how bad the team looks?
Sweet 'N' Sour Plays No. 1: Washington trailed visiting Baltimore 28-20, and had third-and-5 on the Ravens' 11 with 36 ticks showing in what turned out to be regulation. Phenom RG III just left the game hurt. Fellow rookie quarterback Kirk Cousins saw a defense that was expecting a super-short pass from a confused rookie. Nine Baltimore defenders were close to the line of scrimmage, just two in the deep field. Washington sent out four receivers; Baltimore rushed four, meaning seven to cover four; both Baltimore cornerbacks were in man-on-man, meaning five Ravens to cover the other two receivers. Pierre Garçon ran a down-and-out, touchdown. Then, a surprise quarterback draw for two, the game heads to overtime and Washington victory. Tout sweet!
Sour for Baltimore was that cornerback Chris Johnson, assigned to man coverage on Garçon, simply stood there and let him run past. Johnson was busy making the high school mistake of looking into the backfield trying to guess the play, rather than staying glued to his man. But check the opposite side! Josh Morgan ran a down-and-in, and also was open -- because cornerback Cary Williams was making the high school mistake of looking into the backfield trying to guess the play. Meanwhile, three Baltimore defensive backs are covering no one at all. Both Baltimore corners acted like they were in short zones, releasing deep routes to safeties; the other Baltimore defensive backs acted like the cornerbacks were supposed to be in man. Whomever screwed up -- tout sour.
Sweet 'N' Sour Plays No. 2 A game Andy Reid could love -- adjusting for sacks and scrambles, he radioed in 59 passing plays and 14 rushes. Leading 21-16 with 16 seconds remaining, City of Tampa had the Nesharim down to their last gasp at fourth-and-5 on the Bucs' 23, Philadelphia out of timeouts. Novice quarterback Nick Foles had just thrown three consecutive incompletions: one more, and the Buccaneers prevail.
The Eagles hold seven back to block, the Bucs rush four with two guarding the flats, which leaves five Tampa defensive backs on three downfield receivers. Yet Foles is able to hit Jason Avant for a 22-yard gain, Foles spikes the ball at two seconds, and a touchdown to win on a rolling-pocket final play of the game. Sweet.
Though City of Tampa had five to cover three downfield, cornerback E.J. Biggers did not "keep the receiver in front of him." Biggers looked like he was concerned with stopping a quick curl for the first down; when Avant went deep, Biggers let him. But there were only 16 seconds remaining, Philadelphia had to reach the end zone: when the other team has to reach the end zone fast, keep the receiver in front of you! Sour.
Check the alignment of the City of Tampa's defense before the fourth-and-5 snap: nine men up on the line, as if the entire defense was more concerned with stopping a quick curl for the first down than stopping a deep pass. So perhaps the outcome should be laid at the feet of defensive coordinator Bill Sheridan, who called the wrong defense.
Would You Like Fries with That? Science magazine reported the world's adults weigh a combined 287 million tons, which works out to the weight of 17,000 Ohio-class submarines.
And it's not just people, animals are gaining weight too. High-yield agriculture continues to increase the amount of food in the world while lowering the price, resulting in more French fries for man and more bread crumbs and other leftovers for beast.
America's dietary habits cannot be blamed on "food deserts" -- places where fresh fruits and vegetables cannot be obtained -- since the food desert theory turns out not to be true.
Maybe Khan Thought the "Punter" Is Like the "Bowler" In Cricket: Despite entering the contest 2-10, the Jaguars sold out Sunday's game against the Jets. The obvious reason was the return of hometown boy Tim Tebow, who dressed but, recovering from a rib injury, was a DNP. If a packed house in the Jacksonville area would pay just to watch Tebow wander around the sideline, imagine if he were a member of the Jaguars.
This makes it worth bearing in mind that in the offseason the Jaguars, perennially low in NFL attendance, passed on a chance to trade for Tebow. He was available for Jacksonville's third draft choice, which instead was spent on punter Bryan Anger. He's playing OK. But a losing team that lacks support really needed a punter more than the most popular local football player in a generation? New owner Shahid Khan was billed as a master of sports marketing.
Wasteful Spending on Bodyguards Watch: Tuesday Morning Quarterback pounds the table about government officials surrounding themselves with taxpayer-subsidized bodyguards, not for security but to make themselves seem more important -- while double-parking and cutting to the fronts of lines.
Reader Peter Franzese of Oakland, Calif., supplies this refreshing counterexample: "Recently I was dining with my wife at MUA in downtown Oakland. We were seated close to the entrance when in walked governor Jerry Brown with his wife. The restaurant was crowded. Brown disappeared for a few minutes to check on tables, and when he returned, said to his wife, 'There's a 45 minute wait, let's go somewhere else.' No bodyguards, no demand for special treatment."
Here are some of the dishes Gov. Brown missed at MUA: a burger with chickpeas, bulgur and quinoa; mac-and-cheese made with butternut squash instead of cheese; grilled peach with arugula and kale pesto. No wonder the place was packed!
NFL Needs a Mercy Rule for the Cardinals: Seattle began pulling starters early in the third quarter versus Arizona, with starting quarterback Russell Wilson departing at the 10-minute mark. The Bluish Men Group led 38-0 at halftime, meaning that if the game had been played by high school rules, the entire second half would have been running clock.
But why were the Seahawks throwing deep in the fourth quarter, leading 51-0? Why did they throw deep to the end zone on fourth-and-23 with a 51-point margin? The spot on the fourth-and-23 was at Arizona's 32 -- too close to punt, and a field goal is a bit insulting. The sportsmanlike gesture would have been to run the ball up the middle. Is there some history between Pete Carroll and Ken Whisenhunt? Otherwise Carroll was a sore winner, and that sort of thing comes back to haunt you.
And on the Seventh Day, God Asked for a Refund: Since Washington politicians want to avoid dealing with the federal deficit, why not use time debating the origin of the universe? Republican bright light and possible 2016 presidential hopeful Sen. Marco Rubio (R-Fla.) recently said about the origin of the cosmos: "I don't think I'm qualified to answer a question like that. There are multiple theories out there on how the universe was created and I think this is a country where people should have the opportunity to teach them all. I think parents should be able to teach their kids what their faith says, what science says. Whether the Earth was created in seven days, or seven actual eras, I'm not sure we'll ever be able to answer that." This caused commentators to recall that in 2008, Barack Obama, then a presidential candidate, said, "I believe God created the universe and that the six days in the Bible may not be six days as we understand it. It may not be 24-hour days, and that's what I believe."
Obviously a politician asked a question like this is trying to come down firmly on both sides, seeming to endorse science and religion both. Saying that the six days of Genesis may be a metaphor for a far longer period seems a reaction to a sense that an entire universe could not have been created in just 144 hours.
But why not? If God is omnipotent, there's no barrier to a very rapid creation. The Bible is best understood as an accurate record of actual events -- it may not be, but that's the way the Bible is best understood. Other biblical references to days are to regular 24-hour days. Why shouldn't the six days of the creation also be regular 24-hour days?
Suppose the cosmos came into being entirely via natural forces. This does not necessarily eliminate God from the equation, it only means that the universe began naturally, as we observe many other aspects of existence to be natural. The current Big Bang consensus holds that all the material needed for a cosmos of 100 billion galaxies was once within an area much smaller than a baseball, that the triggering event of the universe was a random quantum fluctuation and that in the initial moments, space expanded far faster than the speed of light.
Maybe that is actually what happened. But that description -- a hundred billion galaxies in a tiny place -- in many ways seems more speculative, more freewheeling, than placing God in command of the show. And if a natural-origin universe was able to expand much faster than the speed of light, then creation in six days doesn't sound so out of the question.
Some may have trouble thinking about the age of the Earth because 4.5 billion years, the estimate from most geologists, cannot be understood in common-sense terms. What is 4.5 billion years? The estimated age of the cosmos, 14 billion years, is even harder to fathom. There is no common sense way to grasp gigantic numbers, so many people are put off by them. If the Earth is 10,000 years old, as some creationists assert, that's a number that can be grasped.
But whether the universe formed naturally or via divine agency, something inexpressibly magnificent happened at the creation, and maybe it happened quickly.
In any event, a supernatural could exist, and natural forces (the Big Bang, evolution) also exist. You wouldn't want to rely on religion for explanations of the natural world. But you wouldn't want to rely on science for morality, either. As William Jennings Bryan said at the Scopes trail -- Bryan believed the Earth to be 4.5 billion years old and often said so, the play "Inherit the Wind" took many liberties with facts of that trial -- "Science is a magnificent force, but it is not a teacher of morals."
It'll Happen Again in 46 Years: Last week, TMQ wondered if RG III was the first rookie quarterback ever to defeat the defending champion on "Monday Night Football." Elias Sports Bureau has confirmed he was. Ben Roethlisberger defeated the defending champion Patriots as a rookie starter, but it was a Sunday contest.
TMQ's Christmas List: Gift shoppers grow ever more desperate for electronic items people don't already have. How about an electronic hair rejuvenator that shines lasers on your head while you listen to music? Results "have been reported." The promo doesn't say what kind of results -- perhaps firing lasers into your head makes you more likely to spend large sums on gifts like this.
Or how about a hypnotizing sleep mask? As you watch the blue light a voice softly repeats, "Buy more of our products, Judy."
Best All-Rushing Drive: Was that really the pass-wacky Green Bay Packers controlling the game on the ground in the fourth quarter versus Detroit? The Packers rushed on seven consecutive snaps in the fourth quarter for the go-ahead touchdown that made it 24-17. Green Bay even rushed on third-and-2, a down that, during the Aaron Rodgers years, has typically called for nine wide receivers on the field. To boot, the Packers put a sixth offensive lineman on the field and sent him in motion.
The Lions controlled this game statistically -- 15 more first downs than the Packers, 28 more offensive snaps. But two killer turnovers, one returned for a touchdown, and a badly off-target Matt Stafford pass on third-and-8 with seven minutes remaining doomed the visitors. Green Bay has now won a league-best 11 consecutive division games, while Detroit has lost a depressing 21 of its last 24 versus the Packers.
Better Than Lasers on Your Head! My new book "The Leading Indicators" has been out three weeks, is off to a very good start in stores, and would make a better gift than lasers that drill into your head.
"The Leading Indicators" is a novel about a contemporary American family caught in the Great Recession. One reality of today's publishing is that women read more novels than men; especially, women read more recently published novels than men do. So if there's a woman or late-teen girl on your holiday shopping list, "The Leading Indicators" might be just the ticket. You'll be seen as a patron of literature but you won't actually have to read any touchy-feely relationship talk, she will.
The Football Gods Chortled: New Orleans gained 487 offensive yards, and lost by 25 points.
Weasel Coaches on the Move: Bret Bielema, Butch Jones and Tommy Tuberville become the latest weasel coaches. Bielema walked out on his promises at Wisconsin for more money at Arkansas. If a coach leaves when his contract is up, that's just business -- any employee who finds a better deal at the contract's conclusion ought to try to better his or her situation. But Bielema walked out on an existing contract, broke his promises to the young men he recruited and left his school in the lurch on the eve of a BCS bowl. What a weasel.
In addition to being a promise-breaker, Bielema speaks of himself using the royal We, saying as he slunk out of Wisconsin, "We gave them three straight Big Ten championships." He wasn't referring to the Badgers, he was referring to himself. Right ho, Your Majesty!
As for the University of Arkansas, it hired Bobby Petrino, a known promise-breaker. Petrino signed a new contract with Louisville, then walked out; he signed with the Falcons, then walked out; he broke his vows to his wife. Bringing in a promise-breaker in Petrino led to fiasco at Arkansas. So now the college brings in another promise-breaker, paying Wisconsin a $1 million buyout for the privilege.
Bielema broke his word to his previous employer, so what makes anyone think he will keep his word to Arkansas? TMQ's Law of Weasel Coaches holds: When you hire a coach who's only in it for himself, you get a coach who's only in it for himself. When will the University of Arkansas learn to hire someone of character?
Jones and Tuberville likewise left their schools in the lurch before bowl games. The Associated Press reports that the Texas Tech athletic director said that the day before walking out, Tuberville "looked me in the eye and gave me his commitment and dedication to Texas Tech football." So Tuberville looked someone in the eye, gave his word, and one day later broke his word. Why does the University of Cincinnati want to hire a head coach whose word means nothing? When you hire a coach who's only in it for himself, you get a coach who's only in it for himself.
Lo, Wise Men Saw a Black Friday Deal in the East: Last week's column noted that the Gospel of John has Gabriel announce the first Christmas nearly a year before it occurs -- I called this the first example of Christmas Creep. Reader Bryan Brockbank of Norman, Okla., counters, "Samuel, a prophet in the Book of Mormon, prophesied Christ's birth five years prior to the event. Helaman 14:2: 'Behold, I give unto you a sign; for five years more cometh, and behold, then cometh the Son of God to redeem all those who shall believe on his name.'"
TMQ has always liked that the Book of Mormon, pace the King James Bible, is published in 17th century English, a language no one spoke in the times being depicted. Though, maybe angels speak 17th century English.
Beware of Armored Locusts -- Sorry, Wrong Prophecy: In a sign that the Mayans were right about December 2012, the Washington Wizards, worst team in the NBA, beat the Miami Heat, best team.
Disclaimer of the Week: A new T-Mobile ad says, "T-Mobile has the United States covered from coast to coast." In the tiny-type disclaimer: "Coverage not available everywhere."
Football-Themed Gift: If you seek a football-themed holiday book, football fans will cheer for "Love's Winning Plays," a delightful new comic novel about SEC football, by Inman Majors. One could cross out Von Driver, name of the book's imaginary SEC head coach, insert the name of any actual SEC head coach (warning: names of SEC head coaches change on a daily basis) and you'd think you were reading the transcript of a booster club dinner. Majors, who teaches English at James Madison University, is establishing himself as what a 19th century critic would call a novelist of manners.
It's Only a Paper Moon Rocket: TMQ has done past items on space-tourism entrepreneurs making improbable claims and being taken seriously by the media. Four years ago, TMQ said Richard Branson's plan for a space-tourism suborbital flight (not into orbit, rather, briefly skimming the top of the atmosphere), then being treated in the media as imminent, was years away, if it would ever happen. Four years later, Branson's suborbital tourism is still being treated in the media as imminent.
Developing conventional aircraft takes years and hundreds of millions, sometimes billions, of dollars. The notion that a spaceplane can be thrown together quickly and on the cheap has always strained credulity, yet is swallowed whole by many journalists. The wonderfully named Virgin Galactic -- you're in the galaxy when standing on the ground -- says it has sold 500 seats on the spaceplane. "Ladies and gentlemen, there has been a slight delay in your scheduled flight. Please see a customer service representative to be rebooked for the year 2028."
Last week, the mainstream media took seriously a promotional claim by a company called Golden Spike, which is offering tourist flights to the moon for $750 million per seat. Here is one of the drawbacks to the Golden Spike plan: The company lacks a rocket. Though, it does have a Power Point.
The Apollo moon program cost about $40 billion in today's dollars, and that was just for the 11 manned missions (only some landed on the moon), plus directly related test flights of Saturn hardware. Many tens of billions of additional dollars in NASA and federal government facilities were involved. Today, more knowledge about space flight exists than in the 1960s, which might reduce costs. But Apollo astronauts were willing to risk their lives, and three made the ultimate sacrifice during a test. Super-rich space tourists won't want to risk their lives, so any commercial moon venture will need extra redundancy for safety. Forty billion dollars is likely on the low end of the cost to build a new moon travel system.
If a development cost of $40 billion, some 53 wealthy marks would need to prepay $750 million each to generate the capital required to start the company, and then be willing to wait many, many years for their ride. Also, they'd need to sign some kind of agreement stating they understand that the $750 million will be forfeited should the project go out of business, or fail on a technical basis. Getting 53 people to hand over $750 million would be the greatest venture-capital achievement ever. And that's setting aside whether a relatively small group of engineers could, in fact, design and built a reliable manned moon vehicle.
The Football Gods Chortled No. 2: A month ago your columnist warned, "The Bears have been winning on turnovers, and turnover luck has a way of changing." Now Chicago has lost four of five, and in that span not scored a defensive touchdown. Turnovers are great, but contain a hefty quotient of luck. And luck cannot be counted upon.
Best Nine-Minute Drive: Was that really the slapstick San Diego Chargers holding the ball for a 17-play, nine-minute drive against the vaunted Pittsburgh defense on its own turf? Bolts leading 13-3, San Diego reached third-and-1 on the Steelers' 3. Malcom Floyd came in motion from far outside back toward the formation, then did a spin-out against single coverage, touchdown, and a rare home rout of Pittsburgh was on.
San Diego leading 27-10, the Chargers ran a successful fake punt on fourth-and-2 from their own 28. Sweet! Fourth-and-short is always the best time to fake a kick.
Unified Field Theory of Creep: Reader Paul Lowman of Kenosha, Wis., reports, "The new Superman flick 'Man of Steel' is included in this list of Most Disappointing Movies of 2012, though won't be released until 2013." "Man of Steel" is a remake of the lame 2006 movie "Superman Returns," which itself was a remake of the good 1978 movie Superman. So though "Man of Steel" won't be in theaters till 2013, it really should be viewed as the Most Disappointing Movie of 2006.
On the list of Most Disappointing is "Prometheus," which was so poorly done there's nothing to be gained by making fun of it. Though, this flick did include a memorable sci-fi line. First audiences are told the ship has traveled to a star system 35 light years away. Then the mission commander says the crew is "half a billion miles" from Earth. Half a billion miles from Earth is the orbit of Jupiter.
"This Telecast is Copyrighted by the NFL for the Private Profit of Its Owners": The NFL said last week it might "contribute" some capital to construction of a new stadium for the Raiders. How generous! Set aside that the league might issue tax-free bonds, so even what appeared on paper to be free-market funding would be subsidized. Funding for the Forty Niners' new field under construction in Santa Clara appears to be private capital but actually is tax-exempt bonds backed by a California stadium authority.
Typical example: the gleaming new Lucas Oil Stadium, where the Colts perform, was funded by $615 million from Indiana taxpayers and $100 million from the NFL, yet all profits generated in the stadium are converted to the private luxury of the Irsay family, the Colts' owners.
If Indianapolis or California or other state taxpayers are, through their elected representatives, foolish enough to allow their money to be used to build sports facilities where all profits are converted into private luxury, then taxpayers have only themselves to blame.
But consider that the lion's share of NFL income is television rights fees. These fees sell for so much because images generated inside publicly funded NFL stadia can be copyrighted -- treated as the private property of the NFL and its owners. Why do images created at public expense become private property?
An NFL stadium that is entirely privately funded -- there are a few, including Gillette Stadium -- should be viewed as a private performance space, analogous to a Broadway theater, where the images created are private property. But a publicly funded stadium should be viewed as a public space, analogous to a park, where images created cannot be owned.
Congress is notoriously lax in oversight of professional sports, many members of the House and Senate being more concerned with free tickets to owners' boxes than with safeguarding the public interest. Suppose Congress (in some cases state legislatures) enacted legislation stipulating that in any sports stadium built with public funds, game images are public domain. This would mean that CBS could have broadcasted Sunday's Tennessee at Indianapolis game -- but so could History Channel, Telemundo or anyone else. Fans could broadcast the game from their smart phones.
Placing game images from publicly funded stadia into the public domain would be fairness to average people, versus the current system that is rigged to favor the rich. Of course, if NFL games images from stadia with public funding were not the NFL's private property, rights fees for NFL broadcasts would plummet. So either the NFL and its owners could pay all construction costs themselves, or surrender control of NFL broadcasting. The sole argument in favor of the current system is that wealthy insiders like it.
Adventures in Officiating: Leading 13-10, Cincinnati appeared to score a touchdown, but receiver Marvin Jones had gone out-of-bounds at the back line of the end zone and was, properly, flagged for illegal touching. The reason he went out was that he was shoved out by a Dallas defensive back -- who should have been called for illegal contact, as Jones was more than five yards downfield. Rather than offsetting penalties, the Bengals lost five yards. They settled for a field goal on the possession, and went on to lose by one point.
The Lions have had trouble with calls all season, and the same obtained at Green Bay. Detroit third-and-10 with 2:36 remaining, Matt Stafford threw incomplete, and Green Bay's Jerel Worthy got away with roughing the passer. On the next snap, Detroit turned the ball over. Had the penalty been called, the Lions would have had first-and-10 on the Green Bay 29. The Packers probably would have won anyway, but for all the personal foul calls that Detroit coach Jim Schwartz has seen go against his team, he's also seen personal fouls by Houston and Green Bay not called in close games Detroit would go on to lose.
Buck-Buck-Brawckkkkkkk: Scoring to take a 27-20 lead at Washington with five minutes remaining in what turned out to be regulation, coach Harbaugh/East faced a choice go for two or do the "safe" thing. A 29-20 lead puts the Nevermores in command. Doing the safe thing creates a 28-20 lead and two chances to stop the Redskins -- stop a touchdown, or if they score six, stop a deuce. But is there much risk in going for two and failing? Then the Ravens lead 27-20. If the Skins score to pull within 27-26 in the closing seconds, odds are they will not go for two to win, rather, will do the "safe" thing and proceed to overtime.
Harbaugh/East did the "safe" thing, took the 28-20 lead, then lost in overtime. If he'd gone for two and failed, he personally would have been blamed for the loss; as it is, Baltimore special teams are being blamed. Reader Michael Kendall of Oneonta, N.Y., points out that Harbaugh could have gone for two confident that even if the Ravens missed, Mike Shanahan would have been afraid to go for two at 27-26, because then he would have been blamed for a Redskins lose.
Sportsmanship Watch: TMQ has done two items this season on extremely bad sportsmanship being practiced by Refugio High in Texas, where a little-bully head coach has kept starters on the field through the fourth quarter in order to run up the score on lower-division teams. Not only does this show that coaches and administrators at Refugio High lack character, it's even bad tactics. Players become spoiled -- what do you mean we're not ahead by 60 points!
Friday night in the 2A Texas state playoffs, Refugio was defeated by East Bernard Brahmas. Reader Pete Melton of East Bernard reports, "East Bernard won some games by big margins this season just like Refugio did, but our starters always came out once the lead was secure. Never anger the football gods with bad sportsmanship!"
Crazed Texas playoff system note: Friday's games were just the quarterfinals. Texas high school football has two more weeks to go.
Concussion Watch: Last week, TMQ noted that the federal researchers are seeking funding for what they're calling a new idea -- helmet-mounted accelerometers to issue warnings when a player sustains a dangerous hit. Reader Sarah Clark of Ann Arbor, Mich., writes, "My son's high school team, Skyline High in Ann Arbor, has had sensors in football helmets for two years. If the computer shows impact at a certain level, it sends a page to the trainer, who checks out the player. Pretty sweet system, and part of a research study at the University of Michigan."
Reader Animadversion: Your columnist made fun of the submarine conspiracy show "Last Resort." Manuel Ameneiros of Mexico City adds, "During an evasion scene, the submarine comes in contact with two Ticonderoga-class cruisers. The cruisers attack using depth charges, while everyone aboard the sub is still and silent, like in World War II movies. A Ticonderoga class cruiser does not carry depth charges, which no advanced navy has used for about 20 years. In another episode, the submarine must surface to reach maximum speed. This was true of World War II submarines; modern nuclear submarines are faster when submerged."
Azzan Yadin-Israel of Highland Park, N.J., notes that the San Francisco-Miami game was Bush versus Gore "and very close at Bush 65, Gore 63. At least the Supreme Court did not decide the winner."
Obscure College Score of the Week: Saint Thomas of Minnesota 28, Wisconsin Oshkosh 14 (Division III semifinals). These schools play in Division III though Wisconsin-Oshkosh has 12,000 students and the University of Saint Thomas has 6,000 students. By contrast, Davidson and Wagner play in Division 1AA despite each having fewer than 2,000 students. Located in Saint Paul, Minn., the University of Saint Thomas calls both its men's and women's sports team the Tommies.
Bonus College Score: Georgia Southern 49, Old Dominion 35 (Division 1AA quarterfinals). In a contest that featured 12 touchdowns and two punts, Georgia Southern rushed for 602 yards and passed for 30 yards. Located in Statesboro, Ga., Georgia Southern University considers teaching, learning and scholarship to be separate activities from the rest of the college.
The Football Gods Chortled No. 3: Buffalo and City of Tampa both lost at home by surrendering last-second touchdowns. Bills and Bucs defenders dropped what looked like easy interceptions on the down before the opponents' win.
Next Week: Shahid Khan calls the Jaguars' 2-11 record "a bit of a sticky wicket."