Tuesday Morning Quarterback sends holiday good wishes to my three favorite groups -- space aliens, mega-babes and football enthusiasts. Bells are ringing all across the local star cluster!
Here is what TMQ asked Santa to leave each NFL team under its tree on Christmas morning: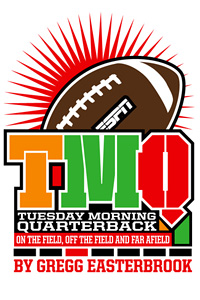 Arizona Cardinals: The same thing TMQ asked Santa to leave the Cardinals last time around: a time machine to return to 2008.
Atlanta Falcons: A playoff victory for Tony Gonzalez, who in a long, illustrious career has never walked off the field victorious in the postseason.
Baltimore Ravens: Some Mount Union sports apparel. The Purple Raiders just won the Division III football title, a good omen for the NFL's purple-clad team.
Buffalo Bills: More excuses. For a decade, Bills coaches and management have been all about making excuses.
Carolina Panthers: Some Auburn Tigers sports apparel, to remind Cam Newton of when things were going better.
Chicago Bears: Future games to be played under scrimmage rules in which the opponent can send out only its offense and the Bears can send out only their defense.
Cincinnati Bengals: Ken Anderson, Cris Collinsworth, Pete Johnson and Anthony Munoz to attend the first back-to-back Bengals postseason appearance since their playing days.
Cleveland Browns: Training camp held at the Pilot Flying J truck stop in Avon, Ohio, in epic cross-promotion.
Dallas Cowboys: Texas will secede from the United States and form a nation dedicated to life, liberty and the pursuit of football.
Denver Broncos: Miracle regimen of green tea, raspberry extract and acai that keeps Peyton Manning young.
Detroit Lions: A page, so they could all be on the same one.
Green Bay Packers: NFL switches to seven-on-seven rules.
Houston Texans: Assurance that T.J. Yates will not be the quarterback in this year's playoffs.
Indianapolis Colts: Three words: worst to first.
Jacksonville Jaguars: Tim Tebow. Unless owner Shahid Khan bungles his second chance at the most popular football player in Jacksonville history.
Jersey/A: A Gatorade bucket no larger than a Michael Bloomberg-approved 16 ounces for the New York Giants.
Jersey/B: Tim Tebow. No, wait, New York Jets coach Rex Ryan already decided he would rather be fired than win a game with Tebow.
Kansas City Chiefs: A free root canal for all season-ticket holders, since right now getting a root canal is more pleasant than watching the Chiefs play.
Miami Dolphins: Anyone chosen at random from the Dade County phone book to replace Jeff Ireland.
Minnesota Vikings: Two-hundred-and-eight rushing yards for Adrian Peterson.
New England Patriots: Bill Belichick gets to tear up that contract he signed with the devil.
New Orleans Saints: A Mardi Gras float that looks like Roger Goodell.
Philadelphia Eagles: Franchise wakes up from the Dream Team.
Pittsburgh Steelers: Bruce Arians comes back.
Oakland Raiders: Return Carson Palmer to Cincinnati, receive damage deposit back.
San Diego Chargers: The weather is perfect, there are girls in bikinis along the endless beach -- dude, did you say something about football?
San Francisco 49ers: The new stadium completed before California declares bankruptcy.
Seattle: The replacement officials will work any Seahawks playoff games.
St. Louis Rams: Overtime wages in future overtime games.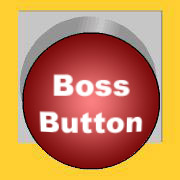 Tampa Bay Buccaneers: Copy of this book for Greg Schiano.
Tennessee Titans: Version of "Madden 13" in which Peyton Manning is the Titans' quarterback and the team color is orange.
Washington Redskins: A "III" after the name of every player, for branding purposes.
Stats of the Week No. 1: Denver and Washington are on a combined 16-0 streak.
Stats of the Week No. 2: Detroit and Tampa are on a combined 0-12 streak.
Stats of the Week No. 3: Cam Newton is on a streak of 11 touchdown passes and just one interception.
Stats of the Week No. 4: Chicago and San Diego have combined for 17 return touchdowns.
Stats of the Week No. 5: Cleveland has not defeated Denver in 23 years.
Stats of the Week No. 6: Tennessee has won a game by 34 points and lost a game by 48 points.
Stats of the Week No. 7: New Orleans has not fumbled on a rushing play; Philadelphia has 17 fumbles on runs.
Stats of the Week No. 8: New Orleans is on a pace to allow 6,946 yards of offense, the worst total ever.
Stats of the Week No. 9: Kansas City gained 507 yards on offense at home, including a 262-yard edge in yards rushing, and lost.
Stats of the Week No. 10: Last week Baltimore lost, and made the playoffs. This week Miami won, and was eliminated.
Sweet Plays of the Week: Game scoreless, New Orleans reached first-and-goal on the Dallas 9. The Sinners put six offensive linemen on the field, using reserve guard Eric Olsen as a fullback. He made a perfect block at the point of attack, and Mark Ingram reached the end zone all but untouched. New Orleans would pile up 562 offensive yards against 446 for the Cowboys, in a contest that seemed more like a Mid-American Conference game than an NFL game.
Game scoreless, Green Bay had second-and-1 on the Tennessee 6. The Packers came out with an empty backfield, though maybe it's just as well that Vince Lombardi did not live to see that. The Titans were in a conventional 4-3. At the line, Aaron Rodgers gestured frantically toward the trips side of the formation, shouting code words. This caused Will Witherspoon, lined up as middle linebacker, to shade toward the trips. That left no one at middle linebacker. In the Bermuda Triangle area between the offensive guards, there were three blockers and two defenders. Rodgers ran up the middle, touchdown. All the gestures and shouts had been decoys.
Sour Play of the Week: Visiting St. Louis leading 14-6 at City of Tampa, Les Mouflons took possession following a touchback to start the second half. Tight end Lance Kendricks lined up wide -- flanking the tight end was once radical, but in the period of Rob Gronkowski and Jimmy Graham has become common. No one at all from the Bucs' defense covered Kendricks, who caught a short in route -- and ran 80 yards for a touchdown, a 250-pound tight end outrunning the entire Buccaneers secondary, including safety Mark Barron, seventh selection of the 2012 draft. Kendricks picked up a terrific downfield block by the undrafted Danny Amendola. But allowing the other team's tight end to outrun your defensive backs -- very sour.
Sweet 'N' Sour Play of the Week: Atlanta leading 7-3, the Falcons had first-and-10 on the Lions' 44. Matt Ryan threw a quick hitch screen left for 5 yards. Now it was second-and-5, usually a running down. Into the game came Drew Davis, who plays for Atlanta mainly in power-rush situations. The Falcons faked a toss right, with Davis leading; then threw another quick hitch left. The Detroit defense had overpursued toward the fake toss, and was burned for a 39-yard touchdown by Roddy White. This is an example of a series action on which a routine play is used to set up a later deep strike. This pair of plays was so sweet that TMQ wondered why the Falcons showed them versus Detroit, rather than saving them for the playoffs.
Later, leading 21-16, Atlanta reached first-and-goal at the Detroit 1 in the fourth quarter, looking to put the contest on ice. The Falcons went heavy with six offensive linemen and two tight ends, including backup tight end Michael Palmer in the backfield as a slot back. The Falcons play-faked, with the fullback sprinting into the right flat. Goal-line play fakes often end up being passes to the fullback, so Lions defenders followed him. While everyone was chasing the fullback going right, Palmer went left behind the line of scrimmage and ran into the left flat, completely ignored by the defense -- touchdown. Palmer entered the game with five receptions on the season; TMQ loves the tactic of throwing, in a pressure situation, to a guy who never gets the ball. Again, this play was so sweet; why didn't Atlanta save it for the postseason?
To begin the fourth quarter, host Detroit, trailing 21-13, had fourth-and-goal on the Atlanta 2. When the field goal unit came in, TMQ wrote the words "Jim Schwartz Detroit career over" in his notebook. The Lions entered the game having lost six straight, and 12 of their past 16. Yet they wouldn't play for the win in the fourth quarter in front of their home crowd. Very sour. As the field goal boomed, the home crowd booed loudly. Later they would cheer when Calvin Johnson broke Jerry Rice's single-season receiving yards mark. But cheering for victory is a lot more fun than cheering for stats.
Reverse Creep: Reader Jennifer Jaynes of Knoxville, Tenn., writes, "Capital One Bowl Week began on December 18th and runs till January 1st. Shouldn't that be Capital One Bowl Fortnight? ESPN advertising even calls this 15-day period 'the most wonderful week of the year.'"
A Cosmic Thought: At this time of year, your columnist contemplates the size, age and grandeur of the cosmos.
Scientists and philosophers alike remark on the many seeming coincidences of physical law that make the firmament, and life, possible. If the "strong force" that holds the nuclei of atoms together had been only slightly weaker, heavy elements never would have formed, and so there would be no planets; if the strong force had been slightly stronger, the stars would have burned out in the initial eons. The energy density of the universe is just right to make the cosmos geometrically normal: alter the density even a little and the universe either collapses back into itself, or becomes weirdly distorted. There are many similar examples. Perhaps the favorable physical laws and constants of our cosmos are just good luck. Perhaps.
The new book "Gravity's Engines" by Caleb Scharf, the director of astrobiology at Columbia University, is a fascinating addition to the stellar debate.
Scharf proposes another way in which an important part of the cosmos -- our Milky Way galaxy -- seems fine-tuned for life, at least on the very large scale. The black hole at the center of the Milky Way is "only" about 4 million times the mass of the sun, Scharf reports. That means it emits relatively little radiation. Many galaxies have central black holes with billions of solar masses, emitting so much radiation as to sterilize an entire galaxy. The Milky Way's central black hole is in the sweet spot -- massive enough to hold the galaxy together and support star formation, not so massive as to contaminate the Earth.
Perhaps this is just good luck. Perhaps.
Our universe has existed for 14 billion years -- and stars are still forming, including nearby in galactic terms. There are 10 billion stars for every person alive -- every person here, at least. The universe may last trillions of years, perhaps forever. Who can say what the cosmic enterprise may call for?
The Vengeance of the Football Gods: Powerhouse San Francisco trailed upstart Seattle 14-0, and faced fourth-and-goal on the Seahawks' 3 early in the second quarter. That couldn't be the field goal unit coming on! The Niners were just 3 yards from pay dirt. If they tried for the touchdown and failed, the Bluish Men Group would be pinned against their goal line, facing an elite defense. Going for it here makes a great deal of sense. Seeing the kick formation the football gods waxed wroth, the field goal attempt was blocked and returned the length of the field for a Seattle touchdown.
Note one: Tuesday Morning Quarterback warned in his NFC preseason preview that the Niners' Achilles' heel was settling for field goals. Note two: The blocked kick touchdown put Seattle on a 129-17 scoring run, stretching back to the start of Week 14.
Headline of the Joyous Season: "Discord Flares At A Holiday Festival." Wall Street Journal, Dec. 22.
Why Rex Ryan Fears That Tebow Would Win: With Mark Sanchez benched, Rex Ryan went with third-stringer Greg McElroy as the Jersey/B starter. McElroy is both an accomplished athlete and was a dean's list student who got his bachelor's degree at the University of Alabama in just three years, then took graduate school courses while playing as a senior. He is the kind of guy who is fun to root for.
Did Ryan bypass Tebow because he thinks McElroy can win, or because he fears Tebow can? The latter is more likely. Throughout the season, Ryan has been refusing calls to lift Sanchez for Tebow, who for all his throwing-mechanics faults led Denver to a playoff victory last season. If Tebow came in and won the final two Jersey/B games, fans would be livid: Snoopy Stadium would rock with chants of "Rex Must Go!" Ryan calculates his chance of holding his job would be greater if McElroy played and lost than if Tebow played and won.
Christmas Present for America: In the current Atlantic Monthly, Charles Fishman and James Fallows detail the reasons that manufacturing is moving back from Asia to the United States. These kinds of articles are exemplars of why long-form magazines, such as The Atlantic and the New Republic, still matter in a digital age. Consistently, both feature the kind of step-back-from-events reporting and thoughtful writing that are rare in the big-money media.
Even if the trend is for manufacturing to rebound within the United States, globalized production will remain important, and amazing in some respects. Under the Official Christmas Tree of TMQ on Tuesday morning was an Apple MacBook Pro to one of my kids. The box containing same arrived at the front door on Dec. 17. The UPS tracking document said, "Departed Shanghai 12-14-12."
Ordered using a laptop on Dec. 10, manufactured in China on Dec. 13 and at the front door in Maryland on Dec. 17. This is so efficient it's almost spooky.
Jerry Rice Has Almost As Many Records As Warren Buffett Has Billions: Calvin Johnson broke Jerry Rice's record for receiving yards in a season, and Wes Welker needs a 10-catch finale to break Rice's record for most career 10-reception games. But shed no tears for Rice, who still holds numerous records, many by huge margins. Rice has the most career receptions, with 25 percent more than No. 2 Tony Gonzalez; most seasons with at least 50 receptions, by a seemingly safe two seasons over Gonzalez; most consecutive games with a catch, by an unassailable 84 games over Marvin Harrison; most career yards receiving, by an unassailable 44 percent more than No. 2 Terrell Owens; most seasons with at least 1,000 receiving yards, by an unassailable four seasons more than Randy Moss; most games with at least 100 yards receiving, by 12 games over Moss. And that's just his league records -- Rice holds a dozen 49ers records, all by comfortable margins.
Most sports records are by tiny margins over the runner-up. Barry Bonds, for instance, had 1 percent more home runs than Hank Aaron. Rice's records are by huge margins. He will still hold numerous records when he is called to meet the football gods and greeted by song and feasting.
This Year's Best Christmas Video: Check the little kids at the front, who get progressively cuter.
Most of the stellar Christmas pop tunes are prewar. "All I Want for Christmas Is You" by Mariah Carey and Walter Afanasieff is among the few great Christmas songs written in my lifetime. Another is the same-name, different-tune, got-there-first "All I Want for Christmas Is You" by Andy Stone and Troy Powers, written for Vince Vance. This one is a country song with postmodern lyrics: "I don't need expensive things/They don't matter to me/All that I want can't be found/Underneath the Christmas tree."
Then there's "Have a Holly Jolly Christmas" by Johnny Marks. Lyrics include, "Oh ho, the mistletoe/Hung where all can see/Somebody waits for you/Kiss her once for me." Kiss her once for TMQ!
Next Week: The year 2012 has passed and the world did not end -- if Tuesday Morning Quarterback appears next week, that is.
In addition to writing Tuesday Morning Quarterback for Playbook, Gregg Easterbrook is the author of "The Leading Indicators" and seven other books. He is a contributing editor for The New Republic, The Atlantic Monthly and The Washington Monthly. His website can be found here, and you can get a notification on Twitter when TMQ is posted.