The divisional round produced three spectacular football games, plus a fourth contest, more like a coaching clinic, in which the Patriots once again methodically demonstrated they are the best team of the past decade. And the divisional round produced a message -- that college football is taking over the NFL.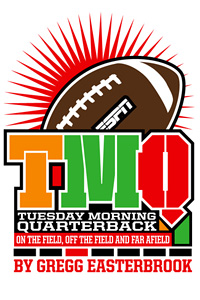 Watching Colin Kaepernick run the zone-read option against Green Bay was like watching an iPhone versus a Princess rotary dial. On offense, the Packers were trying to do what all NFL teams have been trying to do since Joe Montana. The Forty Niners were trying to do what college teams are doing right now. And college trumped pro tactics.
Kaepernick rushed for 181 yards, the Niners gained 579 yards on offense -- amazing numbers -- by using the zone read and the Pistol, tactics more common in the Mid-American Conference than the NFL. Packers defenders did not know what hit them.
Green Bay's outside linebackers kept crashing -- standard NFL tactics, but death against the zone read. On Kaepernick's 56-yard touchdown run, which put the home team ahead to stay, Green Bay linebacker Erik Walden crashed inside and seemed unaware Kaepernick still had the ball as the San Francisco quarterback roared past him, then outran future Hall of Famer Charles Woodson to the end zone. Green Bay linebackers were still crashing in fourth quarter when Kaepernick, who already had 163 yards rushing at that point, got to the edge for a 16-yard run that was the lights-out moment. Linebackers at Akron or Bowling Green know not to crash against a zone read. But NFL linebackers didn't know it.
The fireworks at San Francisco show coach Jim Harbaugh put Kaepernick into the lineup midseason over pro-style passer Alex Smith because Harbaugh/West suspected a college offense, in the right hands, would tear up the NFL. In the last couple regular-season games, the Niners did not have Kaepernick run much zone read, nor show many Pistol sets. In the regular-season finale, against Arizona, Kaepernick threw 28 times and rushed thrice. This was misinformation -- Harbaugh/West was trying to give the impression his concern was molding Kaepernick into a pro-style passer, lulling his first-round opponent into not expecting college tactics. The ruse worked. Saturday, the Forty Niners ran a lot of loaded Pistol (three backs in a diamond) and what TMQ calls the derringer (two backs in a letter-L set). Green Bay wasn't prepared.
The Redskins and Seahawks also used zone-read plays and Pistol sets to make the playoffs this season. Atlanta was able to defeat Seattle -- though not contain its offense -- because the Falcons had a bye and an extra week to prepare for college tactics, and knew they would get the Washington-Seattle winner. At Atlanta, Seattle's offense came within 8 seconds of victory and making it two college wins out of four divisional games. Meanwhile New England was using its very-quick-snap offense, inspired by the Blur Offense at Oregon and the quick-snap pace employed at the University of Houston or, for that matter, in the New England Small College Athletic Conference around the corner from Bill Belichick's office.
There have been effective running quarterbacks in the NFL before -- Fran Tarkenton, Steve Young, Randall Cunningham, Michael Vick. They've been scramblers, taking off when an intended passing play breaks down. The zone-read offense uses the quarterback as a designed rushing threat, making run downs 11-on-11, rather than 11-on-10 with the quarterback handing off and watching.
The zone read is a fad, and fads always run their course. But last season, Tim Tebow at Denver used the zone read to defeat the Steelers in the playoffs. This season, San Francisco and Seattle used the zone read to win playoff games, and San Francisco is not done. Traditionally, NFL coaches look down on college tactics as not super-sophisticated like pro tactics. Gaining 579 yards on offense seems pretty sophisticated. Where's my varsity sweater?
In television news, your columnist figures in "Star Spangled Sundays," a four-part NFL Films documentary on the growth of the NFL, currently airing on NBC Sports Network.
Stats of the Divisional Round No. 1: Tom Brady is 17-6 in the postseason, most playoff victories ever for a quarterback.
Stats of the Divisional Round No. 2: Atlanta is 8-2 in games decided by a touchdown or less.
Stats of the Divisional Round No. 3: Over the past four seasons, as coach of Stanford then of the Forty Niners, Jim Harbaugh is 29-5-1 in games played in the San Francisco Bay Area.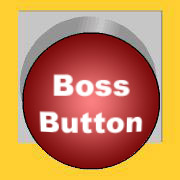 Stats of the Divisional Round No. 4: In the postseason, Houston is 2-0 versus Cincinnati, and has never beaten any other team. (Repeat of a Stat of the Wild-Card Round, suggested by many readers including Amy Elrod of Brookline, Mass.)
Stats of the Divisional Round No. 5: With 557 regular-season points, New England finished as the third-highest scoring team in NFL history. The first-, second-, fourth-, fifth-, sixth- and seventh-highest scoring teams did not win the Super Bowl.
Stats of the Divisional Round No. 6: In its two postseason games, Seattle fell behind by a combined 34-0, then outscored opponents by a combined 48-10.
Stats of the Divisional Round No. 7: In two games played a month apart, the Denver Broncos outscored the Baltimore Ravens 31-3, then were outscored by Baltimore 52-38.
Stats of the Divisional Round No. 8: Colin Kaepernick not only set a playoff rushing record for a quarterback, he outrushed the entire Green Bay team by 79 yards.
Stats of the Divisional Round No. 9: Peyton Manning is 2-8 in outdoor games played in January.
Stats of the Divisional Round No. 10: Peyton and Eli Manning are a combined 1-5 in home postseason games following a playoff bye week.
Sweet Plays of the Divisional Round: After a big gain, Bill Belichick likes to have his offense rush to the line for a quick snap. Defenses should be prepared for this. In the first quarter, Aaron Hernandez caught a pass to the Moo Cows' 1. New England rushed to the line to quick snap; Houston was not in position; Shane Vereen walked into the end zone untouched.
In the second quarter, Wes Welker made a gorgeous 44-yard catch to the Texans' 8. New England rushed to the line to quick snap; Houston was not in position. How could the Texans not have known this was coming? Vereen lined up wide, not covered by anyone, took a quick flip and walked into the end zone untouched. Vereen scored two untouched touchdowns in the same half of a playoff game! Sweet.
In the third quarter, Stevan Ridley broke a 23-yard run to the Houston 8. New England rushed to the line to quick snap; Houston was not in position. How could the Texans not have known this was coming? Brandon Lloyd lined up wide, took a quick flip and walked into the end zone untouched. New England scored three untouched touchdowns in a home playoff game. Very sweet.
Sour Players of the Divisional Round: Peyton Manning and Champ Bailey are Denver stars viewed as shoo-ins for the Hall of Fame. Bailey was badly burned three times deep -- for 59- and 32-yard touchdown catches by Torrey Smith, and a third time when the pass was off target. On the 59-yard Smith touchdown, Bailey appeared to be jogging and making the high school mistake of looking into the backfield trying to guess the play, rather than guarding his man. Bailey had a sour, sour game.
In overtime, Manning faced second-and-6 on the Denver 38. A pass-rusher broke through and rather than throw the ball away, Manning retreated 10 yards, then heave-hoed a crazy pass off his back foot, interception. Manning was running to his right and threw back across his body toward his left, a high school mistake. Manning followed a great regular season with a sour postseason wheeze-out, as he has done so often in his career.
Even Trindon Holliday, who returned two kicks for touchdowns for Denver, found a reserve of sourness within himself at the end. Just before Manning's disaster interception, Holliday fielded a punt at the Denver 14, and ran backward to the 7, where he was tackled. Dante Hall could come out ahead by running backward; no other kick returner in football should ever run backward. Starting on the 7 seemed to put Denver into bundle-of-nerves mode.
Sour Plays of the Divisional Round: Atlanta leading 13-0, Seattle reached third-and-1 on the Falcons' 11, and a run was stuffed. Pete Carroll decided to go for it, the manly-man move. TMQ's law of short yardage holds: Do a Little Dance If You Want to Gain That Yard. Misdirection is essential on short-yardage plays. But there was hardly any misdirection, then Russell Wilson handed to fullback Michael Robinson for a straight-ahead quick-hitter and he, too, was stuffed. The play was designed to draw attention to star tailback Marshawn Lynch, who fakes a pitch left, while Robinson goes up the middle. But Lynch took just one step, then came to a halt, standing and watching Robinson -- drawing Atlanta's attention to what was really happening, rather than creating a diversion.
In a contest Seattle would go on to lose by two points, this sequence was pivotal. The Seahawks gained 491 yards, the best offensive performance of the divisional round. Two failures to gain a single yard doomed their hopes.
Sweet 'N' Sour Play of the Divisional Round: Atlanta leading 27-7 at the start of the fourth quarter, playing at home, the Falcons' situation seemed set. Then the Bluish Men Group went touchdown, touchdown, touchdown, taking the lead at 28-27 with 35 seconds remaining.
But the Falcons have been here before this season. The kickoff was returned to the Atlanta 28. Matt Ryan likes to throw to the deep left in this situation -- that's what he did when the Falcons were backed up on their own 1-yard line with a minute remaining against Carolina. That's what he did Sunday, throwing deep left to Harry Douglas, who gained 22 yards and then stepped out of bounds at midfield, stopping the clock.
Now there are 19 seconds remaining and Atlanta holds one timeout, meaning it can throw down the middle, call the timeout and try a long field goal. Matt Ryan stepped up away from a rush and found Tony Gonzalez down the middle at the Seattle 31. Timeout, field goal and the ageless Gonzalez finally has a playoff win. Sweet.
Seattle, which boasts of the league's best defensive backfield, blitzed two defensive backs on the play with 19 seconds showing, nickelback Marcus Trufant and nickel safety Winston Guy. But the Hawks didn't need a sack, and downs weren't a factor -- all Seattle needed was incompletions. Gonzalez went right to the place that Guy vacated, for the game's key catch. Sour.
Even more sour, the Seattle defensive backs jaw, jaw, jaw about how great they are. Yet with Atlanta on its 28 with 25 seconds left, when a couple of incompletions would mean an NFC title appearance for the Seahawks, Seattle defensive backs gave up 41 yards in two snaps, both throws going just where you'd predict. That's a sour warhead.
Twilight of the Transmission: Your columnist continues to test-drive cars, looking to replace my wheels. I'm shopping in the sports sedan category, and having always owned manual-transmission cars, want something with a stick. My options are surprisingly few.
In November, I noted that the snazzy new Cadillac ATS sports sedan comes in a stick-shift variant, and there is powerful reverse snob appeal to driving a Cadillac with a clutch. But the stick ATS is available only with rear-wheel drive; I live in a hilly neighborhood in a bad-weather town.
The new Ford Fusion and Chevy Malibu are getting strong reviews and offer lots of extras for the price, but neither has a stick option. The Buick Regal Turbo and the Infiniti G37 Sport let you shift for yourself, but have disappointing gas mileage. The new iteration of the Honda Accord, perennially one of the best values on the automotive scene, offers a stick shift only in an entry-level model. The built-in-Ohio Accord I own now has a stick plus leather seats, moonroof and the works. But there's no longer a fully loaded, manual Accord. As of 2013, Honda believes that buyers of the Accord, its bread-and-butter model for decades, don't want the driver-in-command feeling a stick shift confers.
BMW, which in 1968 introduced a generation of American drivers to Euro-style handling with the groovy 2002, is backing away from the stick shift. BMW now sells 70 models, many with multiple trim levels, but so far as I can tell, no BMW under $50,000 offers a manual transmission and all-wheel drive. (BMW does not build front-drive cars, and rear-wheel-drive is solely for ideal conditions.)
I am narrowing my search to the Audi 4 and the Acura TSX. I feel motivated to buy a stick-shift sports sedan while this category still exists.
When it comes to automatics, the transmission menu has never been more detailed. Just a decade ago, the typical automatic was three-speed, while luxury cars had four-speed automatics. Today four is the norm; many cars, even affordable ones like the Fusion and Malibu, offer six-speed automatics. Some Mercedes models have seven-speed automatics, which Audi saw and raised with an eight-speed automatic. (Its gear ratios are "carefully chosen," a sales brochure assures. "Fritz, stoppen die Wahl der Getriebeübersetzungen art zufällig," someone must have decreed at Audi HQ in Ingolstadt.) The notion of an eight-speed automatic as a high-end touch didn't last long: Now Dodge offers an eight-speed automatic in the Charger.
Back in the heyday of the Hurst four-on-the-floor -- shift as hard as you want, just don't break your arm -- four speeds was the norm for manuals. Then five speeds became the rage. The Audi and Acura models that have drawn my eye offer six-speed manuals, and the new cost-is-no-object Porsche 911 has a seven-speed stick.
Whether manual or automatic, the multiple-gear tranny is a fading technology. The continuously variable transmission, whose components are more like bands than gears, is becoming practical after 25 years of engineering hiccups. Because CVTs improve fuel economy, as soon as they are viewed as fully reliable, they may take over the car business.
Already, electric cars have only forward and reverse drive positions. The CVT reciprocating-engine cars on the market so far offer drive, low and reverse on the selector; soon forward and reverse may be the only options. Choosing a gear will go out of style -- cars will have a direction, but not a gear choice.
Car enthusiasts have long fretted that the manual transmission would vanish because most drivers want to exert the least effort possible. Now it's looking as though all transmissions will vanish, in the interregnum before the self-guided car closes the loop by eliminating driving altogether. TMQ advises you to buy stick-shift wheels while you still can.
Footnotes: The puzzling option on many models is $3,000 to $4,000 for in-dash navigation systems that do what a TomTom does for $100. Several marques package in-dash navigation with desirable features not available on the aftermarket, such as a backup camera, effectively forcing the consumer to pay much more than the backup monitor ought to cost. The most glitz I've encounter so far is on the Cadillac ATS, which offers "French stitching," a set of "short-, mid- and long-range radar" to monitor blind spots and also a Doppler radar (is this an aircraft?), "signature LED tail lamps," magnesium addle shifters and "authentic carbon fiber trim." Don't you hate fake carbon fiber trim? The silliest option I have encountered so far is the $370 "illuminated kick plates" for the Infiniti G37. This option allows you to pay to advertise the company by having the word "Infiniti" light up on the side of your car at night.
Seattle at Atlanta Analysis: The postseason minkey finally is off the backs of the Falcons. Atlanta surprised Seattle by running more than it has lately, rushing for 133 yards in the first half. Then in the second half, holding a big lead and needing to work the clock, the Falcons reverted to their pass-wacky ways, throwing incompletions that stopped the clock and kept the Bluish Men Group comeback alive. In the first half, Atlanta threw 18 times and rushed 16 times; in the second half, with a big lead, Atlanta threw 17 times and rushed 10 times. Ay caramba.
The Falcons ran a beautiful play-fake touchdown pass on first-and-goal at the Seattle 1. If you're going to play-fake at the goal line, do it on first down, when the defense is primed for a rush, not on second or third down, when the defense has stopped a rush and expects pass.
The Falcons showed a lot of a tight three-man bunch that was effective. On their best play, leading 13-0 with first down at midfield, the Falcons lined up with this bunch-trips on the right. A receiver went in motion from the trips to the left. At the snap, the action on the left looked like a hitch screen left. Roddy White, still on the right, jogged a few steps and then stopped, as if it was indeed a hitch left and he was taking the down off, as star receivers so often do when the play goes away from them. Then White exploded into a full sprint and beat the ever-boasting Richard Sherman for a 47-yard touchdown. Sherman, who had just fallen for a high school trick, clapped derisively for the man who beat him. The football gods don't like that sort of thing.
Now the Falcons host the NFC title game. But against Seattle, Atlanta played well in only the first half. The Falcons generated little pass rush -- once, Russell Wilson had eight seconds, quite long in football terms, in the pocket -- and couldn't cover the Seattle tight end. Leading 27-14 late, Ryan threw a silly interception into double coverage, setting in motion Seattle's near win. If Atlanta takes a big lead against San Francisco, cover your eyes.
As for the Seahawks, this season they exceeded expectations, and their faithful will talk about the 20-point playoff fourth quarter for years to come. Wilson is the real thing -- he had a passing day any NFL quarterback would envy.
But the Hawks also will be haunted by botched endings of both halves. Trailing 20-0, Seattle had third-and-goal on the Atlanta 11 with 21 seconds until intermission, holding no timeout. The play needed to be a touchdown or an incompletion, to preserve the field goal chance. Seattle had five to block four, but defensive tackle Jonathan Babineaux beat guard J.R. Sweezy off the snap to sack Wilson. There was a moment of hesitation as the field goal unit started out, then went back off; Wilson snapped again one beat after the clock expired. Overall, in the first half Seattle drove to the Atlanta 6 and the Atlanta 11 without points, in a contest the Seahawks would lose by two.
Then in the hectic final minute -- Seattle touchdown with 35 seconds remaining, followed by Atlanta field goal with 8 seconds remaining -- a squib kick gave the Seahawks the ball at their 46 with 6 seconds, holding two timeouts. A 20-yard pass down the middle followed by a timeout -- not easy but possible, Atlanta had just done exactly that in 6 seconds -- would put the Hawks in position for a long field goal try to win.
Inexplicably, Seattle ran a short sideline route to Doug Baldwin, who frantically sprinted out of bounds to stop the clock -- when Seattle had timeouts! Ball now at midfield with 2 seconds, a Hail Mary was the sole hope. Why on earth did Seattle call a short sideline route when holding two timeouts? As Atlanta hit its field goal, Pete Carroll had ripped off his headphone belt in disgust. Then suddenly Seattle had a last-gasp opportunity after the squib kick. Did Carroll call the weird sideline route? Was Wilson's helmet radio working at that juncture? At least the unused timeouts can be donated to charity.
Keep It Short! Next Monday, Barack Obama gives his second inaugural address. Abraham Lincoln's second inaugural, widely viewed as among the most important statements in American history, was 700 words.
Recent second inaugural addresses by Dwight Eisenhower, Ronald Reagan, Bill Clinton and the younger George Bush have averaged about 2,000 words. Eisenhower: "May the turbulence of our age yield to a true time of peace." Reagan: "The American song echoes out forever and fills the unknowing air." Clinton: "May those generations whose faces we cannot yet see, whose names we may never know, say of us here that we led our beloved land into a new century with the American dream alive for all." Bush: "We are led, by events and common sense, to one conclusion: The survival of liberty in our land depends on the success of liberty in other lands."
Let's hope Obama's second inaugural address is brief and speaks to great themes, rather than ticking off yet another list of interest-group demands for subsidies. The president is a skilled orator, but spends too much time presenting speeches and not enough time getting things done. One reason Lincoln's words still echo in our ears is that they were few. Obama has given so many speeches that surely even he does not remember most of them. Will his second inaugural be memorable?
Only Hollywood Could Manage This: During the Golden Globes, Jodie Foster spent an extended sequence on prime-time national television explaining how she wants -- privacy.
Unified Field Theory of Creep: Reader Greg Mitchell of Whitman, Mass., wrote, "I was at a bar in West Bridgewater, Mass., on January 5th to watch the Vikings-Packers wildcard tilt and asked for a Samuel Adams winter draft. The bartender apologetically said they were out of the winter draft and had only been able to obtain Samuel Adams Alpine Spring from the supplier. Two weeks after the start of winter, and already the seasonal draft is a spring beer." Just be grateful it wasn't the 2013 Christmas brew.
Houston at New England: TMQ could have written "game over" in his notebook when the New England cheer-babes came out in two-piece outfits for a kickoff at a temperature of 51 degrees. That's professionalism! Also I could have written "game over" before kickoff because Houston was the opponent. The Moo Cows have never won in Massachusetts, and closed their 2012 campaign 0-2 versus New England, 13-3 versus all other opponents. Just to prove it was no fluke, Houston was blown out twice by the Flying Elvii in the span of six weeks.
The Patriots are plus-26 on turnovers, much better than any other NFL team. Care with the ball means Tom Brady has 29 more touchdown passes than interceptions, a fantastic number. If the Pats stay careful with the football, the last hurrah for Brady (and maybe for Bill Belichick) may await in New Orleans. Their offensive line played a magnificent game -- offensive line performances being the common denominator for the four divisional-round victors.
Belichick continues to vary game plans from week to week more than any NFL head coach. Sunday, he found new wrinkles for hiding Wes Welker, having him run his patterns "under" one or two faster players going deep. Welker had several nice possession catches, and also ran a streak up the sideline for a 44-yard gain against a Houston defender who seemed shocked that Welker would go long. Belichick loves the flare to the tailback, and to split the tailback wide. Twice when Shane Vereen split wide, he was covered by a linebacker -- the second time resulted in a 33-yard out reception. Welker hiding under other patterns, tailbacks wide -- they're creative ways to compensate for New England's lack of a true deep threat. Next week in the AFC title contest, what creative way will Belichick find to compensate for the lack of Rob Gronkowski?
The Flying Elvii's defense gave up a lot of yards and points -- Houston has a much better defense, right? That's conventional wisdom. Actually New England and Houston both surrendered 331 points during the regular season, and in this postseason matchup, it was the Moo Cows' defense that was torched. New England is inconsistent on defense, but got stops early when the game was in doubt. In Belichick's first Super Bowl run, the Pats' defense was inconsistent, but came together down the stretch.
Just like the last time the Texans ventured into Yankee territory, Houston was outcoached. The Texans' defense was unprepared for New England's goal-line quick-snap plays. That New England quick snaps after a big play creates first-and-goal is TOTALLY OBVIOUS from film. Yet three, count 'em, three times, New England got a big play creating goal-to-go, and the Houston defense was caught flatfooted. The Texans have a defensive coordinator, five senior defensive assistants and many scouts. How could none of them have known that New England has been quick snapping on first-and-goal all season? In December's Houston at New England game, there was a lot of pointing and shouting by Texans defenders, who didn't seem sure where to line up or how to locate Welker. A month later in the Houston at New England game, noting had changed.
Over on offense, trailing 24-13 late in the third quarter, the Texans faced third-and-7 on the New England 38. Four-down thinking should be used here -- since you know you'll go on fourth down. Matt Schaub took a five-step drop and then threw a panic pass directly into the hands of a defender for an interception. Ye gods.
The hey-everybody-look-at-me immaturity displayed by J.J. Watt was indicative of Houston underachieving. Before the game, Watt danced and stomped on the Patriots' logo. Boast after you win, not before you lose! New England leading 10-3, Watt stopped Ridley for a yard loss, then jumped up and performed an elaborate finger-pointing routine. Hey everybody, look at me! Dancing on the field about a routine tackle while your team is behind: ugh. Watt had a terrible game -- one tackle, half a sack, invisible for extended periods, often pancaked by Logan Mankins -- but limitless energy for self-promotion. The Patriots are a group of grownups, the Texans are a group of babies, and it showed.
Damned If You Do and ... Washington's Mike Shanahan has taken a beating in the sportsyak world for leaving RG III in the game too long against Seattle. Though players always want to play, you're not doing the team any good if you can't perform. Willis Reed famously limped out hurt against the Lakers in Game 7 of the 1970 NBA title series and scored two baskets, then stepped back and let Clyde Frazier take over -- if Reed had demanded the ball, the Knicks would not have won.
Shanahan should have told RG III to sit, but suppose he had, and Kirk Cousins didn't play well: The sportsyak would have blasted Shanahan for not letting the phenomenal Griffin give it the old college try. And bear in mind what's been said about NFL stars who stayed on the sidelines of postseason contests. When Jay Cutler left the NFC title game in 2011, he was roundly mocked by sports commentators; when Bruce Smith missed a Bills-Steelers playoff game in 1997 because of the flu, he was mocked. Had Griffin not played against Seattle, or left early, then his second injury would not have occurred, and sports radio hosts and barflies the nation across would have said, "He looks fine, why didn't that wimp play!"
The Trillion-Dollar Coin Won't Work in a Coinstar Machine: The platinum trillion-dollar coin has been getting a lot of attention. Comedian John Oliver suggested one should be used in the Super Bowl coin toss, to heighten excitement. Slate asked readers to design a trillion-dollar coin. One has Big Bird on the obverse, another the legend MADE IN CHINA on the reverse. The winner depicts Barack Obama doing the Doctor Evil finger pose.
An obscure statute authorizes the Secretary of the Treasury to mint platinum coins "in the Secretary's discretion," in any denomination. Why stop at a trillion dollars? The United States could mint, say, a $100 trillion coin and use it to purchase Europe. We could mint a $1 quadrillion coin and use it to purchase the Milky Way.
Striking an image onto some platinum and saying it's worth 1 quadrillion dollars makes as much sense as saying it's worth $1 trillion, or striking an image of Grover Cleveland onto manganese brass and declaring it to be worth $1, as the Mint presently does. Any such coin invokes the question -- what is money?
Currency is surprisingly abstract as a concept. Money is whatever you agree to accept in trade, with the understanding that others will accept it in turn. If there's a $20 bill in your wallet or purse, you view it as valuable because you know that others will as well. If you have $1 million in a bank account, you view it as valuable because you know that others will as well. But you can't eat a $20 bill or sleep under a bank account. Money is valuable only if others agree that it is.
Even if money is backed by some precious substance such as gold, the abstraction doesn't change much. You can't eat or wear gold. You view gold as valuable only because you know that others will as well. Whether a thin sheet of linen-like paper or a gold ingot or a string of digits on an electronic financial statement, money is, itself, worthless.
That money has value only when others think it does is why currencies collapse. The ruble and the Zimbabwean dollar lost value when no one wanted them, because a person holding this currency couldn't be sure that others would also view it as valuable. But if Barack Obama ordered the minting of a trillion-dollar platinum coin, and it was viewed as having a trillion dollars' worth of value, then it would.
Of course because the denomination is so large, there is no free-market forum to test the value of a trillion-dollar coin. On a practical basis, if one were minted it would be transferred to the Federal Reserve under heavy guard -- strictly for show, since if you stole a trillion-dollar coin there would be no place to spend it -- and the Fed would use the "value" of the coin to buy $1 trillion worth of Treasury bills and bonds, thus giving the government another trillion dollars to spend.
Bear in mind, that's how the past six years of irresponsible debt-based federal giveaways -- two years under George W. Bush, now four years under Obama -- have been funded. The Federal Reserve keeps buying Treasuries, or mortgage-backed securities issued by Fannie Mae and similar federal agencies. That gives the executive branch money to spend. One division of government tells another, "Here is a new string of numbers," and money comes into existence.
What's underlying these transactions? Nada, beyond the belief that strings of numbers issued by the United States are more likely to be useful in trade than strings of numbers issued by, say, Greece. Because the credibility of the United States is so high, its strings of numbers bear heft. But if government keeps printing money and talking about obvious gimmicks such as trillion-dollar coins, how long will that credibility last?
Economists including Friedrich Hayek have contemplated the idea that privately issued money would be more solid than government-issued money, since privately issued money would be cross-checked by market forces, while government is run to please campaign donors. Governments from the Roman emperors of the far past to the liberal Scandinavian democracies of today insist that they alone control the supply of money. One reason is to ensure taxation. At a deeper level, governments know how easily it could all unravel, and money be viewed as worthless.
Coaches' Employment Office: The Eagles have been rebuffed in their head-coaching search by Chip Kelly of Oregon and Brian Kelly of Notre Dame. Next they should try Kevin Kelly of Georgetown or Kevin Kelley of Pulaski Academy.
Stop Me Before I Blitz Again! Atlanta leading 20-7 late in the third quarter, the Falcons faced third-and-9 on the Seattle 22. The key thing is to hold Atlanta to a field goal. A sack wouldn't alter the equation much, since Atlanta still would be in field goal range. Six-man blitz! Matt Ryan throws for 11 yards, and a moment later, the visitors trail 27-7.
Green Bay at San Francisco Analysis: Quarterbacks get too much praise when things go well -- see for example the beginning of this column -- and too much blame when things go poorly. Even so it's hard to overlook Colin Kaepernick rushing for 181 yards while also throwing for 263 yards, numbers Johnny Football would envy. Everybody knew Kaepernick could run, but could he throw as well as Alex Smith? A perfectly delivered deep strike to Vernon Davis provided the answer. TMQ was skeptical of Harbaugh/West changing horses in midstream from Smith to Kaepernick. Skeptical no more!
The San Francisco offensive line set the tone for the contest, just as the Baltimore offensive line set the tone at Denver. When the Bills rushed for 341 yards in a playoff game against the Dolphins in 1995, I thought no NFL team would ever again dominate the line of scrimmage in such fashion. I thought this until the Niners rushed for 323 yards in the playoffs against Green Bay, a team that boasts of its defense and whose linebacker Clay Matthews stars in not one but three series of television commercials.
Mathews was neutralized by San Francisco left tackle Joe Staley. By the early fourth quarter, overweight Packers defensive linemen B.J. Raji and Ryan Pickett had hands on knees between snaps and were barely bothering to jog in pursuit, while the San Francisco offensive line seemed fresh and eager for the next snap.
Green Bay defensive coordinator Dom Capers is an admired figure, but his game plan for San Francisco was weak -- linebackers crashing and ignoring outside rushes by the quarterback, 2-4-6 alignments that fairly begged San Francisco to run.
The Packers had many injuries to deal with this season, but every NFL team has injuries. Since winning the Super Bowl, Aaron Rodgers has tossed 89 touchdown passes against just 16 interceptions -- an incredible stat -- but Green Bay is 1-2 in the playoffs, and has been blown out twice. The NFL is not a 7-on-7 league. The Packers' offense needs a running component; the defense needs better conditioning and less cuteness. San Francisco, which plays a fundamental style, has Green Bay's number -- in two meetings this season, the Niners led the Packers 23-7 and 45-24. The takeaway seems to be that fundamental trumps cute.
Rarely has an NFL coach wimped out as completely as Green Bay's Mike McCarthy did in the fourth quarter. San Francisco leading 38-24 with 11 minutes remaining, the Packers faced fourth-and-5 at the midfield line. The Niners were steamrolling the Green Bay defense -- to that point in the contest, San Francisco already had 488 yards of offense. Punt here, and there is absolutely no chance of winning. McCarthy sent in the punt unit.
Needless to say, TMQ wrote the words "game over" in his notebook. It took San Francisco just five snaps to pass the point where the ball would have been, had Green Bay tried and failed. It was telling that on the fourth-and-5, Aaron Rodgers trotted off passively, not arguing with McCarthy to leave the offense on the field. Rodgers knew the Packers were beaten. He and his coach had quit on the game.
Obviously This Item Exists to Justify the Swimsuit Picture: Congratulations to Mallory Hagan of Brooklyn, the new Miss America. Hagan is already drawing criticism on the right for supporting strict handgun regulations. She's a blonde bombshell -- is there a Second Amendment right to be a bombshell?
Reverse Psychology on the Big Screen: Indicators of climate change keep accumulating: The larger evidence is summarized in this draft federal report. Yet politicians of both parties do nothing, and the public does not clamor for reform. Maybe the reason is Hollywood.
Many big-budget flicks -- "The Day After Tomorrow" and "Waterworld" among them -- depict global warming as a threat to destroy the world. Not only does this place artificially triggered climate change in the same theatrical category as zombies and vampires, whatever Hollywood insists is true, people assume must be nonsense.
Hollywood preaches looming environmental disaster; Americans do nothing about climate change. Many blockbuster movies -- the "Dark Knight" flicks, the "Hunger Games" -- are starkly nihilistic; yet most Americans believe in a loving creator God. The pattern seems clear: Audiences believe the opposite of whatever Hollywood tells them.
So if Hollywood stars and big-money mavens want Americans to believe that life is meaningless but global warming is a huge threat, they should make movies whose message is that life is completely flawless and there's no reason to care about scientific evidence of global warming. Then people will believe the reverse.
Baltimore at Denver Analysis: At the end of regulation, the Broncos did one of the dumbest things any football team has ever done -- see below. But the bottom line of the Baltimore comeback was that the Ravens played better than the Broncos did. Baltimore deserved this game, which the football gods capped by allowing the last-second field goal they denied to the Ravens in the postseason last year.
The Ravens never quit, despite trailing in high altitude and facing the league's No. 2 defense. Baltimore's reshuffled offensive line had a terrific night, opening holes for 155 yards rushing on the road and holding the vaunted Denver front seven to one sack and three hits on Joe Flacco. Tackle Bryant McKinnie is an enigma -- either terrible or great -- and Saturday, he was great. Marshal Yanda had a perfect pull-trap block on a 32-yard Ray Rice run that set up a touchdown. Baltimore's aging front seven sacked Peyton Manning thrice and hit him five times -- Manning gets antsy when he's hit, and this showed in the overtime interception. The aging Nevermores defense allowed only one play of at least 30 yards. Baltimore scored a defensive touchdown.
Had positions been reversed, and Peyton Manning done what Joe Flacco did to win this game, today the sports press would be falling all over itself to say that Manning played a game for the ages. Why aren't touts saying Flacco just did that? Three touchdown passes and no interceptions in an overtime playoff victory on the road as an underdog. Manning is 9-11 on his career in postseason games, Flacco is 7-4. Yet Manning is showered with effusive praise while all Flacco ever hears is complaints. And don't bother to compare their endorsement deals!
Baltimore's game plan was solid on both sides of the ball. Losing to Denver in December, the Ravens played a traditional 4-3 with Cover 2, a defense Manning dissects well. Saturday, Baltimore gave Manning funky looks, including six in a box (a run defense formation) on expected passing downs, with safeties playing near the sidelines. Manning was taken aback and never adjusted. He found plenty of targets over the short middle but never hit the deep outs that are his forte.
Good coaching continued until the end of the fifth period. Reaching first-and-10 on the Denver 34, Baltimore let the clock expire so its field goal attempt would go in the other direction, with the wind. Then Harbaugh/East sent kicker Justin Tucker out to try a practice kick and get a feel of the wind and the mud during the extended television timeout preceding the sixth period. TMQ thinks this isn't legal, but Harbaugh/East knows the rule is unclear.
The Denver defense that finished the season ranked second allowed a 32-yard touchdown pass with 43 seconds before the end of the first half, and a 70-yard touchdown pass with 41 seconds before the end of the second half. Both last-second Denver defensive possessions were seriously messed up. The Ravens and their faithful deserve to feel happy; the Broncos deserve to feel like a bunch of idiots.
Go Out for Saturday Night Dinner Several Times During Restaurant Week: Reader Philip Biderman of New York City notes the city's Restaurant Week lasts 24 days.
Save on College Bills by Cheating: Annette Schavan, a high official of the German government, is in danger of her doctorate being revoked by the University of Dusseldorf, owing to accusations of plagiarism.
Who is Schavan? Germany's education minister . Apparently German higher-education standards have declined so much that a doctoral thesis could be padded with copied passages or with recipes for shrimp burritos, and no one would notice.
In the past two years, multiple German politicians have lost their Ph.D.s because of plagiarism. Joining this fun party is the prime minister of Romania, also accused of plagiarizing his doctoral thesis.
Plagiarism at the top of European society is revealing both of social pretenses and the nature of the doctoral thesis. Why do years pass before doctoral plagiarism is detected? Because a significant number of doctoral theses never are read by anyone, not even the thesis adviser.
Adventures in Officiating: Early in the Seattle at Atlanta collision, Jacquizz Rodgers of the Falcons lowered his shoulder then bashed the crown of his helmet into the helmet of Brandon Browner, bowling over the defender and continuing for a 45-yard gain.
But neither defense nor offense can employ the helmet as a weapon. NFL rule 12,2,6, i states, "Using any part of a player's helmet (including the top/crown and forehead/'hairline' parts) or facemask to butt, spear or ram an opponent violently" is unnecessary roughness. Rodgers should have been flagged, and the gain walked backward.
Sports Illustrated Curse Lives: The Sports Illustrated issue received by readers the day before the divisional round predicted on the cover that the Super Bowl would pit Denver versus Green Bay. Both teams immediately lost. As noted by reader Bion Chen of Chicago, the issue touting Green Bay and Denver was cover-dated Jan. 14. The Packers and Broncos were out on Jan. 12.
Single Worst Play of the Season -- So Far: Denver led 35-28 with 41 seconds remaining in regulation. Baltimore had third-and-3 on its own 30, out of timeouts. The Ravens needed 70 yards in 41 seconds without a timeout, against the league's second-ranked defense, on the road. The sole, single, only way the Broncos could blow the game would be to let a receiver get behind their secondary. And nobody's that stupid, right?
Denver rushed three, meaning eight to cover five receivers. Flacco was flushed from the pocket and stepped up as if to run. As backup receiver Jacoby Jones ran a fly -- exactly the pattern a defense should expect in this situation! -- the cornerback on his side, Tony Carter, just let him run by, covering no one. Carter was busy making the high school mistake of looking into the backfield trying to guess the play, rather than guarding his man. The high safety on that side, Rahim Moore, just let Jones run by. Moore was busy making the high school mistake of looking into the backfield trying to guess the play, rather than guarding his man.
From the standpoint of the Denver secondary, if Flacco ran for a first down, if he threw for 20 yards, so what? All the Denver secondary had to worry about was the long bomb. And the Denver secondary didn't cover the long bomb.
This was one of the worst downs any team has ever staged at any level of the sport. The Denver secondary badly botched the play; defensive coordinator Jack del Rio badly botched the play. Del Rio could have called timeout to make sure his charges understood to keep everything in front of them.
Just to prove it was no fluke, head coach John Fox botched what happened next. The Broncos took over on their 20 with 31 seconds remaining, holding two timeouts, needing a field goal to win. Peyton Manning is among the best quick-strike quarterbacks ever. Fox had him kneel. Fox made this mistake twice! At the end of the first half, Denver took possession on its 20 with 35 seconds remaining, holding all three timeouts. Fox had the Broncos jog to the locker room.
It will be a long, long time until an NFL team botches a good situation as badly as the Broncos botched theirs. Unless this happens again next weekend.
Next Week: Arugula! Arugula! Clear the decks, prepare to dive! The Tuesday Morning Quarterback Challenge returns, for a limited engagement.
(For those who don't recall the good old days of a weekly TMQ Challenge, readers once voted that the diving horns of submarines in World War II movies went, "Arugula!")
In addition to writing Tuesday Morning Quarterback for Playbook, Gregg Easterbrook is the author of "The Leading Indicators" and seven other books. He is a contributing editor for The New Republic, The Atlantic Monthly and The Washington Monthly. His website can be found here, and you can get a notification on Twitter when TMQ is posted.