As the draft approaches, here's an incredible insider tip regarding team needs -- everybody needs everything.
Those thumbnails of team draft needs? Each one should read, "Needs: QB, RB, FB, WR, TE, OT, OG, C, DE, DT, ILB, OLB, CB, FS, SS, P, K, RS, SPT."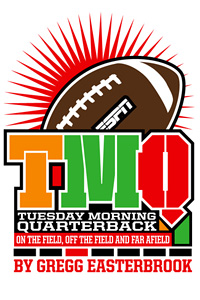 Between the size of NFL rosters, injury risk and salary cap turnover, even the best teams annually seek reinforcements at nearly every position. Consider the defending champion Baltimore Ravens. Between old guys leaving athletics (Matt Birk and Ray Lewis), free agents whose contract offers the team lacked cap space to match (Dannell Ellerbe, Paul Kruger and Cary Williams), a trade to avoid a cap issue (Anquan Boldin) and departures for personality reasons (Ed Reed and Bernard Pollard), the Super Bowl winners have vacancies at eight of their starting positions. And they were the best team of 2012!
What NFL team is totally set at quarterback? The Broncos, Giants, Patriots, Ravens and Saints, all with future Hall of Fame starters, are unsettled at backup. And those are the strongest squads at quarterback -- don't even think about the grim situations at the Bills, Cardinals or Jaguars. Maybe the Forty Niners are totally set at offensive line -- maybe. Maybe the Falcons don't need anybody at wide receiver -- maybe. What NFL team is totally set at offensive line, linebacker, running back, defensive back, at any position?
Annually, even winning NFL teams look to replace many players based on injury, age, the salary cap and the endless search for better performance. So ignore those "team needs" breakdowns. At draft time, everybody needs everything.
Draft time means such nonsense as NFL scouts and sports radio obsessing over hundredths of seconds. See below for TMQ's annual lampoon of absurd precision. And draft time means the annual Tuesday Morning Quarterback mock of mock drafts. Everyone's got a mock draft -- only TMQ mocks the mock drafts!
For a decade, one entry on my mock of mock drafts annually read, "Los Angeles Clippers, projected trade. It makes no difference whom the Clippers draft, and it never will." As in pick 21 here. Now the Clips have won their division, besting the cost-no-object Lakers. Didn't see that coming! What NBA team takes over the mantle of draft futility? See below.
1. Kansas City. Carl Brewer, mayor, Wichita, Kan. Wichita State made the men's Final Four while the mega-hyped University of Kansas team watched at home. Maybe what the woeful Kansas City Chiefs need is a little Wichita spirit.
2. Jacksonville. Errol Flynn, actor. The only person whose mustache is more recognizable than the mustache of Jags owner Shahid Khan. In second round, Jags hope to tab Tim Tebow. No wait, Jacksonville does not want Tebow -- that would be popular and exciting and might cause the Jags to win games.
3. Oakland. Lindsay Lohan, former actress. If she did her court-ordered rehab at the Raiders' minicamps, at least the judge would know where she was.
4. Philadelphia. Vera Wang, couturier. Already redesigning the micro-fashions of the Eagles cheer-babes, Wang could add an Oregon Ducks look to Eagles' players. Say, 16 different helmet-and-jersey color combinations involving mint, aureolin and vermilion.
5. Detroit. Theo Tonin, imaginary mobster. Leader of the Detroit mob, Tonin is the Big Bad of the hit series "Justified." Considering the condition of the Detroit economy, it's hard to see why mobsters would focus on that city. Plus, Detroit public officials have already stolen everything that wasn't bolted down. Crime novelist Elmore Leonard, who created the Justified characters, is from Detroit -- the "Detroit mob" on "Justified" is an inside joke.
6. Cleveland. Randy Newman, composer. He just made Cleveland's Rock and Roll Hall of Fame, despite not performing rock. Though, he did stand up for disco.
7. Arizona. Hanna Barbaric, Surly Gurlies. She has the best pun name in the Arizona Roller Derby -- think Flintstones. The listless Cardinals could use some roller derby spirit.
8. Buffalo. Andrew Cuomo, governor. Cuomo will have a suite, built at taxpayer expense, in the Bills' taxpayer-renovated stadium. Former New York Gov. David Paterson dropped his campaign for re-election after it was revealed that he took free World Series tickets. The current governor is forcing New York taxpayers to supply him with an entire free suite. Cuomo's promise to fix the state's finances certainly doesn't apply to Cuomo!
9. Jersey/B. Rex Harrison, actor. He could rep in for Rex Ryan and belt out "I Could Have Blitzed All Night."
10. Tennessee. Ashley Judd, aspiring politician. A Tennessee delegate to the 2012 Democratic National Convention, Judd could learn about "a vestige of male domination" from the NFL.
11. San Diego. A 110-yard field. New head coach Mike McCoy, a former quarterback for the Calgary Stampeders, hopes to surprise opponents by using CFL rules.
12. Miami. Mrs. Paul, seafood retailer. The Dolphins' new helmet emblem looks like the logo for a brand of genetically engineered surimi.
13. Jersey/B. Julie Andrews, Dame. She could join Harrison in belting out a variation on "The Rain in Spain" with new lyrics including, "The passes by Sanchez fall mainly on the ground."
14. Carolina. Matt Saracen, quarterback, Dillon Panthers. During last summer's Democratic National Convention in Charlotte, party figures tried to call the city's NFL field "Panthers Stadium" to avoid reminding voters the place is named for bailed-out, robo-signing Bank of America.
15. New Orleans. Duane Chapman, bounty hunter. Saints could reverse the psychology of the Sinnersgate scandal by making bounties a proud part of team culture.
16. St. Louis. EstÉe Lauder, perfume creator. Lauder would appreciate the Rams' decision to pump fake cotton-candy scent into their stadium.
17. Pittsburgh. Bruce Arians, head coach, Cardinals. Needing someone to scapegoat for their playoff loss at Denver, the Steelers cashiered offensive coordinator Arians -- who went on to a fantastic season as a fill-in coach at the Colts, then the top job at Arizona. P.S.: Steelers haven't been to the postseason since.
18. Dallas. Undercover Brother, golf cart driver. Things go better if someone is actually driving the golf cart.
19. Jersey/A. The Rockettes. Now that the Jets have leggy cheerleaders, what's the Giants' excuse?
20. Chicago. Dick Butkus and Bill George, Bears linebackers with retired numbers. They can explain why Mike Singletary and Brian Urlacher won't get retired numbers.
21. Cincinnati. Parking meters. One branch of Cincinnati government will lease parking meters to another branch in order to generate funny money to cover debts. Half the European Union may operate this way soon.
22. St. Louis. Bernard Madoff, jailed former confidence man. Rams owners Stan and Ann Kroenke, net worth estimated by Forbes at $4.4 billion, are trying to graymail local taxpayers into providing $700 million in public funding for stadium upgrades. Then they will keep almost all revenue. This plan would have embarrassed Madoff, whose marks handed over money of their own free will.
23. Minnesota. Allen Stanford, jailed former confidence man. Vikings owners Zygi and Mark Wilf, combined net worth estimated at $1.3 billion, graymailed local taxpayers into providing $498 million in public funding for a new stadium. They will keep almost all revenue. This plan would have embarrassed Stanford, whose marks handed over money of their own free will.
24. Indianapolis. Mitch Daniels, president, Purdue University. When the former Indiana governor and White House official took over the school in January, he promised two years without tuition hikes -- then froze administrators' pay, including his own, to free up funds for faculty. Purdue "will accommodate spending to our students' budgets, not the other way around," Daniels said. Why is this sense of public spirit missing from so much of higher academia?
25. Washington Wizards (from Vikings, projected trade). It makes absolutely no difference whom the Wizards draft, and it never will.
In 2008, Whizzies management gave Gilbert Arenas a super-lavish guaranteed contract, then almost immediately began desperately trying to unload Arenas' deal. In the NBA offseason, watch for Whizzies management to give John Wall a super-lavish guaranteed contract, then almost immediately begin desperately trying to unload Wall's deal.
26. Green Bay. Kevin Minter, linebacker, LSU. Possible actual choice thrown in for variety.
27. Houston. A komodo dragon. These reptiles really bring it, unlike the Texans in their playoff wheeze-out.
28. Denver. Lindsey Vonn, ski goddess. She's a great fit for Colorado, but the real reason for this item is to justify a picture. In second round, Broncos hope to tab Alexander Graham Bell, electrical engineer, who could teach them how to work a fax machine.
29. New England. Dorian Gray, gothic antihero. Tom Brady is the sole player remaining on the Patriots' roster from the 2002 Super Bowl win. Everyone else has limped away: Brady seems strangely youthful. Could there be a painting hidden in his moated California estate that is aging instead of him?
30. Atlanta. Diogenes of Sinope, seeker of honesty. In 2009, Atlanta public schools director Beverly Hall was named National Superintendent of the Year for making the city "a model of urban school reform," In 2013, Hall and 34 other Atlanta public school officials were indicted, charged with systematic cheating in order to earn test-based bonuses. Rod Paige, George W. Bush's first Secretary of Education, promoted as achieving amazing test gains at Houston public schools, was later revealed to have used bogus data. And lauded school reformer Michelle Rhee may have some 'splaining to do. How can students succeed if the example set by the highly paid adults around them is not honorable?
31. San Francisco. Ivan Pavlov, physiologist. He will attach electric contacts to Jim Harbaugh and administer a shock whenever Harbaugh fails to call runs at the goal line. By their next Super Bowl appearance, the Forty Niners will be ready to win.
32. Baltimore. Anquan Boldin, wide receiver. The Ravens may regret unloading this gentleman for a mere sixth-round draft choice. In the 2013 postseason, Boldin caught passes totaling 380 yards and four touchdowns. But he's 32 years old, get rid of the bum! Expect the football gods to wax wroth against the defending champions.
---
TMQ Seal of Approval: The many eyeballs on the Netflix series "House of Cards" suggest that direct-to-Internet television is taking off. The next delightful series coming straight to broadband looks like "Alpha House," whose pilot can be watched free on Amazon.
Written by Doonesbury cartoonist Garry Trudeau, "Alpha House" is specifically a satire of trendy-right politics but more broadly a satire of Washington, D.C. Where "House of Cards" smirks about our capital city, "Alpha House" makes you laugh out loud. The pilot stars John Goodman, with cameos by Bill Murray and Stephen Colbert. There's more profanity than seems needed, but otherwise "Alpha House" is a home run -- and even has a Duke basketball subplot.
Weasel Coach Watch -- Basketball Edition: Just a few days after agreeing to a long-term contract extension at the University of New Mexico, men's basketball coach Steve Alford broke his promise and jumped to UCLA because money had been waved. The school's athletic director called him "the perfect fit for UCLA." Alford's word means nothing -- the perfect fit for UCLA!
Alford can pal around with Andy Enfield, now at USC. Enfield spent just two seasons at Florida Gulf Coast, then bolted the instant money was waved, not even pretending to care about his commitments. Presumably that makes Enfield a perfect fit for the USC program. USC should erect a billboard by its main gate, with a countdown clock that says "TIME TO NEXT NCAA VIOLATION."
Then there was the Mike Rice fiasco at Rutgers. A coach who insults and shoves players is a terrible coach. Why wasn't it completely obvious to anyone who attended a Rutgers basketball practice that Rice had no business with a whistle? Emotional abuse can be as bad as physical abuse, but can't be filmed. If Rice was willing to abuse his charges physically, what else was he up to?
Rice was angry at the players because they weren't winning. If a theater, dance or music instructor were physically abusing students for failing to perform well, the Rutgers administration would have taken immediate action. But when an NCAA coach abused students, the school's response was to deny, stonewall and cover up. Just as it should have been obvious to anyone that Rice had no business in his position, it should be obvious to anyone that Rutgers leadership must be shown the door.
The academic part of Rutgers has been doing well, while the Rutgers athletic department produces embarrassment after embarrassment. And the board of trustees does nothing. Could this be because Rutgers has such a large board -- surely many of them named for reasons of political cronyism -- that the trustees are for intents and purposes useless? Eighty-eight trustees is a nonsensical total; compare to 46 trustees at nearby, similarly sized, similarly funded Penn State.
Meanwhile Rutgers president Robert Barchi "essentially lied to the public" about his own blunders. Barchi is paid $650,000 plus bonuses, and his actions make the school a target of public ridicule. Barchi is a perfect fit for the Rutgers program!
Freeze! Keep That Script Where I Can See It! The Timothy Olyphant crime show "Justified" just wrapped its fourth season with deputy U.S. marshal Raylan Givens, the protagonist, having shot and killed at least 20 bad guys during the brief span of the series -- likely more bad guys than killed by all current actual U.S. marshals combined. "Justified" is offbeat and entertaining, especially episodes based on Elmore Leonard stories. The show deserves its status as a hit.
"Justified" is praised for gritty realism: yet, where is it set? Viewers are told Givens works out of the Marshals Service office in Lexington, Ky., and is assigned to Harlan County, Ky. -- which is 150 miles from Lexington. Often Givens is in the office, then minutes later in Harlan County, then minutes later back at the office.
Givens makes regular trips to a maximum-security penitentiary that is -- where? There are two federal high-security prisons in Kentucky, one about 140 miles from Lexington and the other about 125 miles away, plus a state high-security penitentiary about 225 miles distant. The prison Givens regularly visits is depicted as minutes from his office.
Of course time sense and travel distance often are distorted on television. Consider the midseason premiere of the goofy sci-fi show "Revolution," which posits that all forms of power have stopped working. In one episode, good guys camped in Culpepper, Va., learn of a sinister event about to occur in Philadelphia. They depart on foot to stop the bad guys, and arrive the next day. Culpepper is 215 miles from Philadelphia.
But since "Justified" strives for authenticity, time distortion stands out more in this series. In one episode Raylan, protecting a prisoner from the mob, must stall for 30 minutes until backup arrives. The structure of the episode is: Can Raylan hold off the bad guys for 30 minutes? In that half hour, Raylan drives the prisoner from an isolated country house to an old high school in town; then drives back to the country house; then drives back to the high school; then gets a railroad dispatcher to stop a coal train in precisely the right place so another marshal and the captive can board, meaning the prisoner is long gone via rail when the mob attacks. Raylan accomplishes all these things in 30 minutes.
Raylan needs to stall for 30 minutes because, viewers are told, "six Kentucky State Police cruisers are on their way" but cannot reach the town for half an hour. Is there really any location in Kentucky that has a high school but is 30 minutes from the nearest police car?
In the climactic sequence of "Skyfall," Bond rescues M in London, hops into his antique Aston Martin and drives to the Bond family castle in Scotland, there to make a last stand against the cackling super-villain. Scotland is a 450-mile drive from London. During the many hours Bond motors north toward the land of Scots, MI6 never sends backup to the castle, nor simply orders police to assist in protecting the head of a major British government agency. It seems all law enforcement officers in the entire United Kingdom have vanished. Maybe they were on their way to Kentucky!
The first season of "Justified" offered episodes in which actual Marshals Service activity was depicted. Then the semi-indie movie "Winter's Bone" -- launching pad for actress Jennifer Lawrence -- was released to acclaim for its depiction of modern hillbillies. "Justified" shifted toward the movie's aesthetic. Since "Winter's Bone," "Justified" has presented the Marshals Service as intently concerned with investigating rural drug dealing. This is a worrisome crime, but not one the agency has jurisdiction over. Protecting judges and courthouses, primary mission of the Marshals Service, has vanished from the show.
Season 4 of "Justified" depicts the events of about two weeks. In that short period, Raylan kills a fugitive who murdered Raylan's former lover; catches several other fugitives; exposes a corrupt FBI agent; rescues a kidnapped woman while killing the kidnapper; rescues a kidnapped woman while killing three kidnappers; is beaten by a thug and shot with a beanbag shotgun; is captured by hillbillies; kills a mob hit man by winning a fast-draw situation; arranges the death of a mob underboss by luring him into a trap set by a rival; has sex with two incredibly attractive women; finds and rescues a man whose foot is cut off; claims his father's body for burial; and locates a man whom law enforcement and the mob have been chasing for 30 years. That's some two weeks!
Viewers can only fret until 2014, since music playing under the final scene of the 2013 season suggests the hero believes he will never leave Harlan alive.
Here is the actual Marshals Service office for Lexington , run by Loren "Squirrel" Carl, a name right out of an Elmore Leonard novel.
Absurd Specificity Watch: Americans seem to love hyperbolic claims of precision -- perhaps it makes us feel that science is more efficient than it really is. When Nate Silver of The New York Times forecasts, as he did on the morning of the 2012 presidential voting, that Barack Obama will win re-election with "314.6" electoral votes to "223.4" electoral votes for Mitt Romney, such numbers are received with gravitas -- as if the decimal places made them deep, rather than silly. In just two days, Obama's chance of re-election increased from "80.8 percent" to "83.7" percent . A claim of a "83.7" percent chance rather than "a good chance" is seen as turning the speaker into Mr. Spock, when actually ought to make readers giggle.
Football is wild for absurd precision. Here, a combine 40-yard dash time is touted as "4.27" seconds, trailing only a record of "4.24" seconds. A player who runs a "4.24" is half of 1 percent faster than a player who runs a "4.27," and would finish a 40-yard dash three inches ahead. Faster is better than slower, but only in Olympic-style track and swimming events might hundredths of seconds merit attention.
Other recent examples of absurd precision:
• Debuting its Galaxy 4, Samsung noted the phone is lighter, at 4.59 ounces, than the 4.69-ounce Galaxy 3. The difference is a tenth of an ounce.
• Maryland just raised its state income tax rate to 8.95 percent. It's certainly not 9 percent! Medicare taxes are rising this year by 0.9 percent for many filers to help finance ObamaCare. It's certainly not a 1 percent increase!
• Entering Week 16 of last year's season, The Washington Post declared that San Francisco was allowing "15.57" points per game, besting Seattle, which was allowing "15.64" points. The difference works out to 1 point over the course of a 16-game season.
• The New York Times NFL wrap-up noted that on the 2012 season, Christian Ponder's pass-completion average of 6.08 yards "barely topped Adrian Peterson's rushing average of 6.03 yards." The difference is one inch. ESPN offers lots of hundredths of inches in NFL stats here. Peyton Manning's yards-per-completion average works out to a third of an inch better than Cam Newton's.
• Last fall, NFL Network said Barry Sanders's career average was "4.99" yards per rush. The difference between 4.99 and 5 yards is a third of an inch.
• Turns out Truman Capote's sort-of-nonfiction work "In Cold Blood" was at most "92 percent accurate."
• Reader Brad Kasavana of Grand Rapids, Mich., notes a Babe Ruth jersey sold at auction for $4,415,658.This suggests there was someone at the auction willing to pay $4,415,657 but who said, "Go to $4,415,659? Whoa, I am out."
• The parking garage adjacent to Franklin Field, where the University of Pennsylvania plays football, contains numerous signs declaring, SPEED LIMIT 7.5 MPH.
• On the second day of the 2012 NFL draft, Jon Gruden, Mel Kiper and Todd McShay debated on air whether Russell Wilson is 5-10, 5-11 or 5-10 5/8. RG III is said to be 6-2 3/8.
• Many readers including Missy Gelbert of Savannah, Ga., noted ESPN said Janet Jackson flashed her breast at the Super Bowl for "9/16ths of a second."
• Your columnist is a fan of Washington Post education writer Jay Mathew, who covers the national scene at high schools, and is agnostic on the rancorous unions-versus-teacher-testing issue. The mainstream media tend to obsess over elite private prep academies, which are important but matter only to a small fraction of Americans. Mathews writes about the sort of schools that most young people attend, and about how to make them better regardless of who wins the unions/testers smackdown.
But absurd precision characterizes the Post rankings Matthews produces, which claim accuracy to the third decimal place. For instance North Fort Myers High of Florida is ranked 6.925, while Pensacola High of Florida is ranked 6.778. So North Fort Myers High is 2.168 percent better than Pensacola High?
Schools rankings might reliably break down institutions into categories such as great, good, average, needs improvement and poor. But not only is it preposterous to think any ranking can generate information that is valid to the third decimal place; division often produces long strings of decimals that in most applications have no statistical significance. Divide 65 by 11, and the result is 5.9090909. In most cases, the 5.9 is all that matters. In the Post's wacky mythology, the school would end up ranked as a "5.909."
• The New Yorker ran this unsettling story, by Rachel Aviv, on whether people should be imprisoned solely because a psychologist's report concludes they might commit a future crime. Aviv writes of one case, "The prosecution's expert, Amy Phenix, a forensic psychologist who makes her living testifying at civil-commitment hearings" said a prisoner should be kept in jail because he had "roughly a 24.7 percent chance of reoffending within five years." There seems no possibility human nature can be understood to this precision. But set that aside -- any supposed "expert" who foresees "roughly a 24.7 percent chance" is a quack.
• This new luxury SUV claims a "wading depth" of 35.4 inches. (Click "dimensions and capability.") Not that a $130,000 car whose "brogue semi-aniline leather" seats have "three-mode massage feature" would ever be taken off-road. If it were, driving into moving water is a seriously bad idea, while driving into standing water would merely be stupid. Perhaps a warning goes off if depth reaches 35.3 inches.
Next Week: Will there be a cheating scandal on NFL draft grades?