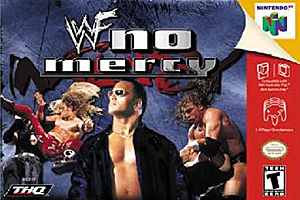 5. "WWF No Mercy"
Systems: N64
Year Released: 2000
Superstar Status: If jumping off ladders and smashing opponents through the announcers table wasn't enough, "No Mercy" introduced backstage brawls that let The Rock smash jabronis with pool sticks. Oh, you didn't know? It still hails as the greatest multiplayer wrestling game ever created.
"The game obviously came out back when WWE was at one of its most popular times, and I think that really helps this game grow in legendary status, because when you look at the roster, it's stacked," said WWE Games creative director, Cory Ledesma. "It's one of those games that had a lot of depth to it, so you can spend a lot of time learning to master, but it catered really to the casual audience. I knew a lot of people who played the game back then, and they weren't even wrestling fans, but they had an N64 and 'No Mercy' was one of the most fun games available for the system. Whether you liked wrestling or not, this game bridged the gap.
"The game did a lot of new things that other wrestling games just didn't do at the time. It had a lot more match types. You were able to grab weapons from the ringside barricade. It had a create-a-superstar mode that featured just a phenomenal amount of moves. AKI at the time was really great about having not just the moves from the WWE roster but some really cool moves from Japan and other federations that really added a lot to your created characters."
Dev Talk: Ledesma adds, "To this day, I still hear, 'Why can't you make the new WWE games like 'No Mercy,' and I don't think I'm ever going to stop hearing that. It's 13 years old and we still get compared to 'No Mercy' -- how we compare to 'No Mercy's' game play, and how they want us to bring back 'No Mercy' on Xbox Live. It's a good thing because people still remember it fondly, but we also hope people realize how far the WWE gaming franchise has come since then."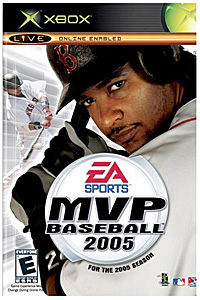 4. "MVP Baseball 2005"
Systems: PlayStation 2, Xbox, GameCube
Year Released: 2005
Superstar Status: MVP's groundbreaking game play featured everything from polygonal hitters reading pitches to baserunners sliding to specific spots of the bag. Add to that an Owner mode that let you build your own ballpark and a full minor league system, and you have a game that remains revolutionary and influential to this day.
"'MVP Baseball 2005' was the culmination of many years of striving to create the best and most authentic baseball experience ever," says the game's producer, Brent Nielsen. "Going back to the old 'Triple Play' days, and realizing the game engine needed a complete overhaul to achieve that goal, the 'MVP Baseball' series was born. And after three years of blood, sweat and tears [2005 was the third installment of the 'MVP Baseball' franchise], I felt we had finally achieved that goal.
"I think what made the game so great was an incredible mix and balance of strong graphics, a ton of content, and fantastic game play. Building on the all-new batter-pitcher interface that we introduced in the series that fundamentally changed the way you played baseball video games, 2005 saw the addition of the Hitter's Eye suite of features, led by the ability to read the pitch. I think it ultimately produced the most authentic re-creation of that classic batter-pitcher confrontation. And from hitting to pitching to baserunning to fielding, 'MVP Baseball 2005' was the benefactor of three years of game-play balancing and tuning. The game just played a perfect game of baseball. While 2004 first introduced licensed, playable minor league teams, 2005 was the first to include all teams at every level -- Triple A, Double A and Class A -- which made an already deep Franchise Mode that much deeper. 2005 saw the addition of Owner Mode and the ability to build your own ballpark and manage every aspect of your baseball experience. And perhaps a somewhat overlooked content aspect was all of the pitching and hitting mini-games, which were personal favorites that added to the overall depth of the game. 'MVP Baseball 2005' was just that perfect mix of great, innovative, balanced game play, incredibly deep content, and strong graphics."
Dev Talk: Nielsen adds, "Just an opportunity here to share the fact that really the magic behind 'MVP Baseball' came in the form of the amazing development team that worked on this series. It was a team that would go to the wall for each and every person, and didn't mind the incredibly long hours put in because of the tremendous passion everyone had for the game. It truly was a labor of love.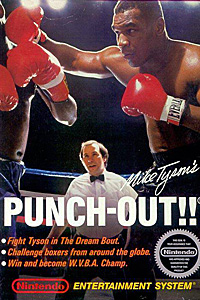 3. "Mike Tyson's Punch-Out!!"
Systems: NES
Year Released: 1987
Superstar Status: From Bald Bull and Glass Joe to Soda Popinski and the King Hippo to the baddest man on the planet, Mike Tyson, "Punch Out" is famous for its legendary characters and the user's ability to learn their tendencies as well as its incredibly fast-paced, frenetic game play. Punch King Hippo in the face, and then when he covers up, blast him in the belly. Jab Bald Bull in the stomach during his Bull charge. Skip straight to Mike Tyson by entering the code: 007-373-5963. If you grew up addicted to this NES classic, these were all things you had memorized, and if you ever did beat Mike Tyson, it was something you seriously ran around the block screaming out to all of your friends.
"Former (Nintendo) president Minoru Arakawa attended a boxing match featuring Mike Tyson and was so amazed by his skill, he was inspired to use him for 'Punch-Out!!'" says Bill Trinen of Nintendo. "The game was already a popular arcade game when it made its way over to the Nintendo Entertainment System. The NES port added a plot to the game, which helped players stay engaged throughout their journey to success. The game had a way of keeping players engaged and on their toes throughout each match.
"The image of Little Mac fighting Mike Tyson is now iconic. Every fighter has a different style, and players liked trying to figure out how to take them down, one by one."
Pro Talk: Mike Tyson, on who he sees as the real-life Glass Joe: "Golly, I'll go with Bruce Seldon. I didn't even hit him; I think the wind knocked him out."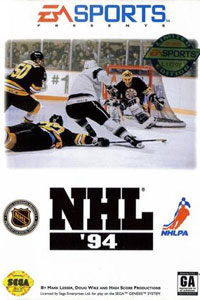 2. "NHL '94"
Systems: Sega Genesis, Super Nintendo
Year Released: 1993
Superstar Status: The introduction of one-timers has forever changed hockey video games, not to mention classic moments old-school gamers can't wipe from their memories like that random dude in the stands who would pound on the glass. The demand to play this game is still so great, EA Sports even included it as an extra in "NHL 06."
And don't forget, for that time, the graphics in "NHL '94" were amazing, right down to the shimmering ice. Players celebrated after goals, off-target slapshots shattered the glass, and you could even play four players at once, making this one of the best party games of its generation.
"This was the first hockey game ever that had both the NHL and the NHLPA license, resulting in the first time that hockey fans could truly replicate the sport that they love using both the team uniforms and the players," says "NHL 13" producer Sean Ramjagsingh. "The great thing about this game was that you truly felt like you were in control of the action on the ice. As many fans over the years have said, this was the first time in a hockey game that you could do what you want, when you wanted to do it."
Dev Talk: Ramjagsingh says, "For me, 'NHL '94' represented bragging rights and, maybe more importantly, the honor of watching my roommate do the chores around our university dorm. It was the high-stakes game of choice for deciding who did the dishes, vacuumed, and who would have to clean the toilet. With stakes that high, you could imagine how heated the games became."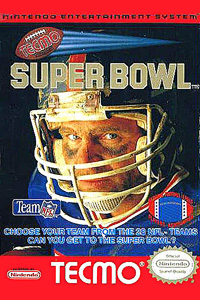 1. "Tecmo Super Bowl"
Systems: NES, SNES
Year Released: 1991
Superstar Status: There are days when I still feel like playing "Tecmo Super Bowl" over "Madden 13." It's more than nostalgia. The simplistic game play teamed with characters like Bo Jackson, Christian Okoye, Derrick Thomas, Lawrence Taylor and even the great QB Eagles (aka Randall Cunningham), making for what's still a brilliant sports gaming experience.
"'Tecmo Super Bowl' is not a football simulator, but a football game," Tecmo's Keisuke Kikuchi said. "The key feature is that it takes the strategy of offensive and defensive formations and play calling, and stylizes it so that the complex system of football can be experienced with rules that are simpler and easier to understand.
"In a lot of football games, users can feel like they're players in the game by providing a sense of realism and intensity by showing them running down the field. In contrast, Tecmo Super Bowl shows the field from an overhead view just like in TV broadcasts. Through this sense of security and stability, you can clearly see the formations and players' movement while you play, so you can really enjoy the strategic and tactical elements of the game."
Also, by limiting the gamers' involvement, the strengths and weaknesses of the football players have a greater impact.
"This is key because if the user has too much influence over the game, the differences in abilities, formations and calls between the players and teams disappear," Kikuchi said. "Being able to maintain this balance makes this a great game."
"Tecmo," released over 20 years ago, is timeless because of its simplicity.
"Since it doesn't require as many moves as an action game, casual gamers can play against seasoned pros," Kikuchi said. "The game design allows for all these various ways of playing, so each user will have their own unique emotional attachment and come up with their own way of playing. I believe there are some users that are still enjoying the game to this day."
Dev Talk: Says Hideshia Yamaguchi, who worked on "Tecmo Super Bowl" back in 1991: "Since it's a game that has stylized the excitement of football into a simple format, we put a lot of attention into altering each player's parameters. Also, when developing the plays involving certain players, we made sure that they ended up a bit exaggerated. For example, back then you had a lot of really strong running backs (players like Craig Heyward and Christian Okoye); we balanced their skill set so they would knock back any defensive player that just touches them, but could be stopped with a single, precise hard tackle. Also, the quarterback draw play for Randall Cunningham -- the most mobile quarterback at the time -- was made so powerful that if you didn't completely mark him at the play-selection stage, he was almost impossible to stop.
"The development staff were all football fans, so each member's favorite player and rating points were different. There were always 'battles' taking place among the staff when setting these types of parameters to make sure their favorite player would have an advantage over the others.
"We did try our best to be objective in our settings, so there were a lot of times we skipped over each team member's personal preferences, but I think I can say that each member of the development team poured their passion into this game.
"And obviously, after release, we received a lot of feedback from the users who, just like the staff, commented about the parameter settings of each of their favorite players. Seeing all those comments reminded us just how much this game is loved by everyone."
Pro Talk: Tiger Woods says, "Bo Jackson was unstoppable in that game. My friends would play as the Raiders and run around the field and nobody could catch him. He could just run circles around everyone else on the field. Bo Jackson is probably the best video game athlete of all time, and you can't think about the old 'Tecmo Bowl' games without immediately thinking of Bo."
Top 25 Sports Video Games Ever:
Introduction: The changing sports video game landscape
Nos. 21-25: Bulls, Blazers and Fat Guys
Nos. 16-20: MLB, Mountains and Madness
Nos. 11-15: Blitz, Boards and His Airness
Nos. 6-10: Stars, Showdowns and Street Ball
Nos. 1-5: Punches, slapshots and Tecmo Bo