They're called immortals, after all.
So before we ask ourselves which of the traditional Big Four pro sports Halls of Fame is the truest to its history, let's take a flight of fancy. Imagine a picnic at which all of the players have gathered. They are alive and well, in the good company and cheer of their peers.
Picture Babe Ruth hugging Lou Gehrig around the neck again on the lawn of the Otesaga Resort in Cooperstown. Or Sammy Baugh tossing an old ball with Don Hutson at a tailgate outside Tom Benson Hall of Fame Stadium in Canton. If it's Springfield you want to be transported to, there's Wilt Chamberlain playfully blocking Michael Jordan from the cooler. On a beautiful June day in Toronto by the shores of Lake Ontario, Gordie Howe and Ebbie Goodfellow heartily welcome fellow Red Wings Sergei Federov and Nicklas Lidstrom into the fold.
Something keeps breaking up each reverie, though. There's a little man named Candy Cummings sitting by himself in Cooperstown as Pete Rose, Barry Bonds and Roger Clemens peek through the hedges. Hutson looks over at Joe Namath and mutters, "Kenny Stabler was better than him." Players keep trying to avoid Dennis Rodman, who seems to have been invited for laughs.
"Hi guys, remember me?" Chuck Rayner tells a gaggle of netminders. "Yeah," says one. "You're the goalie with the .422 winning percentage."
The key to a picnic, or a Hall of Fame, is who you invite. You don't want to be too exclusive, or too inclusive. You want just the right mix of eras and positions, and you don't want the guests to embarrass you. It's a big responsibility, and hosts should take it very seriously.
Each HOF has a different type of selection committee, as well as a different voting process and history, and mistakes get made. That's to be expected, even welcomed for the sake of arguments. That's also why we at ESPN decided to ask the question: Which Hall of Fame is the best at reflecting the history of its sport?
To that end, we polled a total of 193 ESPN experts in those four sports on a variety of questions regarding the transparency of the process and the legitimacy of the results. (The respondents voted only on the sports they cover, with 68 panelists in baseball, 44 in basketball, 64 in football and 17 in hockey). We also asked for suggestions on how to make things better. The results may or may not surprise you. They will almost certainly convince you of one thing: Deciding who's in and who's not will never be easy.
By the way, we also asked the Elias Sports Bureau to break down the probability of a player in each of those sports making the Hall of Fame. Because of the nature of its larger rosters, pro football is the most difficult, with only 1.1 percent of players ever getting to Canton. Right behind is baseball, with 1.2 percent of the 18,000 major leaguers in history finding their way to Cooperstown. Pro basketball and hockey, which use far fewer players at a time, each enshrine 3 percent.
Alas, Hall of Fame legitimacy is not a matter for the calculator. It's a matter of opinion, so let's take each sport one at a time, in alphabetical order: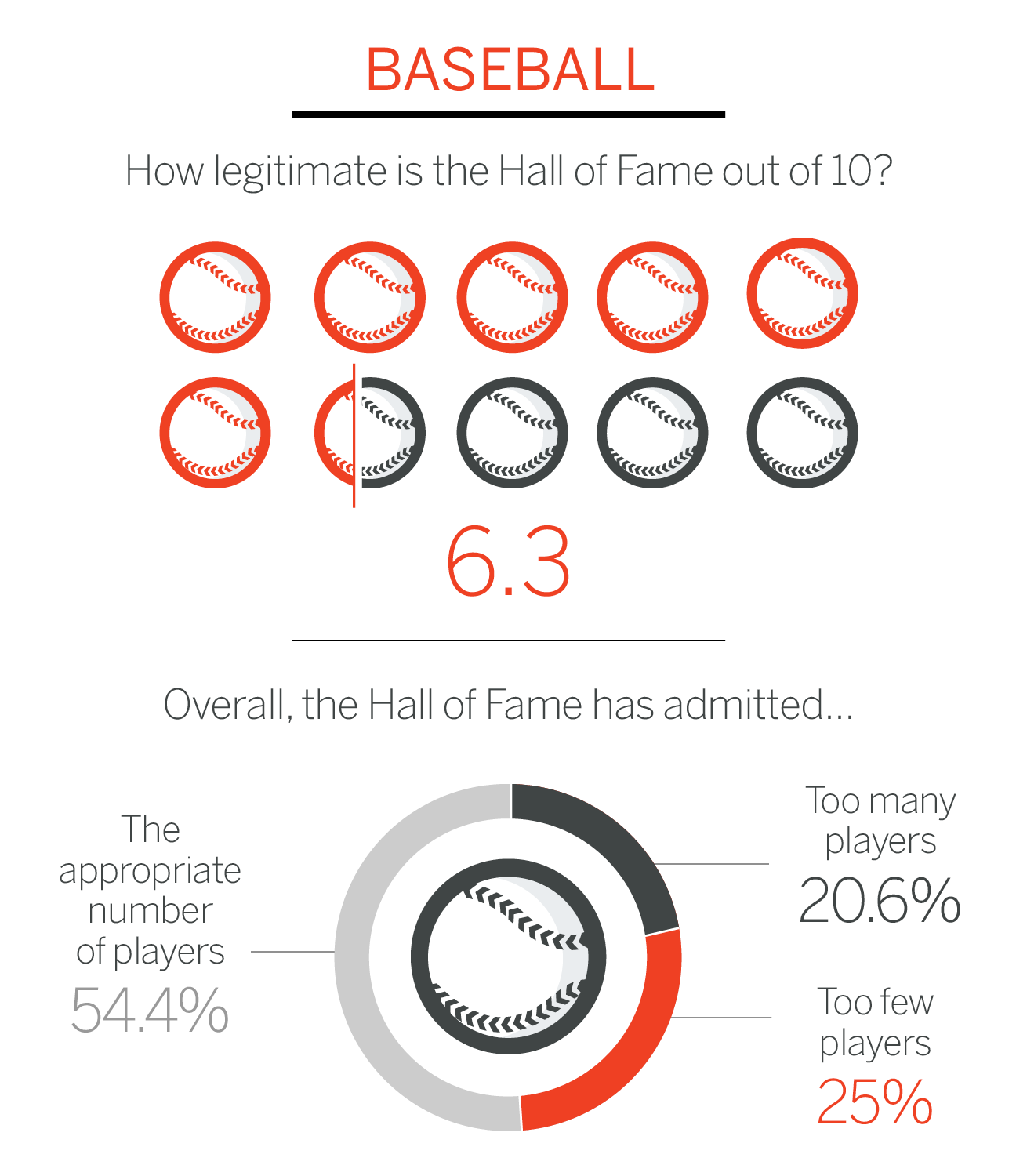 Pity the poor baseball writers who have to decide who gets bronzed. The job was hard enough as it was because people care more about the baseball HOF than any other. But then came the complications brought on by the steroid era, and now it looks as though the greatest home run hitter in history and the winner of a record seven Cy Young Awards may never get in.
That conflict was reflected in recent changes to both the eligibility of the voters (the elimination of those who no longer cover the game) and the candidates (years on the ballot was cut from 15 to 10). The angst is also apparent in our poll results.
While 54.4 percent of our respondents feel that overall there is an appropriate number of players in the HOF, 63.2 percent think that too few players from recent years have been elected. The steroid dilemma probably plays a part in that paradox -- 58.8 percent think that use of PEDs should not be a factor in determining whether or not a player is a Hall of Famer.
Our baseball voters feel fairly strongly that that the selection process is unfair (69.1 percent) and unclear (66.2 percent), with 42.6 percent choosing "unfair and unclear," more than any other sport. A clear majority of voters (60.3 percent) say that the Veterans Committee, whose job it is to find overlooked players, needs to be eliminated or overhauled, and 33.8 percent are willing to actually eliminate some players. As for the body of HOF voters itself, only 17.6 perecent feel it's "about right," while 36.8 percent say it's "too restrictive" and 45.6 percent say it's "not restrictive enough."
The issue of morality often comes up in our experts' comments. As one writes, "The Hall is an awesome place. But it isn't the Vatican. Being a Hall of Fame voter shouldn't entitle you to also serve on the morality police. Elect the greatest players of all time, and let their plaques tell the story of their pros and cons."
It must have been a baseball writer who first said, "We argue because we care." In voting for the core question, "Rate the overall legitimacy of the Baseball Hall of Fame," on a scale from 0 to 10, our responses range from 1 to 10 with 33.8 percent bunched at 7. So the overall result comes out to be 6.3, the lowest of the four major sports.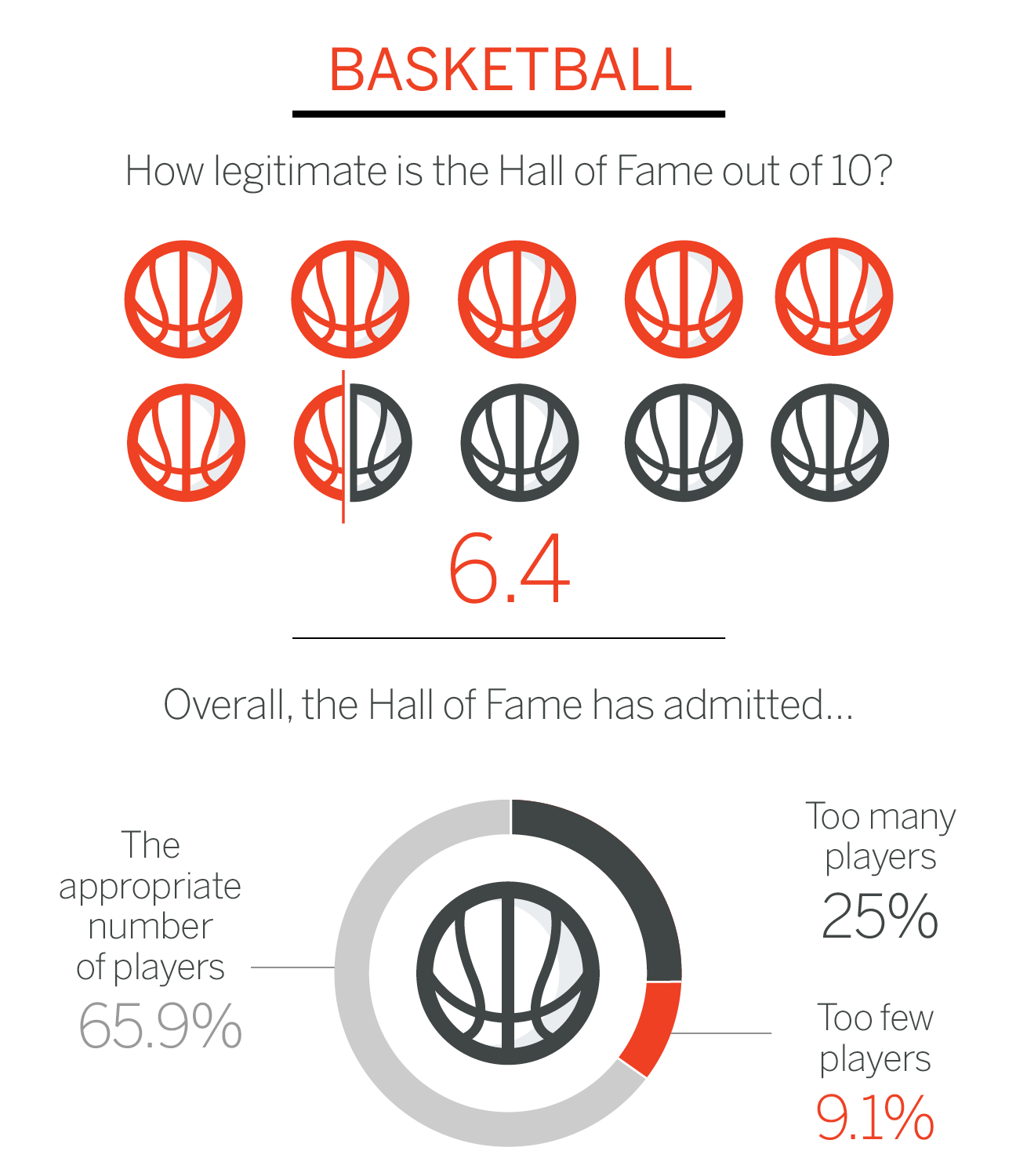 Dr. Naismith might appreciate that the Basketball Hall of Fame embraces college, pro and international players. But that complicates the voting process, especially when candidates are being judged on accomplishments in multiple spheres.
Several of our experts feel the need for a separate NBA HOF that would celebrate pro basketball: "Disconnect from each other ... so that they're competing against only their peers." But others claim that's what makes Springfield so special: "I personally love that it is the basketball Hall of Fame, not the NBA Hall of Fame. ... A very good, but not legendary player (i.e. Chris Mullin) can get in based on his total body of work."
That dichotomy leads to a confusion that explains why only 11.4 percent of our respondents think that the voting process is both "fair and clear." The voting body itself also seems to be a problem, with "too restrictive" getting 38.6 percent, "not restrictive enough" 29.5 percent, and "about right" 31.8 percent.
As for the legitimacy question, our NBA experts are as spread out as their MLB counterparts, with scores ranging from 2 to 9. But they bunch up at 5 and 6 (13.6 percent each) and 7 and 8 (22.7 percent each). That apparent lack of confidence in their sport's mission results in a 6.4, the second lowest of the four.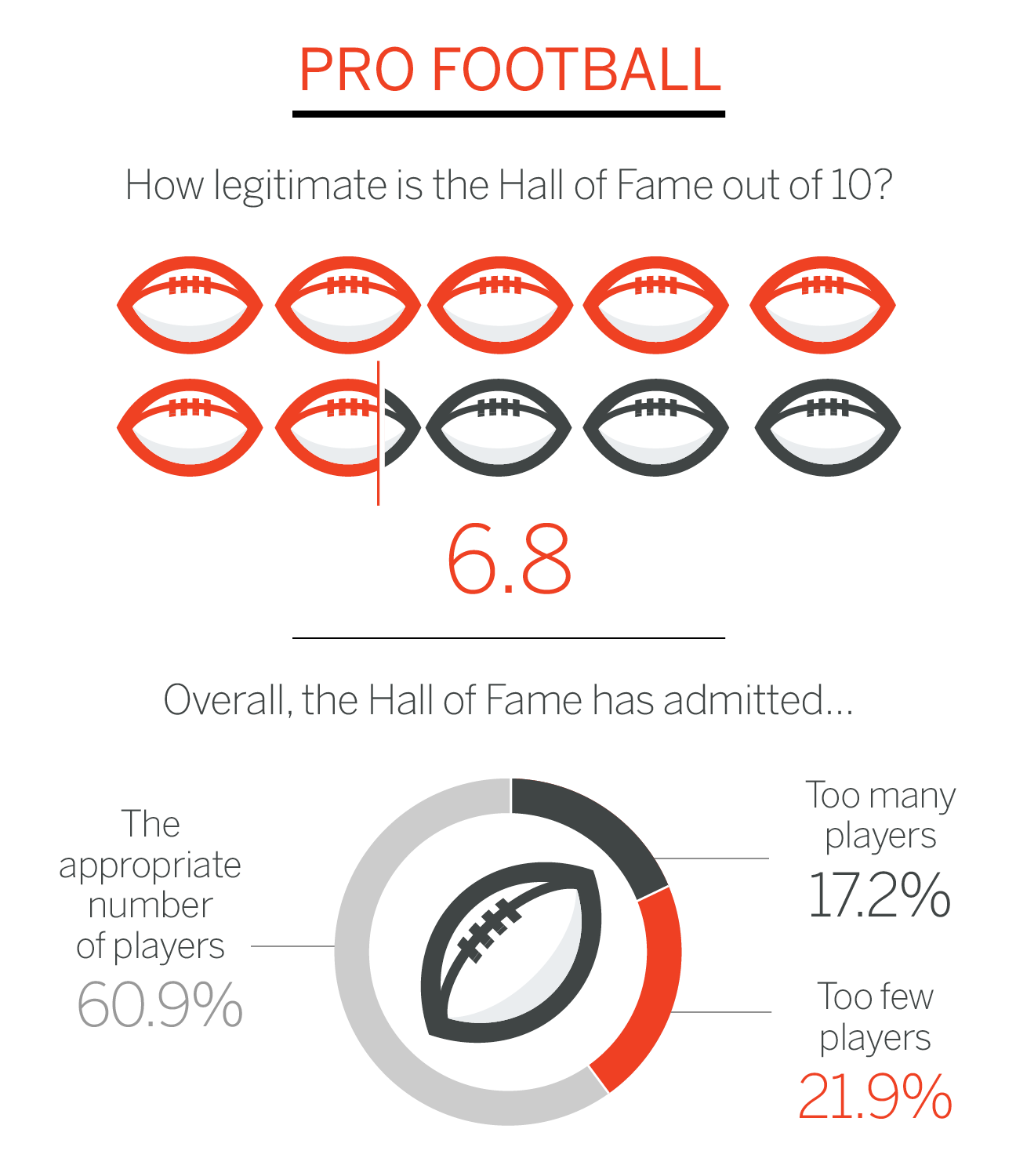 Canton's biggest problem is not who speaks at the induction ceremonies. It's who speaks for the candidates.
A significant 46.9 percent of our experts feel that the makeup of the selection committee is too restrictive, which is almost equal to those who feel it's about right (48.4 percent). As for the process itself, half feel that it's "unclear." Writes one panelist, "They need to do a better job of explaining the process."
Among the other complaints are that the voting body is too small, that it should include coaches, personnel people and former players, and that its members should be rotated. Other suggestions include both removing the annual minimum of five inductees, for quality assurance, and the maximum of 10, to clear the backlog of worthy players. Oh, and "more kickers."
Football gets the highest marks among the four sports in terms of the enshrinement process being fair and clear. Only 6.3 percent of the football panel chose "unfair and unclear" (hockey was next best, well behind with 23.5 percent).
By and large, the pro football people seem content with who wears the gold jackets. A total of 46.9 percent rate their HOF at 8 or higher. So the overall score for Canton is 6.8.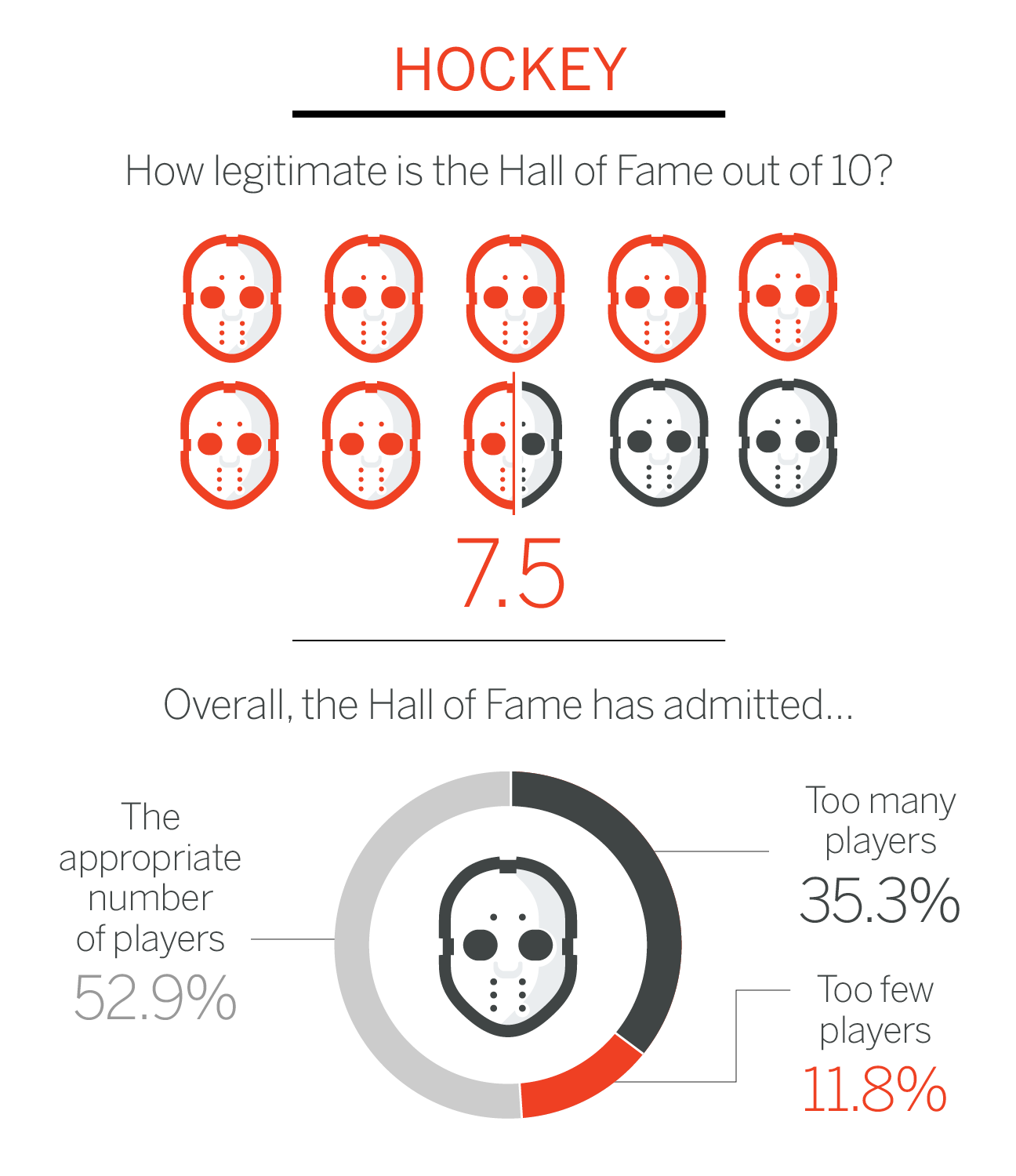 The pride of a hockey fan is as obvious as the smell of a hockey glove -- only much more tolerable.
And that pride is reflected in the votes of our cognoscenti. They strongly feel that the selections the last few years have been appropriate (64.7 percent), an improvement over what's seen as the overall appropriateness of selections (52.9 percent). Alone among the major sports, hockey has only a three-year waiting period for voting, yet that feels right for the same percentage.
They have some quibbles about the voting process, and one even suggests taking advantage of the sport's passionate base by letting fans vote on candidates. But when it comes to rating the HOF on its legitimacy, 58.9 percent put down an 8, 9 or 10. That left hockey with a 7.5 rating, clearly the highest of the four sports.
---
If there is one common sore spot that the polls expose, it is the clarity of each sports' voting process. No sport had a majority of voters agreeing that its process is sufficiently clear (football led the way with 50 percent, followed by hockey at 35.3, baseball at 33.8 and basketball at a mere 13.6). So the governing bodies might want to consider ways of explaining what it is they're voting for before debating who it is they're voting for.
In the meantime, relax. Enjoy the camaraderie and the celebration and the memories. No Hall of Fame -- or picnic, for that matter -- is perfect. You can only hope they'll be even better next year.
Ken Griffey, meet Ty Cobb.