Between contests stops on the World Surf League pro tour in May, John Florence and Filipe Toledo traveled to a remote area of Rio de Janeiro to film for Florence's upcoming film, "View from a Blue Moon." The most highly anticipated surf flick since 1966's "The Endless Summer," "View" is the result of nearly three years of filming in some of the most beautiful and remote areas in the world -- Tahiti, Western Oz, Africa, Brazil and Hawaii. This final trip, a weeklong excursion to Angra dos Reis, a small swathe of sandy beaches and lush islands tucked into the southwest corner of Rio, provides the centerpiece of the film, which premieres on Nov. 11. Florence and his crew invited The Mag along to chronicle the trip and its endless cache of Instagram-worthy moments.
In his fifth season on the World Surf League tour, Florence, 23, is arguably the best and most complete surfer in the world. He grew up a few sandy footsteps from Pipeline, the famed break on Oahu's North Shore, competed in the Vans Triple Crown of Surfing there at age 13 and has spent the decade since traveling the world to compete, chase barrels and progress the art of aerial surfing. While all of the surfing in "View From a Blue Moon" promises to impress, the final scene is worth the price of admission alone. But no spoiler alerts here -- our lips are sealed.
"In my 25 years of being around surf films, I can't think of a time when a Hawaiian and a Brazilian went on a trip together, let alone in the middle of the contest season," producer Bill Ballard says. Chalk it up to localism or a gaping cultural chasm, but the relationship between Brazilian and Hawaiian surfers has been turbulent. That Florence invited Toledo, who grew up in Sao Paulo, to join him on this trip is indicative of a new generation of pro surfers. "We have a lot of respect for one each other," Florence says. "Seeing Filipe surf on tour inspires me. To come on a trip with him and watch him surf, it's insane."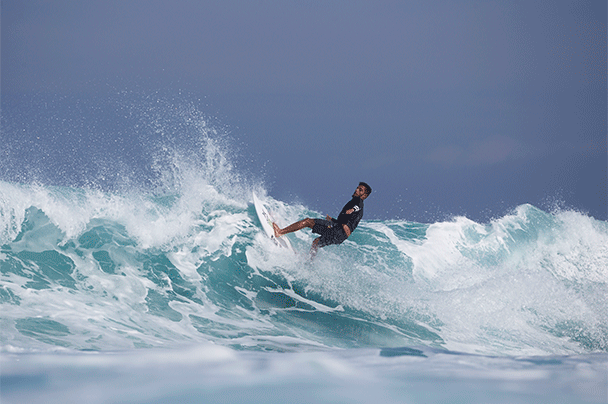 When Florence asked Toledo to be a part of the film, the Brazilian didn't hesitate to say yes. He just had to get permission from Mom and Dad, since this was the first time the 20-year-old pro planned to take a trip without them. "They were really supportive and told me it was going to be a special week," Toledo says. "John is the best surfer in the world, and not everyone gets to be a part of his film. I was happy he chose me and wanted to include Brazil."
Surfing is on fire in Brazil, both as a spectator sport and in participation numbers. Current world champ Gabriel Medina is from Sao Paulo and with two contests remaining in the world tour, four of the top 10 surfers are Brazilians. Toledo is ranked No. 6. The week before this trip, the Oi Rio Pro -- which Toledo won -- drew the largest, most enthusiastic crowd in the event's history, and that excitement is something Florence wanted to capture on film. "It's been a crazy quick shift," Florence says. "Everyone is going into surfing. And it was incredible at the contest. The beach looked like a soccer stadium."
This final trip to Angra dos Reis will provide the centerpiece for "View From a Blue Moon," born of a desire to show the beauty of a country poised at the center of the surf universe but known to most surfers only as a country of mediocre beach breaks. "People who don't know Brazil will see that it's not only favelas and poor, bad areas," Toledo says. "They'll see the beautiful nature and beautiful waves with no one around. It's just me and John surfing. They will see that Brazil is really special."
To pass the time while Ballard and director Blake Kueny scouted locations on the first day of the trip, Florence and Toledo accepted an invitation to go wakesurfing with a local family. It was a Sunday, so the boat overflowed with local kids. Sure, Florence and Toledo are two of the best surfers in the world, but before that day, neither had tried wakesurfing. It seemed unlikely they would take their first turns in front of a pack of judgmental teens armed with camera phones. But neither hesitated, and after a couple of falls, the two put on a show, landing 360s, launching airs and treating those kids to an unforgettable afternoon.
Once surfers venture beyond easily checkable beach breaks, they need a way to locate the best waves and to transport their equipment. For that, they use boats, often spending weeks chasing a swell. Most days during this trip, the crew departed from the home base around 7 a.m. and spent about 10 hours on the boat. They checked three to four spots, depending on the reports, and surfed, at most, two of them. The other eight hours were filled with naps, laughter and a few low-yield fishing sessions.
On the final day of filming, a set rolled in and Florence took off on the first wave, launched a monster air and rode away. Toledo dropped in on the second wave, made a turn and rocketed an air, almost landing a 720. "Almost," Toledo says. "Of course I fell, right in front of John." As the two surfers paddled back out into the lineup, they laughed and talked about their waves. "I realized it was just me and him surfing these nice little fun waves with no one around," Toledo says. "That was really special. That is the moment I am going to remember from the trip."