For 14 years now, we've asked you to rate your favorite team in the categories that matter most to fans, from championships to cheap seats. Then, based on your feedback, we've ranked every pro franchise. Who's No. 1 this time? The Tampa Bay Lightning, who learned that to build a fanbase from scratch, you've got to put in the work.
For more information on how the Ultimate Standings were compiled, see below.
Rankings: MLB | NBA | NFL | NHL | 2015

Love -- offered and justified, frustrated or spurned -- has been at the heart of our Ultimate Standings for 14 years as we've used fan surveys and financial analysis to rank MLB, NBA, NFL and NHL teams by how they reward fans for the time, money and emotion they invest in them. So when Lightning captain Steven Stamkos answers a question about his team's fans, players and staff with "You can feel that love" -- well, that says it all about his team's place at the top.
No. 2: San Antonio Spurs
Last year's champs, the Spurs, ranked first in the players category -- for the sixth year in a row. That's in large part thanks to a No. 1 ranking in the category fans say is most important to them: players who always give their best effort. Almost across the board, the team's rankings are up from 2015 (they're also No. 1 in coaching and ownership and rank no lower than 11th in any category), but the Lightning's conference finals run moved them ahead of the four-time Standings topper.
---
No. 3: Carolina Panthers
The Panthers are No. 1 in bang for the buck: They won more games than any team in the NFL last season while charging the ninth-lowest average ticket price in the league ($78.22).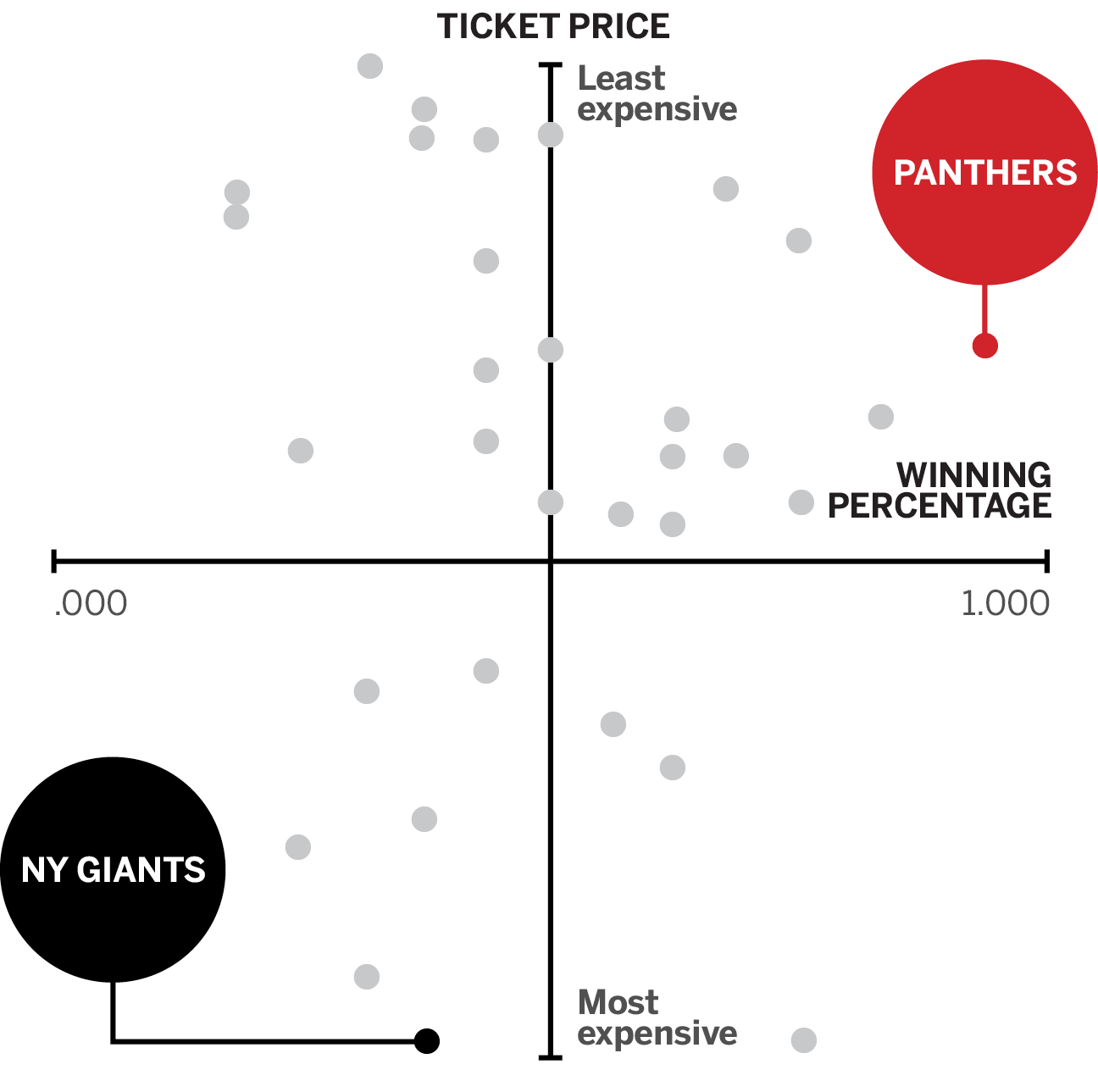 ---
No. 18: San Francisco Giants
The Giants are known for AT&T Park's gorgeous view, so it's no surprise that their stadium is second overall (behind only MLB's other famous waterfront property: Pittsburgh's PNC Park). But it's not just the Bay: AT&T Park is also No. 2 in providing a fan-friendly environment and No. 1 in making it enjoyable for fans to catch games on TV, the radio or online.
---
No. 30: San Jose Sharks
After missing the playoffs in 2015, the Sharks made it all the way to the Stanley Cup finals in 2016 -- and the fans responded by jumping them 58 spots in the rankings, the biggest leap by any team this year.
---
No. 33: Golden State Warriors
In 2014-15, the Warriors offered fans a rare blend of success and affordability. Then they jacked up prices by more than 40 percent and missed out on a second straight title (did you hear they had a 3-1 lead?). We're not saying Warriors tickets aren't worth it, but at an average price of $79.84, they have become a luxury good.
---
No. 46: Portland Trail Blazers
No. 48: Chicago Cubs
The Cubs were tabbed the team most willing to pay to attract quality players and coaches. Sure enough, the Ricketts family opened the purse strings in recent years to sign Jon Lester, Jason Heyward and, on Sept. 28, Theo Epstein, for a reported $50 million-plus.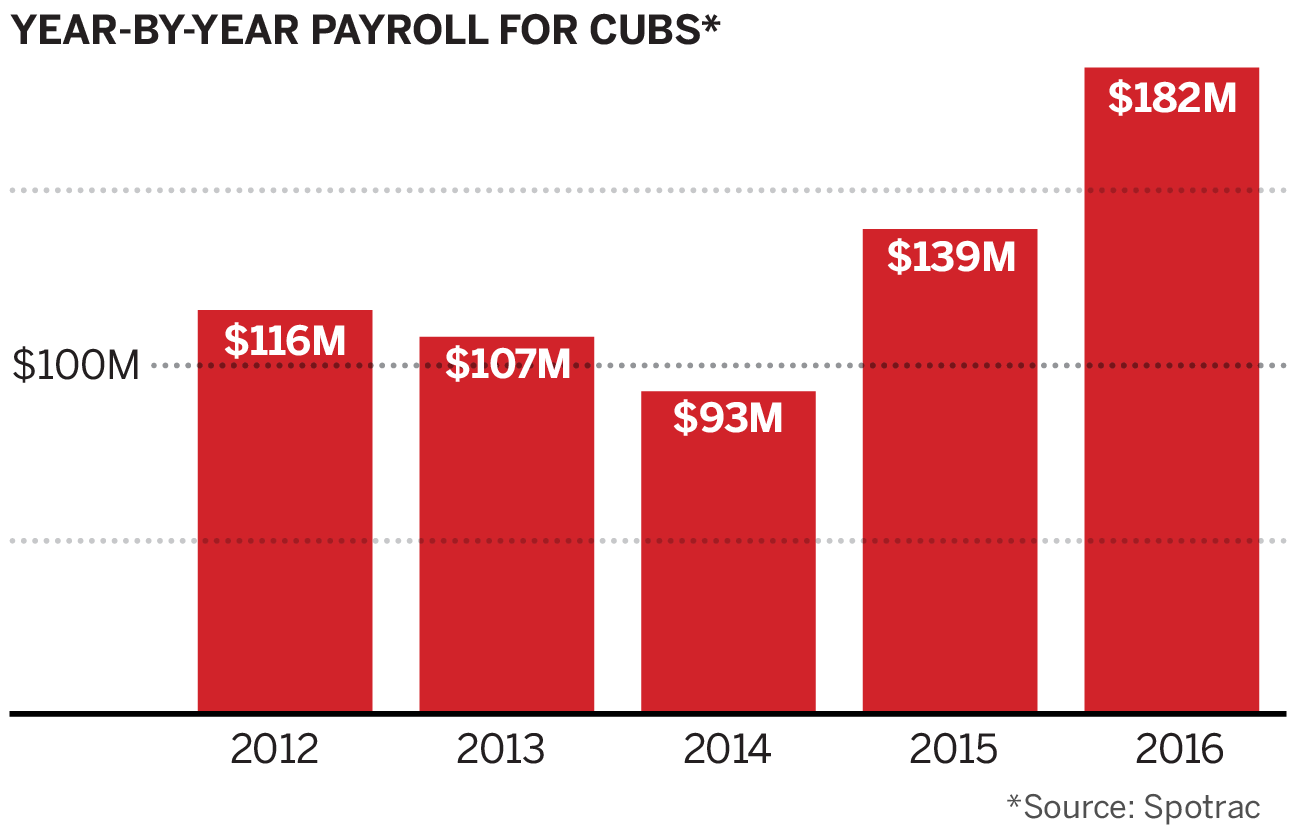 ---
No. 54: Atlanta Falcons
The Falcons will have the lowest concession prices in sports in 2017: $2 for a hot dog, pretzel or soda (with unlimited refills) and $3 for nachos, waffle fries or a slice of pizza -- all including sales tax! What that means: You can feed a family of four twice at Mercedes-Benz Stadium for less than it costs to park at a Cowboys game.
---
No. 65: Orlando Magic
Orlando's Amway Center was this year's top NBA stadium ... at 25th, behind 11 MLB, seven NFL and six NHL venues. Yikes.
---
No. 79: Minnesota Timberwolves
No. 82: New York Mets
The Jacob deGrom Hair Hat was the best swag handed out this year. But because this is the Mets: They gave it away on the same day they announced deGrom likely needed nerve surgery and would be out for the season.
---
No. 91: Miami Marlins
From the high of Ozzie Guillen in 2012 to the looooow of Mike Redmond and GM-weirdly-turned-manager Dan Jennings in 2015, the Marlins have had some coaching drama. But this year, with Don Mattingly signed on as skipper, Miami jumped 84 spots in that category.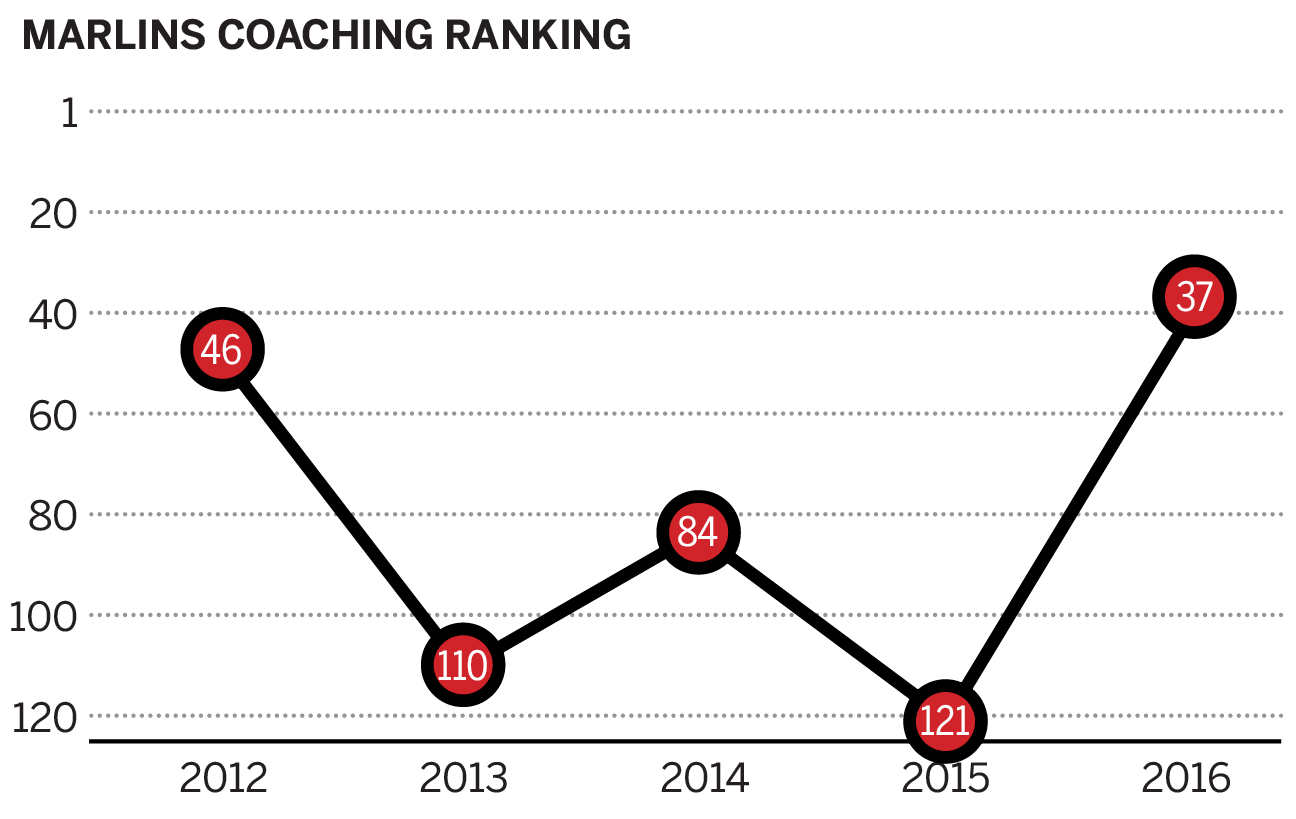 ---
No. 104: Atlanta Braves
Who needs to root for the home team? Not Braves fans: Atlanta offers sports' most extreme combination of poor performance and cheap prices. The good guys might have won only 31 home games, but at least supporters paid less than $20 a ticket.
---
No. 114: New York Knicks
Yet again the Knicks had the worst combination of failure and high ticket prices of any team in sports. And they look likely to keep the title in 2017: The Knicks haven't been to a conference finals in 17 years but still charge 25 percent more than any team in the NBA (an average of $129.38, $99 more than the Pelicans' average).

---
No. 122: San Francisco 49ers
The 49ers have created quite the perfect storm: Fans see San Francisco's owners as the NFL's most dishonest and its players as the least available in sports, while the front office has raised prices by more than 60 percent over the past five years (the NFL average is just 12 percent). Meanwhile, the 49ers won just five games in 2015 -- which helps explain why they were named the league's worst in paying to attract quality players and coaches.

The method to our ultimate madness
It takes four steps for us to rank the 122 franchises in North America.
First: Consulting firm Maddock Douglas surveyed 1,031 fans to form 25 criteria for the things most desired in return for the emotion, money and time they invest.
Second: Teaming with NetReflector, an opinion research firm, ESPN.com asked fans to rate their home teams in each area; more than 72,000 of you did! We grouped grades into seven categories.
Third: Our final measure, bang for the buck, uses calculations developed with Oregon's Warsaw Sports Marketing Center to figure how well teams turn fans' money into wins.
Finally: We combined each team's scores across all categories into a weighted average. The result? Rankings that combine fan opinions and how well teams turn your dollars into wins. Ultimately, it all counts.
Affordability (12.2%): Price of tickets, parking and concessions 


Coaching (2.8%): Strength of on-field leadership

Fan relations (27.2%): Courtesy by players, coaches and front office toward fans, plus how well a team uses technology to reach fans
Ownership (12.8%): Honesty; loyalty to core players and the local community
Players (14.7%): Effort on the field, likability off it
Stadium experience (11.7%): Quality of arena; fan-friendliness of environment; frequency of game-day promotions
Title track (3.9%): Championships won or expected within the lifetime of current fans
Bang for the buck (14.7%): Wins in the past two years per fan dollar, adjusted for league schedules
Rankings: MLB | NBA | NFL | NHL | 2015
Thanks for financial analysis to Paul Swangard and the Warsaw Sports Marketing Center at the University of Oregon.