This story appears in the July 25, 2011 issue of ESPN The Magazine. Photos by Michael Edwards.
JOHN LEGEND
Profession: Singer
Obsession: Ohio State football
On getting his Buckeye buzz: "I don't actually go to a lot of games because I think football on TV is better. Even though I'm pretty busy, I watch 90 percent of Ohio State's games."
On why he prefers to watch: "In my neighborhood in Springfield, Ohio, there were a lot of young kids. We all played tackle football after school, but I knew very early on that I was not an athlete."
On the Ohio State scandal: "It's going to be a tough few seasons. I don't know what to say. I'm in mourning right now."
---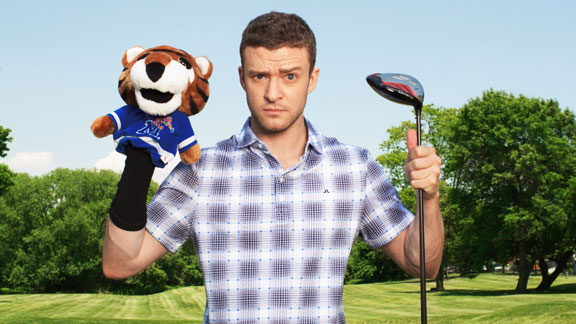 JUSTIN TIMBERLAKE
Profession: Singer, actor
Obsession: Memphis basketball
On the Grizzlies' amazing playoff run: "My family still lives in Memphis, which is predominantly a basketball town. It was a big deal for the team to go as far as it did this year."
On loving the Tigers: "When I went to [former Memphis coach] Larry Finch's summer camp as a kid, Anfernee Hardaway showed up. That was the coolest thing ever."
On owing his music career to the NBA: "I begged my mom to get me voice lessons, but I was playing basketball too. Back then, Magic Johnson shot 100 free throws a day, so I thought I had to, even in the rain. My mom said, 'If you get a cold, I'm not paying for voice lessons.' That was it for basketball."
---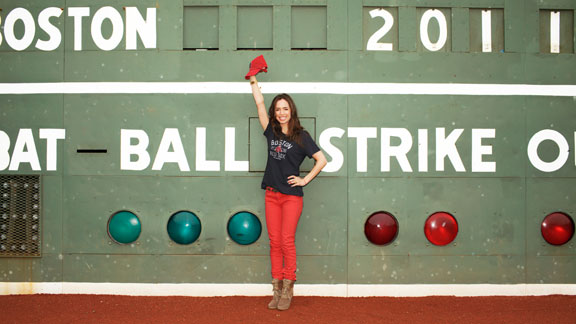 Profession: Actress
Obsession: Boston Red Sox
On Sox spirit: "No other sports stadium has the energy of Fenway Park. It's really small and intimate, so it pulsates when the place is going off. When everyone is singing, cheering and losing their minds, there's nothing like being a Red Sox fan."
On her guys' nights out: "Growing up, I was as big a tomboy as you can get. When my father would take my three older brothers and me to games, we'd go into the boys' room. I have actually peed in the urinal at Fenway."
On a diehard's dream day: "I just hung out inside the Green Monster and got to see all the signatures in the wall. I feel like such a geeky fan girl right now."
---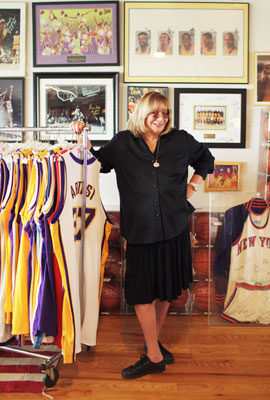 PENNY MARSHALL*
Profession: Actress, director
Obsession: Pro basketball
On how she became a hoops fan: "When I came out to LA, I started going to Lakers games. It was like a ballet to watch. Plus, basketball players wore very little uniforms. I could see their bodies!"
On growing her collection: "I was a baseball fan as a child back in the Bronx. So I started simply, with hats. But when I do something, I get carried away. I have so little space left, some things are hidden in the laundry room."
On the perils of having so much memorabilia: "I haven't been able to have birthday parties like I used to. People could roll up a shirt [and take it]. I don't want things stolen."
*Kenny was on assignment and couldn't interview Penny, so we enlisted one of her favorite Lakers, Ron Artest.
---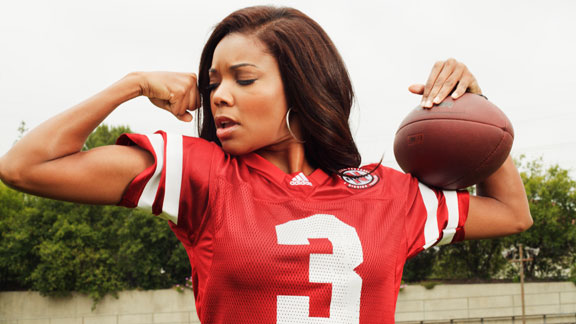 GABRIELLE UNION
Profession: Actress
Obsession: University of Nebraska football
On Cornhuskers confabs: "In my house, if you didn't know Nebraska football, you couldn't talk -- at least not on Saturdays. At 8 years old, I could define the terms I-formation and wishbone offense."
On her relative security: "My uncles John Pitts and Willie Harper were on the '71 national championship team; ['72 Heisman winner] Johnny Rodgers is a family friend. I have never been able to escape Cornhusker football. Now it's like a cape I wear that gives me a little extra mojo."
On her gridiron gifts: "I run, catch, throw -- pretty much anything. I'm like an Arena Football guy; I can play both sides of the ball. In powder puff flag football I never lost."
---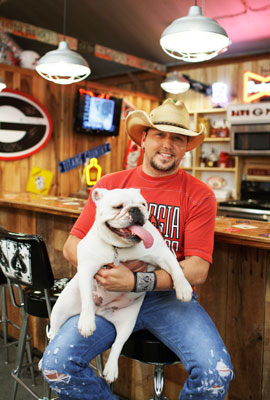 JASON ALDEAN
Profession: Singer
Obsession: University of Georgia football
On being raised a Bulldogs fan: "As a kid in Macon, I had all the Georgia gear, including the plastic helmet. For me -- for the whole state -- football was about watching Herschel Walker play. He was a specimen."
On singing for the enemy: "One of my guitar straps has a bright red 'G' on it. If I'm in an SEC town like Gainesville or Baton Rouge, there's no mercy."
On game-day gigs: "If we can blow off sound check, make it to the game and be back in time for our concert, that's absolutely happening. Thing is, if you tailgate, you're not in the same shape you were when you left. It makes for an interesting show."