3,000 Hits. Three Bats. One Enduring Mystery
Roberto Clemente got his 3,000th hit, sent his bat to Cooperstown, and three months later, he was dead. He left behind a puzzle that has taken 40 years to piece together.
By Kevin Guilfoile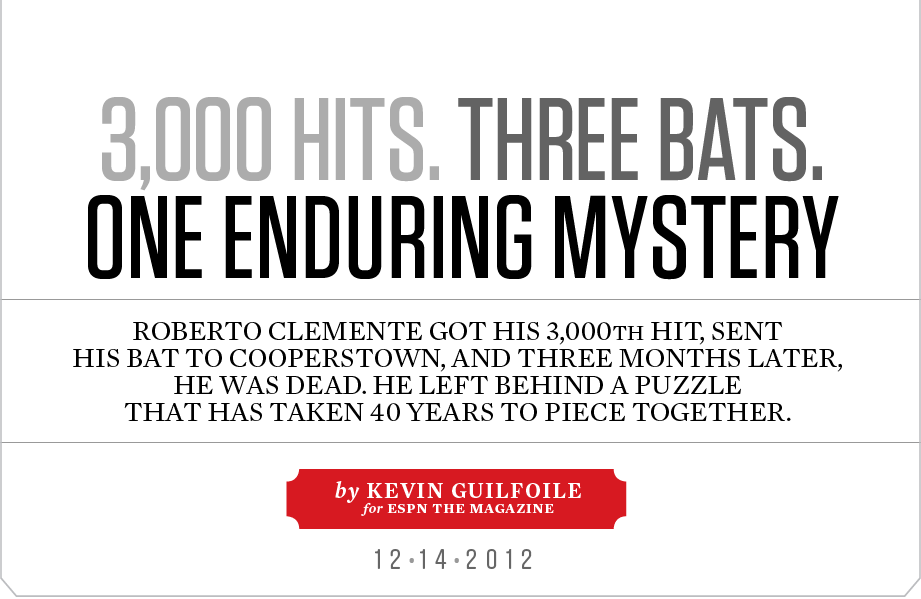 This is the extended version of a story in ESPN The Magazine's Dec. 24 Hall of Fame Issue. SUBSCRIBE TODAY »
Roberto Clemente got his 3,000th hit on Sept. 30, 1972, but soon he would be gone.
My first memory is of my father carrying a hammer into our bedrooms and smashing open our piggy banks on the night Roberto died.
I couldn't have known what was happening. I didn't know about the sputtering airplane, carrying one superstar and too many supplies for earthquake victims in Nicaragua. But I might have understood what Roberto meant to my dad.
Three years earlier, as my father arrived for his first day on the job with the Pittsburgh Pirates, he had been intercepted by Dick Stockton in the parking lot of McKechnie Field, the Bucs' spring training home in Bradenton, Fla. Stockton is a first-tier play-by-play announcer now, but in 1970 he was a Pittsburgh television sports anchor, and he asked whether Dad was the team's new public relations director. When my father said he was, Stockton said he would like an interview with Roberto Clemente. My father explained that he'd been on the job only a few minutes and that he hadn't even met Clemente yet. Nevertheless, he would see what he could do.
My dad has Alzheimer's, so I can't ask him what happened next, but when his memories were still present, he took out a yellow legal pad and wrote down many of his baseball stories. In these pages, he describes his first encounter with Roberto. Dad introduced himself as the new PR guy, and in the next breath asked whether Clemente would do an interview with the sports director from KDKA-TV.
Roberto reacted with a three or four minute outburst, combining English and Spanish, to let me know exactly how he felt about Stockton. Apparently he and Dick had had a falling-out some time ago over something Stockton had said on the air.
Then Roberto paused, regained his composure, and looked at me with a little smile. "Would it help you if I did the interview?" he asked.
"Well, it's my first day on the job and I'm trying to get off on the right foot," I said. "Yes, it would help me if you would talk to him."
Clemente nodded and said, "Ok. For you I will do it, my friend." He finished dressing, walked out on the field, and gave an interview to Dick Stockton for the first time in years. -- Bill Guilfoile

That night in my bedroom, early in the morning on New Year's Day, 1973, I don't think my dad had words for what he was feeling. He'd just finished a call with Joe Brown, the Pirates' general manager. In his grief, Joe didn't hang up the phone on his end, which, in the context of early '70s telecommunications, meant our home phone was disconnected. So Dad poured change from his kids' banks into an old sock that he would carry, along with his little green address book, a mile through the cold and snow to a parking lot pay phone outside a general store, and from there he would tell the world that his friend Roberto was dead.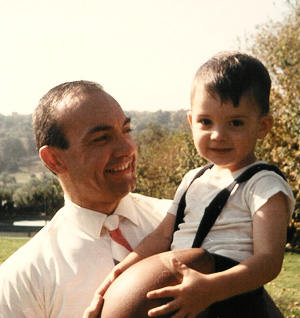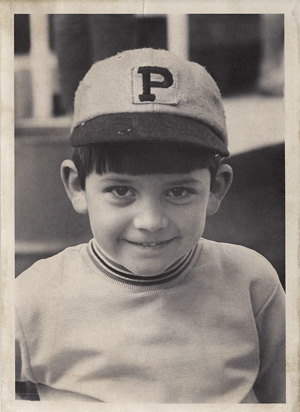 Top: Bill Guilfoile, with son Kevin, was the Pirates' PR man. Bottom: Kevin Guilfoile, at age 4, around the time of Clemente's death.
Top: National Baseball Hall of Fame Library; Bottom: Courtesy of the Guilfoile family

The French philosopher Henri Bergson once said, "Time is the thing that keeps everything from happening all at once." I've also seen the quote attributed to "The Sisterhood of the Traveling Pants," but whatever the source, it's the principle that I use to understand what has happened to my father since the caulk of Alzheimer's has filled in the synapses of his brain.
To my dad, I am 5 years old and also a novelist. I am 43 years old and also an undergrad at the University of Notre Dame. I am an assistant media relations director for the Houston Astros, and I am not yet old enough to drive. I am a Little League coach in La Grange, Ill., and a Little League player in Bethel Park, Pa. I also work in advertising.
My mother knows me as all these things, too, but she understands time as an organizing principle, that I was each of these things at a different stage of my life. My father does not. To him I am all of these things at once. He lives in an unrelenting present, with no real concept of yesterday or tomorrow.
My mother is easier for him to recognize because she has always been the same, reliable thing to him. But he does sometimes offer to carry her books to class.
His personality is present, if his memories are a jumble. He is still funny, and surprisingly quick with one-liners to crack up the staff at the facility where he lives. He is exceedingly polite, same as he ever was. He is good at faking a casual conversation, especially on the phone. But if you sit and talk with him for a long time, he gets very anxious. He starts tapping his forehead with his fingers. "Shouldn't we be going?" he'll say. You tell him there's no place we need to be, but 30 seconds later he'll ask again, "Shouldn't we be going?"
What happens to memories when they're collapsed inside time like this? They don't exactly disappear, they just become impossible to unpack. And so my father, who loved stories so much -- who loved to tell them, who loved to hear them -- can no longer comprehend them. The structure of any story, after all, is that this happened and then that happened, and he can't make sense of any sequence.
That is the real hell of this disease. His own identity has become a puzzle he can't solve.
Objects have stories, too. Puzzles that need to be solved. Like a pair of baseball bats, for instance, that each passed through Roberto Clemente's hands before they passed through my father's. One hung on my bedroom wall throughout my childhood. The other is in the Baseball Hall of Fame.
These objects never forget, but they never tell their stories, either.
Without a little bit of luck, we'd never hear them.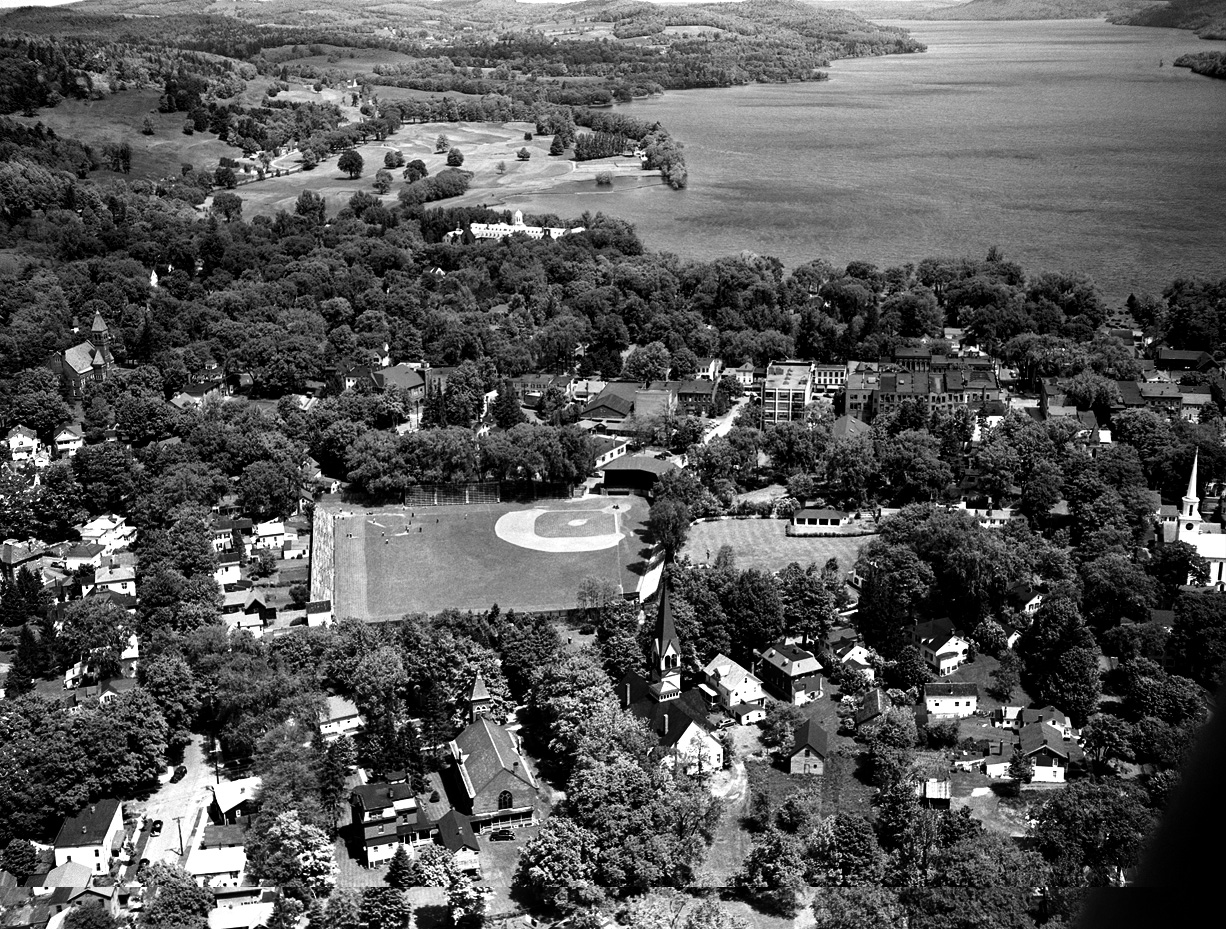 Doubleday Field in Cooperstown, N.Y., where the author grew up playing high school baseball.
Diamond Images/Getty Images

I didn't really have a life in baseball the way my dad did. I had a life around baseball. In proximity to baseball. And it was pretty great.
From the time I was a baby and my dad was working for the New York Yankees until I was in the fifth grade, when Dad left the Pirates to take a job at the Baseball Hall of Fame, I probably went to 40 or 50 major league baseball games a year.
When we moved to Cooperstown, hours from even a small city, we didn't go to games nearly as much. But there in the country we had our own ballpark: Doubleday Field, the apocryphal birthplace of baseball. I played all my high school games not on some knobby school field surrounded by aluminum bleachers and chain link, but in full view of tourist spectators on the pristine infield of a historic, 10,000-seat ballpark.
Throughout the summer, the best youth baseball teams from around the East would bus to Cooperstown to play on Doubleday Field. The team they would play there was usually ours. We often played two, sometimes three games a day. Most of our players had summer jobs, so we would sub in and out as best we could. I was the stock boy at the Farm and Home Bargain Center directly across the street from the ballpark. I'd wear my uniform to work, stock the shelves, vacuum the store, then grab my mitt and run across the street. I'd play a few innings until word came that a truck had arrived full of Cabbage Patch dolls or kerosene or whatever, and I'd dash across Main Street to unload it, just as another kid, still smelling of chores from his family farm, pulled up to take my place.
I met almost every living baseball great. I talked hitting with Ted Williams and baserunning with Cool Papa Bell. I sat at my own dining room table with former baseball commissioner Bowie Kuhn as legendary Yankees pitcher Waite Hoyt spun first-hand yarns about Babe Ruth.
Years before we lived in our house on Lake Street, Joe DiMaggio and Marilyn Monroe ate dinner at that same table with a previous owner and helped with the dishes afterward. Marilyn Monroe doing dishes at the same sink where I washed dishes every night -- that's a mental picture that will make a 13-year-old boy's head explode.
One afternoon during our stay in Puerto Rico, Roberto and his wife Vera drove us around San Juan, showing us the city they were so proud of. During the day we walked the streets and stopped twice to eat. Although Roberto was universally recognized, not once was he approached for an autograph. The next day I mentioned this to a Puerto Rican newspaperman. "Oh," he said. "No one would ever think of asking him for an autograph when he was with friends. We respect him too much." I thought this was an interesting contrast to what athletes experience in the States.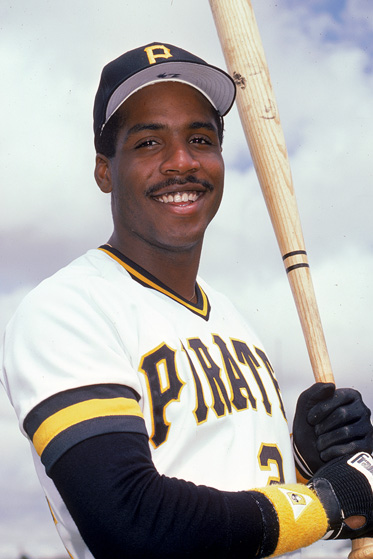 It wasn't easy for the author to deal with Barry Bonds, who played for the Pirates early in his career.
Ron Vesely/MLB Photos/Getty Images

I worked in baseball for only three seasons so, unlike my dad, I never forged any lasting friendships with professional ballplayers.
But I was on the job only a few hours before I made an enemy of one.
I was a 20-year-old American studies major making $500 a month as an intern in the Pirates' media relations department. Barry Bonds was a 24-year-old leadoff hitter, a player with huge potential, but he wasn't yet the superstar he would be a few years later. In the season I spent with him, Barry had a respectable 19 home runs and an impressive 32 stolen bases, but he batted just .248. No one was calling him a future Hall of Famer yet.
On a typical day at Three Rivers Stadium, I did research and helped with media inquiries and wrote articles for various in-house publications. During games I worked in the press box, basically as a gofer. And every morning I would get a list of names from the community relations department -- sick kids in hospitals, mostly, or other charity and management requests -- and I would walk down to the clubhouse with a folder of glossy photos to get autographs.
Most of the ballplayers treated me with kindness, or at least respect. A few probably even hoped their name would be on one of my Post-its -- the fact that some kid had asked for their autograph being a good sign for their careers. Others thought of me as a minor nuisance that could be disposed of with a few seconds of effortless Sharpie wielding.
And then there was Barry Bonds.
Barry wasn't the kind of jerk who was nice to people only when he needed something from them. As far as I could tell, Barry was pretty much an ass to everybody all the time. Instead of berating me directly or just ignoring me, Barry would sometimes talk about me like I wasn't there. Sometimes he would tell Bobby Bonilla, who had the locker next to him, that I was lying to them and these autographs weren't for fans and that I was just selling these pictures to professional dealers, that I was another no-talent white man exploiting black men who possessed real ability.
Eventually I figured out a system, but it required patience and timing. There was only one person in that clubhouse whose opinion mattered to Barry Bonds, and that was the manager, Jim Leyland. I soon realized Barry would never allow Leyland to see him being disrespectful to me. So I would get signatures from the other players, and then I would wait for Leyland to come out of his office -- which some days he never did. But if Leyland did walk by, I would be standing next to Barry with a Sharpie, and he would scowl and give me what I needed. Until the next day.
One homestand I was getting a lot of pressure to get Barry's signature on a ball, and he wasn't having anything to do with me. Every couple of hours I'd get a phone call asking where it was, and I'd go down to the clubhouse and stalk Barry and he'd tell me to piss off or turn his back and leave when he saw me. I got so frustrated I grabbed a couple of balls from somewhere and hid myself away in a conference room and practiced his signature until it was passable.
I never tried to pass those autographs as Barry's -- I was just blowing off steam -- but there had been a day when it was common to do so. In the 1960s, Clemente's heyday, most teams would have had a couple of folks in the front office or the clubhouse -- my dad was one of them for the Yankees -- who were experts at forging the signatures of their top players. Dad used to joke that there were probably as many Mickey Mantle balls signed by Bill Guilfoile as there were balls signed by Mickey Mantle.
The prevailing attitude among ballclubs and players back then was that balls and bats and signatures were things that could make people happy. They weren't appreciating investments with certificates of authenticity the way they are today.
The story of the Adirondack bat.

On Saturday, Sept. 30, 1972, Roberto Clemente arrived at Three Rivers Stadium tired and frustrated. He had 2,999 hits for his career, and the night before he would have become only the 11th player in baseball history with 3,000 hits except the official scorer had changed one of his at-bats from an infield hit to an error. Roberto hadn't slept at all, but he desperately wanted to get to 3,000. It had been a long season. He was 38 years old and had been plagued by chronic ailments. He wanted to take a couple of games off before the playoffs.
He struck out in the first inning, but in the fourth he doubled off Jon Matlack of the Mets. No scorekeeper could take this one away. On the radio, legendary Pirates broadcaster Bob Prince was calling it: "Bobby hits a drive into the gap in left-center field! There she is!"
After the game, my dad went down to the clubhouse and waded through a media scrum to Clemente's locker. Sportswriters were asking Roberto how he chose the bat that got him his 3,000th hit. Roberto told The New York Times that Willie Stargell helped him pick out the bat. "I haven't been swinging good lately so Willie picked out one of my bats … a heavier one that I have been using," Roberto is quoted as saying. "He handed it to me and told me to 'go get it.'"
It's hard to imagine it today, but there were only 13,000 people in attendance. The Pirates were the defending world champions. They had clinched the division title and were headed for the playoffs. One of the biggest stars in a century of Pittsburgh baseball was about to do something that only 10 players in the game had ever done. And Three Rivers Stadium was four-fifths empty. I wonder how many Pittsburghers today claim they were there to watch Clemente get No. 3,000.
When my dad got to his locker, he asked Roberto for the bat he used to get the hit. Clemente handed over the Louisville Slugger -- a model U1 with a "21" scribbled on the flared knob in felt pen. Dad packed it up and sent it to the Baseball Hall of Fame in Cooperstown.
Three months later, almost to the day, Clemente would be dead. A plane he chartered to carry humanitarian supplies to earthquake-ravaged Nicaragua would crash after takeoff. No. 3,000 would be the last regular-season hit of his career.
Seven years later, Dad would take a job with the Hall of Fame, eventually becoming a vice president. That bat, one of the most popular artifacts in the museum, was in a display case just outside his office. He would have seen it every single day. No piece of memorabilia in the entire building had a more meaningful, more personal connection to my father than the bat Roberto Clemente used to collect his 3,000th hit.
If the Adirondack that hung in the author's childhood home (left) was the bat Clemente used for No. 3,000, the Louisville Slugger that Bill Guilfoile had vouched for in Cooperstown (right) could not be.

NEXT UP

Did Willie Stargell steer Clemente back to the Louisville Slugger?

RING MAN

So he asked the trainer to scrape off the trademark ring to mask the Adirondack's identity.

IMPATIENT FOR HISTORY

But Clemente would switch to an Adirondack if slumping -- and he was.

UNDER CONTRACT

Clemente, required to use Louisville Sluggers, knew No. 3,000 would be in all the papers.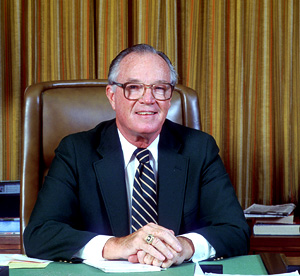 Former Pirates general manager Joe Brown gave Bill Guilfoile a Clemente bat several years after the ballplayer died.
George Gojkovich/Getty Images

My father has lots of old baseball bats given to him by players he worked with over the years. He has Mickey Mantle bats from his years with the Yankees, and Willie Stargell and Dave Parker bats from his days with the Pirates. The one I always loved best was an Adirondack model with R CLEMENTE embossed in modest block letters, instead of the usual signature burned into the barrel. On the bottom of the knob, Roberto had written a tiny "37" in ballpoint pen, presumably to indicate its weight: 37 ounces. It also had a series of scrapes around the middle where someone had scratched off the trademark stripe that encircled all Adirondack bats. Former Pirates GM Joe Brown gave my dad this bat several years after Roberto died. For much of my childhood it hung on the wall of my bedroom, on a long rack with about a dozen other game-used bats.
My dad had been working at the Hall of Fame for more than a decade when, in 1993, his old friend Tony Bartirome, a one-time Pirates infielder who had become their longtime trainer, came to Cooperstown for a visit. Tony and his wife went to dinner with my folks and then came back to our house to chat. The only way to go to the first-floor washroom in that house was through my old bedroom, and on a trip there, Tony noticed that Adirondack of Clemente's hanging on the wall.
Tony carried it into the living room. He said to Dad, "Where did you get this bat?" My dad told him that Joe Brown had given him the bat as a gift, sometime in the late '70s. "Bill," Tony said. "This is the bat Roberto used to get his 3,000th hit."
My father was confused by this. "That's impossible," he told Tony. "The day he hit 3,000 I went down to the clubhouse, and Roberto himself handed me the bat he used. I sent it to the Hall of Fame. I walk by it every day."

"Well," Tony said. "I have a story to tell you."
And when he had finished, my dad's head must have been on a teacup ride.
Actually, I'm pretty sure he thought Tony was putting him on. Both Tony and my dad had long histories as practical jokers, and the jokes my dad liked best were the long cons, where you can convince people of a story that alters their reality in some small way.
From that perspective, this story would have been a doozy, as Dad was fond of saying. As a vice president of the Baseball Hall of Fame, he was now one of its guardians. If it turned out to be true that my father had the real bat in his home all along, this would be a major scandal in the memorabilia world. My father's reputation for fairness and honesty, established over more than three decades in baseball, would be tarnished forever.
So Dad tried to call Tony's bluff.
He got out his typewriter and worked up a statement for Tony to sign.
This Adirondack, Roberto Clemente model, is the bat he used to achieve his 3,000th hit in 1972. He had a preference for this Adirondack bat, but since he was under contract with Louisville Slugger, he asked me to scrape off the black ring on the bat handle, which is the identifying characteristic of the Adirondack bat. I did so with a scalpel and he used this bat for his 3,000th (and final) hit.
Tony Bartirome, August 13, 1993

He signed it. Tony was absolutely certain of his story.
The next day my dad took that statement into work and informed other officials at the Hall of Fame. Dad never told me exactly what they did next, but I know they looked into it and apparently decided that the story couldn't be true.
No doubt this was a relief to my father. But I know he loved the story. He told it to me several times. He always said, "Wouldn't it be something if that were true?" and he would chuckle. It was a great baseball story. If he hadn't been a character in the tale, he'd have wanted it to be real.
But it turns out my dad didn't know the whole story behind that Clemente bat in my old bedroom. Turns out Tony Bartirome didn't know it, either. It's a story about memory. It's a story about chance. It's a story about stories. It's a story about the very nature of sports and memorabilia.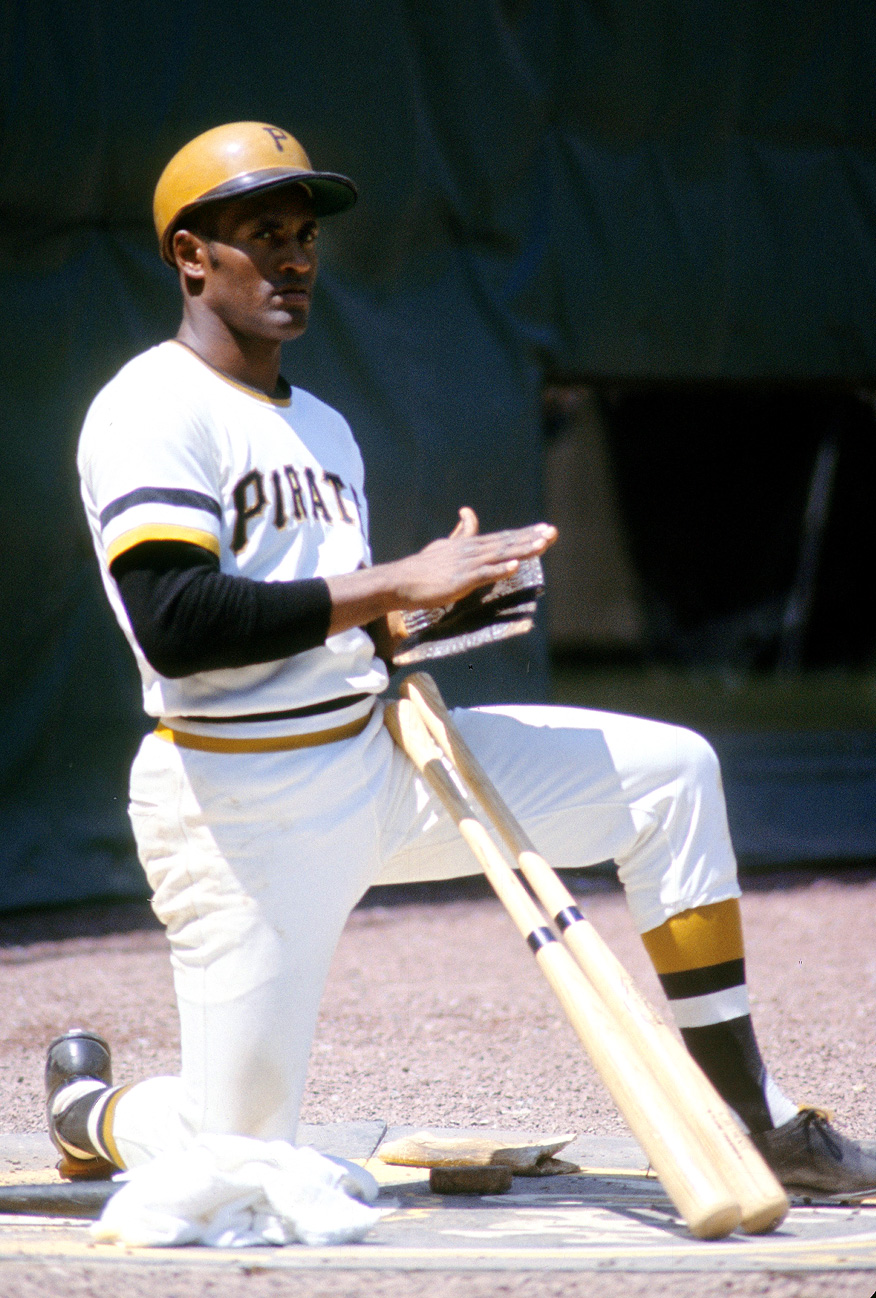 Clemente gets ready for an at-bat.
Focus on Sport/Getty Images

Two years after Roberto's death, I attended a dinner honoring him. Many eulogized him, remembering his many accomplishments during the [eighteen] years he played with the Pirates.
Then Dan Galbreath, president of the Pirates, stood up. "I'd like to share with you," he said, "a letter I received from Roberto several weeks before he died."
It was a two-page letter and Mr. Galbreath read excerpts from it: "Thanks for the privilege of playing for the Pirates. I couldn't ask for better teammates and the Pirate fans are the greatest in baseball. Everyone has been so kind to Vera and the children. Whenever you think I can no longer contribute to the team's success, I will retire. I thank you and the Pirate organization for being so good to me and my family."
The last sentence of the letter read: "I promise I will never play for any other team."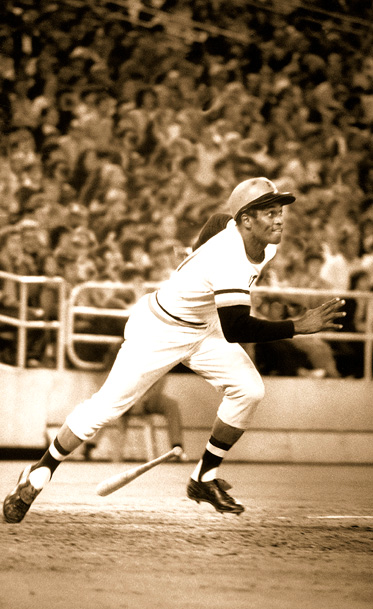 Finally, Clemente gets hit No. 3,000.
Les Banos/The Clemente Museum

Last year, after my dad moved into a home for patients with dementia, my sister, Ann, and I started going through his papers. He has a lot of them. Filing cabinets full. Some of these were his notes, stories from his life that he had jotted down for us. There were articles that he found interesting. A record of every fish he caught between 1980 and 1995, complete with weather conditions, the type of lure, and the section of Otsego Lake where he hooked them. We also found a few artifacts, like the typed statement he made Tony Bartirome sign.
There was also a related paper, and I'd never seen this one, either. It was a memo from 1996 written by my dad to Peter Clark, the Baseball Hall of Fame registrar, the person in charge of keeping track of the exhibits.
Apparently Dad wrote it to answer a challenge to the authenticity of the Clemente bat -- the Louisville Slugger -- on display at the Hall. As the person who acquired the artifact, my father described how he had received the bat from Clemente himself on Sept. 30, 1972. He also repeated Tony Bartirome's claim that the Adirondack bat in Dad's possession was the true 3,000th-hit bat. But of course, my father and others had looked into this and found it untrue. Dad wrote:
To the best of my knowledge, the bat Clemente gave me on September 30, 1972, was, in fact, the bat that I requested from him -- the one he used for his 3,000th hit.
This memo was a response to a claim by a man named Les Banos, who said Clemente gave him the real 3,000th-hit bat on that day in 1972. The name caused me to jump. I know Les Banos. Or I did.
Les Banos was the Pirates' team photographer in the 1970s. He was a friend of my father, and he was also a close friend of Roberto. Wait a minute, I thought. There's another story about yet another Clemente 3,000th-hit bat? And Les Banos claims he has it?
Forty years on, I knew I had to get to the source of this tale once and for all. I wanted to discover the real journey taken by Roberto's Adirondack bat from his hands to my childhood bedroom.
'A Drive into the Gap'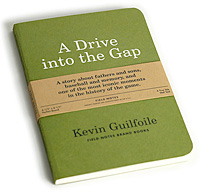 Kevin Guilfoile's Book
This story has been excerpted from his memoir, "A Drive into the Gap," which is published by Field Notes Brand Books and is available at adriveintothegap.com. It is a story about a father and a son, about baseball and memories.
Unfortunately, my father couldn't answer my questions anymore. And I wasn't sure he ever knew all the answers anyway.
I called a friend of mine from high school who now works at the Baseball Hall of Fame. I asked him whether they had a good photo of Clemente at the plate right before his 3,000th hit. I had it on my laptop in 15 minutes.
I could see the ball, low and outside, just about to cross the plate. I could see Clemente's famous long swing as he stretches to reach it. The label on the bat was clearly visible. I could see the completed oval and the diagonal type -- POWERIZED -- right above it. A Louisville Slugger, not an Adirondack.
Next, I called Tony Bartirome.
Tony is retired and lives in Florida, not far from the Pirates' spring training facility. He goes to see the workouts but never the games.
He asked about my dad. "Everyone loved your dad," Tony said. "Players, sports writers, staff. Everyone."
We reminisced a little. Finally, I asked Tony about the bat. I think I expected him to tell me a tale that was full of qualifiers. I think. Or I'm pretty sure. What it looked like to me. Maybe I even expected him to tell me that it was all a practical joke after all, one of those long con kinds that my dad liked best.
Instead, his story was absolutely convincing.
As he had explained to my dad, in the early innings of the game against the Mets on Sept. 30, 1972, Clemente approached Tony in the dugout and told him and John Hallahan, the longtime equipment manager more commonly known as Hully (HOO-lee), that his usual bat, a Louisville Slugger (model U1), didn't feel right. Roberto really wanted to get it over with, wanted to take that rest before the playoffs, and he wasn't sure the Louisville Slugger had number 3,000 in it. He wanted to change bats.
This wasn't unprecedented, and when it happened, when for whatever reason the Louisville Slugger didn't feel right, Roberto would often switch to an Adirondack bat. This was slightly problematic because Clemente was under contract to use Louisville Sluggers exclusively. But the parent company, Hillerich & Bradsby, understood there would be times when one of its players wanted to experiment with a different bat.
Winning was always the priority, and switching bats for a game was no big deal.
This day, however, with Clemente sitting on 2,999 hits, it was a very big deal. If he made 3,000, footage of that momentous swing would be played on newscasts all over the country. His photo would be in every paper.
There was also a rumor that Hillerich & Bradsby had offered Clemente $3,000 in gold coins just for sticking with his regular bat. Nevertheless, according to Tony, Clemente was convinced that his best chance of getting that hit was with an Adirondack bat. As it happened, Roberto had received a shipment that August of Adirondack model 129X -- very similar to the model U1 Louisville Slugger he preferred. Because Clemente had no official relationship with Adirondack, the barrel didn't carry his signature, just the name R CLEMENTE in block letters.
The other difference, of course, was the stripe around the middle, which would be visible to anyone in the stands or watching on TV. There in the dugout Roberto asked Tony to do something about that stripe.
Tony had a scalpel in his pocket that he used to cut athletic tape. He pulled it out and began scraping the stripe off the bat. At some point Tony was called away to attend to a player with a pulled hamstring or something, and so Tony handed the scalpel to Pirates pitcher Bob Moose and asked him to finish.
After Roberto got his hit in the fourth, Tony set in motion his plan to hide that bat.
As he intercepted the bat boy on his way back to the dugout, Tony was completely focused on the Adirondack in the kid's hands. He ran it back to the clubhouse and hid it away in a locker.
The next day, Tony took the bat to Roberto. "You should have this," he said.
"I don't want it," Roberto told him. "You keep it."
Tony said he didn't know what he'd do with it, but Roberto wouldn't accept it, so Tony locked it back up. And that's where it stayed, Tony said, for four years, until he gave the bat to Joe Brown as a retirement present. He told the story to Joe, but he didn't think Joe believed him.
Indeed, when Joe gave the bat to my father he never mentioned the story that came with it.
Tony didn't see it again for 20 years, when he stumbled across it in my old bedroom.
"But that can't be the bat he used," I told Tony when he had finished. "I'm looking at a photo of his 3,000th hit that I got from the Hall of Fame. It's clearly a Louisville Slugger in his hands, not an Adirondack."
"I don't care," Tony said. "I remember everything about that day."
And I believed he was telling me the truth about what he saw. I no longer thought this story was a prank. But I was almost certainly looking at the same photo used by my dad and others at the Hall to dismiss the story back in 1993. Was it possible that Tony was right and the photo was wrong? Could this be a picture of a different at-bat?
I checked the name of photographer, although I was pretty sure I knew who it was.
Les Banos.
I tried to think this all the way through. Les thought that he, and not the Hall of Fame, had the bat Roberto was swinging in one of the most famous photos Les ever snapped. According to my dad's memo, Les claimed that Roberto gave the bat to Les' son. Why would Clemente tell two different people -- my dad and Les -- that he was giving them each the same bat?
I needed to speak with Les. But I hadn't seen him since I was in the fifth grade. He must be more than 80 years old now.
I Googled his name and one of the first results was Les' obituary in the Pittsburgh Post-Gazette. According to the time stamp on the article, it had been posted seven hours ago. Les had passed away in Pittsburgh just five days before.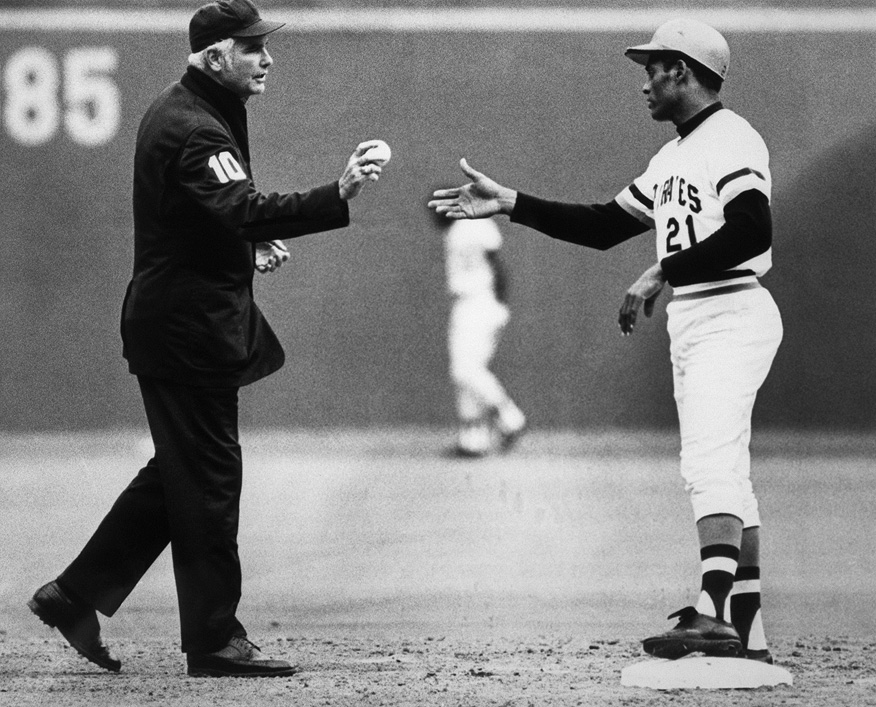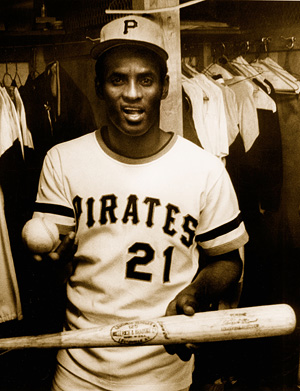 Clemente receives the ball he hit for No. 3,000. After the game, exhausted, he poses with a Louisville Slugger.
Above: Bettmann/CORBIS. Left: Morris Berman/Post-Gazette/The Clemente Museum

Next up: Tom Briercheck, the Pirates' bat boy from 1972 to 1976. Tom confirms every part of Tony's story about the day of Clemente's final hit. He watched Tony scratch the stripe off the bat. He remembers Tony snatching the Adirondack from his hands after the hit. I tell him I can see the Louisville Slugger label in the photo, but Tom is so sure he also wonders whether the picture might really be of a different at-bat. I tell him I've found a second photo of the swing, taken from a slightly different angle by a different photographer, and everything matches up -- the details in the background, fans in the stands. And the Louisville Slugger in Roberto's hands.
"I don't know," Tom says. "I've been telling people for 40 years that Clemente used an Adirondack bat to hit 3,000. I even said it to the guy who runs The Clemente Museum here in Pittsburgh, and he told me I was crazy."
I look up the number for The Clemente Museum and call Duane Rieder, a commercial photographer who founded the place. Duane recognizes my last name and gets right on the phone. We talk about Les Banos, who had been a good friend of Duane's. I start to tell him the story of my dad's bat, but he's already heard it.
"You mean the Bartirome bat?"
I'm surprised. I hadn't even mentioned Tony's name.
"Do you really have it?" Duane sounds like he doesn't believe me.
"My parents do," I say.
"No way," he says. I think Duane must have thought the story was some kind of myth. "You know it's not the bat Roberto got the hit with."
"I know," I say. "But I'm trying to find out what really happened that day. How could Tony and Tom be so sure of something that can't be true? Why did Les Banos think he ended up with the real bat?" I ask Duane whether he has more photos of Clemente in the on-deck circle or the dugout. And whether he knows where I might find additional news footage or a telecast of the game.
"I have something better than that," Duane says.
And he tells me another totally improbable story.
A few years ago, a Clemente fan named Lou Schmitt walked into the museum with several spools of Super 8 home movies that hadn't been seen by anyone in 35 years. And the tale of how he made the film was as incredible as the footage itself.
The phone is shaking in my hand as Duane retells it. I had been wishing for something, for something very specific, something that didn't exist, that couldn't exist, and now Duane was telling me that it did exist and he had it.
"How can I see this film, Duane?" I ask.
"When can you come to Pittsburgh?" he says.
Before I get on a plane, though, I call Lou Schmitt, who retired to Dallas a few years ago after a successful career in the consulting business. "I don't know if I'd still have the guts today to do what I did that afternoon," he says. "But I loved watching Clemente. I loved watching anything he would do."
How video of Clemente's 3,000th hit lends clues to which bat he used.

In 1972, Lou was a 26-year-old father living east of Pittsburgh, and a huge Clemente fan. He was watching from the right-field stands on the Friday night when Roberto had No. 3,000 snatched away by the official scorer. The next day he was sure the game would be sold out, but he knew he had to be there.
So he started to make a plan that would bring him just an arm's length from history.
He dressed his two sons, Dan and Boomer, in Pirates uniforms with Willie Stargell's No. 8 and Clemente's No. 21 on their backs. Then he and his boys and his wife, Carol, drove to Three Rivers Stadium early in the day and walked up to the players' entrance. Lou had dressed himself up in a suit, and he carried with him a Panasonic Super 8 movie camera with a tripod. He told the guard that his sons had won a contest to be honorary bat boys for the day.
The guard said he didn't know anything about it. Lou had anticipated this reaction, of course, because he had made it all up. He'd even prepared a response. Before he left home, he'd opened the Pirates' yearbook, turned to the staff page, and looked up the name of the Pirates' executive in charge of public relations.
ESPN The Magazine
Hall of Fame Issue
"Bill Guilfoile invited us," Lou told the guard.
In that case, the guard said, it should be no problem. "Bill is probably having lunch upstairs in the Allegheny Club about now. I'll call up there, get Bill on the phone, and we'll straighten this all out."
When the guard got my father on the phone, Dad said he didn't know anything about it, either. Now Lou figured he was screwed.
"Let me talk to him," Lou said, and the guard handed him the phone.
Lou pretty much confessed his scam to my dad. But he made his case as best he could. He said, "Mr. Guilfoile, my name is Lou Schmitt and my kids are here, and I'm a big Roberto fan and I would love to share this day with them. If you could get us on the field for a few minutes before the game, I'd really appreciate it."
My father said he couldn't do it. There were a lot of people who wanted to be on the field that day, including many VIPs and assorted dignitaries. "But I'll tell you what," my dad told Lou. "Call me in the spring. We'll arrange for your sons to be honorary bat boys at a game next season. They can come down on the field and meet Roberto and the other players next year."
Lou thought it was a kind offer, but he also knew he needed to get in the ballpark today, not next spring. He couldn't give up. He couldn't go home.
But he knew what he could do.
Into the phone he said, "Mr. Guilfoile, thank you so much! I can't tell you how much the boys and I appreciate that!"
And then he hung up.
"What did Bill say?" the guard asked.
Lou smiled. "He said we can go on the field!"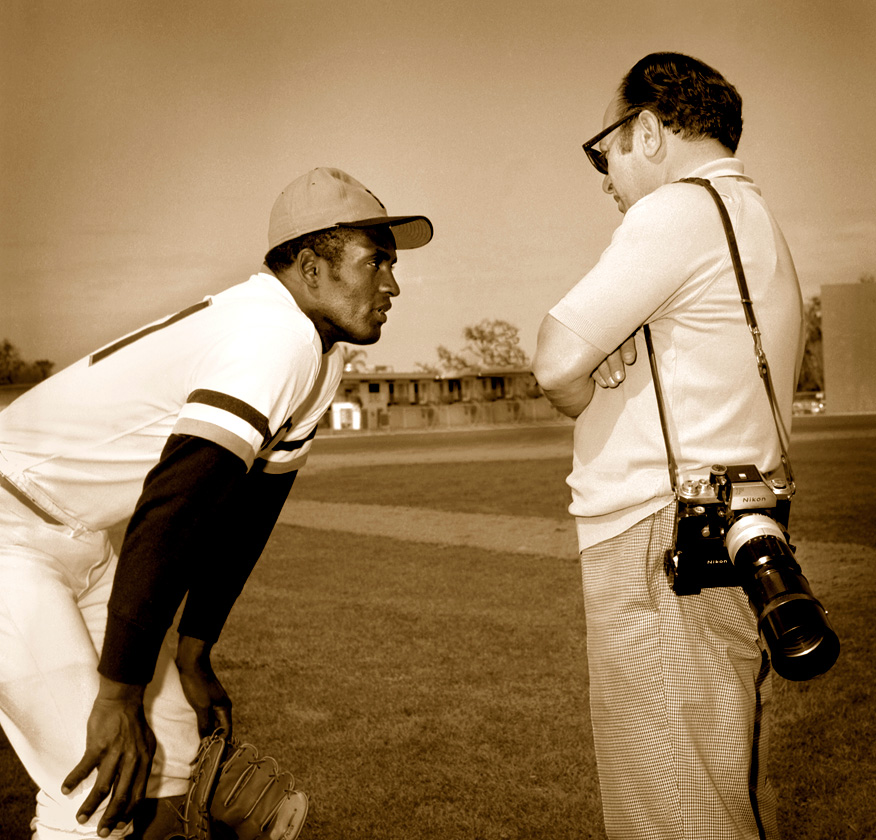 Clemente visits with photographer Les Banos.
The Clemente Museum

Shortly after the 1972 season, Roberto hosted a dinner in Puerto Rico honoring Pirates broadcaster Bob Prince. It was Clemente's way of showing his appreciation for Bob's many kindnesses to him over the years. My wife Loretta and I, and Bernadette and Nellie King (Bob's broadcast partner) had also been invited, along with Betty and Bob Prince, as Roberto's guests. During the dinner Roberto expressed his thanks to Bob and told him he had a special gift for him. He then presented Prince with a treasure only Clemente could give -- a treasure only Roberto would give: The silver bat awarded to him for winning the batting championship in 1961. It was a truly magnanimous gesture and one that left Bob Prince speechless for the first time in his life.
"Sorry about the smell. The grapes arrived over the weekend and we're doing the crush downstairs."
I am in The Clemente Museum, in the Lawrenceville section of Pittsburgh. It's an amazing space, a former firehouse where Lou Gehrig once slept while visiting a firefighter pal, with a photographer's studio and event space on the top floor, a beautiful museum dedicated to Roberto on the first and second floors, and, believe it or not, a fully equipped winery in the basement.
Duane founded the museum several years ago. He'd been working on a calendar for the Pirates and flew to San Juan to photograph some items at Vera Clemente's home. Over time, Vera and Duane agreed that many of these items, not just photos and contracts, but uniforms and Gold Gloves and World Series rings, should be on display in Pittsburgh, where Clemente's most devoted fans could see them.
Duane's first love is photography, and the museum has dozens of stunning photos of Clemente, as well as an enormous archive of negatives -- many provided by Les Banos.
But I'm really here to see Lou Schmitt's movie. And the story of this film takes me back, once again, to Sept. 30, 1972.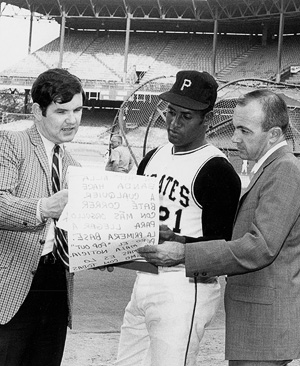 Bill Guilfoile, right, and Clemente became friends.
National Baseball Hall of Fame Library
After Lou hung up with my dad, the guard led the Schmitt family right into the dugout and left them alone with their Super 8 camera. Lou began to film. And as I watch his movie on a big Apple computer screen, I actually have chills.
The stands behind home plate are starting to fill in. Through Lou's lens, we see Bob Prince talking with one of the Pirates' coaches. We see future Hall of Famer Bill Mazeroski, who was about to retire, walking around with a plaque of some sort. Dan and Boomer Schmitt are watching from a distance. Les Banos makes an appearance in his black-and-gold Pirates jacket, camera in hand. Two other young boys are there, also in uniforms -- probably the actual honorary bat boys that day.
Suddenly Clemente appears, posing for photos and receiving his own plaques and accolades. At first Carol Schmitt keeps her boys out of his way, but Roberto finds them soon enough. He gives them each a finger to shake and then he kneels and signs their gloves with a pen. He could leave at that point, but he doesn't. He leans closer to talk with each of them. The boys are shy. He puts his arm around their shoulders. He asks them questions. He laughs at their answers.
Carol glances at Lou. Can you believe this? Are you getting this?
Cut to the first inning. Lou is in the photographers' well now, right next to the Pirates' dugout. Incredibly, no one has told him to leave. Roberto is in the on-deck circle, with teenage bat boy Tom Briercheck standing right behind him. The game has started, but Schmitt is interested only in Clemente.
Roberto has two bats with him. You can't make out the labels, but one of them clearly has the Adirondack stripe around the middle. When it's his turn, he lets the Adirondack fall to his feet and takes a Louisville Slugger to the plate.
The crowd is thin in the upper decks, but the fans are packed in behind home. They greet Roberto with a standing ovation. He lets the bat swing easily in front of him as he steps to the batter's box.
Settled in, Clemente takes two balls and a strike, then he swings, awkwardly, at Matlack's fourth pitch. He takes a stab at strike three, but he has no chance -- his body corkscrews 270 degrees past the ball. As the Mets jog in from the field, Clemente drops helmet and Louisville Slugger at home plate.
Walking back to the dugout, Roberto looks exactly like a guy who hadn't slept all night.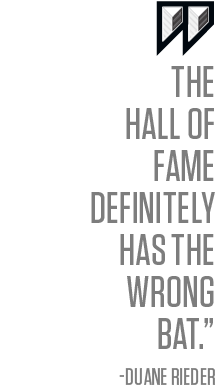 I know from talking to Lou Schmitt that after the third inning, Les Banos asks Lou for his press credentials, and when he can't produce them, Les tells Lou to leave the field. Lou is panicked. He's gotten this far. Roberto is leading off in the fourth, and he can't miss the hit.
Just then a cameraman for WTAE, Pittsburgh's ABC affiliate, leaves the photo area and climbs up into the stands behind first base. Lou follows him and finds an empty seat.
When Lou turns the camera back on, he's filming from a slightly higher vantage point, over the dugout. Clemente is leading off the fourth inning. Roberto has two bats in his hands, but then he stops and goes back in the dugout. When he re-emerges he has three bats. None of them has a stripe. He leans over next to Stargell, who's on deck, and asks Willie something.
Stargell grips the bats one at a time and wiggles them, getting a feel for each. Then he hands Clemente one of the bats. It's a bit of a shell game, but I think Stargell finally decides on the third one, the one Roberto went back into the dugout to get at the last minute. Clemente lets the other two bats fall to the ground and steps up to the plate. Two pitches later, he's circling first on his way to 3,000.
I step through this home movie like it's the Zapruder film. After about an hour, Duane asks me whether I've figured it out. I tell him, I think so.
Clemente goes out in the first with his usual Louisville Slugger and my dad's Adirondack. He strikes out with the Louisville Slugger.
We don't see it on the film, but we can assume it's sometime in the bottom of the second inning, after the Pirates come in from the field, when Roberto tells Tony to make the Adirondack stripe disappear because he wants to use that bat the next time up. In the fourth inning, he walks out with the Louisville Slugger and the scraped-off Adirondack, then goes back for a second Louisville Slugger.
I had checked with Hillerich & Bradsby and discovered that Clemente ordered three different weights of bats from them that year -- the 36-ounce bat he preferred, plus a number of 37- and 38-ounce bats. My guess is that, in the fourth inning, Roberto went out to the on-deck circle with a bat of every weight: He had the 36-ounce Louisville Slugger that he struck out with in the first, the 37-ounce Adirondack with the stripe missing, and a 38-ounce Louisville Slugger that he retrieved from the bat rack at the last minute. I suspect Stargell chose the 38-ouncer.
So Clemente drops the Adirondack and one of the Louisville Sluggers in the on-deck circle and Tom Briercheck picks them up while Clemente hits. Tom holds on to them, as he usually does, in case Roberto breaks his bat and needs another quickly. After Clemente gets the hit, Tom runs out to home plate and picks up the Louisville Slugger Roberto used. Then he heads back to the dugout with all of the bats in his hands.
Meanwhile, Tony Bartirome, who never saw the back-and-forth between Clemente and Stargell, assumes Roberto used the Adirondack as he said he would. Tony takes that bat from Briercheck and hides it away. It happened exactly the way Tony saw it. He was just missing one piece of information. After consulting with Stargell, Roberto changed his mind at the last minute. He used a different bat. A Louisville Slugger.
I call Tom Briercheck and ask him whether my theory is possible. "I always thought he used the Adirondack," Tom says. "But if you're sure from the photos that he used a Louisville Slugger, then that's probably exactly what happened."
Forty years after Roberto's 3,000th hit, and almost 20 years after Tony Bartirome told my dad a completely convincing but impossible story, the mystery was finally solved.
I go over the Schmitt film one more time with Duane. "So after the game, my dad goes down to the clubhouse, asks Roberto for the bat, and he gives Dad the Louisville Slugger he got the hit with."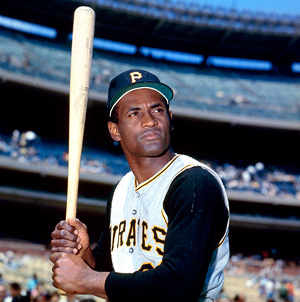 Before stars distanced themselves from fans, Clemente embraced his.
Louis Requena/MLB Photos/GettyImages
"No," Duane says.
"What do you mean?" I say.
He says, "The Hall of Fame definitely has the wrong bat."
I ask Duane what he's talking about.
"Watch the end of the film," he tells me.
Duane and I watch the rest of the movie together. Clemente comes out of the game shortly after his hit and retreats into the clubhouse to celebrate with a small entourage of his friends. Incredibly, Lou and his camera follow them right into the Pirates' locker room sanctuary.
You could never, ever do that today. Lou Schmitt has more balls than a batting practice pitcher.
Looking at this film is like staring into a crystal ball. We shouldn't be able to watch this scene from so long ago, yet we do. Vera comes down, and Roberto meets her tenderly by the clubhouse door. We see Les Banos snapping photos again, as well as a number of Clemente's friends. One of them appears to be José Santiago, a former major league pitcher, also from Puerto Rico. He is carrying a bat.
Duane pulls a photo from his files, a picture Les took right at the same time Lou Schmitt was in the clubhouse shooting his Super 8 film. Clemente is still in uniform. Santiago is wearing the same suit he's wearing in the home movie. They are holding a bat together, apparently presenting it to the lens as the bat he hit 3,000 with.
"The bat in the Hall of Fame is much cleaner than this bat. It doesn't have as many ball marks."
I had seen the bat in the Hall hundreds of times as a kid. I'd recently seen a photo of it. That bat is pretty clean, and the bat in this photo looks like it had been used in a few games. The handle looks like it might have more pine tar than the Hall's bat. But this photo of Clemente and Santiago was taken almost 40 years ago in a dark clubhouse. Could I say for sure that the bat in this photo is different from the bat in the Hall of Fame? Duane seems certain, but I'm not.
"If the real bat's not in the Hall, where is it?" I ask.
Les Banos claimed that Clemente gave the bat to Les' son, but Duane doesn't think Les ever had it, either. He tells me of a rumor that a family out East claims to have it. They were close to the Clementes, and they say Roberto gave the real one to them that day.
"Wait," I say. "So it's possible Roberto told at least three different people, including my dad, that he was giving them the bat he got his 3,000th hit with?"
"Looks that way," Duane says.
The mystery surrounding the bat endures.

Back home in Chicago the next day, I call Ted Spencer in Cooperstown. Ted's retired now, but he was curator of the Hall of Fame for 27 years and was a close colleague of my father. He knows the Hall of Fame's Clemente bat as well as anybody. I tell him what I saw in Pittsburgh. I tell him about the trio of alleged 3,000th-hit bats that might be out there.
Ted doesn't sound surprised.
Photo gallery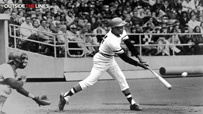 3,000 hits. Three bats. One enduring mystery.
Photo gallery

"Every bat in the Hall of Fame has a story like this," he says. "Do you know how many Boston cops claim Ted Williams gave him the bat from his 500th home run?" Ted explains that back then memorabilia wasn't the business it is today. Players would frequently tell their friends -- sometimes multiple friends -- that they were giving them this bat or that ball as a special gift. It made them happy. To Ted Williams, having a bunch of cops who owed him a favor was probably more valuable than any old bat.
One of the impressive things about the Clemente bat in the Hall, Ted says, is that its provenance is rock solid. Clemente gave it to my dad specifically for the purpose of sending it to the Baseball Hall of Fame. My father was close to Clemente, and Clemente gave him the bat to preserve it for posterity. "No one who knows your father would ever question his integrity," Ted says.
I ask him about the picture Clemente took with José Santiago. Personally I can't say for sure, but I can see how someone, like Duane Rieder, might look at that photo and say the bat looks dirtier than the one in the Hall.
Ted reminds me of the iconic photo of Bobby Thomson kissing his bat in the clubhouse after he hit the home run giving the New York Giants the National League pennant in 1951. "The bat in that Thomson photo isn't the real bat," Ted says. Both Bobby Thomson and Giants pitcher Hal Schumacher confirmed that the actual bat wasn't nearby when the photographer was ready to take the picture. They just grabbed any old bat, because it was convenient. But everybody who looks at that photo assumes it was the bat that launched The Shot Heard Round the World.
With memorabilia, provenance is almost everything. In a way, the 3,000th-hit bat didn't become the 3,000th-hit bat when Clemente smacked that double into the gap. It became the 3,000th-hit bat when Roberto gave it to the Hall of Fame and said, "This is the bat I did it with."
The bat isn't the valuable thing. It's just a bat like every other. It's the story that's valuable. And it was Clemente himself who attached the story of his 3,000th hit to that Louisville Slugger in the Hall of Fame.
Whether or not he used it to get the hit, Roberto cast a spell on that bat when he handed it to my dad. It would take more than an old photo to undo that magic.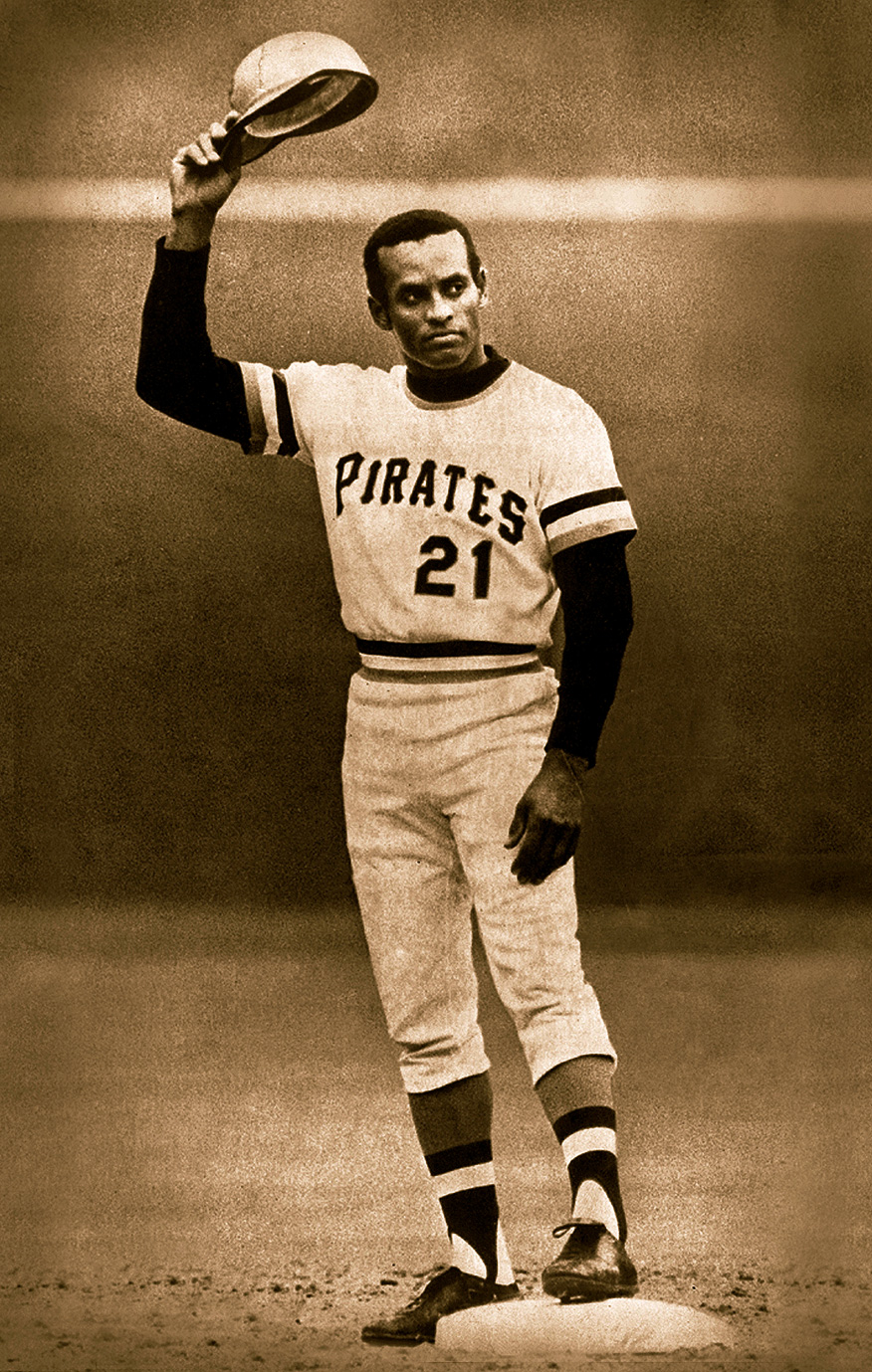 Three thousand regular-season hits made Clemente a sure bet for the Hall of Fame.
Les Banos/The Clemente Museum

I'm watching the Schmitt movie again. But I'm no longer interested in a frame-by-frame dissection of Roberto's movements in the on-deck circle. Now I'm watching Roberto before the game, talking to Dan and Boomer, Lou Schmitt's kids.
This was one of the biggest, most stressful days of Roberto's life. He had to know that he would be remembered for his 3,000th hit as much as anything he did in his career. We know he hadn't slept the night before.
But here he is just minutes before the game, laughing with a stranger's kids, a couple of kids who shouldn't even have been there. And he's giving them a lot more time than he needs just to humor them. After he said hello and signed their gloves, he could have walked away and it would have been one of the best days in these boys' lives. But he doesn't leave. He doesn't look as if he has anyplace else to be.
When you're as talented and famous as Barry Bonds or Roberto Clemente, too much is going to be expected of you. The demands on you will never end. And you can react to those demands in a number of different ways. Barry Bonds decided that he would just never give anybody anything, because he knew if he gave them one thing today, they would ask for three things tomorrow. And he was probably right about that, as wrong as it must have been for his soul.
Roberto decided to do the opposite. If you asked him for one thing, he gave you four. He worked hard to become one of the best who ever played the game, then he gave away the trophies that proved it.
He gave as much as he could. He gave more than he could.
On the day of one of his biggest triumphs, he might have told three different friends he was giving them the same historic baseball bat.
He never stopped giving.
He gave right up until the day that giving literally killed him.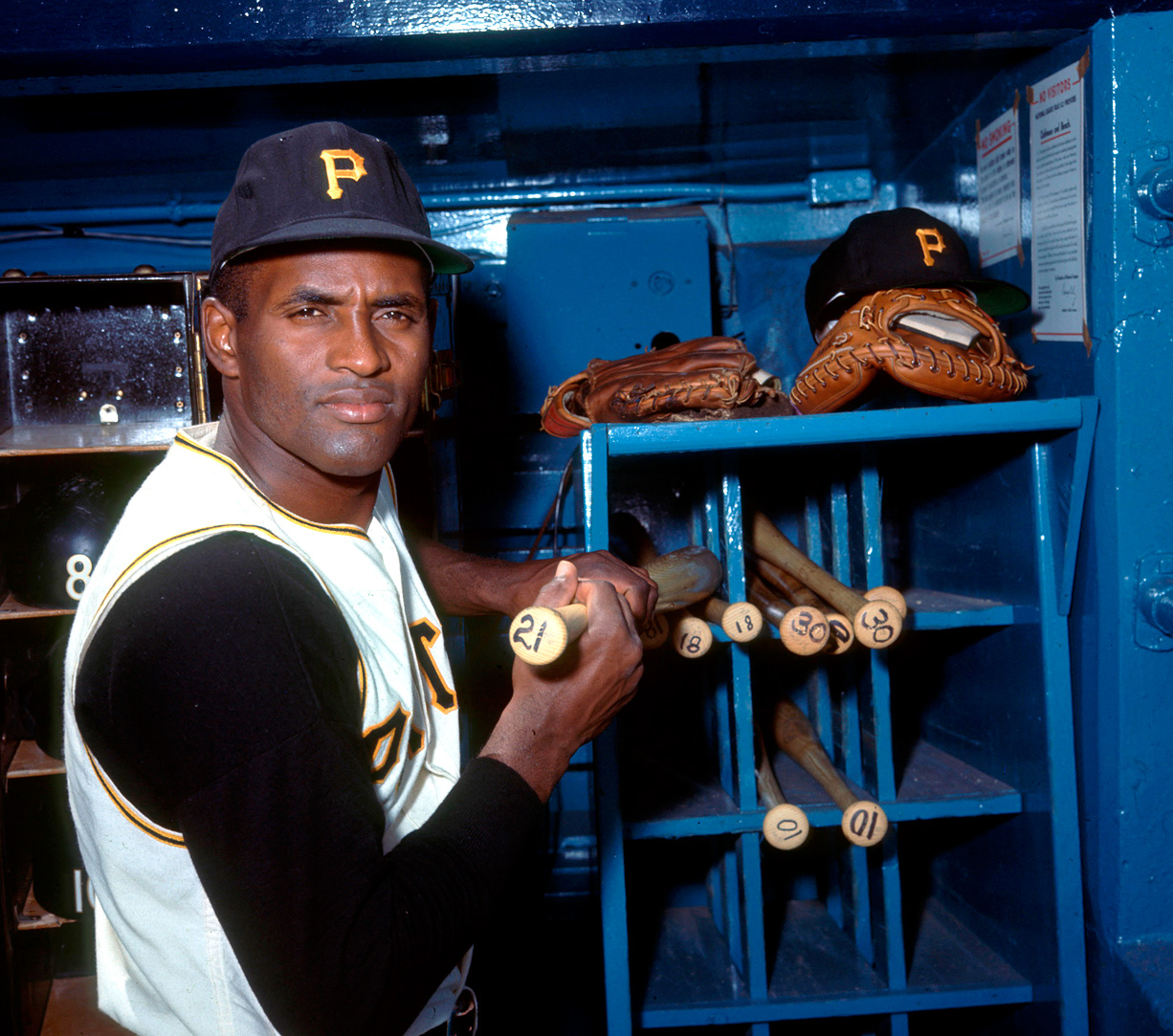 "Thanks for the privilege of playing for the Pirates," Clemente wrote to team president Dan Galbreath several weeks before Clemente died. "I couldn't ask for better teammates and the Pirate fans are the greatest in baseball."
Malcolm Emmons/USA TODAY Sports

My dad and I are on the couch in his room at the nursing home, watching Lou Schmitt's movie on my laptop. I tell Dad how Lou used his name to sneak into the ballpark that day. Dad doesn't remember his phone conversation with Lou, nor does he understand the forehead-slapping, "Back to the Future," time-traveling significance of it all -- that Dad played an unwitting but critical role in the making of an amazing film that, four decades later, we would use to discover the true history of his bat. But he thinks the story's really funny.
Watching the video he tears up a few times. I can't tell if it's out of nostalgia or because his memories of that day have turned into shadows. "There were some good players on that team," he says. Four or five times, he says, unprompted, "We had some good days, didn't we?"
I ask him whether he remembers going down to the clubhouse to get Roberto's bat after the game. He does. "Were there a lot of reporters?" I ask.
"Not too many," he says. "Some."
"Did Roberto have the bat right there with him? At his locker?"
"No," Dad says. "He had to go and get it, as I recall." He sounds a little surprised even as he says it. But he doesn't remember much else.
My youngest son is in a chair playing Angry Birds on my phone. A few hours into our visits, my father will almost always begin to call him "Kev," mistaking my 5-year-old for me. When this happens, I always wonder who he thinks I am. Sometimes Dad gets very formal, shaking my hand as if we had just met, and thanking me for coming. When it happens today, perhaps because we talked for so long about the Pirates, he apparently thinks I'm a ballplayer.
"You set such a good example for the other players," he tells me. "You were so nice and so accommodating to the fans. The other players looked up to you, and followed your example. That made my job easier. Thank you."
I tell him it was no problem.
"Your family was always so nice to everyone, too," he says. "I appreciated that."
On the way home, we stop by Mom's condo to pick up a few things. I wander into my dad's old office and pull Clemente's Adirondack off the wall. It's enormous -- probably four inches longer than the Mickey Mantle Louisville Slugger next to it.
Mom shows me a picture of her and my dad when he was in the Navy and they were still dating. They're standing with my grandmother in front of Yankee Stadium, where just a few years later Dad will go to work each day. I think of all the stuff that happened between that picture and now that he can no longer remember. I think about how smart he was to write so much of it down. To leave a trail we can always use to find him.
We had some good days, didn't we?