Comfort Zone
Elena Delle Donne, Skylar Diggins and Brittney Griner couldn't be more different on the court, but they all found the same secret to success right in their own backyards.
By Graham Hays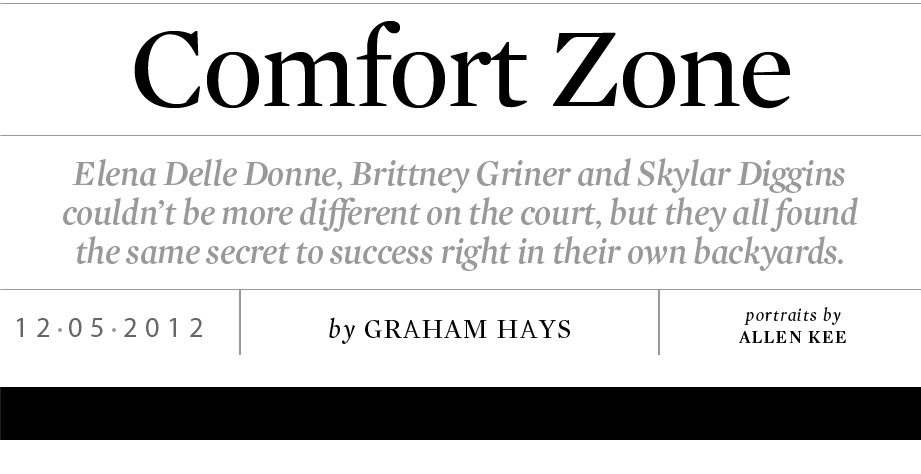 Brittney Griner, Elena Delle Donne and Skylar Diggins talk with ESPN's Kevin Negandhi about this season's expectations and what they respect most in each other.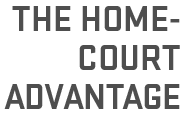 In the depths of a Texas summer, the heat and humidity set up shop well before dawn's first light and linger like party guests long past dusk. A girl, clothes caked in dust and soaked by sweat, face red from some combination of exertion and sunlight, charges into her house for a glass of water. She stubbornly ignores her mother's pleas to sit down and cool off for a few minutes, rushing back to whatever adventure awaits.
Another girl silently watches older kids play basketball. It's cold outside, snow blanketing the ground in South Bend, Ind., a sacred place for college football but also the heart of basketball country. The court is in the recreation center her stepfather runs, but the girl, no more than 6 years old and until recently reluctant to leave her mom's side, is in the background, observing, unnoticed.
In a suburban Delaware house, the basket is shorter and the court nothing more than a basement. A brother and sister play games of one-on-one with the intensity of a Final Four. The brother, three years older and a little too big, too strong for her, takes the lead. She throws a fit and storms away. He waits. He knows she will soon return to begin again.
---
Watch: Women's Basketball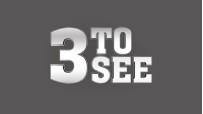 Brittney Griner, Skylar Diggins and Elena Delle Donne are "3 To See" this season on our networks, including Wednesday's big showdown between Baylor and Notre Dame (ESPN2/WatchESPN).
If nothing more than a coincidence of timing connected Brittney Griner, Skylar Diggins and Elena Delle Donne, it would be enough.
If they had nothing in common but a shared gift for basketball, it would be enough to bind their stories, three women redefining what is possible in a sport as they complete college careers and enter the WNBA together.
They are, after all, different in so many ways. Different in size. Different in talents and temperaments. Different on matters of style and substance. Different as basketball players.
The reigning national player of the year who led Baylor to an unprecedented 40-0 record last season, Griner is a physical marvel, a 6-foot-8 post player without an ounce of awkwardness about her. It's just one small measure of her game, one not nearly as noticed as her dunks, but she alone blocked more shots last season than any of the other 335 teams that were full-fledged Division I members.
"Watching Brittney, she just dominates a game," Delle Donne said. "You watch other teams, and their whole mindset is 'How can we shut down Brittney?' And going into games with that mindset, they still don't. It's awesome to watch something like that. She's changed women's basketball."
The same could be said of Delle Donne. Just three inches shorter than Griner, the Delaware star has the kind of ball skills, agility and shooting touch historically reserved for players a good deal shorter, in addition to the post skills to go from guard to center in the course of any given possession. Teams are helpless to defend her. She sank 550 shots from the field or the free throw line last season and committed just 55 turnovers.
Diggins and her Irish teammates said Delle Donne's multifaceted game reminds them of that of NBA star Dirk Nowitzki.
"I love the way that she can score anywhere," Diggins said. "You have to contest the 3; you have to watch her off the dribble; and you have to also know how to play some post defense on her."
The unprecedented size most associate with Diggins is that of her Twitter following, more than 279,000 strong (Notre Dame football coach Brian Kelly, by comparison, trails by around 200,000 followers, star linebacker Manti Te'o by almost as many). But if she looks like other players in the layup line, the similarity soon fades. No slouch of a program, Notre Dame reached two Final Fours before Diggins arrived. She is intent on appearing in her third straight in April.
"I'm glad I'm not Odyssey," Griner said in reference to Baylor point guard Odyssey Sims. "I would not want to guard [Diggins] at all. It's crazy; she's just too quick. Dang, I'll stay down in the post."
The three players are different, but also connected by that very uniqueness, bringing degrees of athleticism and fame not seen before in women's college basketball. But they share more than that. Whether a matter of a few miles across town or a few hours through Southeast Texas, all remain close to their roots, close to those young girls they were.
It is where Griner found the space to be herself.
Where Diggins learned to live in the spotlight.
Where Delle Donne is surrounded by her biggest fans.
They are linked by where they have the potential to take a sport, linked by where they come from.
When Baylor star Brittney Griner needs an escape from campus, she usually picks up a kayak and heads to the nearby Brazos River.
Graham Hays/espnW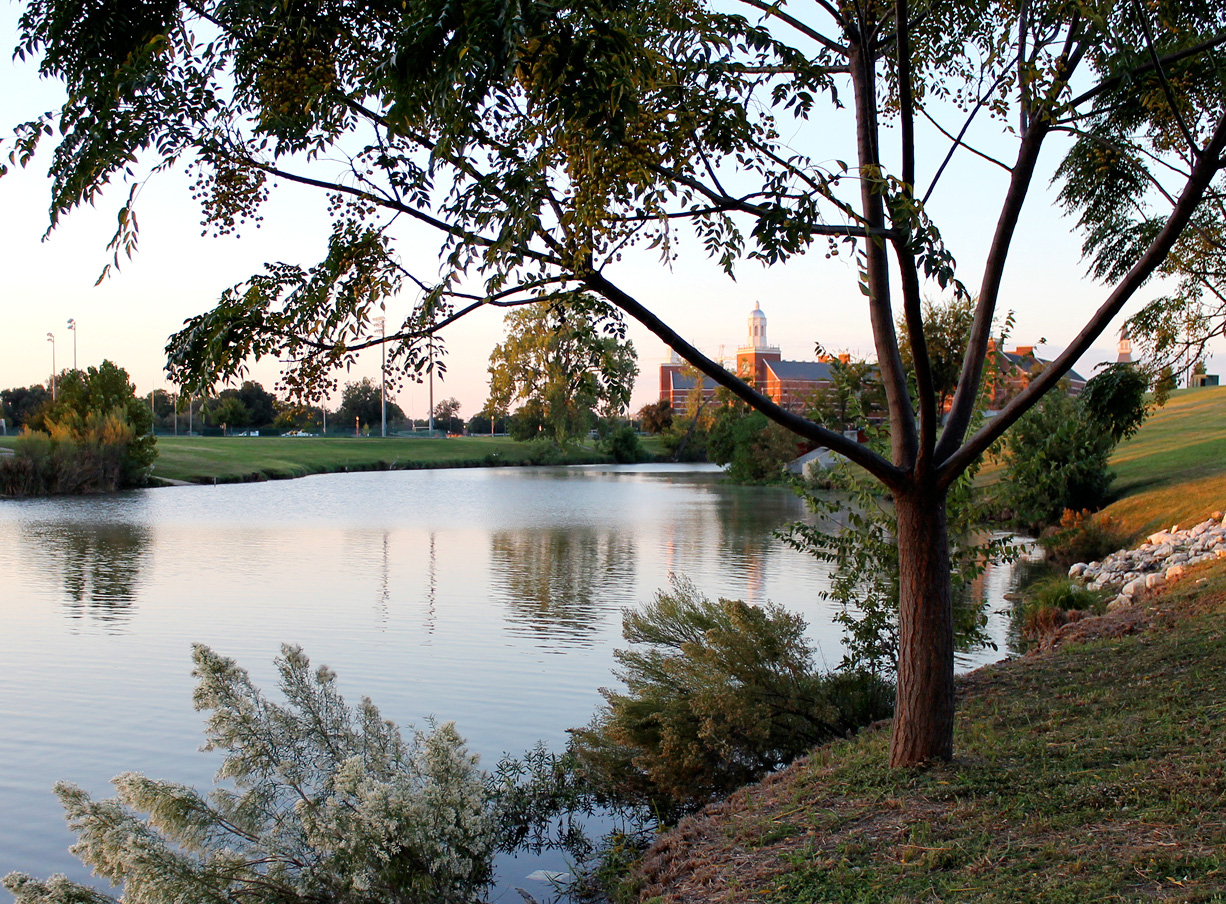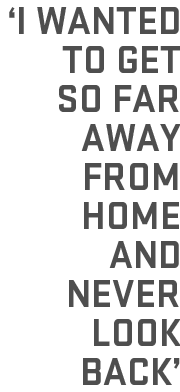 Growing up in Houston, Griner thought about college in the same way many kids think about such an abstract notion, whether they be tall or short, athletes or otherwise. The unknown trumps the known if the latter comes with curfews and chores.
"At first," Griner said, "I wanted to get so far away from home and never look back."
There isn't much hustle and bustle to escape in Waco, but floating in the middle of the Brazos River on a summer afternoon is as good a means as any.
One of the longest rivers in the United States, yet one that runs its course entirely within the borders of Texas, the Brazos marks the northern edge of Baylor's campus. The rumble of heavy machinery on the far bank, site of a new football stadium that will soon tower over the riverfront, sporadically intrudes on the serenity, but from an inlet on the opposite bank, you can hear the softer sounds of a clock tower chiming each quarter hour. Upstream and downstream, bridges carry ceaseless highway traffic over the river. A six-lane boulevard runs parallel, just a few hundred yards from the river. And still the water, with all its coves, crannies and nooks, seems to occupy a separate space, not unchanged by what surrounds it but decidedly unbothered.
This is where the most dominant player in women's college basketball, perhaps the most dominant the sport has ever seen, comes to be someone other than the subject of those labels. This part of the river is one of her favorite places in town. Never mind that, as she is quick to point out, she cannot swim (nor, despite Diggins' deadpan suggestion, can Griner simply stand and touch bottom if trouble arises). Griner comes often, dons a life jacket, borrows a kayak or paddleboard from the student marina, and ventures out, often returning sunburned and red from the unrelenting sun.
Like the wheeled longboard on which she is regularly spotted around campus -- sometimes riding in the middle of that same six-lane thoroughfare near the river but no longer down the parking garage ramp that left her with an injured wrist this past spring -- the river wasn't part of Griner's routine when she arrived. She just decided the kayaks looked intriguing. Curiosity, in her world, is easily alleviated by action. Or, as she explained in recalling the puzzled looks directed her way when she rolled down a stadium ramp during the Big 12 championship, like a kid rolling down a grassy hill: "It's fun. Try it; you might like it."
One constant during Brittney Griner's time at Baylor: unwavering support from coach Kim Mulkey.
Paul Moseley/Fort Worth Star-Telegram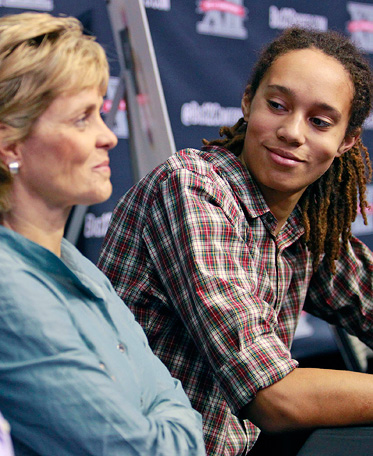 "It kind of hit me a little hard because I'm not there, I couldn't help her, couldn't be there for her."
-- Brittney Griner on her mother's battle with lupus
There is unmistakably a tinge of Peter Pan to Griner. It's there in her love of all things outdoors, of bikes, boards and boats, but also in the mischievousness hiding beneath the poker face she often exhibits in public. She genuinely seems to enjoy making people around her laugh, even when she talks about kayaking and describes her version of swimming, i.e., rolling out of the kayak with the life jacket on and bobbing around in one of the sheltered coves. She is no more reluctant to make herself the subject of the joke than she is apprehensive about people gawking at her height. She is self-assured in almost the way kids are before they are aware of any reason to feel otherwise.
Yet there is depth and complexity in someone who has been given reason to feel otherwise. It is striking how unfailingly comfortable she is in a world too often ill at ease with her. She is different. She likes being different. She just didn't need to go somewhere different to prove it. To leave Texas and never look back would have been inconsistent with that. It's part of who she is, and she likes who she is.
She is also a basketball player unlike any seen before in the women's game, improving more quickly than anyone is figuring out how to stop her. Far more quickly. Whatever else there is, whether she is made out to be saint, sinner or something in the middle with the rest of us, that is enough to make her compelling, to merit our attention.
No player faces greater expectations on the court, where anything short of multiple championships risks the suggestion that she somehow disappointed. No player remains the subject of more hateful words from the anonymous safety of Internet message boards and arena crowds, crude comments that mock her size and her voice or question her gender. No player has more reason to be frustrated, yet few players seem to care less.
"There's always something somebody can always say about you, no matter what you do," Griner said. "So I just do what I need to do to be OK, and if somebody has something they're going to say about it, that's their opinion."
Griner came late to organized basketball. Although Delle Donne had a personal coach when she was in grade school and Diggins played AAU ball against high school standouts when she was in middle school, Griner arrived on the scene as a 6-foot freshman on the junior varsity at Nimitz High School in Houston, a raw prospect who Baylor coach Kim Mulkey recalled wasn't familiar enough with the game to know to put her hands up on defense. The would-be phenomenon grew up more interested in finding new and potentially calamitous ways to entertain herself outdoors, digging holes in her mom's yard, climbing trees, even snapping the frame of a go-kart twice in a matter of months with the kind of driving that would make Travis Pastrana blush.
Soccer and volleyball fought for her attention, too -- she is still as good a bet as anyone in Waco if you want to debate the footballing merits of Barcelona's Lionel Messi and Real Madrid's Cristiano Ronaldo (for the record, she leans slightly toward diminutive Messi). We see her through the prism of basketball; she sees the world in much wider focus.
Yet even by the time Griner arrived in Waco, it was already apparent the freshman, who grew to 6-foot-8 and gained national attention in large part for her ability to dunk, was the most important player in the sport.
"The first day we could get on that floor, when I saw that kid go up and basically goaltend and go up and just dunk it effortlessly, I had to be careful not to get too excited," Mulkey said. "I didn't want to just jump up and down and pump my fist and high-five because you want to act like you've seen it before.
"But I realized I've never seen this before, and don't think I'll ever see it again."
Griner was also a teenager and on her own for the first time. Part of the allure of Baylor had been its proximity to home; she had gone to plenty of games over the years to watch former AAU teammates who played for the Lady Bears and knew her parents, siblings and friends could make the same trip. But roads leave Waco in more than one direction, and as much as the idea of "anywhere but here" had once appealed to her, the tangible temptation called.
"I didn't have that much freedom growing up, just because my dad was a cop and an ex-Marine, so he was really strict. Really strict," Griner said. "So [in college], I had freedom; I could go and come as I please. I was always on the move; I couldn't sit still. … Any time I had a chance to get out of Waco, I was going somewhere."
Brittney Griner and Baylor went 40-0 last season en route to the national championship.
Chip Somodevilla/Getty Images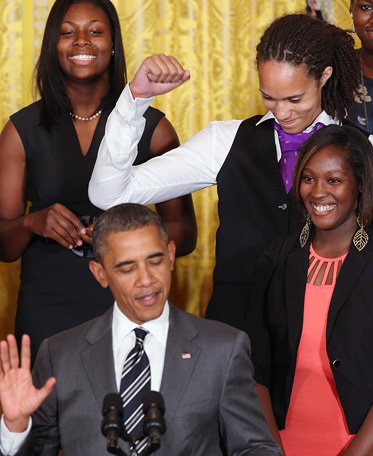 Then, halfway through her freshman year, her mother, Sandra, was diagnosed with lupus, an autoimmune disease that, although treatable, has no known cure. The trips anywhere the road would take her grew less frequent and the trips home more frequent, the three hours between Waco and Houston not insignificant but a blessing in comparison to some of the more distant campuses she had once considered.
"It kind of hit me a little hard because I'm not there, I couldn't help her, couldn't be there for her," Griner said. "I would call her, and she'd be crying. It was hard."
In addition to those private travails, she brought unwanted national attention on herself in the wake of a road game at Texas Tech late that season. In a scene that was replayed again and again on television at the time and that lives forever in online clips, Griner was ejected for punching Jordan Barncastle and breaking Barncastle's nose after the latter was whistled for a foul as the two battled for position in the low post. Griner apologized publicly, was suspended one game by the Big 12 and an additional game by Baylor and received further punishment from the team, the specifics of which Mulkey keeps private to this day, save to describe it as "severe."
"She has her flaws, like we all do," Mulkey said. "She's not perfect, as the world got to see. She has her meltdowns and her low moments, but you don't allow that to define a kid. As I told Brittney, the one bad incident will not define you. …
"Was I surprised it happened? We all were. It was a knee-jerk reaction that was awful, but I think the way she has handled it since speaks volumes about her heart because Brittney does want to please people, she does have a heart."
It was at about that time when Griner first found the kayaks. She occasionally talks teammates into joining her on the river these days, but her most common companion has long been Briana Tolbert, a fellow Houston native and former Baylor volleyball player who graduated last year. Tolbert played basketball and volleyball against Griner in high school, but the two didn't forge a friendship until their hometown connection brought them together in Waco. As Tolbert got to know Griner that first year, she saw someone growing, rather than shrinking, amid the adversity.
"I remember multiple talks that we had wherever we were about her mom and about all the stuff that was going on," Tolbert said. "And she didn't really want to talk about the whole Barncastle thing much, and I guess the same with her mom, too. She's a private person. She's so strong that she's not going to put her feelings or emotions out there as much. So a lot of the time, if you don't know her, you won't too much know what's going on.
"She gets stronger and stronger every year with stuff she encounters and challenges she faces. She takes it and builds on it."
Close enough to her hometown to maintain a connection in times of challenge, Griner also had the freedom in Waco to find her own way, to stumble and struggle at times but find her own path. Around campus and Waco, she is a celebrity, the biggest now that Robert Griffin III is gone, but no longer a curiosity.
"It's not that [the buzz] has fallen off, but I think everybody realizes that she's a human, too," said Hanna Gilmore, a member of the soccer team. "She's still the hub; if somebody meets Brittney Griner and takes a picture with her, it's a big deal. But it's not out of the ordinary to see her riding her longboard in our neighborhood. You're just like, 'Oh, there's Brittney.' She's just kind of a big goober now. It's not like, 'Sign an autograph, sign an autograph.'"
What comes next is the unknown. Barring some unexpected and improbable maneuvering by the WNBA team in San Antonio, it won't be in Texas (Phoenix is expected to select Griner with the No. 1 overall pick). But it won't be a teenager who moves away, either.
"I'm curious, I worry, I'm proud; I'm all those things that you would be as her coach," Mulkey said of her feelings about what's ahead. "The worry is that she's not here, [where] I can see her every day. And I know what the real world can be like; I know what she faces. But I hope that we have prepared her for that real world -- and it can be cruel sometimes."
However far away Griner goes, it will help to have four years on the Brazos to look back on.
Frankie's is a South Bend staple. It is also a reminder of home for Notre Dame guard Skylar Diggins.
Graham Hays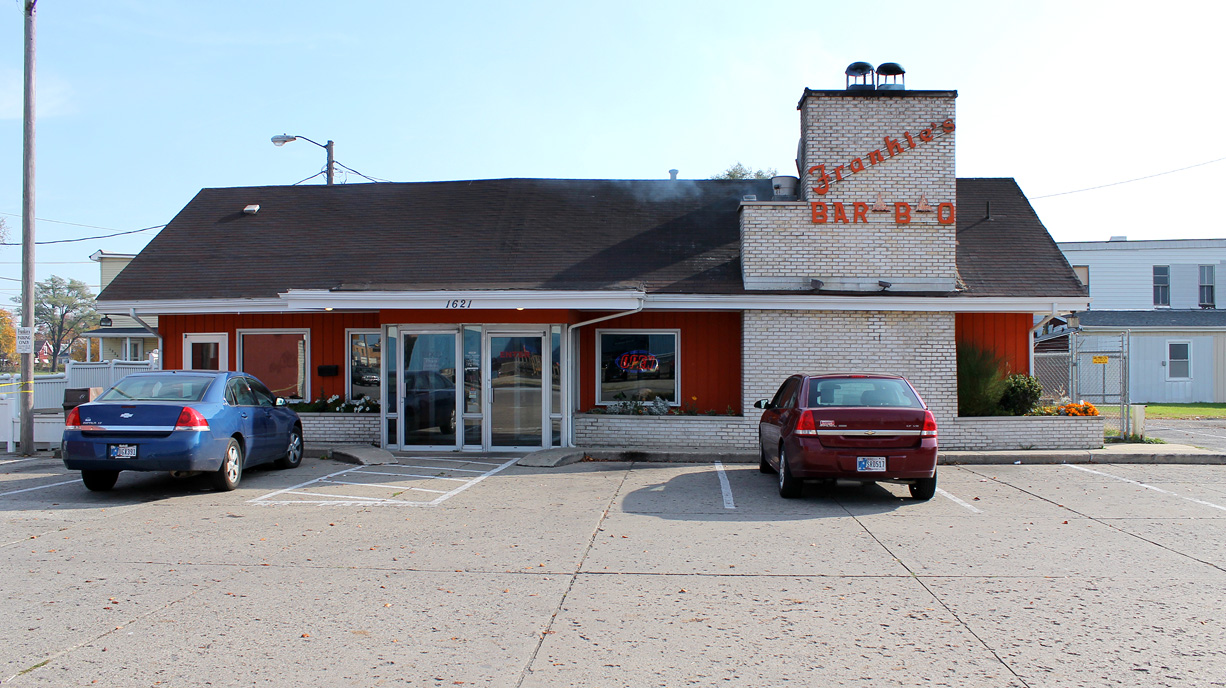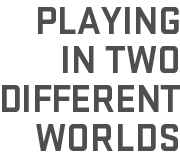 Renee Scott was almost positive her daughter was bound for Stanford when Diggins went to sleep the night before she was to pick a college. Notre Dame coach Muffet McGraw feared the worst when she looked up from the bench the next day and didn't see Diggins in her usual seat in the stands. Even after Diggins finally arrived, McGraw was left rationalizing with herself that surely a recruit wouldn't deliver bad news in person. It wasn't until Diggins strolled into the locker room, looked at a box score and wondered aloud where she would find minutes the next season that all involved breathed a sigh of relief.
"At first, like I think most college students, you just want to go away to get a different experience," Diggins said. "My alternate school was going to Stanford, so Cali and that scene, coming from small South Bend, Ind., I was going to be in the hot weather -- and once you get in, you usually go to a school like that."
Venturing a little ways beyond the Golden Dome helps explain why she didn't.
Start in the shadow of Touchdown Jesus on the campus of the University of Notre Dame and head west away from the school, then south, then west once more. Cross the St. Joseph's River and pass through a nondescript downtown that could double for any of a dozen Midwestern municipalities, buildings hugging the ground in a nod to practicality rather than scraping the sky. Continue past a cemetery and follow Washington Street to where it curves, blocks of residential houses and plentiful churches meeting industrial buildings near a railroad.
The whole trip covers less than four miles, but that's enough for it to feel like a different city.
Skylar Diggins and Notre Dame fell to Baylor in last season's NCAA championship game.
AP Photo/Eric Gay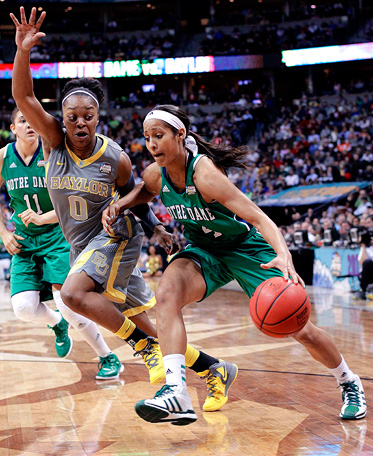 "I don't think I can recall one moment of me going to the mall and somebody not telling me they're Skylar Diggins' cousin."
-- Notre Dame teammate Natalie Achonwa on Diggins' local popularity
Sitting on that curve in the road is a South Bend institution that has nothing to do with Knute Rockne. Frankie's Barbecue has been around for more than 40 years, a place that doesn't need a prime location because people know to search it out, usually by the smoke rising from the kitchen. You can get heart-unhealthy portions of beef ribs, pork ribs, chicken, turkey or even catfish, but if you want the specialty, order the rib tips, served, like so much good barbecue, on top of white bread that soaks up the sauce.
On an unseasonably warm fall morning shortly before the start of the basketball season, a man waits impatiently -- it's five minutes past the posted opening time, but Frankie's remains closed -- in the parking lot. He is reluctant to give his name, and it's clear he is not much of a women's basketball fan, although he nearly pulls Ruth Riley's name from somewhere in the depths of his memory in reference to the star of Notre Dame's 2001 national championship team.
But it's a different story where Diggins is concerned. Sure he knows about her; he points out that she is from this neighborhood and that her parents still live close by. He asks whether the WNBA pays well enough for her to buy them a bigger house.
In a city of roughly 100,000, there are surely people who don't know anything about Diggins, but good luck finding them. It's difficult enough finding people who don't claim her as their own, like long-lost descendants of royalty.
"I don't know if everyone actually is related to her, or if everyone just claims they're related to her," said Notre Dame teammate Natalie Achonwa, introduced to the phenomenon upon her arrival from Canada a few years ago. "But I don't think I can recall one moment of me going to the mall and somebody not telling me they're Skylar Diggins' cousin. That is one thing my whole team can vouch for."
Two blocks from Frankie's is the Martin Luther King Jr. Recreation Center, where Diggins spent many of her waking hours growing up, her stepdad the center's director. Given the proximity, it was easy for her and her brother to run over and grab some barbecue, or for the family to stop in for a meal amid the hectic schedules of practices and games. Beyond the center itself and its small basketball court, the playing surface gleaming with obvious care, Frankie's is the place she identifies as the most evocative of her South Bend, the kind of place that takes on additional meaning when you learn a city from the inside out by growing up there.
"Just being able to go to those restaurants, those hole-in-the-wall restaurants, that's what I like about my hometown," Diggins said. "Everybody has that place special to their hometown that you know where you can go to get good food."
Much of what we know of Diggins comes from the years after she arrived on campus at Notre Dame. But much of what made her that person comes from the other side of town. She goes to Notre Dame, but she is from South Bend.
Nowhere is Diggins more recognizable or more of a celebrity than in her hometown. For all the national notoriety that comes with being an All-American and exchanging tweets with Lil Wayne, the spotlight first found her here. This is where people still tell stories about a game from Diggins' freshman season at Washington. Those who could get in -- and, of course, the telling now goes that there wasn't a parking spot to be found -- saw Diggins score 43 points in a win against a local heavyweight that only further fueled the ascent of a local legend. This is where fans from the west side of town, her side of town, queued up around the block at the recreation center to buy Notre Dame season tickets before she ever played a college game.
She brought all of that with her to college, like most freshmen bring sheets and a mini-fridge.
"This is a college town, but it's two different worlds, especially on the west side," Maurice Scott said of his stepdaughter. "I think Skylar helped bridge that gap with the university and the west end. Prior to her going to Notre Dame, there wasn't a lot of involvement from west-siders, if you will, participating and going to games and being part of Notre Dame women's basketball. But that quickly changed."
When it came to choosing a college, Scott told Diggins it was her choice. He also made his own rooting interest clear. He explained the math as he saw it: If she went to a place such as Stanford, her mom might be able to come see her play four times over the course of her career, he might be able to make it twice and her brother might come once. Distance had its consequences. But Renee, who one gathers doesn't lose many arguments she cares to win, also wanted Diggins to weigh all options (visit small schools, big schools, schools far away and close to home), aware of how easily the warm embrace of home can become a suffocating hold.
"Part of that, at least my concern, was the fact that she did grow up from this area," Renee said. "People were familiar with her, the expectations were so high and she was going to be in even more of a fishbowl in this area; they were going to expect what she did in high school to continue on at the college level. I think it was a lot of pressure to perform, more so here than if she had gone to another city or state where they weren't as familiar with her."
This local rec center, run by Diggins' stepfather, is where she started to come out of her shell.
Graham Hays/espnW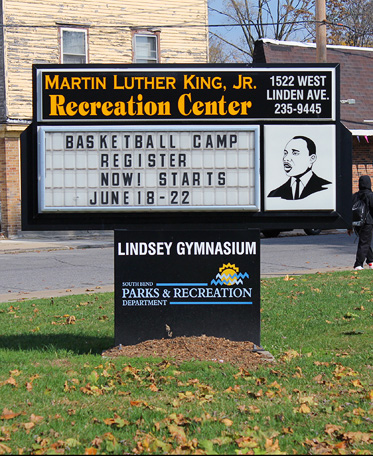 With the exception of football weekends, when thousands of alumni and fans swell the Fighting Irish-obsessed population around the school, Diggins said the attention on her remains more pronounced around town than on campus. There is pressure inherent in living in such proximity to those expectations, which might explain why even McGraw struggled to read Diggins at first, why it took at least a season for the trust between them to develop. It might explain why Diggins can appear coldly magisterial on the court, part intensity and part inscrutability. It also might explain why she seems comfortable in the biggest moments, scoring 24 points and playing 44 minutes in a regional final against Tennessee to reach her first Final Four last season, or 28 points in the next game against Connecticut to reach her first championship game.
Still, despite all the attention, South Bend is also the place where Diggins remains her mother's daughter. A place where she isn't going to escape helping with the dishes when she's home; where she can stop by her brother's school to have lunch and talk about his upcoming football game; where she can pick up some food from Frankie's like she did long before Twitter existed.
Karis Phillips, now a senior at Western Illinois, played against Diggins as early as elementary school, played with her at Washington. So, too, did Karis' older sister, April. All three remain close.
"She's just like us," Phillips said. "She does everything we do. She likes to hang out; she comes over and watches movies with us at our house. My mom will cook dinner, and she'll come over and eat. She's a regular girl, she lives the regular lifestyle. It's just she's kind of a celebrity now, so it's kind of different."
A different experience is what Diggins wanted at one point, but she didn't need to leave home to get it. Instead, she needed South Bend, the lessons it taught her and the comfort it still provides her.
Renee was in tears after they dropped off Diggins at her dorm as a freshman. Incredulously, Maurice noted they were just across town, a drive they had made so many times before. But he also understood. Whatever the mileage, it was a milestone and a moment in which pride and sadness were equally reasonable emotions. And they made it a point to keep their distance, so when Diggins was at Notre Dame she could be in that world.
But they, and South Bend, are always there.
"I think that she is the way she is because of them," said McGraw, who has seen Diggins try to emulate her stepfather's community activism. "I think they've done a great job of managing [the demands on her time] -- people call them all the time, needing her to come here or there. And they've protected her at home. They've just been so great. Sky can just go home and be a kid. And you need that. She needs that. She doesn't get that very often."
She didn't need to go out in search of the world. It found her easily enough, just as her hometown had discovered her years before.
Elena Delle Donne on her brother Gene: 'He's probably my biggest supporter amongst anyone that I know.'
AP Photo/Dick Druckman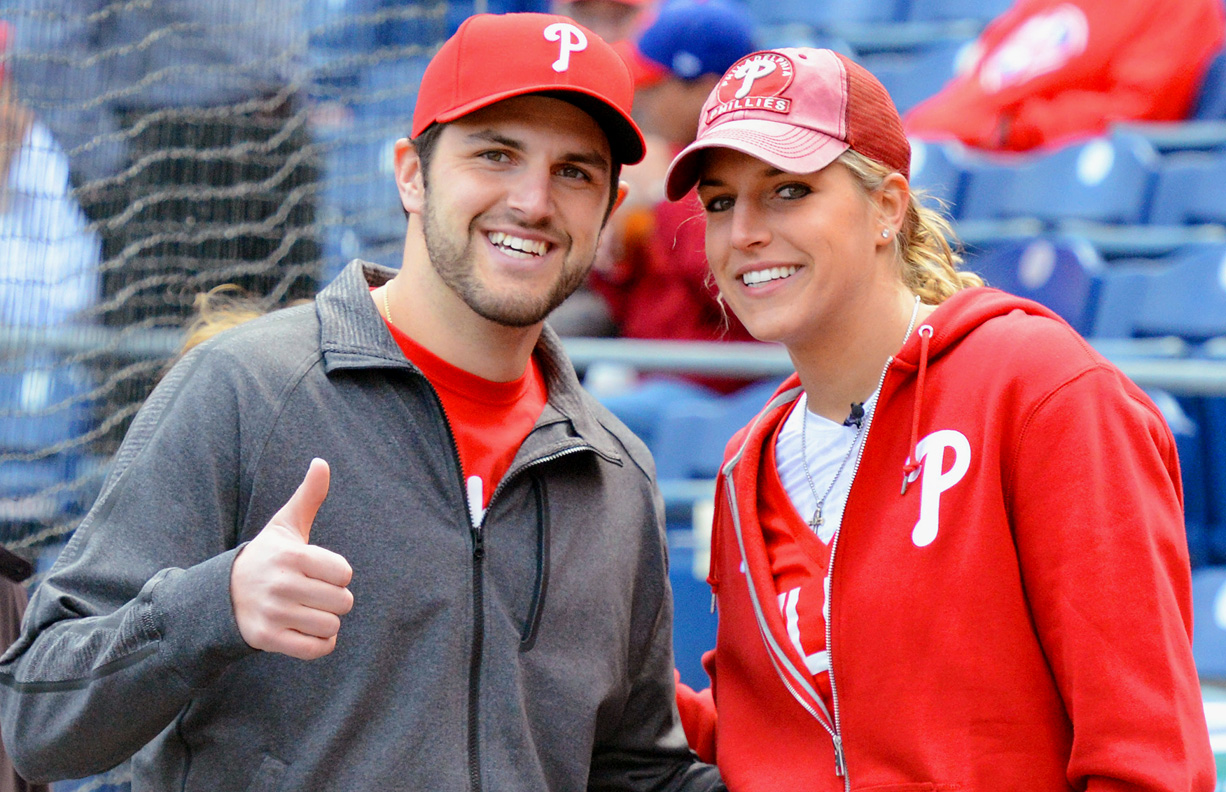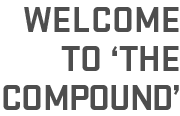 Those people who followed and supported Delle Donne for years now make the University of Delaware's Bob Carpenter Center the site of something resembling a season-long party, one recently resumed in full when she made her debut after sitting out the team's first three games because of recurring effects of Lyme disease. Opened in 1992, it isn't the house she built, but it's the house she fills as few others ever did.
The year before Delle Donne returned to basketball, the year she spent on the volleyball court at Delaware in 2008 after drawing national attention for staying one day at the University of Connecticut, fans had room to stretch their legs at the Bob during women's basketball games. The Blue Hens averaged a little better than a thousand fans per game over 13 home dates that season.
All of that changed with Delle Donne's return.
"There were a lot of new fans; there were younger faces in the crowd," said Meghan McLean, a freshman on that 2008 team. "A lot of parents were bringing their daughters to watch, and even their younger sons, and we were playing in front of sold-out crowds for a few of the games and packed crowds for other games."
For the 2011-12 season, Delaware averaged nearly 4,000 fans, more than 1,500 more per game than the men's team, a squad that finished with a winning record and played postseason ball. Among those who came out to watch Delle Donne was Vice President Joe Biden, a former Delaware senator whose visit to speak to the team surely marked one of the first times in the annals of women's basketball that a coach's postgame team talk was delayed by a Secret Service sweep of the locker room.
Welcome to 'The Party Barn,' an actual horse-and-stable barn refurbished by the Delle Donne family.
Graham Hays/espnW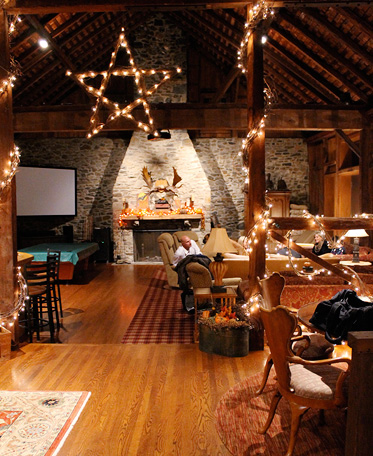 "Being a hometown player playing in front of your hometown fans is an experience you really can't explain."
-- Elena Delle Donne
Bernard Muir, now in his first year as athletic director at Stanford after serving in the same capacity at Delaware the previous three seasons, said one of the first things after taking the Delaware job was that Delle Donne had decided to play basketball again. Delaware had been a good program under coach Tina Martin, but Delle Donne changed its profile and athletic department.
Muir likens the interest and opportunities to the Andrew Luck effect.
"I have not seen such a spike in attendance primarily due to one individual," he said. "To watch what she was able to do in drawing interest, and the number of sellouts we had … and all the accolades that came with the program primarily because of this special player, I had never seen quite such an outpouring."
Any sense that Delle Donne returned to Delaware to avoid the spotlight dissipates when you see her there. Between her roots in the area, her exploits on the court and the unmistakable 6-foot-5 frame she carries with unabashed ease, she might be the most recognizable person in the state, at least when Biden is in the nation's capital. She doesn't appear to crave the attention, but if this bothers her, she hides it well.
She is comfortable here, for reasons that become evident in, of all places, a barn.
Finding the Delle Donne homestead requires a complicated navigation of state highways and winding back roads outside Wilmington, a little less than 20 miles from the University of Delaware campus. At least until the final turn, where a small handmade sign sticks out of the ground with the words "Party Barn" and an arrow pointing helpfully left.
Joan Delle Donne, Elena's mom, offers a tongue-in-cheek welcome to "the compound" as she opens the door of what was formerly an actual horse-and-stable barn refurbished by the family and one of three buildings on the property, along with the family's house and another occupied by Elena's great-aunt and great-uncle.
Inside, it is easy to see why a person would want spend as much time here as possible. The woodwork and high roof give the feel of a ski lodge, with a giant television screen in one corner next to an appropriately large stone fireplace, complete with moose antlers above the hearth. There is a pool table, a well-stocked bar for the former athletes, three couches, and an array of recliners and chairs.
A long dining table is tucked away in what amounts to an annex, like the private room at a restaurant. The ceiling is lower there, the walls closer than the cavernous dimensions of the great room. A painting of all three Delle Donne children at a much earlier time in their lives hangs on a far wall. The big room and its accompanying deck can host dozens for parties, such as one that unfolded during last season's NCAA tournament for those who didn't make the trip to Little Rock, Ark. But the dining room is where the family squeezes in for Sunday family meals -- chicken cordon bleu or stuffed pork chops, if Elena has any say in her mom's offerings.
It's no secret what family means to Elena. The relationship with her older sister, Lizzie, who is blind and deaf and has cerebral palsy and autism, has been well chronicled. And it is powerful. Sitting next to her mom on a couch in the barn one night, Lizzie seems at once there and not there. She is completely cut off from any of the stories and jokes being told or points being made, but she is there in the most physical sense, nudging her mom, holding onto her, making a sign to indicate she wants something to drink. It's easy to understand why Elena feared the distance created by going away to college would effectively remove her from Lizzie's world. Between basketball, school and the events of her own life, she doesn't see Lizzie every day, but she is not far away.
"Her relationship with Lizzie is huge," said Gene Delle Donne, the middle child of the three siblings. "It's so close. It's a big reason why she is such a homebody who came home from UConn, because she craves to be around Lizzie and to experience Lizzie grabbing her and sniffing her and just spend quality time with her."
But the bond between Elena and her older brother also is significant.
When Gene would go to the free throw line as a prep player at Wilmington's Salesianum School, opposing fans occasionally would try to get in his head by chanting that his younger sister was better. The only problem was it proved difficult to rattle someone who agreed. He was a good basketball player and a better football player, good enough to play Division I in the latter, but he has never been troubled by being the second-best athlete in the family.
As referees around the Colonial Athletic Association have heard, he remains his sister's loudest and most partisan supporter. In past summers, he would wake up early before work to lend his 6-foot-6 frame to her on-court workouts or challenge her to games of full-court one-on-one after he read that was something Kobe Bryant did to work on his game. More than that, though, he's a gentle giant who wants everything for her and nothing in return.
"When you're young and you've got things going on with basketball and stardom and all that and people interviewing you and always in your face, Gene has always been that person to just lighten up the mood," Elena said. "And literally every time I'm around him, I'm hysterically laughing. He's a funny, funny guy. Not only that, but he's probably my biggest supporter amongst anyone that I know."
Elena Delle Donne's season has gotten off to a shaky start, as she deals with the effects of Lyme Disease.
G Fiume/Getty Images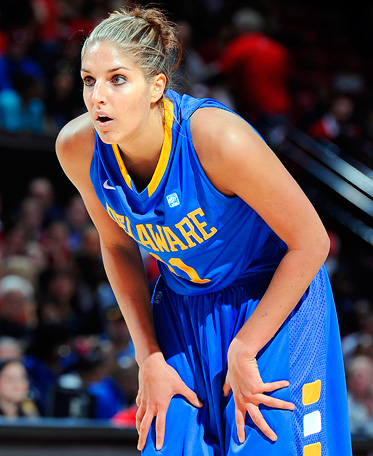 He was a senior in high school when she was a freshman, and it was his departure for college, first Duke and then Middle Tennessee, that she now points to as the time when basketball stopped being fun for her. Without his jokes and good-natured exuberance, all the pressures and expectations began to weigh her down. Not long after she left Connecticut and returned home, she visited Gene for a few days in Murfreesboro, Tenn. They went rafting and relaxed, and, for the first time in a long time, he saw her smile. She said she even briefly considered transferring to Middle Tennessee, a tantalizing thought in hindsight, given the Blue Raiders' up-tempo style, abandoning the idea only because Gene was in his final year.
She had to find her own way back to basketball, but it cannot be complete coincidence that it came the year Gene returned to Delaware and went to work for his dad's company.
Gene and his wife, Jennifer, live in an apartment that occupies the first floor of the barn. A Nashville native, Jennifer is easily the smallest member of a family always searching for leg room, not to mention a word in edgewise, but she holds her own amid an uber-competitive lot. She is the one the rest of the family points to as the person who suffers the most during Elena's games, the one who isn't much of a drinker but nonetheless ordered a round of shots for the family traveling party after one particularly nerve-rattling game at James Madison.
To be part of the family is to be a part of the madness to which they happily succumb to between November and April. To hear how closely Elena guarded against those who wouldn't understand, who might attempt to pull Gene away from it, is to understand what it means to her.
"I was tough, always, when Gene dated because that's my best friend," Elena said. "For some reason, the first time I met Jennifer, it was different. I could just see Gene was really happy. More importantly, Gene was still himself. He was still really goofy, and she brought out all the goofiness and weirdness that comes along with my brother."
This is family on an every-day basis. It can be much more in crisis, but it is no less important in mundane moments.
This is what allowed Elena to raise the profile of an entire athletic department, perhaps an entire state.
"Being a hometown player playing in front of your hometown fans is an experience you really can't explain," Delle Donne said. "It's cool to see the people who were watching me play in eighth grade in the state championship in the Bob Carpenter Center are still there watching me through college."
And there is no place is she more at ease than sinking into one of the couches in the barn and watching family unfold around her. And the party that unfolds inside the Bob Carpenter Center has its roots in the peace of mind she finds in the barn.
Brittney Griner is expected to be the No. 1 overall pick in next year's WNBA draft.
AP Photo/Eric Gay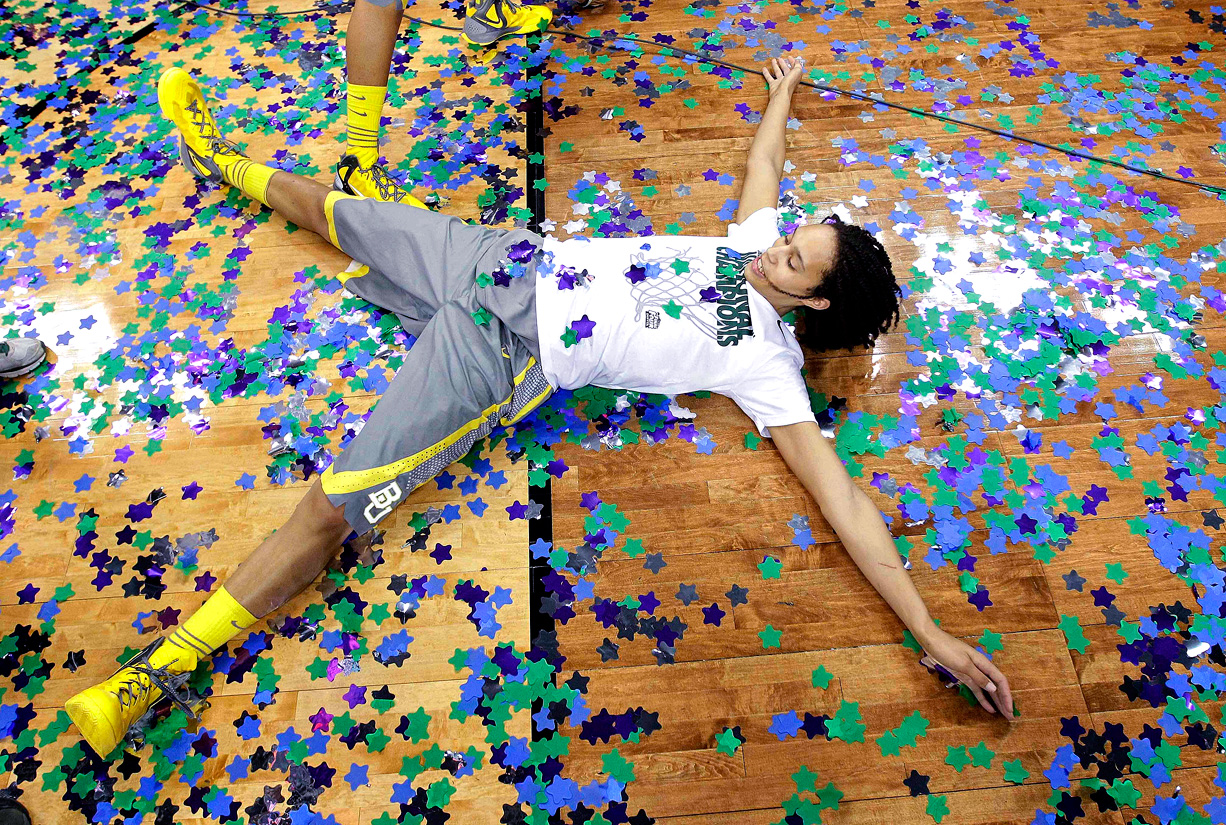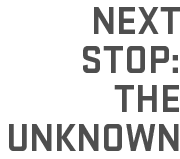 Sitting next to Delle Donne and across from Diggins in a small office during the players' visit to ESPN in October, Griner ruefully recounted missing a class at some point in the past. It wasn't the snooze button that got her in trouble with her coach; it was a camera. More accurately, a bevy of cameras. She had stopped to fulfill one person's request for a photo when suddenly a cadre of schoolchildren came around a corner and besieged her.
She found a receptive audience for the story.
"The first picture does it," Diggins agreed.
"That's the thing, the first picture," Delle Donne concurred. "It's the same thing. I kind of stand out with my height and everything, but most people are pretty good about it. If they see I'm trying to go to class, they let me go."
Such experiences aren't unique to Delle Donne, Diggins and Griner. It's safe to assume Stanford's Chiney Ogwumike and Connecticut's Breanna Stewart, among many, find themselves face to face with their fair share of fans eager for a snapshot with a favorite player.
But because they are in their final seasons and know what it's like to see stands full of the same people who have watched them for more than a decade, they do share something that sets them apart from their peers and any class that has come before. Diggins might not know a thing about Waco beyond the view from the hotel when her team played there. Delle Donne might have only hazy memories of South Bend from a recruiting visit. Griner might never have set foot in Delaware. But they understand exactly what drew each to her own place.
"I think if she could be a lifetime college student, she'd probably decide to stay here, she loves the area so much," Renee Scott said of Diggins. "I don't think she really wants to leave. … People have really embraced and supported her, and I know it means so much to her. That's a huge reason, that's the main reason, I think, why she decided to stay here, because of the people."
Those people and places watched over all three as they grew from young girls into adults playing on a national stage. Somewhere now, there is a girl on a farm in Iowa, or the concrete courts of the Bronx, or the endless suburbs of Southern California whose surroundings will shape and steer her to become a player who will take the game to new heights. And when the time comes to choose a college, she might choose to stay close to home or explore new territory. There isn't a right or wrong answer.
But for Griner, Diggins and Delle Donne, where they are from is at the heart of where they are going.