Lionel Messi's Speed and Agility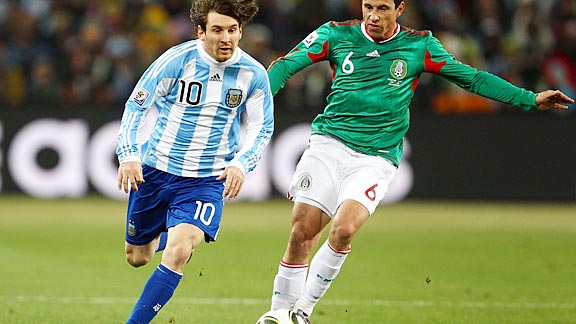 WORKOUT 2 - MULTIDIRECTIONAL SPEED
Movement Preparation
PILLAR BRIDGE - LATERAL
Trunk, shoulders
Starting position: Lying on your side with your forearm on the ground under your shoulder, your feet split with the top leg forward.
With your body in a straight line and your elbow under your shoulder, push your hip off the ground, creating a straight line from ankle to shoulder and keeping your head in line with your spine.
Hold your position for 30 seconds. Repeat on other side.
Complete two reps on each side.
LATERAL LUNGE
Inside thigh
Begin in s standing position.
Step to the right with the right foot, keeping toes forward and feet flat.
Squat through your right hip while keeping your left leg straight. Keep right knee on behind toes.
Bring left foot in to a squat position. Continue for 4 reps.
Repeat with left leg.
ROTATIONAL LUNGE STRETCH
Trunk, hip flexor, groin, legs, glutes
Begin in lunge position with left foot forward and right hand on ground for balance.
While contracting back glute, rotate trunk and left arm to sky as far as possible.
Hold for two seconds and then rotate trunk and arm as far as possible behind right arm
Hold for two seconds and repeat.
Switch position with right foot forward and repeat.
Complete 4 reps on each side.
PILLAR SKIP - LATERAL
Entire body
Begin in a standing position.
Lift knee and foot with opposite arm.
Drive foot down to the ground generating a double foot contact as opposite foot and knee lift.
Alternate and repeat moving laterally.
Complete 1 rep of 10 yards on each side.
RAPID RESPONSE ONE-FOOT LATERAL BASE
Hips, knees, ankles
Begin by standing in an athletic base position.
Jump up and down with the left foot landing in place and the right foot alternating back and forth laterally over a line as fast as possible.
Switch legs and repeat.
Complete 2 reps of 5 seconds on each side.