Lionel Messi's Speed and Agility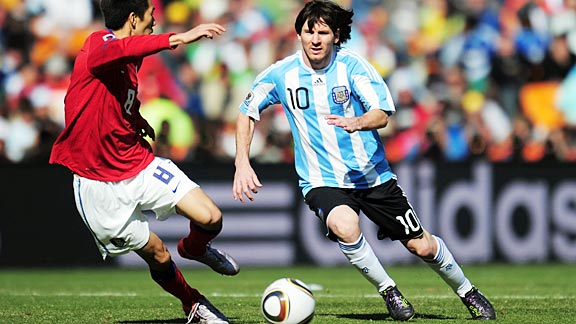 WORKOUT 2 - MULTIDIRECTIONAL SPEED
Plyometrics
HURDLE HOP - LATERAL
Hips, legs
Begin by standing on one leg next to a line of hurdles.
Hop laterally over one hurdle and stick and hold on same leg.
Continue over remaining hurdles.
Reverse direction and repeat drill landing on the same leg.
Switch legs and repeat.
Complete 2-3 sets of 5 hurdles on leg.
LATERAL BOUND
Hips, legs
Begin standing on one leg.
Load hip and arms back and down.
Bound laterally, landing on the opposite foot.
Without pausing, bound back to the other leg and hold three seconds.
Switch sides and repeat.
Complete 2-3 sets of 4 reps on each leg.