ESPN enlisted the help of notable musicians to provide their distinctive interpretations of the "Baseball Tonight" theme song during the 2011 season. We've already featured these versions of the song on air and in the ESPN Music section, but now we want you to help us crown the best version of them all.
For the next 11 weeks, we'll have two artists square off in a poll for you to vote on. The winner will then face the next artist on the schedule and so on until the final week, when we'll see who is the last one standing (full schedule at the bottom). Starting it off is Good Charlotte vs. Staind, so vote in the upper right poll now through Aug. 4 (voting has ended, go to ESPN Music for the current matchup).
---
Good Charlotte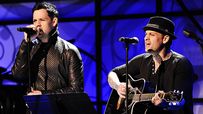 ESPN's MLB theme by Good Charlotte
Click here for an interview with Good Charlotte's Joel Madden and Benji Madden about their love of baseball.
Staind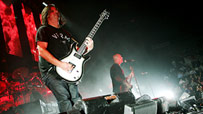 ESPN's MLB theme by Staind
Click here for a video of Staind guitarist Mike Mushok playing ESPN's "Baseball Tonight" theme song.
"Baseball Tonight" theme music poll schedule:
Week 1 (July 29-Aug. 4): Staind vs. Good Charlotte
Week 2 (Aug. 5-11): Staind-Good Charlotte winner vs. Da' Zoo
Week 3 (Aug. 12-18): Week 2 winner vs. Travis Barker
Week 4 (Aug. 19-25): Week 3 winner vs. Seether
Week 5 (Aug. 26-Sept. 1): Week 4 winner vs. J. Cole
Week 6 (Sept. 2-8): Week 5 winner vs. Tom Morello
Week 7 (Sept. 9-15): Week 6 winner vs. Grupo Fantasma
Week 8 (Sept. 16-22): Week 7 winner vs. Steve Earle
Week 9 (Sept. 23-29): Week 8 winner vs. Zakk Wylde
Week 10 (Sept. 30-Oct. 6): Week 9 winner vs. John Pizzarelli
Week 11 (Oct. 7-13): Championship between Week 10 winner and Grace Potter & the Nocturnals