April, 30, 2010
04/30/10
6:02
PM ET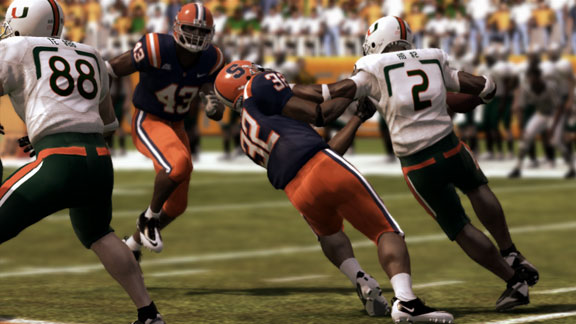 EA SportsWill "NCAA Football 11" turn out to be a classic?
Looking at early code of video games can be trickier than one might think. Games crash, graphics glitch, sound stutters, and all the while the producer of the game is sitting there trying to convince you that in the end, this is going to be the definitive game of its genre. Doesn't matter what game it is, it's always going to be the best.
I remember sitting in a demo of "FaceBreaker" and trying not to laugh at how absurd/abysmal the game looked, while at the same time listening to the game's designer tell me how it was going to revolutionize boxing video games. An EA rep asked me immediately what I thought of the game, and I think my exact words were something like: "This game is going to fail on epic proportions." No one at EA seemed to believe me, but I think the game went on to sell about a hundred copies (not exact total, but you get the point).
On the flip side of "FaceBreaker" is "NCAA Football 11." Here is a game that doesn't ship until July, and when the EA producer turned on the game, there was no need for explanation, no convincing necessary. Refreshingly, he just put on the game and let "NCAA Football 11" speak for itself.
First time I saw the way the graphics popped, the realistic way the players moved around the field, all I could say was one thing: "Wow."
No joke, "NCAA Football 11" has that wow factor, maybe for the first time since it hit this generation of consoles. I'm not saying the game is already perfect or that I'd score it 10 out of 10 if I was reviewing it right now ... the game still has a lot of work to do. But at the same time, what I've had the chance to play made me sit up and take notice. With the new lighting, new presentation, and most importantly, new locomotion, the game has a completely fresh vibe to it this year and the results for this early in the cycle simply blew me away.
If EA Sports keeps on track from what I just played, we could be talking about a classic.
Then again, that's the danger of looking at early code. You never know how the game will turn out in the end (I've seen plenty of games go terribly wrong down the stretch), but man, did I ever walk out of that demo impressed by what I played.
ESPN ARCADE
The sequel to our most popular game is here. How's your return?

Run timed routes, beat DB's to the end zone and score.

Hit your receivers, dodge defenders and rack up TDs.