June, 23, 2010
06/23/10
4:16
PM ET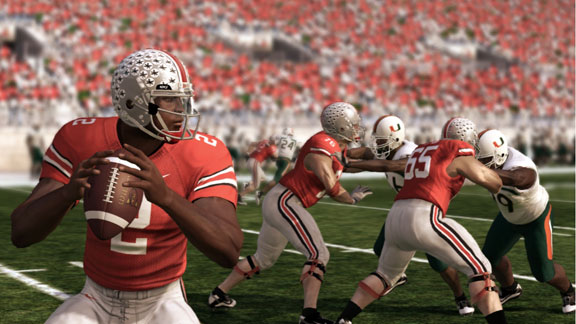 EA SportsGamers will be able to manage their schools using the Web in "NCAA Football 11."
With "NCAA Football 09," EA Sports introduced football fans to their version of an online dynasty, as gamers were able to play in a conference with up to 12 players. But all the school management had to be done through the console. This year, the team behind "NCAA Football 11" is finally taking the feature full-force to the Web, enabling gamers to log on to their dynasty anywhere they have access to the Internet, whether it's on a computer, an iPhone or even an iPad.
That's right. Now, if you have an extra 20 minutes to kill at work (or if you just don't feel like working), you can check out your team online, schedule a game, try to recruit that strong-armed quarterback for next season and even write up a news story about how you destroyed Florida the night before and post the story to Facebook.
Talk about a productivity killer. "NCAA Football 11" is set to cost corporate America millions of dollars in lost time just so Dan from Palo Alto can try to convince some virtual running back that Stanford is the best place for him to high-step down the field next season.
But that's just the start of what EA has planned.
Video highlights of a player's entire career? Team highlights that extend to 60 seasons? That's just the beginning.
I recently had the chance to sit down with "NCAA Football 11" producers Ben Haumiller and Russ Kiniry to get the inside scoop on the game's new online dynasty features.
ESPN ARCADE
The sequel to our most popular game is here. How's your return?

Run timed routes, beat DB's to the end zone and score.

Hit your receivers, dodge defenders and rack up TDs.