June, 23, 2010
06/23/10
4:16
PM ET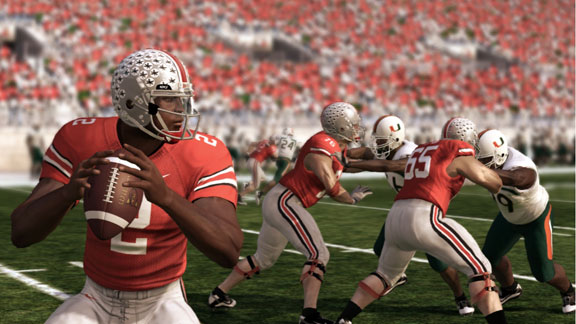 EA SportsGamers will be able to manage their schools using the Web in "NCAA Football 11."
With "NCAA Football 09," EA Sports introduced football fans to their version of an online dynasty, as gamers were able to play in a conference with up to 12 players. But all the school management had to be done through the console. This year, the team behind "NCAA Football 11" is finally taking the feature full-force to the Web, enabling gamers to log on to their dynasty anywhere they have access to the Internet, whether it's on a computer, an iPhone or even an iPad.
That's right. Now, if you have an extra 20 minutes to kill at work (or if you just don't feel like working), you can check out your team online, schedule a game, try to recruit that strong-armed quarterback for next season and even write up a news story about how you destroyed Florida the night before and post the story to Facebook.
Talk about a productivity killer. "NCAA Football 11" is set to cost corporate America millions of dollars in lost time just so Dan from Palo Alto can try to convince some virtual running back that Stanford is the best place for him to high-step down the field next season.
But that's just the start of what EA has planned.
Video highlights of a player's entire career? Team highlights that extend to 60 seasons? That's just the beginning.
I recently had the chance to sit down with "NCAA Football 11" producers Ben Haumiller and Russ Kiniry to get the inside scoop on the game's new online dynasty features.
Jon Robinson: Last year you guys introduced online dynasty. How are things changing now that gamers will be able to access their dynasties on the Web?
Russ Kiniry: Everything that you'd expect to see is there. You can look at stat leaders, schedules, Top 25 polls and, also, this is the first time where we have public dynasties. You can set it to private if you want, but if you're looking to join a dynasty, there is different search criteria you can look through to find a good fit.
But one of the biggest things is that you can do all of your recruiting on the Web. Everything you can do to recruit players in the game is now online. You can search for players, look through all their details, check their ratings, add them to your board, move them around your board and even make phone calls. Basically, you never have to do recruiting on the console again if you don't want to. We took everything and moved it online, and actually some things are actually easier to do now. Moving guys around on your board is really easy now because it's all drag and drop. You can click on any of your players and see all of their information instantly, which makes comparing players easier than it is on the console. And then with the phone calls, you can do everything from offering scholarships to scheduling visits. I'm not exaggerating when I say that every piece of the console recruiting is now online. Recruiting is in two spots now and you can do it wherever you want.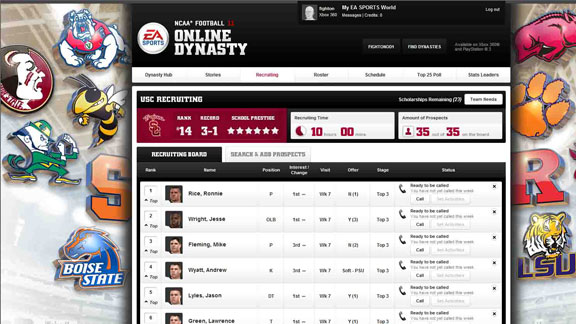 EA SportsRecruiting is made a lot easier via the Web.
Ben Haumiller: That was the main goal behind the Web this year, that you'd have reason to go there, something to do. It's not just about viewing stats, although you can do that as well. But we wanted to give you something that you can go to on a weekly basis and it will benefit you and help you keep moving your dynasty along.
Another thing we added this year is e-mail alerts. You can sign up for e-mail alerts, and you'll be notified every time you get a dynasty invite or your dynasty advances. If a game is played, you'll get an e-mail with a recap of what happened. If you're the last in your group to play a game for that week, you'll get an e-mail to prod you to play your game. And if you're the commissioner and everyone is done, you'll get an e-mail to let you know that you can advance the season. Now you can be as into your dynasty and as connected to your dynasty as you want to be because it's always a touch away. Anywhere you can get an Internet connection, including smart phones, you can access your dynasty. And while we won't have a native app for the iPhone, you just go through the dynasty.easports.com URL on a browser and you have full access.
Jon Robinson: Talk about murdering workforce productivity.
Ben Haumiller: Luckily, there is only so much you can do per week. Eventually you get cut off. [laughs] And remember, this doesn't even have to be multiplayer as you can also play an online dynasty by yourself. Think of it more like a connected dynasty, as I can't even think of a reason to play offline anymore. You just have so much ability online.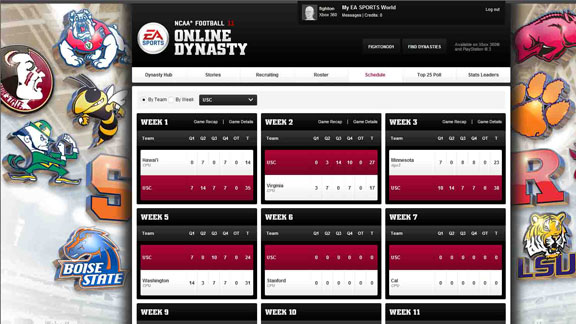 EA SportsA look at the online schedule.
Jon Robinson: Another big improvement I keep hearing whispers about is something called the Dynasty Wire. Can you explain how this will work?
Ben Haumiller: Dynasty Wire is essentially a hub for all stories that are happening in your dynasty. To us, this is one thing that really helps give dynasty a life of its own and helps blur that line between fantasy and reality. When you're in a dynasty and you're heavily invested in a dynasty, the ones that last the longest and are the most fun to be in are the ones where we're all communicating with each other. It's the dynasty where once that game gets done, we're sending e-mails talking about how I just beat you to everyone else in the dynasty, and by the way, here are some highlights to back it up. But this was all legwork that you had to do on your own before. You had to manually do all this. You had to save all of your highlights and manually upload them on your own. You had to compose the e-mail.
Now, we're doing all of that for you. With Dynasty Wire, it's a collection of all of these stories that have happened in your dynasty. So every game that gets played by a user, you have five photos that automatically get uploaded by the game as well as all of the stats for the game including player stats, team stats and the scoring summary. All of this gets uploaded and a story gets created about that game. You can then go in and not only edit the story however you want, you can add additional photos as well as up to five videos. Those will all be uploaded to the game as well, so when somebody wants to see what happened in the game, they can view all the stats, they can check out the photos and even watch the highlights of the game you just played. Then on the website, you can go in and edit the headline, the captions and the body so you can tell your side of the story. And that's really where the meat of this is. Now you have the ability to basically go in and play the role of journalist for your dynasty and talk about everything that happened.
And this is now available for everyone to see, both on the Web and on the console. Every member of the dynasty can then comment on the story. So you will have these long discussions going back and forth and it's a great way for everyone to be in constant communication.
And when the week advances, there's also a week advance story that gets created at the start of every new week that tells you who won last week, who is playing this week and any prospects who have committed, whether they commit to your school or to another school. Say I was going after the No. 1 quarterback in the nation and I'm playing as Alabama, but that kid signs with Tennessee who is not any of the user controlled teams. Now that story will say he signed with Tennessee, so I will finally know what happened to that kid now that he's no longer on my board.
Russ Kiniry: Another great thing about the weekly story is that it serves as a forum to help you schedule your games, as you can leave comments back and forth with your next opponent as you work out a time to play your game. And these comments show up instantly on either the console or the Web, so I don't need to be on my console to schedule a game anymore. I can just post a little comment on that week advance story and find out a time to play.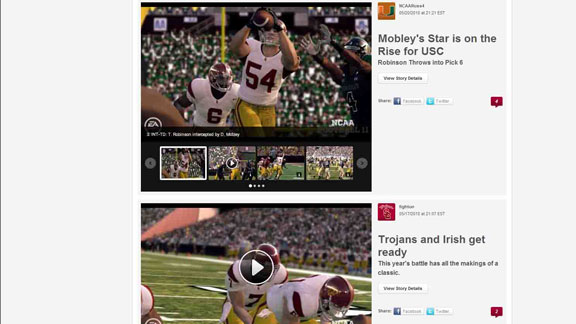 EA SportsScroll through the stories of your season.
Jon Robinson: You say people can act as the journalist for their dynasty. How in depth can you get?
Ben Haumiller: This is where I, as a member of a dynasty, can create complete user-generated stories. I can create a story on anything I want to. A good example of this is a preview of an upcoming game. An even better example of this is something Russ recently did. He was playing through his dynasty as Buffalo. It's not a great school, but it's a school he's having fun with because of the challenge. And because of this challenge, he's become closely attached to some of his players. Maybe a little too attached. [laughs]
So when his All-American graduated, the guy was such a key to his success that he created a story that was a retrospective of his career. And he was pulling highlights from every game this player has played in. You have every highlight that was uploaded from any year available to you, so you now have a full chronicled history of your dynasty years. Russ created a full chronicled history of this player with highlights from his freshman, sophomore, junior and senior year all within this one story.
If you want, you can even create a story that is the Top Five Reasons Russ is a Bum and pull different highlights from different opponents that show his worst plays. You can create a story to show the top highlights of the year, and I can pull highlights from games that anyone in my dynasty has played. They're all available to you, not just from your team. You have the full archive of your team's dynasty history. And that goes for all 60 years of dynasty. If you make it all 60 years, you will have 60 years worth of dynasty highlights. That can be thousands of highlights available to you.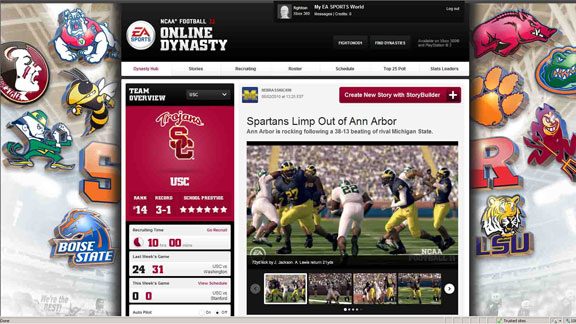 EA SportsWhat will your story be in "NCAA Football 11"?
Russ Kiniry: Another thing this does is create a history for your dynasty. You can see where you were at through every single week. You can see the results of every single game and see who won. You have a full archive. If you're in Year 10, you can go back to Year 2 and read through your old stories. I can't think of another game that has done this. You get to play the role of journalist and it keeps track the entire length you're playing.
And the cool thing is, these stories show up as the first thing people see when they log into their dynasty. Not to mention, you can also publish these stories out to Facebook and Twitter. You can even link people back directly to your story so they can watch the highlights for themselves. So if you spend an hour creating the coolest story of all time, not only will everyone in your dynasty see it, but you can tell all of your friends and everyone who follows you on Twitter. Now if you beat one of your friends, you finally have the chance to not only shame him, but shame him to the world.
ESPN ARCADE
The sequel to our most popular game is here. How's your return?

Run timed routes, beat DB's to the end zone and score.

Hit your receivers, dodge defenders and rack up TDs.