June, 10, 2010
06/10/10
12:01
PM ET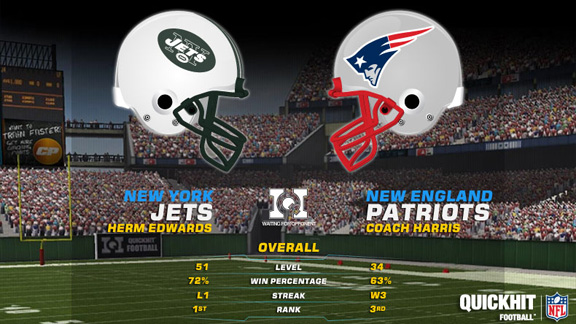 Quick Hit Quick Hit has signed a deal with the NFL. Is the NFLPA next?
When EA Sports and the NFL agreed to an exclusive video game license, everyone assumed it was game over for any other company attempting to make a football title.
Not so fast.
Not only has the free online coaching sim "Quick Hit Football" thrived, signing up over one million registered users in its first five months of open beta, but now it has done the unthinkable and signed a multi-year agreement with the NFL to feature the league's teams, logos, schedules, Super Bowl, and stadiums (the players and coaches are different licenses).
So how did they do it despite EA's exclusive?
"That's a better question for EA," says Quick Hit CEO Jeff Anderson. "I don't have a copy of the contract they have with the NFL, but for us, it's a tremendous opportunity. Adding the NFL really transforms this product from a really cool Flash game to an incredibly authentic online football game. We're going to be the first mover in the space. The only place you're going to be able to play an NFL licensed game on your PC this fall is 'Quick Hit.'"
Not bad for a company that was started two years ago in a coffee shop and now employs some of the top game developers in the sports genre, including some of the key guys behind the "NFL 2K" franchise.
As far as when gamers will see the NFL license incorporated into the game, Anderson will only commit to "when it's ready" as they don't want to rush into the relationship and build it out the wrong way. "Since the product launched in October, we've implemented new content and features all the time. We've had like 12-15 updates to the game in order to make the product better while listening to our community for feedback. We're not a retail product so we have the ability to continue to roll out new content daily, monthly, weekly. Building and expanding the franchise is a cornerstone for what we do and it's very different than the console experience.
"So when you ask, coming when? It's really an evolution where we build new features in. With the launch of the season, we'll be out there talking about how we're going to integrate the NFL in the first wave, and there are going to be a lot of waves after that. It's exciting to get to that next step of integration, but there's a lot of work to be done. Our goal has always been about quality and making sure when we deliver things we feel good about it. We're not going to commit to a date just to feel good about hitting a number. We'd rather commit to a quality bar. We're going to pick a set of features that we think will be critical to our fans and we're going to execute them in high-quality fashion. Whether that's 9-1, 9-30, 10-1, 10-30, it's going to be the right date."
Beyond the NFL license, Anderson says "Quick Hit" will also be introducing a host of new features for the coming season. "Our vision of how we're going to flesh out the tournament structure is going to be a big opportunity for us. How we're going to look at achievements is going to be a big opportunity for us. Our goal is to make Quick Hit available to any distribution partner imaginable throughout North America.
"We're not a company that thinks small. We think big and act big. The NFL deal is a culmination of two years of work and commitment by so many people here at the company and I'm so proud of the work that they've done. It's not something you put in a business plan. You don't set out and say, "Hey, if we don't get the NFL, there's no business here." But you do set that as a goal because you realize that setting that goal is a statement about everything else. It's a statement about the team, it's a statement about the users, it's a statement about the quality, it's a statement about the business model. To get to the point to where the NFL thinks that this product is worthy of their shield say a lot about our product."
ESPN ARCADE
The sequel to our most popular game is here. How's your return?

Run timed routes, beat DB's to the end zone and score.

Hit your receivers, dodge defenders and rack up TDs.