June, 16, 2010
06/16/10
1:01
AM ET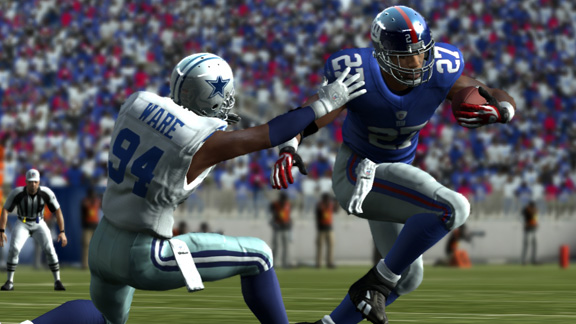 EA Sports"Madden 11's" online team play is one of the best new features at E3.
When I first heard EA Sports was announcing online team play for "Madden NFL 11", I didn't really pay it much mind. I never really liked playing co-op football and I just figured it would be a throwaway mode to a gamer like me who prefers playing franchise to anything else in the series.
But then I had the chance to play OTP at E3, and I have to say, I'm hooked.
For those who haven't heard, online team play enables you to play with up to two friends online against three other gamers. On offense, somebody plays quarterback, somebody plays running back, and the other gamer takes the role of receiver. On defense, gamers can be defensive backs, linebackers, or anchor the D-line.
Playing as the Dolphins, I was Ronnie Brown while "Madden" producer Ian Cummings was quarterback Chad Henne. On one play, I was supposed to run a short pass route over the middle, but when the defense blitzed, Cummings was forced to scramble to the right. I saw he was in trouble, broke off my route and sprinted to the right and hollered for the ball. He hit me in stride for the first down and the sense of teamwork gave me a sense of accomplishment in "Madden" that I can't really remember. Then again, next play we ran the wildcat and Cummings missed the block causing Brown to get smacked by a hard-hitting corner.
"My bad," is all Cummings could say. But again, this sense of teamwork and not wanting to mess up for your team really adds a lot to the game. It's one thing to lose a game by yourself against some faceless online opponent. Who cares. But blow a game with two of your buddies playing by your side and you might never hear the end of it.
After our game, I had the chance to sit down with Cummings to get his thoughts on "Madden's" online team play feature and why the design team decided to stick with only offering 3-on-3.
Jon Robinson: Why limit the mode to only three gamers per team? Did you just want to stick to the skill positions and let the computer play the roles of the offensive linemen?
Ian Cummings: Basically it was a design decision after doing a bunch of play tests. We had talked about doing a full 11-on-11, but technically that was going to be pretty much impossible in one year. But also, once we started testing 11-on-11, it was terrible, to be honest. The reason we ended up doing 3-on-3 was so you can pick the different squads you wanted to control on the field. It was more of a natural fit, that way people can associate more with their assignment. Football is so assignment based that if we let everyone run free from every position, it's just going to turn into a touchdown every play. The scores would be 100 to 100 if nobody understood their assignments correctly. One little mistake on a football field, and it's a touchdown. One little mistake in positioning in a game like "FIFA" and it's no big deal. So we ended up choosing 3-on-3 because it was what we could do technically, but it was also the most fun experience out of the play test.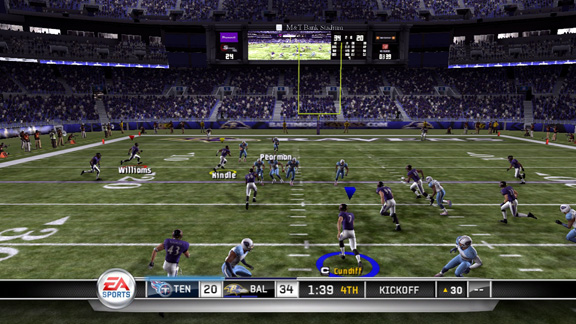 EA SportsThree gamers work together to bring skill to the skill positions.
Jon Robinson: Gamers can not only pick one of those groups like running back or wide receiver, but they can also choose the "Any" option that lets you change to any of the skill players on the field. What are the advantages and disadvantages of choosing "Any" as your position?
Ian Cummings: You can switch to anyone else on the team who is free, so if you don't really care what position you play, then all three guys on your team can select "Any" and switch around every play. The thing is, if you select "Any", then you don't get the accomplishments that we reward gamers with for playing a set position. We wanted to build in something to keep people playing, so we added these accomplishments in the game. These are statistical milestones that you can reach, like pass for 300 yards and 4 touchdowns, and if you do it, you get a boost to your stats every time you play afterwards. But if you play as "Any", you're not earning any of those boosts to your stats.
Jon Robinson: What kind of statistical boosts are you talking about?
Ian Cummings: It will be like a two-percent increase to your acceleration or a three-percent increase to your short accuracy. And by the end of it, after you've gone through all of the levels, you can be boosted 10 to 15-percent in some ratings. And remember, you're boosting yourself while you play. You're playing as the pros, but these boosts carry over to whoever you're playing as. Anytime I play as that same squad, I'm getting that boost moving forward. That way, you will want to pick a squad that you like and get good at it.
Jon Robinson: So can I throw for all the yards as Peyton Manning, but then use the boost to help out someone who needs it more like Jason Campbell?
Ian Cummings: Exactly. You can make Jason Campbell better because we're basically boosting you and whoever you decide to play as. You earn the ability to make yourself better.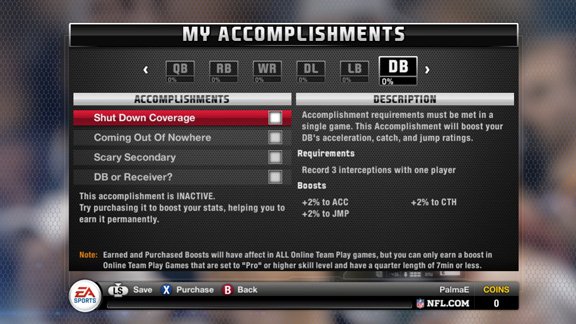 EA SportsThe more you play, the better your players will be.
Jon Robinson: What positions do you like to play the best in the mode?
Ian Cummings: I like to play quarterback because I like to be in charge of the offense, and it's cool to hear the guys yelling in the headset that they're open. I love the communication and the teamwork aspect. This is something that we've never really offered before. Playing receiver also gives you a lot of options because you can switch between the different receivers and run some crazy routes. On defense, I love playing defensive back. I just sit back and try to ball hawk.
Jon Robinson: Can you also buy boost using the coins you earn from playing "Madden" online?
Ian Cummings: Yeah, it uses the same economy system as Madden Ultimate Team, and you earn the coins by playing games online. It's similar to what "FIFA" did last year with Be a Pro. What I do is use the coins to get the upgrade for a couple of games so you're really good, that way you earn the boost easier.
Jon Robinson: Why limit the mode to playing only as the NFL players instead of opening it up to created characters?
Ian Cummings: Create-a-player is something we want to expand to eventually but we're not currently happy with our creation options. There is a lot of cool tech out there and we want to make sure we can bring it all together before we bring it all in. It was also a really weird decision in the beginning, because if you're playing as your created character, does that mean you have that one player play both sides of the ball? Or if I'm the quarterback of the Colts, does that mean Peyton Manning gets cut? So we wanted to stick with the pros for now and we'll figure out how to expand it in the future.
ESPN ARCADE
The sequel to our most popular game is here. How's your return?

Run timed routes, beat DB's to the end zone and score.

Hit your receivers, dodge defenders and rack up TDs.