August, 10, 2010
08/10/10
3:34
PM ET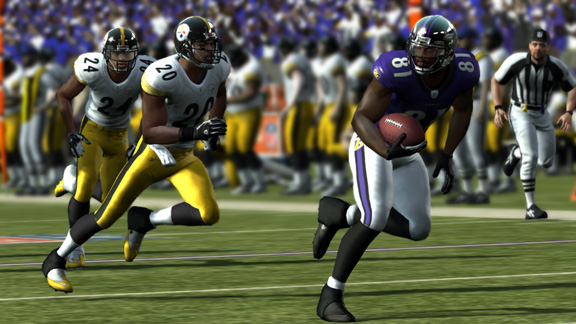 EA SportsThe Ravens might run away from the pack in "Madden NFL 11."
Is Chris Johnson the best virtual running back since the days of Bo Jackson and Barry Sanders? Are the Ravens the team to beat, not only in the real AFC but in "Madden" as well? Does Peyton Manning still deserve to be rated 99 overall?
These are just some of the fun topics for debate after clicking through the various "Madden" ratings pages as ESPN delivers the stats on all your favorite players, from Vince Young's speed to Chad Ochocinco's swagger.
Every day, Monday through Thursday, ESPN Video Games is releasing the exclusive "Madden NFL 11" player ratings two teams at a time. While we're currently working our way through the NFC, starting with the Cowboys and Redskins, here is a chance to catch up and click through all of the player numbers for your favorite (or most hated) AFC team.
Here you'll find ratings for players like Tim Tebow, whose character is sure to be one of the most debated in the game. He is the highest rated quarterback in "Madden 11" when it comes to trucking, carrying and jumping as well as the second highest rated quarterback in terms of strength and toughness, but he's only 58th when it comes to throwing accuracy. Don't worry if one of his passes ends up in the wrong hands, though, as Tebow also has the highest tackle ability in the game out of any signal caller. When he throws a pick in "Madden", it might be time to bust out the quarterback Hit Stick.
Steelers fans should check out the numbers for Dennis Dixon. Once Big Ben starts serving his suspension in the real NFL, EA Sports will remove Roethlisberger from the team's depth chart via online roster update for the length of his suspension. Could be a tough year to play as the Steelers.
But don't worry, simply click through the various player ratings and you might find a new "Madden" team to call your own.
ESPN ARCADE
The sequel to our most popular game is here. How's your return?

Run timed routes, beat DB's to the end zone and score.

Hit your receivers, dodge defenders and rack up TDs.