August, 10, 2010
08/10/10
3:32
PM ET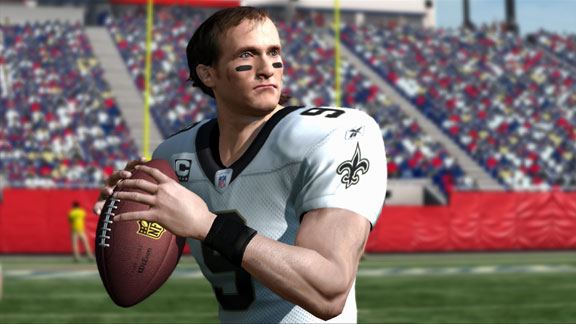 EA SportsBrees shows off his virtual mug thanks to a head scan he took for EA Sports.
When it comes to "Madden," one of the first things people like to talk about is the dreaded cover curse. From Michael Vick to Troy Polamalu, every time you start to write off the curse as fiction, another player goes down holding his knee.
"Our time is now and destiny is still pulling on us, so I feel like destiny is stronger than any curse," "Madden 11" cover boy Drew Brees told me after being announced as this year's spokesman/victim.
Then again, when it comes to Brees' character in "Madden", the best word to describe the quarterback might not be destiny, but dominance. That's because Brees is rated a cool 99 overall, including 97 throwing accuracy, 99 throwing accuracy short, 98 throwing accuracy medium and 92 throwing accuracy deep. Throw in weapons like the always video game dominant Reggie Bush (consistently one of the most overrated players in the game) and wide receiver Devery Henderson, who blazes the field with 98 speed and 97 acceleration, and you can see why the Saints aren't just the defending champs, but one of the most anticipated video game teams this season.
Brees isn't the only NFC quarterback looking to put up big numbers in "Madden" this year. Aaron Rodgers and Brett Favre are also high on the list of quarterbacks with strong polygonal arms and stud supporting casts, so expect to see plenty of Packers and Vikings fans online this year reppin' their teams.
Don't believe us? Scroll through the list of NFC teams and click on your favorite (or most hated) to dive deep into the numbers that will help determine if your squad will have what it takes to compete in "Madden" this season.
And if you're a Saints fan, cross your fingers that the curse dies with Brees, because now that EA updates the rosters online, if your 99-rated quarterback goes down in real life, he'll be pulled out of "Madden" as well. Sounds more like a double curse to me.
ESPN ARCADE
The sequel to our most popular game is here. How's your return?

Run timed routes, beat DB's to the end zone and score.

Hit your receivers, dodge defenders and rack up TDs.