July, 30, 2010
07/30/10
6:13
PM ET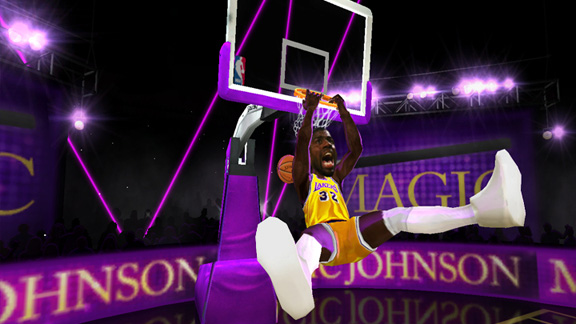 EA SportsMagic Johnson joins the "NBA Jam" roster.
"NBA Jam" boss battles?
For "Jam" purists, EA Sports' new version of the classic 2-on-2 arcade game has all the boomshakalaka you could ask for, but they've also decided to put their own unique twist on the genre.
When Wii gamers aren't battling friends, going all "Is it the shoes?" on LeBron's head, they can test their skills in the cool new Remix Tour mode.
Here, gamers will encounter not only the biggest stars of the NBA today, but legends like Magic Johnson and Dennis Rodman, as the greats of basketball past defend their home courts in a series of boss battles the likes have never been seen in a hoops game.
I caught up with "NBA Jam" creative director Trey Smith to get the latest on the Remix, the legends and how, in "Jam" at least, the word Magic is more than just a nickname.
Jon Robinson: How many boss battles will gamers encounter in "Jam"?
Trey Smith: We have 10 boss battles. Some legends, some current superstars, and really for us, it was about identifying the biggest personas. We identified what these guys do really great then took it to superhuman-like levels. Every boss has an intro, and we really play it up. We're not taking ourselves too seriously. The original "Jam" didn't take itself too seriously, and this is where we get to play around a little bit. We have the classic mode in there for all the gamers who think a power-up ruins the game, but Remix Tour is where we really play around with the genre. We learned a thing or two about making arcade sports titles over the last 17 years, and we're here to stretch that experience.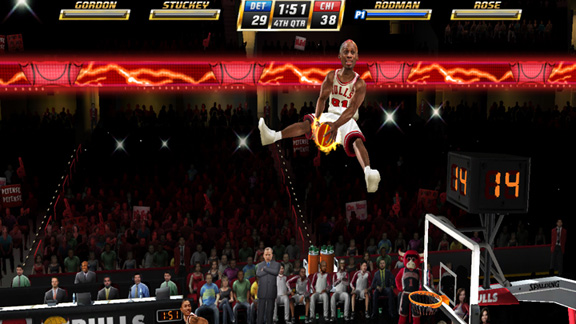 EA SportsDennis Rodman is just one of the legends making a "Jam" comeback.
Jon Robinson: Is Remix Tour still 2-on-2 but with bosses, or are these completely different games?
Trey Smith: Remix Tour was inspired by "Burnout." Classic campaign is a linear ladder tournament, but Remix Tour gives you the choice of where you want to go. You pick a team, then you start off in that division and you play each one of those teams. Each team has a gold, silver and bronze challenge, so say you are playing against Boston, for instance, the bronze challenge is to win a 2-on-2 game with power-ups, only you're playing against Paul Pierce and Larry Bird. Then the silver challenge is a backboard smash game against Pierce and Kevin Garnett, a different way to play "Jam." Then the gold challenge is a boss battle against Larry Bird. Every one of those slots is going to be a surprise. You never know what to expect. Maybe you'll hop in and find 2-on-2 mini-men. Stuff like that. It's just us having fun, and once you unlock it, you can customize your experience however you want to play.
Jon Robinson: You mentioned the backboard smash game. How do you play?
Trey Smith: Backboard smash is like "Street Fighter" meets "Jam." The idea is to destroy your opponent's backboard. Each backboard has a health meter and depending on what you do to the backboard, it takes more and more damage. First to destroy your opponent's backboard wins. If you sink a regular shot, it takes just a sliver of damage, but if you do a dunk, then that takes more damage, and if you do an alley-oop, it's even bigger. It changes the strategy because you even though you're still playing "Jam," you need to play it a different way than normal and maybe go with the stronger dunker so you can deliver more damage. It's still "Jam," it's just giving you more challenges, more depth -- that's what we're going for.
Jon Robinson: How about when people encounter Magic Johnson in the game? What is that boss battle like?
Trey Smith: The funny thing about the Magic battle is you give it to people and they're like, whatever, it's just 1-on-1. Then he disappears and reappears and disappears and reappears and there is that "what the hell" moment. You think he's cheating, but that's a boss battle. The first time you go in, you are going to get your [expletive] handed to you. You're probably going to lose the first five or 10 times you go in, but that's a boss battle. That's old school. But then you recognize something about the way he plays and there's that "aha" moment. And then, it's all about executing. It's about recognizing the patterns and finding that chink in the armor and exploiting it. And there is that real sense of accomplishment when you finally do beat him because it is such a challenge. We made this game for hardcore, old-school "NBA Jam" fans, and this type of thing should really take you back to your happy place.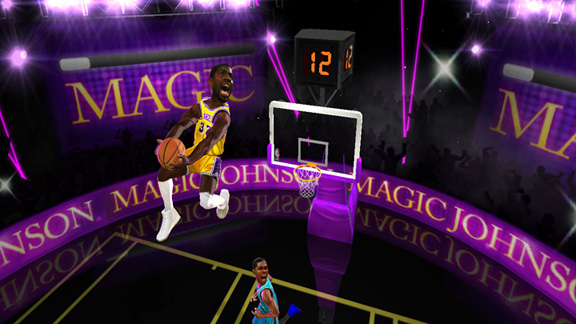 EA SportsThe Magic Johnson boss battle promises to be epic.
Jon Robinson: Are all of the boss battles 1-on-1?
Trey Smith: We break it up a little bit. There are 10 boss battles, then after you beat all of them, they resurface in the front end. So if you want to turn it up, after you beat Magic in hard difficulty, you can turn it up to insane. Then we jack up the A.I. and make it even harder. But we have legend battles at the end of classic campaign against Bird and Magic together on a team, so there are legendary 2-on-2 matchups as well.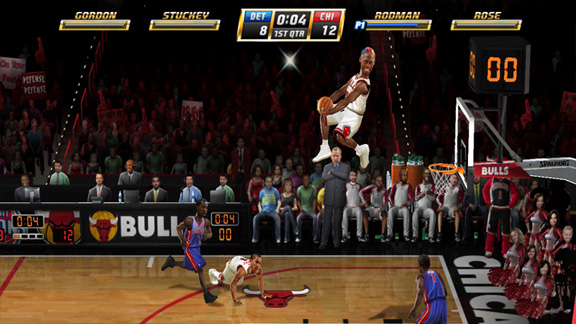 EA SportsRodman's flying higher than ever on the Wii.
Jon Robinson: How many legends are in the game?
Trey Smith: More than 30. So far all I'm able to confirm are Bird, Magic, Hakeem Olajuwon, Dennis Rodman, James Worthy, Kevin McHale, Detlef Schrempf, Spud Webb and Manute Bol. Manute was such a special guy and did so much humanitarian work. When he died, that really broke our heart. It was important for us to get him in the game, and he's such a great shot blocker in the game, which is so important in "Jam." We're very honored to have him in the game.
ESPN ARCADE
The sequel to our most popular game is here. How's your return?

Run timed routes, beat DB's to the end zone and score.

Hit your receivers, dodge defenders and rack up TDs.