August, 10, 2010
08/10/10
6:24
PM ET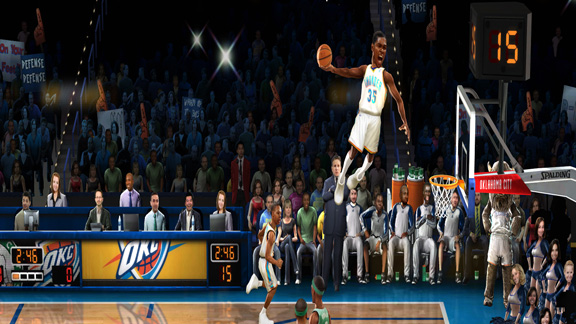 EA Sports"NBA Jam" will be a free download for those who buy "NBA Elite 11".
When EA Sports announced the resurrection of the "NBA Jam" franchise back in January as a Wii-exclusive title, Nintendo fans celebrated with shouts of "Boom-Shackalacka" while PlayStation 3 and Xbox 360 gamers were left shaking their heads in disbelief.
Why wouldn't EA Sports bring one of the most popular gaming franchises of all time to the systems of choice for so many gamers?
Turns out, "NBA Jam" will be coming to the Xbox 360 and PlayStation 3 after all, but not in the way anyone was expecting. In an unprecedented move, EA Sports is packing a free, one-time-only download code for "Jam" in every copy of "NBA Elite 11," giving basketball fans two games for just $59.99 when the titles launch on Oct. 5.
Included in the downloadable version of "NBA Jam" will be three game modes -- Play Now, Classic Campaign and Online (up to four players) -- meaning that the new Remix Tour featuring boss battles against legends like Magic Johnson is now exclusive to the Wii version of the game.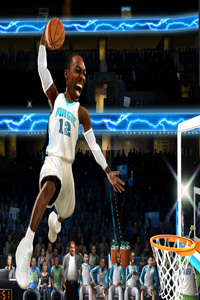 EA SportsDwight Howard is bringing the "Jam" to the 360 and PS3.
"We're still holding back the Remix Tour for the Wii consumer, and that's about 20 hours of gameplay," explains Jordan Edelstein, vice president of marketing for EA Sports. "But for the PS3 and 360, we want people to try 'Elite.' We feel like 'NBA Elite 11' is a great product and we want people to give it a chance and see all the changes we're making. So as a way to say thanks to these people, we are going to let them experience 'Jam.' It's not the full product, but it's a good portion of it.
"And the only way to play 'Jam' on the 360 and PS3 is by picking up 'Elite.' There's a one-time use code that will be in every copy of 'Elite', so you just go online and redeem it. We're not selling 'Jam' on PSN or Xbox Live. If you still want the full product, the full experience is on the Wii, but if you pick up 'Elite,' you're still getting a good taste of it, especially with the inclusion of online play."
It will be interesting to watch sales as the "Elite"/"Jam" combo double-teams the category favorite, "NBA 2K11," on store shelves.
"We're excited about what we have coming with 'Elite,'" adds Edelstein. "It's a revolution of how basketball games as a whole will be played. We look at all of sports, and the basketball games as a whole, us and 2K, are the lowest-rated sports games. We know we're No. 2, so we're the ones who can really take a crack at turning the gameplay upside down and not just changing things for change's sake, but there's a better way to do this, there's a better way to play.
"'Elite' gives you a meaningful, different way to play a basketball video game, then when you throw 'Jam' into the mix, a game people are really geeked about, we feel like if you're a basketball fan, this is a great value."
ESPN ARCADE
The sequel to our most popular game is here. How's your return?

Run timed routes, beat DB's to the end zone and score.

Hit your receivers, dodge defenders and rack up TDs.