August, 11, 2010
08/11/10
6:59
PM ET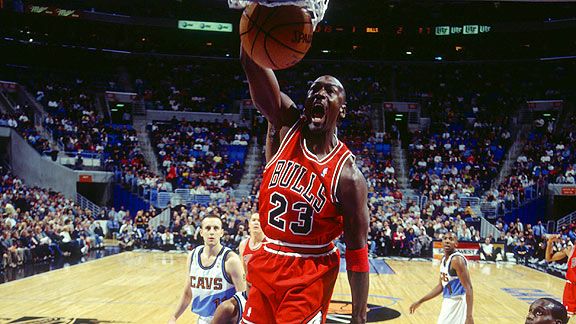 Brian Spurlock/US PresswireDrafting Michael Jordan to your favorite NBA team is now just a click away thanks to "NBA 2K11".
What if the Portland Trail Blazers drafted Michael Jordan instead of Sam Bowie? It's the question that has kept Blazer fans up at night for decades, but "NBA 2K11" is finally going to let you see what life is like with His Airness in the City of Roses. In fact, any NBA fan who ever dreamed of "Being like Mike," or at least having Air Jordan leading their franchise to a title is sure to be intrigued by the game's new mode, called MJ: Creating a Legend.
"This is a brand new experience that we're delivering to our users this year, and it's a mode that's not immediately available when you purchase the game," explains "NBA 2K11" producer Erick Boenisch.
Gamers will first need to complete all 10 of the classic match-ups in "2K11's" Jordan Challenge by recreating moments like the night MJ dropped 69 points on the Cleveland Cavaliers or reliving his rivalry against the Bad Boys of Detroit.
Once The Jordan Challenge is beat in its entirety, the single-player, offline-only Creating a Legend mode unlocks.
"The idea behind MJ: Creating a Legend is that you're going to step into today's NBA with a rookie Michael Jordan," Boenisch says. "He is rated a 79 overall, which gives you plenty of room to improve, but he has all of the physical tools of Michael as a rookie -- the fast speed, the high jumping, the quickness -- but he lacks a lot of the shooting skills and the offensive and defensive awareness. So you're playing with a raw prospect who can do just about anything, but can't deliver in the clutch just yet.
"And the cool thing about this mode is that you're player-locked to Michael Jordan, so you're kind of recreating the career and the legend of Michael Jordan."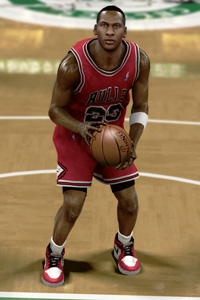 2K SportsFirst screen of Jordan as a rookie in "NBA 2K11".
When gamers start the mode, they can choose to add Jordan to any team in the league. So whether you want to send him to Cleveland to replace LeBron James? Or take him to Portland to right the wrong of the 1984 draft? Or perhaps, make the most insane video game team of all time by putting Jordan on the Miami Heat, the choice is yours.
"I tend to play [him] with the Heat right now," admits Boenisch, claiming to already have won one championship. "But the mode is along the lines of My Player in terms of trying to earn skill points with the ultimate goal of making Michael Jordan the best player he can be. You want to get him that 99 rating and win as many titles as you can. But this isn't one of those modes where you struggle right away. There's instant gratification here because you're really good from the start. Like I said, your shooting skills might be a little rough to start out, but you have the physical ability to dominate any game if you want.
"You're playing as Michael Jordan, and that's something that hasn't been offered this entire generation of consoles. It's something we're really excited about."
Also exciting is the news that Jordan's physical appearance will transform as he ages in the game. Adds Boenisch: "When you start out as a rookie, you're going to start out with the short fade, the short little hair. Then as he gets older you're going to see him go with the bald look, then the mustache in the middle years, and his body will bulk up a little bit as he slowly becomes the older Jordan. For fans of Jordan, it's really cool to see the progression and play as Michael and see what it is like to relive that skill that he had to takeover any game."
According to Boenisch, gamers will be able to play as Jordan from his rookie year all the way up to about age 40 as the rest of the NBA changes around you, complete with player trades and signings. Only thing missing is giving virtual MJ the ability to take time off for baseball. "You cannot play for the Birmingham Barons, sorry," Boenisch says with a laugh. "But it's a lot of fun, and it gives people something to look forward to as they play through the Jordan Challenge. We have achievements tied to this mode as well to give people more incentive to play, but this mode is all about kicking back on the couch, grabbing a controller and having a lot of fun. It's a great mode to just pick up and play.
"We went big with Jordan this year. It's all about Michael."
ESPN ARCADE
The sequel to our most popular game is here. How's your return?

Run timed routes, beat DB's to the end zone and score.

Hit your receivers, dodge defenders and rack up TDs.