August, 26, 2010
08/26/10
2:46
PM ET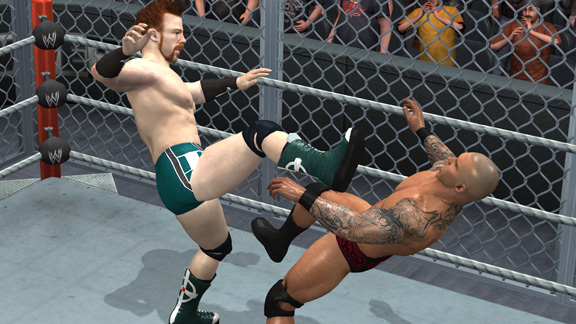 THQSheamus looks to be one of the most dominant characters in "WWE Smackdown vs. Raw 2011".
When WWE champion Sheamus is stalking somebody on "Monday Night Raw," the night usually ends with a foot to the face, a steel chair to the back or a slam through the announce table. So when I tell the wrestler whose mesmerizing whiteness has drawn comparisons to everything from mayonnaise to the Stay-Puft Marshmallow Man that he's rated a 92 overall in "WWE Smackdown vs. Raw 2011" but only has a 70 charisma rating, and he then asks where he could find the producers of the game, I wasn't sure what to expect.
"No one has more charisma than me in WWE," he tells me. "Seventy percent? I've got to talk to these THQ people. You know where I can find them?"
But a few minutes later Sheamus gets his hands on the game (not on the producers), and as his character beats the polygonal pulp out of a digital Randy Orton, the champ forgets all about charisma, concentrating instead on catapulting the Viper face first into the steel cage.
Then what's supposed to be a quick photo op of the champ playing the game at THQ's premiere event before SummerSlam turns into another virtual match, then another.
The champ doesn't want to leave.
"This is fantastic," Sheamus tells me, championship belt hanging from his shoulder as he plays the game.
Not only does "WWE Smackdown vs. Raw 2011" mark Sheamus' debut in a video game, but he also appears on the European cover of the product, and as a gamer himself, he couldn't be happier (even with 70 charisma).
"I've been playing video games since the Commodore 64 when I was about 5 years old," he says as we sit down to talk about his character. "Throughout the years I've had PlayStations and Nintendos, and right now I have a PlayStation 3 at home, so I can't wait to get my hands on a copy of this game. I grew up playing games like 'War Zone' and the old 'Smackdown,' so I'm very excited to see myself in a game."
ESPN ARCADE
The sequel to our most popular game is here. How's your return?

Run timed routes, beat DB's to the end zone and score.

Hit your receivers, dodge defenders and rack up TDs.