September, 13, 2010
09/13/10
6:57
PM ET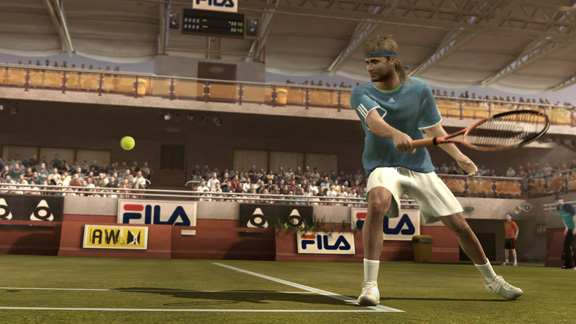 2K SportsCheck out the old-school virtual mullet on Agassi.
"Top Spin" is one of the most addictive franchises in all of sports video games. So when I heard 2K Sports was announcing the latest game in the series and that Roger Federer would be able to return shots between his legs (2K calls this the Federer Tweener), and Andre Agassi is featured with a virtual mullet, I hopped on the phone with associate producer Michael Kelly and brand manager Ryan Hunt to get all the dirt I could on the latest iteration, due out in 2011.
Jon Robinson: What's the one thing from "Top Spin 3" that you felt needed to be immediately addressed and changed heading into "Top Spin 4"?
Michael Kelly: We always listen to our fans and our critics with every game, but the one thing that was really divisive with "Top Spin 3" was the gameplay controls. The learning curve was pretty tough for a lot of people, and as a result a number of our fans and reviewers had a hard time getting into it and finding the depth that we thought we had in the game. The people who did stick with the game, they loved how much depth was in the game to explore, but that learning curve hit a wall for a lot of people. So the thing that we're really focusing on with "Top Spin 4" is we've totally revamped the gameplay controls, animations, and opponent AI, so if you're familiar with "Top Spin 3", you're still going to be able to pickup and play right where you left off, but for someone who is just starting out or who didn't go too deep with "Top Spin 3", it should be a lot easier to pickup and play. That's the biggest thing we worked on -- the accessibility of the game -- while at the same time allowing for all of the depth we had in "Top Spin 3".
In fact, "Top Spin 4" is even deeper. We've had over 3,000 new animations put in. We have signature styles for all of the players, so you'll see Nadal with his top spin shot from behind the baseline. You'll see the Agassi double-handed backhand down the line. Those shots are all in there and specific for the player. And you can do all of these shots very intuitively in "Top Spin 4". These moves are all fluid. If you're playing as a specific player, they'll play like that player. They'll have strengths and weaknesses, preferred areas of the court, preferred style -- whether you're a serve/volley type of player, an offensive baseline player, a defensive baseline player -- stuff like that.
ESPN ARCADE
The sequel to our most popular game is here. How's your return?

Run timed routes, beat DB's to the end zone and score.

Hit your receivers, dodge defenders and rack up TDs.