October, 5, 2010
10/05/10
7:03
PM ET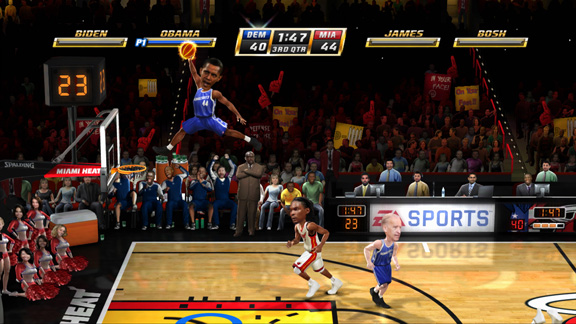 EA SportsExclusive first shot of President Obama in "NBA Jam."
Throughout the history of the "NBA Jam" franchise, some of the most popular players in the game weren't players at all, but hidden characters from politics and pop culture like Bill Clinton, DJ Jazzy Jeff and even George Clinton.
EA Sports' new "NBA Jam" game for the Wii is about to top them all, however, as in addition to a hidden team of Beastie Boys, there is an unlockable team of Democrats, featuring President Barack Obama, Joe Biden, Bill and Hillary Clinton, and Al Gore, as well as a team of Republicans that includes George W. Bush, Sarah Palin, John McCain and Dick Cheney.
I caught up with Trey Smith, creative director of "NBA Jam," to get all the dirt on the hidden politicians and various other secret characters in the game.
Only thing Smith wouldn't reveal is how to actually unlock them as EA Sports is being tight lipped on the codes (for now). But if you ask me, it probably has something to do with pressing right or left for the specific political party you want to play as. How many times and what buttons to press? That is going to be up to you to experiment with, but I couldn't figure it out by my deadline.
Jon Robinson: How are the hidden characters an integral part of the history of "Jam" and what you guys were trying to accomplish with the new game?
Trey Smith: The reason why "NBA Jam" did a billion dollars in the arcades -- you don't do that by just being a great sports game -- you do it by just being a great video game. It's mainstream. You don't have to be a hard-core basketball fan to love "Jam." It's an arcade title, it's over-the-top, you catch on fire and do flips 40-feet in the air, and I think one of the secrets that makes up the pure joy of "Jam" is surprise. It's surprising the player. It's about surprising everyone with what the players can do on the court like smashing the backboard and catching on fire, and those moments of surprise where the game just takes you on a trip. That goes along with the secret characters as well. All of the different versions had so many hidden characters like Bill Clinton and Hillary Clinton and the Fresh Prince. Just odd, random stuff, and it's that surprise that speaks to the mantra of what "NBA Jam" is all about. Since the very beginning, we wanted to be true to the original "Jam," and these secret characters and the element of surprise is something we hung our hats on very early. We knew this was something that we had to include in order to meet and exceed the expectations of "Jam" gamers. Secret characters were on the list from day one, and we have a great batch for this new version of "Jam."
ESPN ARCADE
The sequel to our most popular game is here. How's your return?

Run timed routes, beat DB's to the end zone and score.

Hit your receivers, dodge defenders and rack up TDs.