October, 5, 2010
10/05/10
7:03
PM ET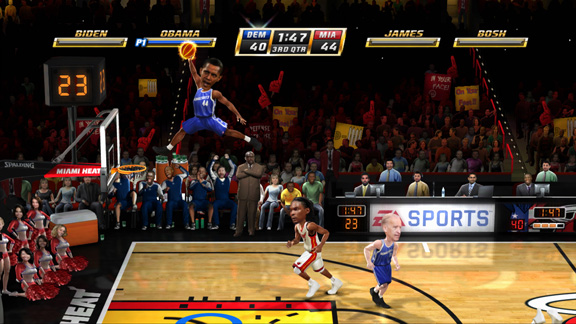 EA SportsExclusive first shot of President Obama in "NBA Jam."
Throughout the history of the "NBA Jam" franchise, some of the most popular players in the game weren't players at all, but hidden characters from politics and pop culture like Bill Clinton, DJ Jazzy Jeff and even George Clinton.
EA Sports' new "NBA Jam" game for the Wii is about to top them all, however, as in addition to a hidden team of Beastie Boys, there is an unlockable team of Democrats, featuring President Barack Obama, Joe Biden, Bill and Hillary Clinton, and Al Gore, as well as a team of Republicans that includes George W. Bush, Sarah Palin, John McCain and Dick Cheney.
I caught up with Trey Smith, creative director of "NBA Jam," to get all the dirt on the hidden politicians and various other secret characters in the game.
Only thing Smith wouldn't reveal is how to actually unlock them as EA Sports is being tight lipped on the codes (for now). But if you ask me, it probably has something to do with pressing right or left for the specific political party you want to play as. How many times and what buttons to press? That is going to be up to you to experiment with, but I couldn't figure it out by my deadline.
Jon Robinson: How are the hidden characters an integral part of the history of "Jam" and what you guys were trying to accomplish with the new game?
Trey Smith: The reason why "NBA Jam" did a billion dollars in the arcades -- you don't do that by just being a great sports game -- you do it by just being a great video game. It's mainstream. You don't have to be a hard-core basketball fan to love "Jam." It's an arcade title, it's over-the-top, you catch on fire and do flips 40-feet in the air, and I think one of the secrets that makes up the pure joy of "Jam" is surprise. It's surprising the player. It's about surprising everyone with what the players can do on the court like smashing the backboard and catching on fire, and those moments of surprise where the game just takes you on a trip. That goes along with the secret characters as well. All of the different versions had so many hidden characters like Bill Clinton and Hillary Clinton and the Fresh Prince. Just odd, random stuff, and it's that surprise that speaks to the mantra of what "NBA Jam" is all about. Since the very beginning, we wanted to be true to the original "Jam," and these secret characters and the element of surprise is something we hung our hats on very early. We knew this was something that we had to include in order to meet and exceed the expectations of "Jam" gamers. Secret characters were on the list from day one, and we have a great batch for this new version of "Jam."
Jon Robinson: How many secret characters can gamers expect to unlock in the game?
Trey Smith: We took it a little bit further than the original because we have 40 legendary players. A lot of these characters have never been in "Jam" before, like Larry Bird and Magic Johnson. The other legends that we got in the game are everybody's favorite players from the original game like David Robinson, John Starks and Patrick Ewing, John Stockton and Karl Malone. The original best two-player teams that we were able to bring back.
Then on the political front, we found that it's pretty fun to take these politicians and add them in the game and not take them so serious. Instead of talking about all of these serious world issues, it's kind of fun to see the lighter side of politics. And just like we have the dunk faces of the NBA players where we grabbed high-resolution pictures of their game faces, we did the same thing with the politicians. We found these pictures that showed off the emotion of all of these politicians, and some of them are classic. Dick Cheney has the Darth Vader snarl. Obama makes some great faces, and the politician dunk faces are some of the best dunk faces in the entire game.
Sarah Palin is hilarious in the game. She has a beehive haircut and a helicopter dunk that is just awesome. She also makes some pretty funny faces in the photos. It's just good, clean fun. We even made logos for the Republicans and Democrats, where the donkey is this bad-ass donkey with a Mohawk, and the Republicans have this cool elephant. In the beginning, we were just trying to be true to "Jam," but on the flip side, it's really cool to put this in there. Ever since we announced this game, people wanted Bill Clinton to be back. They knew that Obama was a baller, so they wanted him in the game. It's just this perfect storm for us and we couldn't be happier to include all of these characters in the game.
Jon Robinson: How were you able to get each of these politicians in the game? Did you have to get permission from the White House? Are they being paid to appear in the game?
Trey Smith: I'll be straight-up honest with you: I have no idea. As soon as we landed the "NBA Jam" license, we were sending e-mails around saying, "Hey, Bill and Hillary were in the old 'Jam' and this is something that we feel is very important for us to bring back." We wanted to have politicians as secret characters. I don't know where my e-mail went after I sent it to the executives and to legal, but it went away, then we got an e-mail back that said, "Yes, go for it." From that point on, we just went for it. So I don't know what the inner conversations were between people, but we asked and got the go-ahead to put them in and we couldn't be happier.
Jon Robinson: Is there anyone who you wanted to add into the game this year who refused?
Trey Smith: The three guys we really wanted who aren't in the game are Charles Barkley, Shawn Kemp and Gary Payton. Those are the guys who stand out to me, along with Kareem Abdul-Jabbar. We asked, we put the offers out there, but for whatever reason, it just didn't happen. I only think about it for a moment, though, because the people that we did get, from Bird to Magic to Obama, some of these other teams are so great that I don't hang my head for the few guys that we didn't sign. I think we blew it out of the water and I think you forget about some of these guys we didn't get, unless of course, you're a Sonics fan. But hey, at least you have Durant. KD is a mega-stud in our game. He's one of the best players, so hopefully that at least makes up for it.
Jon Robinson: I saw the Beastie Boys in the game. Are there any other musicians or actors?
Trey Smith: I can say that we do have another musical act and we're super psyched to have him, but I can't reveal who he is just yet. He is one of our super, super secret characters, but he fits the style of game that we're making. He's a really cool guy and we hung out with him and played the game with him and he loves it. He was an old school "Jam" fan, but I got the no-go on being able to talk about him. You'll just have to wait and see if you can unlock him yourself.
ESPN ARCADE
The sequel to our most popular game is here. How's your return?

Run timed routes, beat DB's to the end zone and score.

Hit your receivers, dodge defenders and rack up TDs.