October, 25, 2010
10/25/10
3:03
PM ET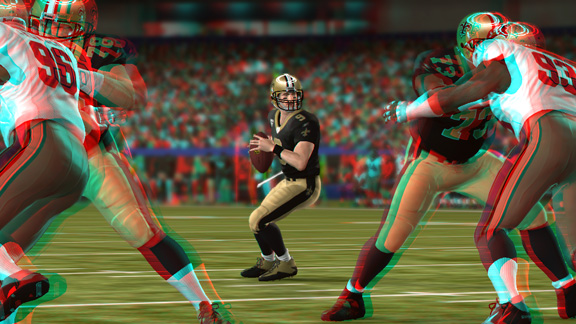 EA Sports"Madden NFL 11" is now in 3-D thanks to a partnership between EA Sports and Doritos.
Think you've seen everything there is to see in "Madden NFL 11"?
Time to rub your eyes and take another look, only this time you need to throw on a pair of glasses with red and cyan lenses.
That's right, "Madden 11" is going 3-D.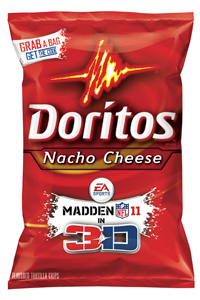 EA SportsEach bag has a unique code.
Thanks to the ongoing partnership between EA Sports and Doritos, gamers can head to stores and pick up specially branded "Madden" 3-D bags of chips. Each bag has a unique code that consumers can input on the website Doritoschangethegame.com. Once the code is entered and the gaming platform is selected (Xbox 360 or PlayStation 3), the system generates a Doritos 3-D code that unlocks the mode in "Madden 11."
The special bags of Doritos hit stores Monday, and exclusive "Madden" 3-D glasses will be inserted inside ESPN The Magazine when the latest issue arrives in stores Nov. 5. (However, any pair of traditional 3-D glasses with red and cyan lenses will work to view the game in 3-D.)
"I can't believe we were able to keep this a secret for so long," said Chris Erb, senior director of partnership marketing for EA Sports. "We were expecting someone to find this early.
"But we wanted to add something into the game that was relevant, something that people are talking about, but at the same time we wanted to make the 3-D accessible to everyone. You don't need a 3-D TV. You don't need expensive glasses. So we partnered with Doritos to figure out the right way to make that happen, and I think it looks great. It adds layering to what we already have. You can toggle it on or off, and I think the cool thing about it is that it's the entire game in 3-D, so I think people will find different things to enjoy about it, from the weather to the stadium effects to the passing game. I'm excited to play a bunch of games in Seattle in the snow and see that stadium with the weather effects."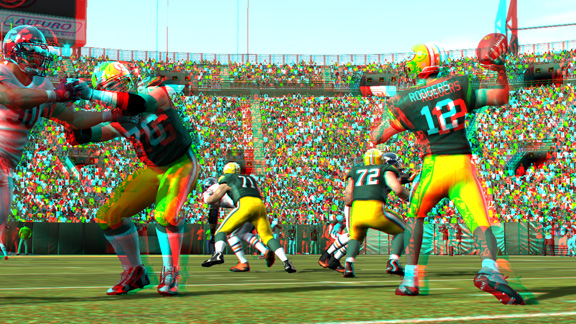 EA SportsAaron Rodgers can tear up a defense no matter how you see him.
This is EA Sports' third campaign with Doritos this year, and the two have partnered on everything from the first "Madden" cover vote to special "Madden"-inspired flavors of chips such as Stadium Nacho.
"We've been working with EA Sports for over a year," said Michael Fox, Frito-Lay's marketing manager. "So when we started talking about trying to challenge and how to do something different, we started throwing 3-D around and got really excited. Then we started seeing the game, and it's absolutely phenomenal. When you're playing and it's snowing, it looks like it's snowing in your room."
So does this mean that gamers can expect even bigger things with "Madden" 3-D in future games?
Erb says that for now, at least, the goal is about reaching as many people as possible, not just those who've invested thousands into bringing the technology into their home theaters.
"I think the fun thing about doing this with Doritos was being able to reach a mass audience that is accessible to everybody," Erb said. "I think [EA Sports president] Peter Moore and the brand teams are going to work real hard on figuring out what the next step in 3-D is, but I think it's about waiting for that install base to reach the right level. We need to make sure that it's worth the investment. Because 'Madden' is so broad, the accessibility play is very important to us right now. It's about finding the right partner to introduce that to everybody, and the Doritos brand is one of the strongest in the world, so to be able to partner with them on an NFL game and to be able to reach this mass audience has been cool. It's a fun feature that I'm having a lot of fun with, and I hope everyone else does, too."
ESPN ARCADE
The sequel to our most popular game is here. How's your return?

Run timed routes, beat DB's to the end zone and score.

Hit your receivers, dodge defenders and rack up TDs.