November, 24, 2010
11/24/10
10:02
AM ET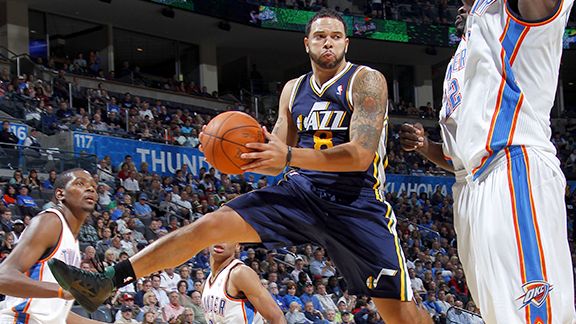 Layne Murdoch/NBAE/Getty ImagesThink Deron Williams can get hot shooting for the Jazz? You should see him play "Call of Duty."
Deron Williams couldn't care less about his character in "NBA 2K11." You won't find him playing "Halo," "Madden" or "Red Dead Redemption," either.
"I actually don't play any new video games except 'Call of Duty,'" Williams tells me. "I'm addicted to 'Call of Duty.' It's the only game I need."
Make that the only franchise the Jazz superstar plays, as Williams says he's been playing COD nonstop since the beginning and is eagerly anticipating the release of the latest in the series, "Call of Duty: Black Ops" on Nov. 9.
"The online play is the best," Williams explains. "I'm a guns blazing type of guy when I play online. I'm not very good with the sniper rifle, so I don't even mess with those.
"And now that 'Black Ops' is going to be in 3-D, that's crazy. Technology is getting so good, and I have my 3-D TV already, so I can't wait to play. Every 'Call of Duty' game just seems to get so much better, so I'm excited to check out the new maps and new weapons."
And as Williams breaks it down, he's not the only one on the Jazz who spends late nights online shooting it out in virtual warfare.
"We're all hooked," Williams says of his teammates. "We come home from road games and we get in at 2 in the morning and can't go to sleep, so we all go online and play 'Call of Duty' and talk crap. We've played until like 5 in the morning before."
As for who on the Jazz is the best gamer, Williams is quick to respond.
"I am," he says with a laugh. "Everyone thinks they're good, but Paul [Millsap] always runs up from behind people and slices them, so he gets on my nerves."
ESPN ARCADE
The sequel to our most popular game is here. How's your return?

Run timed routes, beat DB's to the end zone and score.

Hit your receivers, dodge defenders and rack up TDs.