November, 10, 2010
11/10/10
10:41
AM ET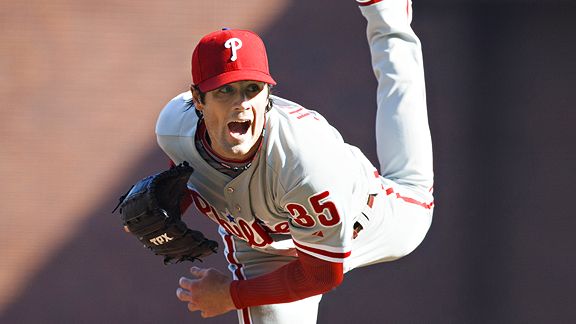 Jason O. Watson/US PresswireIf you hear explosions coming from Hamels' hotel room, don't worry, he's just playing "Call of Duty."
Cole Hamels was "Call of Duty" before "Call of Duty" was cool.
The Phillies pitcher started playing the series from the very beginning on his PC, then later made the transition to his Xbox 360 in order to play the "Modern Warfare" games (for which he voiced the now-infamous PSA against grenade spam).
"Call of Duty revolutionized first-person shooters," Hamels says when I ask him why the brand has become such a pop culture phenomenon. "It's one of those games where you can lose a few hours or even a weekend if you're not careful. The game just has this edge to it with the graphics and the realistic weapons and terrain that they added and it makes you feel like you're fighting without actually getting shot.
"Then all of a sudden you add in the 3-D aspect to 'Black Ops' and I think you're going to have a lot of guys trying to dodge the bullets while they play. It's probably going to be pretty entertaining in itself, just watching people try to dodge bullets."
Probably looks like a batter diving to dodge the high heat.
Anyway, here's what else the self-proclaimed "Call of Duty" addict has to say about the franchise, "Black Ops," and gaming on the road.
Jon Robinson: What's the most time you ever spent playing "Call of Duty" on the road?
Cole Hamels: There are times when we come back from a game and we're calling up the hotel to get the Internet connections in our rooms. We'll have three or four guys switching off and we'll play until the next day.
Jon Robinson: Who do you normally play against?
Cole Hamels: Chad Durbin, Brett Myers and Jayson Werth. When Brett was on the team, he was the best. I thought I was good enough to compete with him but then he'd just walk all over me. The fun aspect of the multiplayer is that you can talk to your opponents and you can talk enough crap to people to put them in their place. But he would dominate to the point that there was just dead silence.
ESPN ARCADE
The sequel to our most popular game is here. How's your return?

Run timed routes, beat DB's to the end zone and score.

Hit your receivers, dodge defenders and rack up TDs.