January, 4, 2011
01/04/11
3:04
PM ET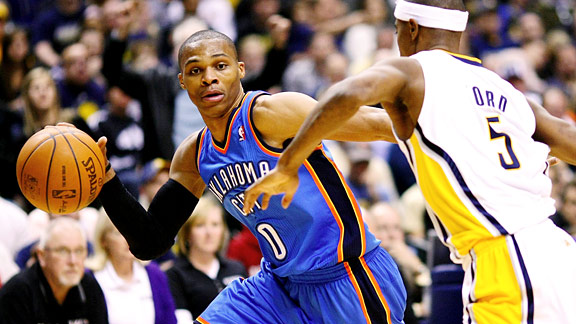 Michael Hickey/US PresswireRussell Westbrook plays defenders like he's playing a game of "NBA 2K11."
The hops. The dimes. The flash. The fire.
Russell Westbrook is everything I want from a video game character, playing that way for real in the NBA.
Luckily for me, I get to control his every move in "NBA 2K11," which Westbrook not only plays religiously, it's a game he reps in order to help spread the message of its greatness, from the virtual return of Michael Jordan to the run-and-gun cyber dominance of his Thunder.
"2K is the 'it' game this year," Westbrook tells me over the phone as we talk video games and hoops. "This game is as real as it gets. It's ultracompetitive, it's so close to what everyone does in real life ... the game is just nice.
"When I play the game, I'm surprised how much the character looks like me. They have my moves in there. It's great."
But Westbrook wasn't always a superstar in the game's eyes. In fact, the star guard still remembers his low rookie ratings.
"Dang, they are hard on you as a rookie," he says with a laugh. "You have to earn your spot in the video game just like you have to earn your spot in real life. The better you play, they'll update your ratings online. It's like you can track how good you are through the game."
Outside of "2K11," Westbrook says he enjoys playing all of the various sports games as well as shooters like "Call of Duty." "'Call of Duty'" is fun, but I don't play it as much as 'NBA,'" he says.
And for a guy who is not only a basketball player, but still a fan at heart, the addition of Michael Jordan into the game is one of the main selling points to the man known as "Mr. Why Not."
"The Jordan moment that stands out to me is when he was playing Utah and won the Finals with that jumper," Westbrook says, reminiscing about MJ's glory days.
You mean the jumper where he pushed off?
"I don't think he pushed off," Westbrook responds. "It was a great move, an excellent move to get open, but you never know."
According to Westbrook, everyone on the Thunder is loving the opportunity to control Jordan in "NBA 2K11."
We're all big into video games. Everyone on the team plays," he says. "We have tournaments sometimes on our off days. We'll play '2K' all day and just hang out and chill."
As for Kevin Durant being on the cover of "NBA 2K11's" competition, "NBA Elite," a game that has now been canceled, all Westbrook can do is laugh. "I don't even need to talk trash about it," he says. "He just plays whatever game makes him look better anyway."
This year, no game captures the sport or its stars better than "NBA 2K11."
The Thunder are currently the fourth-most played team online (behind just the Heat, Lakers and Celtics).
"We're a great video game team," Westbrook says. "We are going to get out and run and get you some cool dunks. If you play as us, you're going to have fun."
Not as much fun as controlling your body in real life like a video game character, the way Westbrook does against stunned opponents on a nightly basis, but for the average sports fan, this is as close as it gets.
ESPN ARCADE
The sequel to our most popular game is here. How's your return?

Run timed routes, beat DB's to the end zone and score.

Hit your receivers, dodge defenders and rack up TDs.