January, 25, 2011
01/25/11
2:12
PM ET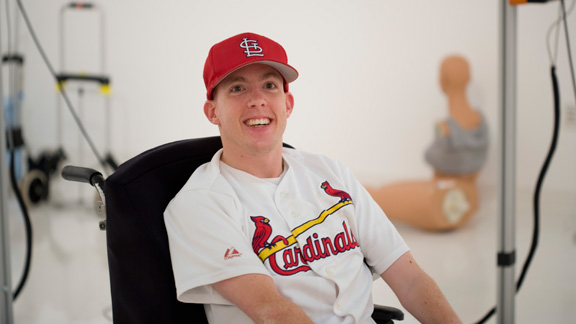 SonyHans Smith's Association for Disabled Virtual Athletes will be featured in "MLB 11: The Show."
Hans Smith pitched his way through an up-and-down rookie year for the Cardinals last season.
Don't recognize the name? That's because Smith is a virtual athlete who spent an entire season playing as himself in "MLB 10: The Show."
But Smith is anything but your average gamer.
The 25-year-old baseball fanatic has cerebral palsy, making it impossible for him to play the game he loves in real life.
That didn't stop Smith from making the majors, though.
A few years ago, Smith wrote a letter to Sony's San Diego studio, the developers of the top-rated "MLB: The Show" series, and the producers were so moved by Smith's passionate words about baseball, the Cardinals and their video game, that Sony went ahead and created Smith's character in "MLB 10: The Show."
According to Smith, seeing the cyber version of himself gave him a feeling like never before. It was as if by some miracle his cerebral palsy ceased to exist nine innings at a time.
It's a feeling he wants to share with other disabled gamers.
Smith gets that chance in "MLB 11: The Show" as, thanks to the gamer's growing ties with Sony's development team, a new difficulty level has been added to the franchise that will make it possible for more gamers with disabilities to get their cracks at the plate against diamond kings like Tim Lincecum and Cliff Lee.
The mode is titled after a new organization Smith has created, the Association for Disabled Virtual Athletes, and the new feature makes it easier for gamers with disabilities to play, thanks to one-button controls. The computer takes over the action of running to the ball, so all you need to do is hit a button to throw to a base or swing the bat. This opens up "The Show" to even more kids like Smith who always dreamed of playing baseball, but for physical reasons beyond their control couldn't … until now.
"It comes from the fact that I can't physically play baseball, a game I am fanatic about," Smith tells me as we meet up in Sony's San Diego studio to talk about the new game. "But I've been able to play baseball over the years by playing various video games. I love baseball video games. To some people, these are just games. But that's because at any time, they can turn off the console and go out to a ballpark and play baseball in the physical world. I can't do that.
"So my body doesn't know the difference between reality and virtual reality. I'm never going to throw a baseball. I'm never going to run around the bases. So all of the adrenaline you feel by stepping out on the field and coming up to bat with two outs in the ninth inning, that's what I feel when I play the video game. So in a sense, this game is my reality. 'MLB: The Show' gives you the experience of what it's like to play, not just as a team, but you get to be a player with Road to the Show. You can play from the position of a first baseman, you can play shortstop, you can play catcher. You can feel the highs of getting the big hit, and you can feel the lows of being out of position and making an error that costs your team the game. To be able to play the game and practice your skills and actually better yourself, that's what drew me in to the game."
ESPN ARCADE
The sequel to our most popular game is here. How's your return?

Run timed routes, beat DB's to the end zone and score.

Hit your receivers, dodge defenders and rack up TDs.