January, 31, 2011
01/31/11
3:28
PM ET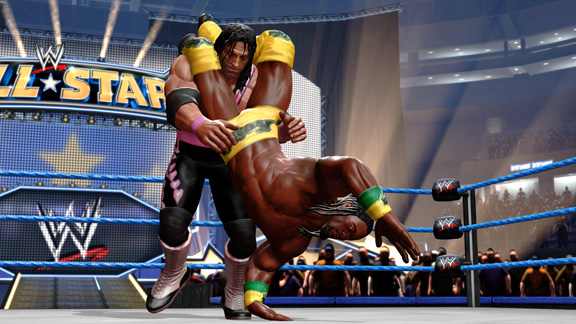 THQKofi Kingston's star is on the rise thanks to the cover shot on "WWE All-Stars."
Think Kofi Kingston appearing on the cover of the video game "WWE All-Stars" isn't a big deal? Think again. The last up-and-comer announced as front of box talent that people questioned was The Miz, and before you could say "I'm awesome!" Miz was WWE champ.
With WWE All-Stars shipping close to Wrestlemania, could we see Kingston's time to shine with maybe a Money in the Bank victory?
Don't put anything past Kingston as the charismatic wrestler has proven to be the most athletically-gifted performer in WWE, with the kind of hops that would even make Nate Robinson jealous.
I caught up with Kingston at a THQ event recently in New York to get his thoughts on the new game, a potential heel turn, and what it's like to get hit with a ladder.
Here's what the Intercontinental champ had to say.
Jon Robinson: As a gamer, what's it like seeing your character perform Trouble in Paradise on The Rock in "WWE All-Stars"?
Kofi Kingston: Wow, it's really, really cool. That's what is so great about this game ... you can go up against these legends, these superstars of yesterday. I used to watch these guys growing up and to be able to get in the ring with them in the video game is something I've always wanted to do. Not only do they have The Rock, but they have Randy Savage, and Ricky Steamboat in the game. Ricky Steamboat is one of, if not the most influential person both before my career and during my career. He was that hybrid type of wrestler with the martial arts and the high flying and the breathing fire! We just had a panel to talk about the game and I was sitting on one side of the couch, he was sitting on the other, and we had the Intercontinental belt sitting between us. It was kind of symbolic.
Jon Robinson: What did you think of seeing Savage in the game?
Kofi Kingston: Man, he hasn't been in a game in years. It's like he fell off the face of the planet. But now he's back and people are really going to enjoy playing as him. People are going to love the legends in the game. Even putting a match together like John Cena versus The Rock. That's something everybody has wanted to see for a while. You have two guys who are fantastic on the mic, two guys who carried their industry in their respective times, and two guys who everybody still wants to see do battle in the ring. I know I want to see that match.
Jon Robinson: I heard recently that when you were growing up, you used to practice your wrestling moves on a stuffed Bugs Bunny. How beat up was that poor doll?

Kofi Kingston: [laughs] I had a Bugs Bunny doll that had wires in him so you could pose him in all sorts of ways. I used to set him up as my practice dummy, but no matter how hard I hit him, he always smiled. I think that's where I got it from.

Jon Robinson: Are you still doing a lot of gaming on the road now that you've moved to Smackdown?

Kofi Kingston: Not as much anymore because we need to find someone who will bring their system with them. Mark Henry is the one who always brings his system on the road, and that's the system we all played on, but now he's on the Raw side and I'm on the Smackdown side, and for me, it's too much of a hassle to bring the system with me when I travel. We definitely still game a lot at home, though, that's for sure.

Jon Robinson: Who do you play against online from home?

Kofi Kingston: Big Show, myself, Cody Rhodes, Tyler Reks, and that savage Hornswoggle. There are a handful of us who form this underground wrestling gamer community.

Jon Robinson: What are you guys playing lately?

Kofi Kingston: "Black Ops," "Halo: Reach," and, as always, "WWE Smackdown vs. Raw 2011." Just depends on the day.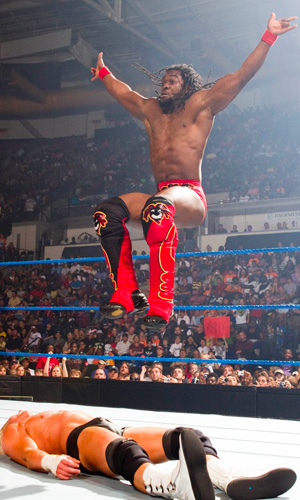 WWEKingston shows off his impressive hops.
Jon Robinson: You're carrying the Intercontinental belt with you right now as we speak. Where do you see your career headed in the next year or so?
Kofi Kingston: I just won the belt, so right now I'm trying to be the best champ I can possibly be. But in the future, my goal is to be World Champion or WWE Champion. I'm always trying to climb that ladder. I like to say, "If you're not getting better, you're getting worse." So it's a matter of trying to get better and improve every day.
Jon Robinson: I thought you really shined against Randy Orton. It seemed that for the first time, they let your personality out, and to me at least, that personality had a hint of heel to it. Are we going to see more of that bad-ass Kofi Kingston in the future?
Kofi Kingston: Hey man, we'll see. With all of the storylines, I basically do what I need to do. It all depends on the nature of the situation. With Orton, things got personal really quick when he threw me off the stage, so I had to turn things up a notch. It was actually really cool to be involved with a guy of that caliber and skill like Randy Orton. At that point in my career, it was really important for me as he gave me the opportunity to step up to the plate and see what I could do.
Jon Robinson: I thought when you jumped off the railing and crashed through Orton down below at Madison Square Garden, that was one of the best moments Raw has had in a long time.
Kofi Kingston: And it means so much to do something like that at Madison Square Garden. It's one of those arenas that's still the same as it was. It still has that same setup, that same feel of prestige. And what a lot of people don't remember is that whole segment started with Randy and Roddy Piper. Randy was about to kick Roddy Piper's head off before I came down and made the save. And for me to be in the same ring as a guy like Roddy Piper, that's just incredible.
Jon Robinson: Wrestlemania is only a few months away. Last year you shocked everyone at Money in the Bank by using two broken ladders for stilts and somehow walked across the ring. How do you come up with innovative spots like that?
Kofi Kingston: I just try to sit and think of things that nobody has seen before. That's why a lot of my offense and moves are unorthodox, to say the least. I try to draw off of some things that are cool to me, like Japanimation and different cartoons and video games. I try to bring some of these things into the ring, and I think that helps make me stand out.
Jon Robinson: Any thoughts on what you might do this year if you're in Money in the Bank again?
Kofi Kingston: To be honest, while I try and think of new things all year round, the majority of things really start to click for me in the heat of the moment ... the days leading up to Wrestlemania. So I can promise that you'll see something innovative, I just can't tell you what it will be.
Jon Robinson: I see you getting hit with chairs and ladders while I'm sitting on my couch eating chips. What are those matches really like in there? I know it's choreographed, but you can't fake getting dropped on a ladder.
Kofi Kingston: A lot of it is obviously entertainment, but at the same time, there is a lot that you can't fake in there. Getting hit with a chair is not fun. Falling off the top rope all the way to the floor is not fun. With Wrestlemania, our adrenaline is pumping so much, that you don't even realize how many cuts and bruises and dings and dents that you even have until like four or five hours latter. I didn't realize how hurt I was after the last Money in the Bank until I was in the shower. As the water was rolling down my body, I started feeling the sting of all these cuts I didn't even know I had. That's when it first hit me how sore I was. But Wrestlemania is our Super Bowl. It's the pinnacle event of our year. It's what we work for all year long, so we don't feel the pain when we're out there, especially with the crowd. You don't feel it until it's all over.
Jon Robinson: How about if you're not in Money in the Bank this year. Do you have a dream match?
Kofi Kingston: My dream match would be against Ricky Steamboat. You saw him comeback a few years ago and he still had it. He's phenomenal, and I'd love if he could come back one more time to challenge for the Intercontinental belt. It could be like a student versus teacher type match. For me, being in the same ring as the guys I watched growing up just means so much and that would be amazing to me if I got that chance.
Jon Robinson: We talked earlier about your feud with Randy Orton and how hot the crowd got for you during that time. How much influence does a crowd have in terms of seeing you get pushed to an even higher level on the card?
Kofi Kingston: There's a lot involved, but a lot of it is crowd reaction. Whether it's positively or negatively, as long as you're making a strong reaction with the crowd, that's what people are paying for. They're paying that money so they can cheer the guys they like and boo the guys they don't like, and that definitely has a big influence on whether or not you make it to the next level. If people don't care about you, then you're in a tough spot. You're in a real tough spot.
Jon Robinson: So if all your fellow gamers out there show their support for Kofi Kingston, we might see you in that main event?
Kofi Kingston: We'll keep our fingers crossed.
ESPN ARCADE
The sequel to our most popular game is here. How's your return?

Run timed routes, beat DB's to the end zone and score.

Hit your receivers, dodge defenders and rack up TDs.