February, 10, 2011
02/10/11
10:44
PM ET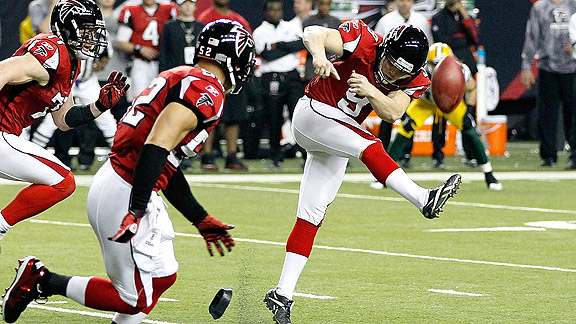 Kevin C. Cox/Getty ImagesLook for surprise onside kicks to finally be featured in "Madden NFL 12."
Surprise onside kicks are a stomach-churning way of life for special-teams coaches in the NFL.
But up until now, it's a play that has been left on the cutting-room floor in the EA Tiburon studios for fear of the kick becoming an exploit that could ruin games.
So when creative director Ian Cummings tuned the play to his liking recently over a long weekend, he knew that this was the announcement to lead with when it came to opening the dialogue with the sports gaming community about "Madden NFL 12."
And by dialogue, I mean fierce debate, as there seems to be a line in the sand with some members of the community thinking this is an addition a long time coming, while others fear that cheesers online will find a way to recover the onside kick at will no matter how much it's tuned.
But since nobody outside of the EA Sports offices has even attempted a surprise onside kick in a game of "Madden," I figured the best person to settle the arguments and clarify any potential problems is Cummings himself.
Here's what the man behind the most controversial feature since the passing cone has to say about the play, how it will be limited in competition, and why it was important to inform the community about this as early as possible.
Jon Robinson: Of all the new features you guys are kicking around, why did you announce surprise onside kicks as the first thing gamers can expect for "Madden NFL 12"?
Ian Cummings: We discussed for quite a long time what we would lead with. There was a lot of debate, but I really wanted to lead with this because of the discussion it would cause. It's not a huge feature. It's not something that took a ton of time. But it's something that's been a hot-button issue in the community. Some people have made a really big deal over us not having this in the game, and it's something we always wanted to do, we just needed to balance it right. So we figured we'd lead with it and we'll get people talking about how it will be an exploit, or on the flip side, how it needs to be in the game. But we knew it was something that would get people talking about "Madden 12." If we lead with something huge, then it's tough to continue that momentum. So we decided to lead with something controversial to get people talking about the game.
Jon Robinson: What's the success rate of these surprise onside kicks in real life?
Ian Cummings: I went through the NFL playbook tool that we have and it's a little over 55 percent of the time that they get the ball successfully when they do a surprise onside kick. We can't tune it like that, unfortunately. I wish that we could, but then everyone would do it all the time. So it's yet to be determined where we put it at. Right now, it's an organic thing. You can't make it something where 50 percent of the time you recover because once you kick it, the ball bounces in different directions and the player AI reacts in different ways. Right now, we're trying to dial in that number because it's actually way too hard to recover. The very first build where I had it, you could recover just about every time, but with the current build you can recover maybe 1 out of 100, so it's way too low. We'll continue to tune it as we go along.
Jon Robinson: Is there a limit to how many times players will be able to attempt this throughout the game?
Ian Cummings: Yeah, this is something that has brought up a lot of discussion, and as of today we're limiting this to one per team per game. At the beginning of the week I had it at two per team per game, but there was an overwhelming response that we shouldn't do that. The thing is, this is in the tuner set values, so we can push this pretty easily if we want to go up or down. I don't want people to think that this is an exploit and that we're capping it because it's an exploit, but the idea is that once a team does one, there's no way that the other team would fall for it again. They're going to be set up for it and they're going to prepare for it. So I don't want to make this unlimited where some guy spends six days straight in practice mode and finds a way to recover every time and ruins online play for everyone. That's why we're limiting this to just one or two or maybe three. We'll see how it works out closer to ship.
Jon Robinson: How does the mechanic actually work in the game?
Ian Cummings: It's one of my favorite mechanics. The original thought was that you'd call a surprise onside kick play, but I just thought that was kind of lame, especially if the guy you're playing against is watching your plays. So how we do it is you start your kick meter like you normally would by pressing the A button on the 360 or the X button on the PS3, but then on your last button press, when you're stopping the meter for your accuracy, you choose the B button or the circle button and that ends up switching things up to the surprise onside kick. He'll line up and look like he's about to kick normally, but then the animation switches up at the last second. It does use the aim of the kick arrow, but it doesn't go all the way to the sidelines. We're trying to keep it more toward the middle of the field so we can tune this so there aren't too many variables that enable someone to recover the ball every time. It also takes the power into account a little bit, but the majority of the power will come from the tuner sets so that if we find someone has an exploit, we can update that more quickly and make it more random, adjusting things after ship.
Jon Robinson: You mentioned the tuner sets that will be in "Madden NFL 12." Can you explain how that addition will benefit gamers?
Ian Cummings: Anytime there's a bug or an exploit after launch, the majority of time you have to patch it. And doing a patch or a title update requires approvals and you need to resubmit the game. The whole process usually takes about four to six weeks to turn around, from the day you make your fix to the day it gets out to consumers. But with tuner sets, it's not every little piece of code. These are small pieces of data that we are able to update in real time. We can do a little bit of testing on our end, then push it out right away. If you think about how roster updates work, that's the way a tuner set would work. Instead of waiting on the turnaround of the approvals, we can apply the fix right away. If there's any type of problem where there are too many fumbles or the offensive line isn't blocking right, tuner sets are perfect because you can make the change, get it in the game in a couple of days, and then gauge the reaction from that and make changes accordingly. It really allows you to go back and forth with the community and make the game better for everyone.
Jon Robinson: How often can fans expect you to blog about new features in the game? Is there another blog coming soon, or is this it for a while since "Madden 12" doesn't even ship until August?
Ian Cummings: I had planned on doing podcasts every other week from here until ship, but we have to plan it out first. We don't know all of our features, and we also need to align with "NCAA" to make sure we're talking about any shared features at the right time. I don't know if we'll have one in the coming weeks, but I want to keep the regular communication going, it might just not happen for another month or so. I like to keep people in the loop, especially when we're doing features early that still have time for feedback and we can make them better. That's what's great about this feature. Although it's small, we can see the reaction from everyone, we can quell the concerns of the community and make changes. If I didn't tell anyone a single thing about this feature and it just showed up on day one and it was an exploit, everyone would hate it. But now everyone feels like they're a little more involved in the process and that always makes for a better game.
ESPN ARCADE
The sequel to our most popular game is here. How's your return?

Run timed routes, beat DB's to the end zone and score.

Hit your receivers, dodge defenders and rack up TDs.