March, 4, 2011
03/04/11
4:28
PM ET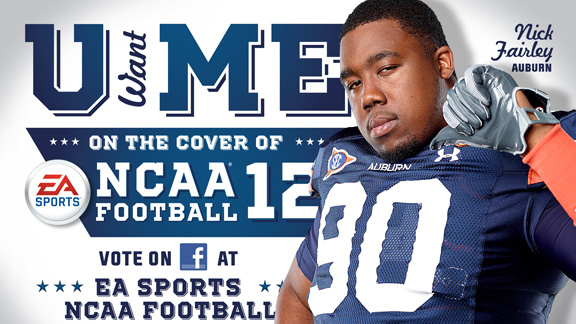 EA SportsNick Fairley wants your vote for the "NCAA Football 12" cover.
Calling Nick Fairley a beast isn't giving the kid enough credit.
He's more like the monster who ate the beast for breakfast.
And it's Fairley's ferocious pursuit of pounding quarterbacks that has made him one of the NFL's most wanted in this year's draft, not to mention a player who video game publisher EA Sports is ready to bankroll as the face of its upcoming game, "NCAA Football 12." That is, if Fairley can win a fan vote among some of college football's most elite players from last season, including Mark Ingram, Jake Locker and DeMarco Murray.
But Fairley is already working on his pitch to sway the masses.
"I'd be the first defensive tackle to be on the cover of the game," he tells me. "I'm a big gamer, so it would mean a lot to me. I play 'Madden,' 'NCAA Football,' 'NBA 2K11,' and a little 'Call of Duty,' so if I could be on the cover of 'NCAA Football 12,' it would really be a blessing.
"I remember as a kid at Christmas, you would open your presents and hope you got the video game you wanted. And to think that some kid out there would open his gifts and see my face on the cover of the game he wanted is unbelievable to me. To have this opportunity really feels good."
Jon Robinson: You're not only in the running to be on the cover of "NCAA Football 12," but you're also going to be in "Madden" for the first time this year. Growing up, did you ever imagine that you'd be in a video game?
Nick Fairley: Growing up and playing football in the street, we used to always pretend we were the guys in the game or the guys on the cover. I remember when Ray Lewis was on the cover, if you made a big hit, then you hit like Ray Lewis in the game. You tried to bring that Hit Stick to the street. The game has so much influence over the kids, I don't think people even realize.
ESPN ARCADE
The sequel to our most popular game is here. How's your return?

Run timed routes, beat DB's to the end zone and score.

Hit your receivers, dodge defenders and rack up TDs.