March, 22, 2011
03/22/11
3:21
PM ET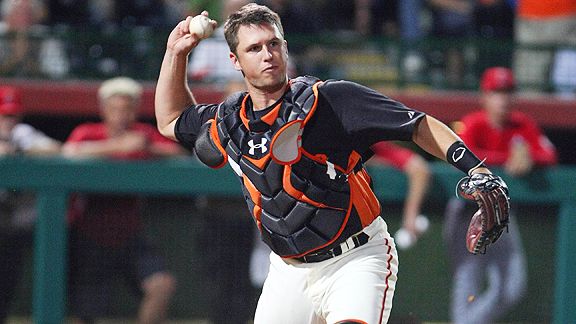 Brace Hemmelgarn/US PresswireAfter years on the bench, EA Sports is finally making a return to the diamond.
When gamers talk with disgust about exclusive licenses, the first title always brought up is "NFL 2K5." But in my opinion, it's the ridiculous exclusive Major League Baseball signed with 2K Sports that still leaves me outraged, especially considering that the deal killed off one of the most beloved sports gaming franchises of all time, EA Sports' "MVP Baseball."
Six years after the exclusive deal was signed, baseball gamers are still left reeling.
Sure, if you own a PlayStation 3 and buy "MLB 11: The Show," you're gold. But own a 360 and your only hope is that one of these days 2K will actually field a game that gets over the mediocre hump, something they failed to do yet again with "MLB 2K11" as the franchise continues to spin aimlessly and fans grow more and more frustrated with the direction the team is headed (maybe they should change the name of the game to Mets 2K11).
But with the exclusive license ending in 2012, there is hope that EA Sports will return to the diamond and rescue 360 gamers with a new dose of "MVP."
And while any thoughts of that classic comeback are still a ways off, sources have told me that EA Sports already has a deal with Major League Baseball in place and is about to launch a new game franchise sooner than anyone expected.
Taking a closer look at the deal between 2K Sports and Major League Baseball explains it all as the original third-party exclusive license only granted the rights to "simulation, arcade, and manager-style games on the current and next-generation Xbox, Nintendo, PlayStation, PC, and handheld systems." This opens up a loophole in the fact that digital games like EA Sports' recent "Madden NFL Superstars" and "FIFA Superstars" were not covered by the contract. And now, my sources are telling me that EA is in fact developing a new digital baseball game, complete with the MLB license, for Facebook.
Not much is known about the project at this time, but by looking at the other EA Sports Facebook games, one can assume it will be something along the lines of fantasy team building. I'm actually a big fan of this type of baseball game, so it will be interesting to see what EA is able to do inside the digital space that makes their title stand out.
And with EA Sports and Major League Baseball already working side-by-side on this new project, it gives me great hope that we'll see an eventual return of "MVP Baseball" once 2K's exclusive deal runs out next year.
Now, if only we can get the NFL to start working with 2K Sports again ...
ESPN ARCADE
The sequel to our most popular game is here. How's your return?

Run timed routes, beat DB's to the end zone and score.

Hit your receivers, dodge defenders and rack up TDs.