March, 25, 2011
03/25/11
5:26
PM ET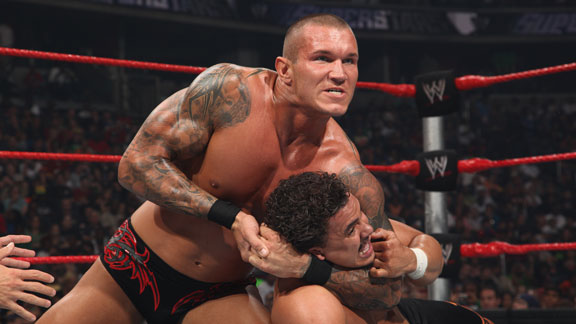 WWERandy Orton is one of the top stars competing at this year's Wrestlemania.
Imagine what's it like growing up in a WWE locker room.
Walk around the corner and you might find the 500-pound "Andre The Giant" playing cards with "The Brain," a midget or even a "Macho Man." Turn down the hall and you could stand face-to-face with everyone from a "King" to "the Conquistadors."
That was the life for third-generation superstar Randy Orton as he ran around backstage as a kid among some of the biggest and most memorable characters the wrestling business has ever known, including Randy's father, WWE Hall of Famer (and the man who made wearing an arm cast famous), "Cowboy" Bob Orton.
But aside from learning it takes years for a broken arm to heal when you're one of the top heels in the business, Randy also became obsessed with one wrestler in particular, Jake "The Snake" Roberts.
"I was even more of a fan of Jake The Snake than I was of my dad when I was a kid, and that's because of the snake," Randy Orton said with a laugh. "Jake used to have his snake, Damien, out in the locker room slithering around the showers. In the locker room, they would actually block off one of the showers just so Damien could roll around, and I'd sit there and watch him. Jake had Burmese pythons, boas, red-tail boas, Columbian red-tail boas. ... I know my snakes, I know my reptiles because I got into them as a kid being in that situation. I just loved Jake The Snake because of that character and how he cut a promo. That dark nature of his character was amazing."
Funny that Roberts was his favorite because the new "WWE All-Stars" video game actually pits Orton against Roberts in a battle to see who is the coldest snake and top predator in WWE history.
"I'm sitting here looking at my new action figure, and it's a two pack from 'WWE All-Stars' with me and Jake," Orton said. "The figures are pretty cool because you get me, and then Jake has his burlap sack with the snake. When I saw that and I found out about our match in the video game, I thought it was really, really cool.
"I never thought as a kid that I'd have an action figure, much less an action figure sold in a two-pack with Jake The Snake. Being in the business 10 years, it's all surreal. You never get used to seeing the action figures and the video games. Looking back and thinking what I'd be doing in life, I never would've imagined I'd end up where I am now."
Jon Robinson: Last time I interviewed you for ESPN, you had just punted Vince McMahon in the head and the crowd loved to hate you. Now you get some of the biggest cheers of anyone on the show but you really haven't changed anything about your character. How does that work?
Randy Orton: You're exactly right. When you go from being a good guy to a bad guy or vice versa like I did, everyone always tells you, "Don't change, don't change." And in my case, the less change the better because what really happened is the fans turned on me. This wasn't some master plan where all of a sudden I was going to be a good guy, I just started getting a lot of fan support. It's a fine line because I wasn't going out there like John Cena high-fiving kids and hugging grandmas and pumping my fist and smiling ... if I would've done that, I would've failed tremendously, kind of like it did back in 2004, when I became the youngest champion in WWE history. That didn't work at all because I changed so much. So it's really about looking at your character, seeing what people like about me, like about my character, and seeing how much I can change without changing too much and walking that fine line. I think I've done a pretty good job. I'm definitely still learning on the job, though. It took me about five years to get really comfortable as a bad guy, as a heel, and I expect to take another couple of years as a good guy to really come into my own, but I'm definitely on the right path.
Robinson: Growing up and watching your dad in Wrestlemania, did you ever think that one day not only that you'd be starring in the show but that the event would become as big as it has?
Orton: Definitely not. I remember the first Wrestlemania; I was four years old. Nobody had any idea what it would become. Then, 20 years later, there we were in the same arena as the first Wrestlemania, Madison Square Garden, and I'm in a match with Ric Flair and Batista on my team and I'm facing Mick Foley and none other than The Rock. I end up winning the match for us, but my dad was in the stands and it was just a really cool moment, 20 years in the making. I never thought in a million years that I'd even get into the business, let alone be successful. But step by step, I got there, and here I am; I think this is my seventh or eighth Wrestlemania. I've really become a student of the game. I've learned from all the guys I've been blessed to be in the ring with and against, and I've learned a lot from guys outside the ring -- guys like Flair and Triple H and Vince McMahon and, of course, my father. Now I'm one of the top guys and I couldn't be happier. My career couldn't be going any smoother, any better. I feel very confident where I am right now in my career headed to Wrestlemania.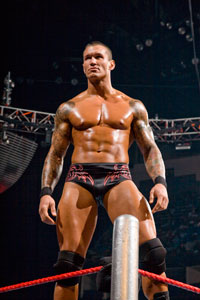 WWEThe Viper.
Robinson: Your match against CM Punk at Wrestlemania 27 has featured one of the best builds of anything on the card. What is it about Punk that just seems to rile up the crowd like no other?
Orton: He was a likable character at first. He was that Chicago-born-and-bread, tattoos, straight edge, from-the-punk-scene guy with long, messy hair. But I think really the character that Punk has become and the promo that he's able to cut about having faith and being the leader of the New Nexus and taking advantage of his followers and the way he preaches and talks down to the fans, all of that is Heel 101. That's the stuff that makes fans not like you. He still has some supporters out there in the crowd, but when it comes to fan support I definitely have him beat, and I think that will help me tremendously April 3 at Wrestlemania, when those 70,000 fans are going crazy. That energy they provide really helps us put on a better match.
Robinson: With so much hype around The Rock's return and the Undertaker's streak, you and Punk have a great opportunity to go out and steal the show this year. Is that your goal?
Orton: This doesn't just go for Wrestlemania, but for any pay-per-view, Raw, Smackdown or live event, but if you're in the WWE and your No. 1 goal isn't to go out and steal the show, then you need to sit back and reassess things. That's definitely what I plan on doing. I think everyone should want to have the match of the night. There is a lot of stiff competition this year. Not only is Shawn Michaels getting inducted in the Hall of Fame the night before, but The Rock is going to be there; Snooki [from MTV's "Jersey Shore"] is going to be there, and she has a lot of fans; Trish Stratus is going to be there; Stone Cold is going to be there ... there is a lot of star power. Then there is the Triple H versus Undertaker match, with the 18-match streak [for Undertaker at Wrestlemania] on the line. There are a lot of things that are intriguing about Wrestlemania 27, but I'm hoping when everything is over people are talking about Randy Orton's victory over CM Punk and the battle that we had.
Robinson: As a fan, outside of your match, which match are you most looking forward to watching?
Orton: I hate to say the obvious, but I think Triple H versus The Undertaker is going to be very interesting. The only thing that they don't have going for them is the amount of time both guys have been outside of the ring the last year. Triple H wrestled Sheamus at Wrestlemania 26, then either the night after or a couple of weeks later, Sheamus put him on the shelf. Triple H ended up tearing his bicep, having some neck problems and filming a couple of movies. He was out of the picture, but that's good for a guy who has been in the business 20 years. He has three baby girls and he's married to Stephanie McMahon, so he's a family man, too, and that's important. But as far as headlining the biggest show of them all, he has to have a little ring rust on him. Of course, he is "The Game," he is Triple H and he's one of the best, if not the best, in my opinion when it comes to this generation, but that ring rust will do you in. Your timing is very important when it comes to hitting the ropes and how many steps you need to take in order to execute this move or that move. I don't know if he's in the ring hitting the ropes and getting his stamina up, but that could be a factor in this match. I guess we won't know until it's all said and done if these guys have been training, and who knows what The Undertaker has been doing. But if there's anyone who has been around and knows what they're doing, nobody knows better than The Undertaker. And I think no matter what happens, this is going to be one of the most anticipated matches on the pay-per-view.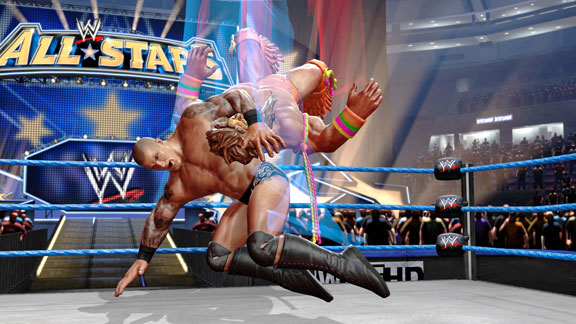 THQRandy Orton battles The Ultimate Warrior in "WWE All-Stars."
Robinson: The Rock recently came back to WWE. What do you think of his return so far, and what can we expect to happen when he's actually live on Raw this Monday and he's finally inside the same ring as John Cena and The Miz?
Orton: That's an interesting topic. I know them both and I know Cena a lot better than I know The Rock, obviously, but I've been in the ring with both cutting promos and wrestling. I have to say, though, talking about the whole ring rust thing, John Cena has had about 2,000 matches in the last seven years. The Rock? A big, fat zero. So when it comes to ring rust, I don't care what type of athlete you are, and The Rock is obviously an athletic dude, but Cena has been in the ring. He's been at every show and in every show and making appearances and he has been on the road with the WWE over 300 days a year for the last seven years. The Rock? Virtually nonexistent. You see the interviews that The Rock does and he says that he doesn't want to be known as a wrestler. He doesn't want to be known as a sports entertainer or a performer with WWE or a WWE superstar. He wants to be known as an actor. Now all of a sudden he's back in our world telling the fans what they want to hear. He's telling them, "I promise that I will never go away again. I promise that I'm back for good and that I'm here to stay." He said that, what, six or seven weeks ago? Have we even seen him live since then? No. Via satellite. I think Cena will own The Rock. I think Cena is wittier and can go off the cuff. Cena writes his own stuff, while The Rock has stuff written for him. It just all comes down to who you are in the ring and what kind of performer you are in the ring, and I think Cena is 10 times the performer in the ring that The Rock is. This Monday in Chicago, he'll prove it.
ESPN ARCADE
The sequel to our most popular game is here. How's your return?

Run timed routes, beat DB's to the end zone and score.

Hit your receivers, dodge defenders and rack up TDs.