March, 29, 2011
03/29/11
6:50
PM ET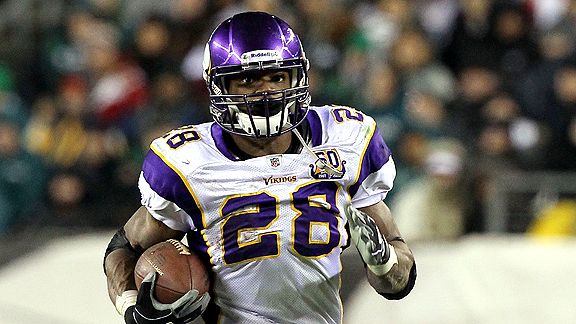 Jim McIsaac/Getty ImagesAdrian Peterson is about to take down the first number one seed in the "Madden 12" cover vote.
If you were shocked to see players like Tim Tebow and Chris Johnson receive early exits from the "Madden NFL 12" cover vote, well, you haven't seen anything yet as Round 2 looks to be full of surprises.
Thanks to the editors over at SportsNation, I was able to take a look at the early returns, and there is already one upset of substantial proportions. Philip Rivers, a number one overall seed, is losing to Adrian Peterson by a 55% to 45% margin. Rivers looks like the first number one to go down, that is, unless the people of San Diego hit the Web and show some support for their trash-talking gunslinger.
In other voting news, the race between Maurice Jones-Drew and Jamaal Charles is a virtual tie and it looks right now that either player could win by a margin of just a few clicks their direction. And when you're talking about millions of people voting for the cover, you realize how crazy it is that we can have a contest this tight.
Another surprise is the huge support being thrown to Patrick Willis. After barely beating the 12th Man in Round 1, Willis is destroying Hines Ward, 61% to 39%. Who knows, maybe all of Ward's fans are so preoccupied with voting for him in "Dancing With the Stars" that they forgot all about the "Madden" vote.
The biggest slaughter of Round 2, however, comes in the Aaron Rodgers/Sam Bradford vote. Rodgers is already winning by a 77% to 23% margin. Unless somebody like Nelly gets all 1.2 million of his Twitter family to back Bradford, Rodgers is going to cruise to Round 3.
Check back to The Gamer Blog tomorrow as we update you on even more numbers, including the cover fates of everyone from Danny Woodhead and Drew Brees to Michael Vick and Peyton Hillis. Until then, get out and vote.
ESPN ARCADE
The sequel to our most popular game is here. How's your return?

Run timed routes, beat DB's to the end zone and score.

Hit your receivers, dodge defenders and rack up TDs.