April, 2, 2011
04/02/11
9:04
AM ET
If there was ever a storyline that writes itself, it's the beer-drinking, bird-flipping, Stone-Cold stunning Steve Austin against the anti-alcohol, preaching-from-his-perch, straight edge superstar known as CM Punk.
The SOB vs. the S.E.S. Like I said, the storyline writes itself.
And it's a match-up WWE Hall of Famer "Stone Cold" Steve Austin loves to talk about as he simulates the beatdown in THQ's new video game "WWE All-Stars," a game that features some of wrestling's most beloved legends taking on today's top superstars in Fantasy Warfare matches that pit everyone from Hulk Hogan against John Cena, to Andre The Giant versus The Big Show, to, of course, Austin battling Punk.
"I've been in about 100 video games, but by far this is my favorite," Austin tells me over the phone as we talk about everything from "All-Stars" to his role at Sunday's Wrestlemania. "I was glad that they paired me up with CM Punk. I like that kid. I like what he does in the ring, I like his gimmick. And the action in the ring in 'All-Stars' is amazing.
"Plus, I like the fact that they made me look in better shape than I've ever been in my entire life. If I could've looked like that in real life, I could've just worked the big-man gimmick and not took so many bumps."
Jon Robinson: So how perfect a feud would "Stone Cold" versus CM Punk have been if you were still wrestling?
Steve Austin: When you have a storyline like that, and the way CM cuts his promos, I think it would damn sure be entertaining and fans would latch onto it. He's done well in WWE, and I think he's got bigger fish to fry and bigger things to do in that company. I look for big things from him. And damn right, that would be a good program. I would love to be a part of that.
Jon Robinson: Who else off the current roster would you have been excited to feud with?
Steve Austin: John Cena has done well for himself. I like the way he talks, I like the way he handles his business, and he works his ass off. Another guy is Randy Orton. Everyone thinks Randy has gone down the same path as "Stone Cold" Steve Austin, so I think that would be another natural storyline.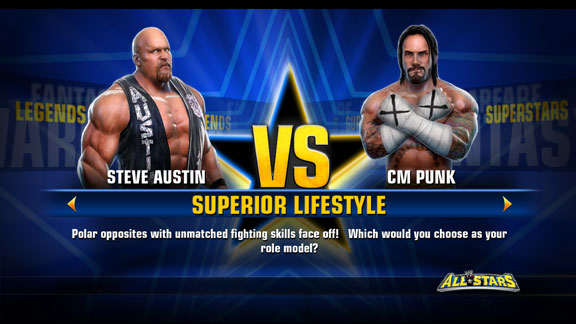 THQBetter role model: CM Punk or "Stone Cold" Steve Austin?
Jon Robinson: There are so many great legends in the game, from Andre The Giant to Ricky Steamboat and Bret Hart. As a fan growing up, who was your favorite wrestler?
Steve Austin: I was a Ric Flair and Dusty Rhodes guy. Ric Flair continues to be my favorite wrestler of all time. I loved Harley Race and Nick Bockwinkel and all of those guys, but I'm a big Flair guy.
Jon Robinson: Did you ever meet Andre The Giant?
Steve Austin: I met him one time when I was in WCW. He came to the back and he was on crutches. He was starting to move a little slow, and it wasn't too much longer that he passed away. But I only met "The Boss" one time. That's what everybody called him. Everyone called him "The Boss." I used to love Andre The Giant. I could sit around all day and listen to Andre stories. He was such a wonderful, unique guy who everyone loved being around. The thing about Andre, he just had this magical mystique about him. That's why when people talk about fantasy matchups from generation to generation in this game, I want to see Andre versus The Big Show. They're almost carbon copies of one another as far as size, but you have different styles and different demeanors. That would've been a really cool match to see go down.
Jon Robinson: Do you think Big Show is underrated by the fans in terms of how quick and agile he is for being that huge?
Steve Austin: I'll tell you what, he's kind of a freaky guy. He can do a lot. I'd like to see him dominate more and kick a little more ass and be a total nonstop machine. He does a lot of things well, I just think he should have more of a mean streak and kick a lot more ass.
Jon Robinson: Looking back on your career, did you have a favorite opponent to work with in the ring?
Steve Austin; I'll tell you what, the chemistry that I had with Bret "Hitman" Hart in the ring, and the respect and the trust we had for each other was unbelievable. Another guy was The Rock. We brought out the best in each other and every time we got in the ring, magical things happened. We always wanted to be the best on the card and make people glad they came out to the show. I also really enjoyed working with Shawn Michaels. He's the best performer I ever saw in the ring.
Jon Robinson: Do you think it was your feud with Bret Hart that really helped make you a main-event talent?
Steve Austin: Wrestlemania 13 in Chicago was probably my favorite match, with Wrestlemania 17 against The Rock being No. 2. But as far as an importance level in terms of my career, that match against Bret said that I was a player and that I was there to stay. I also think it woke up the office because when I first came to WWE, I just came in as "The Ringmaster." Their plan for me was to be a mechanic. But after six months of doing that, I came up with the "Stone Cold" thing. I was just starting to talk trash and they were just starting to take the leash off of me when Bret handpicked me to work with him when he was making one of his comebacks. From there we went to Wrestlemania 13, and I'll tell you what -- Bret, and that match in particular, have been huge parts of my career.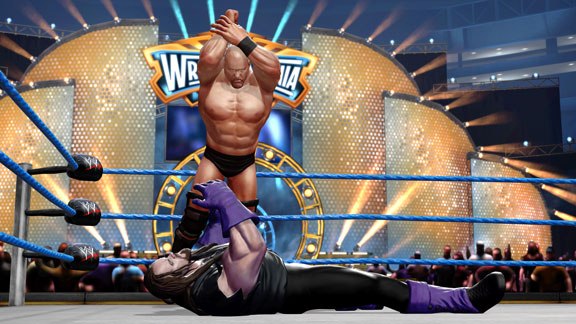 THQ"Stone Cold" Steve Austin battles The Undertaker in "WWE All-Stars."
Jon Robinson: You're hosting the new season of "Tough Enough." When talking to these young wrestlers, what do you tell them in terms of making your own breaks as opposed to sitting around and waiting for the breaks to happen for you? If you didn't start talking trash, "The Ringmaster" might have come and gone without there ever being a "Stone Cold."
Steve Austin: Some weird things happened for me to sneak through and get the opportunity I got, but I was so prepared, I was so ready for my break to happen. I had already been working seven and a half years in the business, all I needed was a break. If you get a break, if you get a microphone stuck in front of your mouth, you better give it your all and go for it. Any opportunity you get, you gotta take it. I want these kids in "Tough Enough" to come through and pay some dues while they're under my watch. This is a different system. This is a contest. There aren't the different territories like there were back in the day. It's all about opportunity and preparation. If you're ready when your opportunity comes, you can go a long way.
Jon Robinson: Is that why someone like Alberto Del Rio can step in and instantly be a main-event talent? He'd already been wrestling in Mexico for years before coming to WWE and came into the company with that seasoning almost like the old-school wrestlers who came from the territories.
Steve Austin: He's got that seasoning. He's been working for ten years and he's got a little bit of an MMA background going for him. He's got a good look to him. He's a good-looking kid who plays the arrogance thing well. He kind of reminds me of a Gino Hernandez type from the old World Class days. Gino was ahead of his time. But I see a very bright future for that kid. He has everything you look for … he talks well, he's a good-looking kid, and he works well in the ring. There are a lot of big things to come for that kid if he keeps his head on straight.
Jon Robinson: Wrestlemania is coming up Sunday and you're refereeing the match between Michael Cole and Jerry Lawler. How did it feel the other night to dump all that beer over Cole's head?
Steve Austin: Damn, that was fun. [laughs] Michael Cole has done a tremendous job playing the role of the heel announcer. He has that cocky swagger about him, and he's crossed that line to where now you're seeing the true Michael Cole. He's a good guy, but he's really turning it on. I've been really proud of what he's done from a work standpoint. Then you have Jerry Lawler, who is one of my favorite wrestlers of all time. If you never saw him work in his prime or never saw some of his work in the Mid South, then you really missed out. He's a great talker, a great worker in the ring, and there's no better person to be in this match with Cole than Lawler. Then you have me as the referee and Jack Swagger roaming ringside and I think anything can happen that night.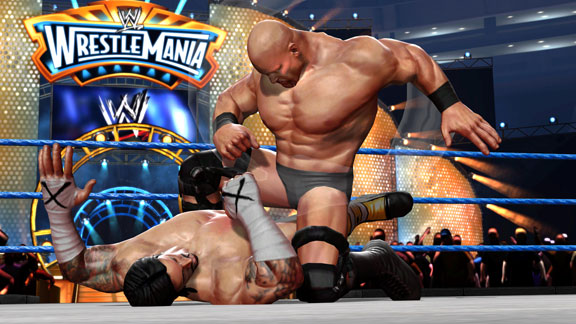 THQSteve Austin lays a vicious beating on CM Punk.
Jon Robinson: When you're pouring beer on Michael Cole and the crowd is going crazy and people start to chant "One more match," do you ever get the itch to come back for maybe one more main event?
Steve Austin: I'll tell you what, sometimes you do, but it's just like an itch that you scratch and it goes away. We had that ring at "Tough Enough," and it's the same WWE ring they use every week, and I got the chance to bounce around and take some bumps from one of the kids in the contest and gave him a few bumps. Could I still do it? Damn right I could. It may not be quite as good as I used to, but I got it out of my system. I hope people enjoy "Tough Enough" because I had so much fun doing it, but that's about as close as I want to be to a business that I love.
Jon Robinson: One of my favorite things you do is catch the flying beer cans that someone on the set throws your way. You hardly ever drop them. Were you a baseball player growing up? How do you make so many one-handed beer catches?
Steve Austin: I've always been an athlete. I played baseball, and then I played football in college, and I'll tell you what, I've got some pretty good hands. My hands are about the size of a first baseman's glove and those cans just stick to them. There's something about being in front of a live camera where if that beer is within three feet of me, I'm going to catch it. If I could only catch a football like that, I'd be in the NFL.
Jon Robinson: You'd be like Randy Moss out there.
Steve Austin: Only without the 4.4 speed. [laughs]
Jon Robinson: You're more the Jason Witten type.
Steve Austin: I love Witten. He's a big corn-fed-looking guy and a hellacious receiver. He had a great year, but the Cowboys really need to get it together. Last year was just such a huge disappointment and there isn't a leader on that team. Someone needs to step up and say: "Hey, this is my team and this is how we need to do things." Maybe Jason Garrett is going to turn those guys around with a little leadership and an alpha male presence that they have lacked the last few years.
Jon Robinson: As a Cowboys fan, do you think Tony Romo is the guy to lead them to the next level?
Steve Austin: Let me tell you something, if that guy got cut right now, there would be a dozen teams trying to pick him up. He's got a great arm, he's consistent, he's accurate, but there's just that one thing … you look in his eyes and you wonder what Tony is going to do now. Physically, he has the tools. Mentally, he gets the game. I just think he needs to 100 percent commit to being the quarterback of that team and forget about going on vacation with this person or that person. He just needs to stay focused. If that guy could stay focused, he'd be lights-out. Until then, he's just going to be a really good quarterback who could crap the bed at any moment.
Jon Robinson: Sounds like he needs some "Stone Cold" in him.
Steve Austin: Damn right he does. You have to have that killer instinct in that game. It doesn't matter if you're a quarterback or a linebacker, you've gotta put people on ice.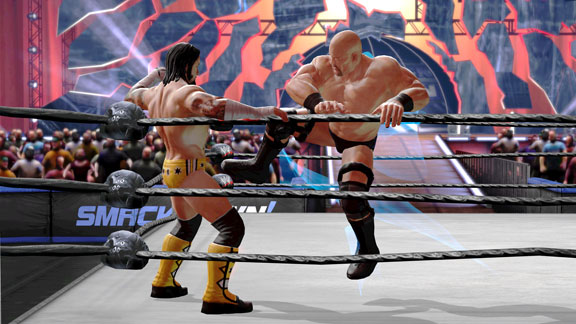 THQTime to stomp a virtual mud hole in CM Punk.
Jon Robinson: The other big storyline in WWE right now is the return of The Rock. What did you think of him getting physical with Miz and Cena on Monday night?
Steve Austin: I thought it was great entertainment. It's good for Rock, it's good for John, it's good for Miz and it's good for the fans. Everybody is winning all the way around. He got out of the business and went on to do what he's done and I'm proud of how successful he has become. But now that he's back, it's a win-win for everybody, but especially the fans. Whether you love him or you hate him, depending on what your opinion of Cena is, he's definitely made an impact and it will be interesting to see how this thing plays out.
Jon Robinson: I think The Miz actually benefits the most by the interaction as he's stepped up and looks like he belongs with two of the biggest stars in WWE history. Looking at Miz, when did you first realize he had what it takes to carry the title?
Steve Austin: I saw The Miz a few weeks ago when he came to "Tough Enough" and talked to the kids, and I told him to his face: "Man, I didn't think you were going to make it." And he understood that. I give that guy so much credit for working his ass off. He's great on the mike, he continues to get more physical in the ring, and he's a charismatic guy who always maintains himself well and represents the company in a positive way. I told those kids at "Tough Enough": "Here's a guy who was like me where he's not going to be the biggest wrestler, he's not going to be the best wrestler, he's not going to be the best-looking wrestler, but he he's got enough things going for him and he wants it bad enough that he's going to find success, and he has." I'm very proud of The Miz.
Jon Robinson: Wrestling is like boxing where so many fighters say they are retired, but then they all come back. What is it about yourself and someone like Shawn Michaels where you're able to walk away and that's it?
Steve Austin: I love that business, but it was time to ride off into the sunset. I'm happy, I'm healthy and I have things going on. I remember talking to my old traveling partner, "Mr. Wonderful" Paul Orndorff, a long time ago and he looked at me square in the eyes and told me: "Steve, there is life after wrestling." So many guys can't seem to find one. Some of them do, some of them don't, some go on to a lower level, but I'd never go to a lower level. I'm "Stone Cold" Steve Austin and I can never do anything but be with the best, and that's WWE. With that being said, I'm proud of what I've done, I love the business and I love the fans, and doing this "Tough Enough" show is about as close as I want to get to being back in that ring.
Jon Robinson: Besides, there's always "WWE All-Stars."
Steve Austin; I'm not technically a gamer, but I played that game at THQ and it's the damndest video game I've ever been in. It's a really cool game, and I'm proud to be a part of it.
ESPN ARCADE
The sequel to our most popular game is here. How's your return?

Run timed routes, beat DB's to the end zone and score.

Hit your receivers, dodge defenders and rack up TDs.