March, 31, 2011
03/31/11
1:08
AM ET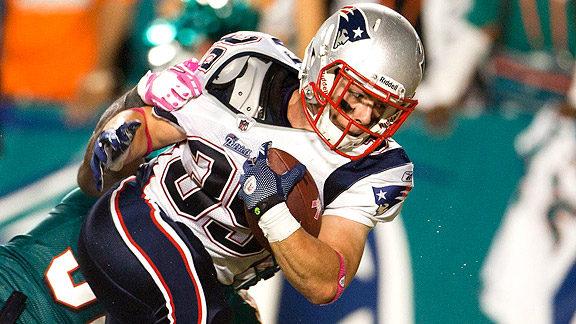 Jonathan Brownfield/US PresswireDanny Woodhead could be an underdog to keep an eye on in the "Madden 12" cover vote.
Michael Vick might be one of the most polarizing athletes of our time, but when it comes to the "Madden" audience, it treats him for who he is in that world: the greatest video game quarterback ever created. And because of Vick's continued dominance in the franchise, it looks like he could be unstoppable in the "Madden NFL 12" cover vote, as he has already jumped out to a commanding 61 percent to 39 percent lead over Andre Johnson.
But those aren't the only numbers I've been able to get my hands on. Thanks to the editors over at SportsNation, I have an update on some of the other Round 2 results so far.
One of the more intriguing names in the tournament is Danny Woodhead. Here we have a guy who gets cut by the Jets on "Hard Knocks" and turns out to be one of the most popular players in the league upon joining the Patriots. And if the fans keep turning out to vote for him like they have the first two rounds of the "Madden" vote, his new nickname might just be "The People's Champ." Woodhead is beating Hakeem Nicks 58 percent to 42 percent and shows no signs of slowing down. Could he be the sleeper pick to win it all?
In other running back news, Peyton Hillis leads Matt Ryan by less than 1,000 votes in their matchup, while Jamaal Charles has taken a slight lead over Maurice Jones-Drew after they were tied in votes just yesterday.
Meanwhile, Drew Brees is dominating Mark Sanchez by a 61 percent to 39 percent margin in the battle of quarterbacks who have already appeared on the cover of an EA Sports product. Can Brees really avoid the curse two years in a row? We might find out, if his fans keep voting so passionately.
Don't like the results? Go out and vote for your favorite players to advance to Round 3.
ESPN ARCADE
The sequel to our most popular game is here. How's your return?

Run timed routes, beat DB's to the end zone and score.

Hit your receivers, dodge defenders and rack up TDs.