April, 7, 2011
04/07/11
3:39
PM ET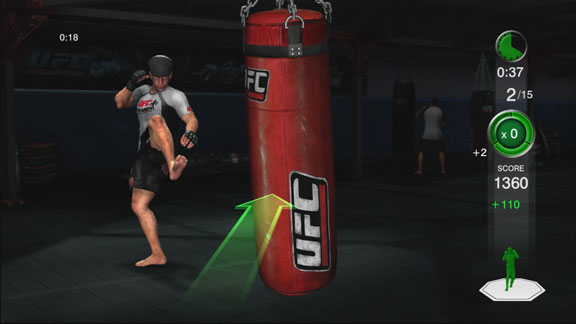 THQ"UFC Personal Trainer" features moves from wrestling, kickboxing and Muay Thai.
[Ed. note: For more great MMA content, check out the latest episode of MMA Live Extra.]
While fitness products like "EA Sports Active" and "Wii Fit" have been clear-cut sales winners, the products have primarily been designed for and pushed towards a female audience.
But will guys put down a controller and pause their "Call of Duty" online battle long enough to jump around their room and work up a sweat?
That's the gamble THQ and the UFC are taking with "UFC Personal Trainer," the first fitness game targeted toward the male gamer looking to lose a few pounds while at the same time learning to kick a little ass.
I caught up with "UFC's" lead designer, Troy Sheets, as well as THQ's director of production, William Schmitt, to get the goods on the new game. Here's what they had to say.
Jon Robinson: Why do you think UFC is the perfect partner for a fitness-style game?
Troy Sheets: The first thing we looked at is that all the other fitness-style games out there tended to be really soft and catered toward the female audience. They also all tended to be developed by game designers rather than fitness professionals. So with the partnership THQ already had with the UFC, it seemed like a logical step to actually enter the fitness realm, hitting strong with a very powerful message along with the hottest sport that's out there. We have partnerships with both the UFC and the National Academy of Sports Medicine who is our governing body that gave us the content.
Jon Robinson: What UFC trainers are involved with the project?
Troy Sheets: Mark DellaGrotte, Greg Jackson and Javier Mendez. We actually created 3-D models of each of them and they act as your coach as you do your workouts. All of our exercise, all of our content is created around their specialties. So for instance, Greg Jackson is known as a good all-around guy with a wrestling base, so his exercises are themed around wrestling. Mark DellaGrotte does a lot of Muay Thai strikes in a cardio kickboxing format, and then Javier Mendez does the same but from more of a kickboxer's standpoint.
ESPN ARCADE
The sequel to our most popular game is here. How's your return?

Run timed routes, beat DB's to the end zone and score.

Hit your receivers, dodge defenders and rack up TDs.