April, 19, 2011
04/19/11
5:40
PM ET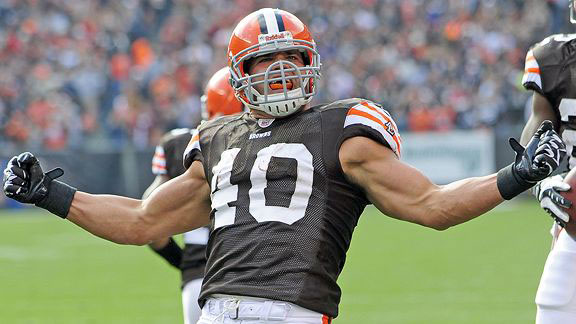 Jason Miller/US PresswireIt's Peyton Hillis versus Michael Vick in the finals of the "Madden NFL 12" cover vote.
The first time I looked at the "Madden NFL 12" cover bracket, there was no doubt in my mind Michael Vick would advance to the final. But on the other side, things weren't so clear. I initially thought Tim Tebow, with his legions of fans, might be the player to beat. Or maybe Super Bowl MVP Aaron Rodgers would end up with his championship belt on the cover. But Peyton Hillis? Sure, I love to watch the dude play, and he personifies what a "Madden" running back has become -- the guy who will knock a few defenders off their feet then get into the clear and run 60 yards for the touchdown -- but when I first saw his name on the bracket, all I did was wonder why Josh Cribbs didn't make the cut.
However, thanks to an online campaign by the Cleveland Browns and a city looking for a spark of positivity in an era that's been defined by the words "I'm taking my talents to South Beach," Hillis is not only in the finals, but he has a real shot at winning the ultimate prize in the world of video games, posing for the "Madden" cover.
I know what you're thinking ... there's no way Hillis can beat Vick in a popularity contest. But if you look at what happened in the Tebow vote, I think you might see a trend. I honestly believe there were so many Tebow haters out there who couldn't believe he was representing the Broncos on the bracket despite not winning the starting quarterback job that an anti-Tebow movement swelled and influenced his matchup against Jamaal Charles.
I think the same thing could happen with Vick. Could we see animal rights groups gather online to provide the anti-Vick vote, swinging the election toward Hillis? Could happen. The combination of Cleveland fans and anti-Vick voters could put Hillis over the top in this one, giving fans one of the most shocking cover athletes in EA Sports history.
Only question is can Hillis' guns be shrunk down enough to fit on the box?
My vote: In the upset of all upsets, I'm taking Peyton Hillis to win this. Michael Vick is one of the most polarizing athletes of our generation, and I think if the anti-Vick crowd teams with the Hillis supporters the numbers could be overwhelming.
Who do you want on the "Madden NFL 12" cover? Vote now for your favorite.
ESPN ARCADE
The sequel to our most popular game is here. How's your return?

Run timed routes, beat DB's to the end zone and score.

Hit your receivers, dodge defenders and rack up TDs.