April, 22, 2011
04/22/11
7:46
PM ET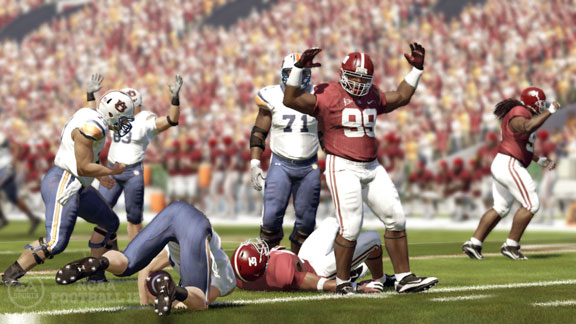 EA SportsExpect to see some big collisions in "NCAA Football 12" thanks to the new tackling system.
Anyone who has played an EA Sports football product over the past couple of seasons knows one thing for sure: tackling is more about the warp than the wrap. What I mean by that is games such as "NCAA Football" and "Madden" are about getting your defender into the vicinity of the ball carrier, then watching as the linebacker is magically suctioned into the runner for the tackle. That system had nothing to do with momentum, nothing to do with reality and unfortunately trickled down into other areas of the game where contact is king, such as blocking.
Thankfully, that is all about to change in "NCAA Football 12," as the game designers have created an entirely new tackling system that not only includes momentum but turns the dive button into a dive/tackle button. Sure, those looking to desperately flail at the ball carrier can still dive at his cleats, but now the proper way to smash someone's grill is to get in position and hold down the tackle button for your defensive player to 'bow up and use proper technique to make the play. In the wrong position? Remember, the days of warping into the runner are over, so now you'll lunge at the ball carrier and hope for the best, but whiff the tackle and you could be left watching as the runner high-steps right past you.
"There's no more warping or sliding into position for the tackle," associate producer Ben Haumiller explained. "Now the tackle doesn't take place until the defender makes contact with the ball carrier, and this really brings momentum into play. This is a big change in the animation system and point of impact. So basically, the ball carrier and the defender would get close to each other, in last year's game, and the engine would warp them together into a tackle and the defender would actually slide into position because we only had eight spots where a wrap tackle could begin. But now, no matter where I hit you, that's where the wrap is going to begin. You don't see a guy slide over and make a tackle. Now he's trying to make the tackle at the spot where he first makes contact. This also comes into play with gang tackles. You'll see one player come in and stand the ball carrier up, then another player will come in and join on. And actually, because of the momentum and how that second defender is flying in, he might even knock that initial tackler off the pile and steal the tackle. Or you might see the first guy try to make a tackle, the second guy make a hit, then a third guy coming in with a shoulder trying to clean it up, but each of these hits will help change the course of the ball carrier.
"This new animation system has also really helped blocking as well. You're not going to see a pulling guard go through and suddenly warp in front of a defensive lineman to prevent the tackle. You actually have to be in position in order to make the block."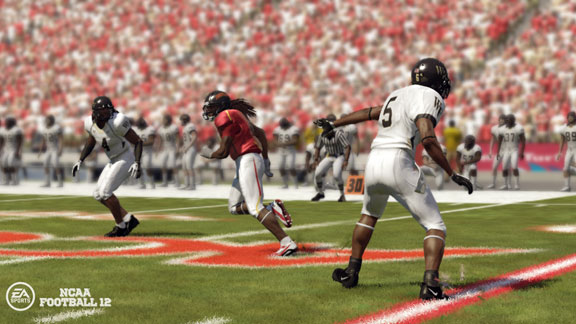 EA SportsZone defense has finally been fixed in "NCAA Football 12."
Diving catches have also been completely overhauled because of the new animation system. In "NCAA Football 12," a receiver will no longer warp-dive 5 yards to make a catch. Now you have to be in position to catch the ball, and if you want to layout for the pass there are all new dive catches in the game so that the players look more realistic when stretching out over the middle for that big first down.
"Now it's a fluid animation when someone dives for the catch, and not just a player warping to where he needs to be in order to get the ball," Haumiller said.
Another huge gameplay improvement comes in terms of zone coverage. Now defenders will play their zone based on receiver routes rather than always sticking to their assignments (one of the most frustrating aspects of playing defense for years). Defenders will finally hand the receiver off to another defender as the receiver runs from one zone to another. And for those who spent all last season throwing the ball to the flats against zones, well, you'll need to come up with a new game plan, as defenders will finally step up and take away the short zones.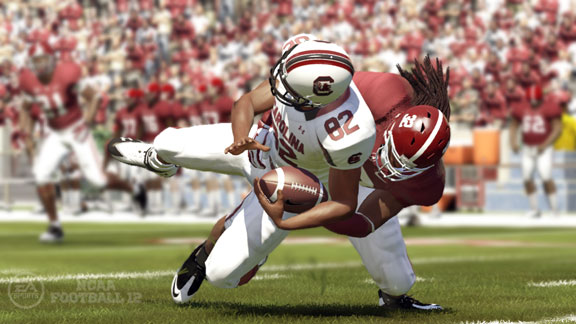 EA SportsDefenders no longer warp in for the tackle in "NCAA 12." Now you need to be in proper position.
And while the new zones and tackling system are greatly appreciated by fans of the franchise, nothing will get "NCAA Football" gamers more pumped than the new custom playbooks. With these new playbooks, gamers can pretty much do whatever they want in terms of putting together the best plays from across the country. The wishbone? How about taking all of the wishbone plays from every team and put them all in one offense. You can go in and select entire formations or individual plays, building your playbook exactly how you want, then customize the layout in the play-call screen. You can easily sort through the plays during a game, putting all of your play-action passes together or all of your wildcat runs together, making for a pretty awesome user/coaching experience.
Presentation and Tradition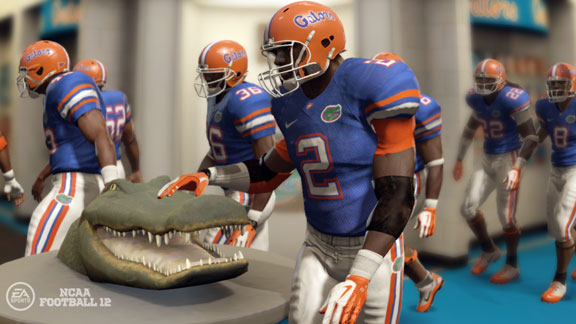 EA SportsTouch traditions have been included for a variety of schools.
Burning spears, the Oregon Duck riding a motorcycle, cheerleaders cruising out in classic cars, cannon's firing, bulls running onto the field. Those are just some of the sights you'll see pregame, as everything from traditions inside the locker room to the team mascots are digitally represented in "NCAA" like never before. I saw the Mike the Tiger actually growl at an opposing player, Chief Osceola plant his flaming spear in the grass and the Florida players touching the Gator head before a game. To keep each of those shots looking fresh, each animation was shot with a bank of cameras, so while you might be seeing the same scene you'll see it from different angles, really enhancing the presentation aspect so you're not just seeing the exact same thing before every game of your Dynasty.
"To fans, we're trying to wow them," art director Jean Adams explained. "When they see Bevo in the game, I want them to be amazed about how far we went to capture everything from the mascots to the new 3-D grass. We want everything to be as authentic as possible.
"When you looked at our game before, no matter how beautiful the image looked, two things always stood out: the grass and the ugly crowds. But now we have this new 3-D grass and 3-D crowds, where we can go a lot further in blurring the lines between fantasy and reality."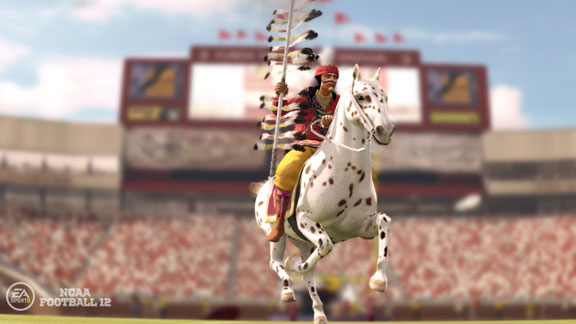 EA SportsEven Chief Osceola makes an appearance in "NCAA Football 12."
Look for new montages and highlight packages that showcase the theme of the game you're playing. "So if your dual-threat quarterback is having a big game or a freshman receiver is making a ton of catches or if the defense is getting a lot of sacks," Haumiller said, "you'll see all of those highlights grouped together to go along with commentary to help give you the story of that game."
But that's not all. The design team also added hundreds of new player celebrations throughout the game to help freshen up everything, from a sack to a bowl-winning touchdown to even the coach getting lifted onto the shoulders of his players and carried off the field after an epic win. Coaches on the sidelines will also be shown throughout the game, reacting negatively after an interception or giving you some love after an electrifying run to the house. Bowl games get special treatment, with coaches shown giving your team a talk in the locker room.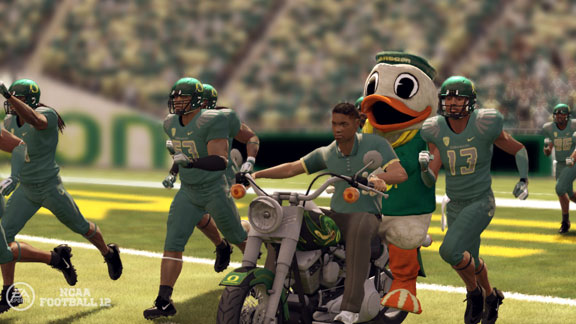 EA SportsNothing says football like a duck riding a motorcycle.
Throw in team-colored gloves, new helmets, dreadlocks and over 140 new uniforms (including throwbacks and the Pro Combats) and you have the freshest-looking and freshest-feeling "NCAA" game in years.
Now if only I can tackle someone by his dreadlocks ...
ESPN ARCADE
The sequel to our most popular game is here. How's your return?

Run timed routes, beat DB's to the end zone and score.

Hit your receivers, dodge defenders and rack up TDs.