May, 13, 2011
05/13/11
1:39
PM ET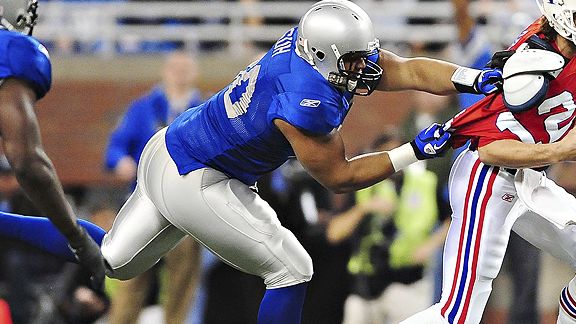 Andrew Weber/US PresswireNdamukong Suh is trading sacks for souped-up cars in the Gumball 3000.
I walk into Ndamukong Suh's suite inside New York's famous Marriott Marquis and one thing comes to mind: His hotel room is bigger than my house. Then again, when you stalk the field like the Incredible Hulk, bashing and twisting ball carriers and quarterbacks like crash test dummies, you need room to roam.
That's why, when Suh started talking to me about his passion for fast cars and his plans to race a ride sponsored by video game company Ubisoft in the upcoming Gumball 3000 (think Cannonball Run) during the lockout, I was blown away. Do they even make fire suits that big?
If you're the Detroit Lions, you're having one custom fitted about now, because your defensive beast is about to show off his skills and be anything but a defensive driver to competitors, even if he doesn't believe in the "rubbing is racing" philosophy.
"I'm not trading paint," Suh tells me with a laugh, when I ask him about the risks of the race. "It's not too dangerous from what I understand. It's eight countries in eight days, and you're driving on the open road to your destination. And while there are hundreds of cars trying to get to each check point, I'm not going to bash into them or anything like that. I might blow right by them, but I'm not swapping paint."
Here's what else Suh has to say about the race and the lockout and why it's cooler to be involved with Ubisoft's upcoming "Driver" game than being on the cover of "Madden."
Jon Robinson: When did you first get this itch to race cars?
Ndamukong Suh: I've always loved cars. I hate to say it, and I'm not an incessantly fast driver, but I like to push the speed limit. Once I first heard about this, I went crazy. So now that we're in a lockout and this race is over in Europe, I love to travel so I thought this would be a great thing to do if I could get over there. Then I got the chance to work with Ubisoft, and because of their "Driver" game coming out they decided to sponsor my trip.
This game, "Driver," it's basically an open-world driving game with the cars, and it looks like I'll be racing in either a Dodge Challenger, a Charger or a Chrysler 300 that's featured in the game. They have over 100 cars licensed, so it's exciting to me to take something that's in the game and link it up with reality. We're making the game come to life.
Jon Robinson: What kind of speeds are you expecting in this race?
Ndamukong Suh: I'm sure people have some ridiculously fast cars, but I'm not a crazy driver. Besides, I have another career that I love deeply in football, so I'm definitely going to be on the safer side and let the wild and crazy go ahead of myself.
ESPN ARCADE
The sequel to our most popular game is here. How's your return?

Run timed routes, beat DB's to the end zone and score.

Hit your receivers, dodge defenders and rack up TDs.