May, 13, 2011
05/13/11
1:39
PM ET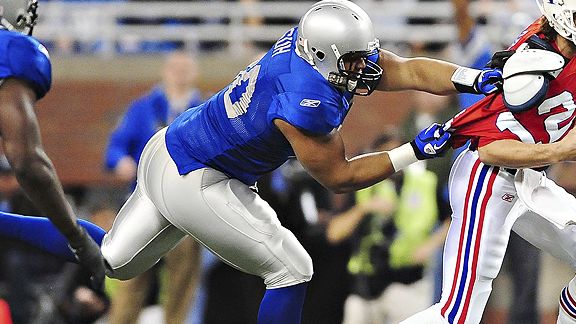 Andrew Weber/US PresswireNdamukong Suh is trading sacks for souped-up cars in the Gumball 3000.
I walk into Ndamukong Suh's suite inside New York's famous Marriott Marquis and one thing comes to mind: His hotel room is bigger than my house. Then again, when you stalk the field like the Incredible Hulk, bashing and twisting ball carriers and quarterbacks like crash test dummies, you need room to roam.
That's why, when Suh started talking to me about his passion for fast cars and his plans to race a ride sponsored by video game company Ubisoft in the upcoming Gumball 3000 (think Cannonball Run) during the lockout, I was blown away. Do they even make fire suits that big?
If you're the Detroit Lions, you're having one custom fitted about now, because your defensive beast is about to show off his skills and be anything but a defensive driver to competitors, even if he doesn't believe in the "rubbing is racing" philosophy.
"I'm not trading paint," Suh tells me with a laugh, when I ask him about the risks of the race. "It's not too dangerous from what I understand. It's eight countries in eight days, and you're driving on the open road to your destination. And while there are hundreds of cars trying to get to each check point, I'm not going to bash into them or anything like that. I might blow right by them, but I'm not swapping paint."
Here's what else Suh has to say about the race and the lockout and why it's cooler to be involved with Ubisoft's upcoming "Driver" game than being on the cover of "Madden."
Jon Robinson: When did you first get this itch to race cars?
Ndamukong Suh: I've always loved cars. I hate to say it, and I'm not an incessantly fast driver, but I like to push the speed limit. Once I first heard about this, I went crazy. So now that we're in a lockout and this race is over in Europe, I love to travel so I thought this would be a great thing to do if I could get over there. Then I got the chance to work with Ubisoft, and because of their "Driver" game coming out they decided to sponsor my trip.
This game, "Driver," it's basically an open-world driving game with the cars, and it looks like I'll be racing in either a Dodge Challenger, a Charger or a Chrysler 300 that's featured in the game. They have over 100 cars licensed, so it's exciting to me to take something that's in the game and link it up with reality. We're making the game come to life.
Jon Robinson: What kind of speeds are you expecting in this race?
Ndamukong Suh: I'm sure people have some ridiculously fast cars, but I'm not a crazy driver. Besides, I have another career that I love deeply in football, so I'm definitely going to be on the safer side and let the wild and crazy go ahead of myself.
Jon Robinson: Do you even fit inside a Dodge Challenger, or do they need to custom build the inside for you?
Ndamukong Suh: I actually drove a Dodge Challenger the other day, but it was really comfortable. A lot of people don't think I can fit in these cars, but it's really roomy. What's cool about the race is you can have any car from Aston Martins to Bentleys to Range Rovers to a Prius. It goes from any range of cars, and pretty much every type of car will be in the race. Some people will go in with the high-end cars, and obviously some people are trying to win the race, but I'm not trying to win the race. For me, it's more about the experience.
Jon Robinson: What do you think of all these lockout hobbies? From soccer to boxing to now racing, you guys are finding some unique ways to keep busy.
Ndamukong Suh: I'm not doing this to get away from football, but it's broadening my horizons. I'm really excited about partnering with Ubisoft and, like I said, trying to bring "Driver" to life.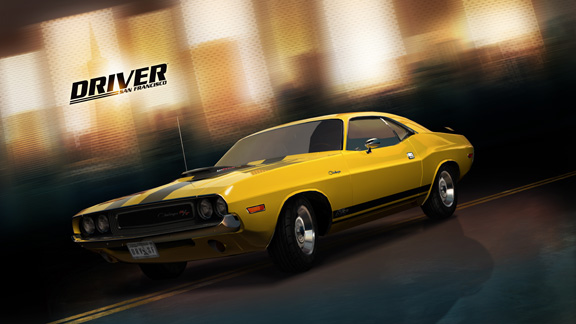 UbisoftUbisoft's "Driver" features over 100 licensed cars. Suh is in the process of picking out his favorite.
Jon Robinson: Are you a big gamer?
Ndamukong Suh: I'm a pretty good gamer. It's kind of hard with so many things going on to play all the time, but I'm definitely a gamer.
Jon Robinson: What are some of the latest games you've been into?
Ndamukong Suh: I like "Just Dance," but my favorite is "Michael Jackson: The Experience." I have a kick with that. Then I also play the football games and the basketball games like every other person.
Jon Robinson: What's the Michael Jackson song you like to get down to?
Ndamukong Suh: I love "Beat It." That's probably my favorite. I'm also pretty good at "Billy Jean" and "Smooth Criminal." Those are the classics I grew up listening to. I remember we had VHS tapes of Michael Jackson at the house, and we still have them. It's tough to mimic Michael Jackson, though. He was one helluva dancer. There are some moves that I don't think anybody but him can do.
Jon Robinson: Watching you play last season, your tackles reminded me of car wrecks, the way you'd hit a pile and leave bodies lying all over the place. What's it like from your perspective when you obliterate opponents like that?
Ndamukong Suh: It's fun. That's one of the real reasons why I wanted to play football. I started playing soccer when I was little, but I ended up having two sets of friends: one that I played soccer with and one I played football with. But I found that love of playing defense in football because I could hit people as hard as I wanted, as hard as I could, and not only did I not get in trouble for it, I got praised. That's where it came from, then I've tried to grow into a better football player by learning the basics of hitting and getting after people. It's something that I've been lucky enough where I continue to stay healthy and continue to make a living hitting people.
Jon Robinson: Do you have a favorite moment from your rookie season?
Ndamukong Suh: I probably enjoyed our first win against the Rams. Everybody knows that Sam Bradford went ahead of me in the draft and went to St. Louis, so that was a sweet moment. Some of my favorite plays were tackling Tom Brady and then tackling Michael Vick for my official, true first sack. I ran Jay Cutler out of bounds in the first game and got a sack, but I don't consider that a sack.
Jon Robinson: My favorite play was when you roughed up Jake Delhomme.
Ndamukong Suh: I don't like that one too much because I got fined for it. [Laughs.] Other than the fine, I enjoyed that.
Jon Robinson: Do you think there's going to be football this season?
Ndamukong Suh: I definitely do. I don't think it's going to start back up anytime soon. I think it's going to go down to the wire, maybe sometime around late July, first of August, then we'll head right to camp. That's what I'm preparing for. I have everything set for everything to go down to the very last minute and still be in shape to play football. That's what I'm more or less expecting. I hope it doesn't, but you never know. There's a lot of money at stake for both sides.
Jon Robinson: Getting back to the race, you said earlier that you weren't trying to win, but how aggressive are you going to be out there?
Ndamukong Suh: Being able to drive at a high speed and not get in trouble for it is great. When it comes to driving on the street, if the speed limit is 65, I might go 73, but in this race I'm going to go as fast as I can while at the same time being safe. My health and my co-pilot's health is the most important thing to me. One of my good friends who plays for the Colts is going to be in there with me, Cody Glenn, so we're going to go out there and enjoy it and split the driving duty.
Jon Robinson: You were also recently involved in the "Madden" cover vote. What's better, being on the cover of "Madden" or living the "Driver" experience for real?
Ndamukong Suh: I definitely got the better gig. Maybe I'll get to be on a small snippet of the "Driver" cover when it comes out in the fall, but I'm going to have a lot more fun imitating what's in the "Driver" game over there in the Gumball 3000. I can't wait.
ESPN ARCADE
The sequel to our most popular game is here. How's your return?

Run timed routes, beat DB's to the end zone and score.

Hit your receivers, dodge defenders and rack up TDs.